Feb. 12, 2020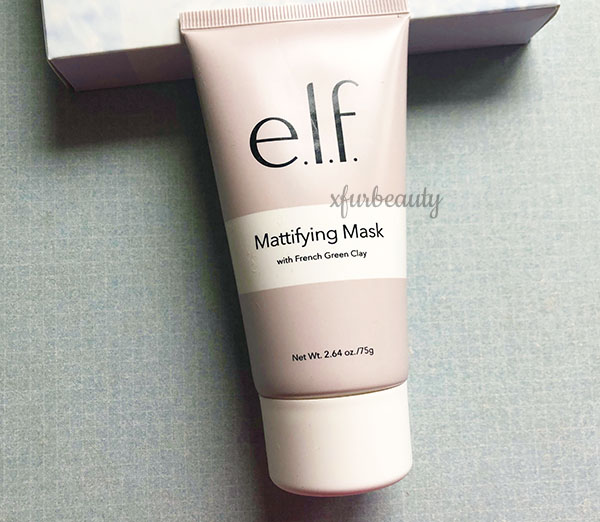 I did a couple of reviews on the elf Mattifying Mask with French Green Clay. I decided to use this face mask (to use it all up). I haven't touched it in a while. This was my experience with it.
I've been using this face mask out of convenience. I don't have to mix it like my Aztec Secret Indian Healing Clay. That was a really bad idea. I didn't think this face mask would break me out, but it did. I started to noticing clogged pores in the most random places. I even developed pustules. So, this mask is a no-go if you have acne-prone skin. I'm so disappointed. My skin was clear. But, at least I know what caused my skin to break out. I hope recovery is going to be fast and quick. Out this face mask goes!
😡
More on facial masks:
Facial Masks in My Skin Care Routine
Review: elf Marsh-Mellow Soothing Mask
Does Bliss Mighty Marshmallow Bright & Radiant Whipped Mask Work??
Categories:
Tags:

Acne Prone Skin, Acne Skin, Acne Skin Care, Clay Mask, Cruelty Free, elf Facial Mask, elf Mask, elf Mattifying Mask, elf Mattifying Mask with French Green Clay, elf Skin Care, French Green Clay, Life, Oily Skin, Oily Skin Care Products, Review, Skin Care, Skin Care Products, Skin Care Reviews, Skin Care Routine, Update, Vegan Skin Care, Vegan Skin Care Products, xfurbeauty, xfurbeauty blog
Feb. 6, 2020
Leave a comment
I've been drinking water consistently for 2 weeks straight. I mean, a lot of water. I would squeeze some lemon or lime in my water for an antioxidant boost. I would add organic raw apple cider vinegar. Make tea. Or, just drink plain 'ol water to hydrate myself. The more I did it, the easier it became. When I would run out of water, I would refill it whenever possible. Yeah, I went to the bathroom a ton, lol. I do have electrolyte packets too just in case I drink too much water. There is such a thing as too much of something.
Has drinking more water affected my skin? YES! My skin doesn't feel too dry anymore. It feels and looks supple. It still does have that natural sebum appearance that I'm always trying to get rid of, lol. When I wash my face in the morning and at night, my skin doesn't feel tight. It looks really nice and hydrated. Keep in mind that I am using skin care products to maintain a clear complexion too. Without them, I don't think water alone would clear my skin up. My skin is way more difficult than that. Increasing my water intake does help. It's just a part of being healthy and taking care of yourself from the inside out. 🙂
Also, I'm moving towards to not wearing makeup on a daily basis. I would have a debate if I should wear makeup or not when I'm getting dressed. When I do wear makeup, it just doesn't feel right on my skin even though it's a thin layer of makeup. Maybe I've grown accustomed to my natural skin. I'll try to wear makeup again some time next week (maybe, lol). I didn't mention this, but my hair feels very healthy too. It feels fuller. It could just be an illusion, since my overall health is fantastic! Everything feels so good. HAHA. 😀
I recommend drinking more water if you're not. Remember not to overdo it. Stay hydrated. Stay healthy. Stay safe. Good luck! ✌
More on Organic Raw Apple Cider Vinegar:
Organic Raw Apple Cider Vinegar in My Diet
Organic Raw Apple Cider Vinegar Results
More posts on my skin care routine:
My Skin Care Routine for Acne Skin
My BP & AHA Skin Care Products are here!
BP Journey: 1 Month + 1 Week Results
Clear Skin Journey: 1 Month + 3 Weeks Results
Clear Skin Journey: 2 Months Results!!
Clear Skin Journey: 2 Months + 1 Week Results
Update: Skin Care Routine for Acne Skin
Clear Skin Journey: 2 Months + 2 Weeks Results
Categories:
Tags:

Acne Scars, Acne Skin Care, ACV, Apple Cider Vinegar, Clear Skin, Drinking Water, Dry Skin, Everyday Life, Everyday Living, Gluten-Free, Health, Healthy, Healthy Lifestyle, Healthy Skin Care, Life, Lifestyle, Oily Skin, Organic Raw Apple Cider Vinegar, Skin Care, Skin Care Routine, Skincare Routine, Water, xfurbeauty, xfurbeauty blog