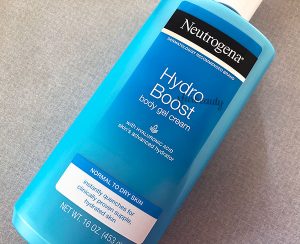 I loved the Neutrogena Hydro Boost Water Gel Lotion Sunscreen SPF 30 (review here) so much that I went out and picked up the Neutrogena Hydro Boost Body Gel Cream! The sunscreen left my skin moisturized and helped heal some flaky skin I was dealing with. They were literally attached to my skin when they should be coming off by themselves. Well, with little effort as possible I mean. Also, my skin was super itchy to the point that I would scratch and rip some skin off by accident. Erm, those itch spots. Sometimes you just gotta scratch. So this moisturizer comes in a big bottle (16 oz.) without SPF. I wonder if it works the same as the sunscreen (just without the SPF). At least somewhat similar. The purpose of this moisturizer is to replenish the skin and help improve skin hydration and smoothness. It's also supposed to help retain moisture in the skin and improve the look and feel of dry skin over time. That sounds amazing already! So, just like the SPF, I've been using it for less than a week but in the morning and at night. Here are my thoughts on it. I hope this review is helpful. 🙂
My experience
Just like the Neutrogena Hydro Boost Water Gel Lotion Sunscreen SPF 30, this product has an overpowering fragrance, and the color of the product is blue. If you're allergic to fragrance or dyes, you're in luck! A fragrance-free version of this product is available. Maybe I'll grab that one next time. The one with fragrance was the only one I could find at the store. I just grabbed whatever they had, since it was a last minute type of thing. My skin was so dry and itchy at that point. Plus, I don't have any issues with fragrance or dyes. My skin isn't sensitive to them. So this moisturizer is very easy to apply to the skin. It goes on smoothly and leaves the skin feeling instantly hydrated. I've used so many moisturizers on my body, but this one is pretty amazing. It actually leaves my skin feeling hydrated throughout the day and over night. My skin feels so soft and supple to touch. I really love it! But, be aware when applying this body moisturizer, it has the tendency to pill if you rub it into the skin too much. I would suggest going light-handed and smoothing it over the skin gently to prevent pilling. If you use too much product, it pills a lot too. You don't need to use a lot of product to get results anyways. A little goes a long way. Lastly, it leaves the skin feeling a tad sticky after application. It doesn't feel greasy but sticky. That sticky feeling diminishes a little bit, but it doesn't completely go away, so I prefer to use it at night more often than during the day because of this. Overall, this moisturizer has helped my skin so much! It helped to get rid of flaky skin and overall skin dryness. My skin isn't itchy or flaky anymore. I'm so amazed how well it works. My skin is very happy with the results. For the amount of product and price, it's a pretty good steal.
This is what the product looks like. It has a more whipped texture and consistency to it compared to the sunscreen. Same blue color to it. I must admit, the dye in this product does make it look pretty, lol. Still, it's not necessary for a skin care product to achieve results. With this moisturizer, I don't use it on my face. My facial skin breaks out far too easily, and the ingredients are not acne-friendly. It contains isopropyl palmitate and petrolatum, which isn't good on my acne-prone skin. If it works on your face, lucky you. This stuff is so affordable and truly does moisturize the skin.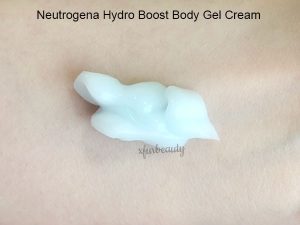 Pros & Cons
✅ Pros
Moisturizing
Gets rid of flaky skin
Comes in a 16 oz. bottle
Affordable
Lightweight
Non-greasy
Leaves skin hydrated throughout the day and over night
❌ Cons
Overpowering fragrance
Has the tendency to pill
Feels a bit sticky afterwards
Conclusion
Another hydro boost skin care product from Neutrogena that I'm falling in love with! I didn't expect this to happen either, but I knew I had to get my hands on the hydro boost body gel cream! It has done wonders for my dry, itchy, flaky skin. It healed my skin in nearly a single day. I'm still so shocked because I have a bunch of body moisturizers that did absolutely nothing after so many applications. For example, CeraVe and Cetaphil moisturizers that almost everyone raves about so much. None of those skin care products helped to relieve the dryness and itchiness. So I think it's great to have found something so affordable and effective. I'm going to use this moisturizer day and night to keep my skin youthful, supple, soft, and hydrated. It works! I would recommend this if you have really dry skin! It's a lovely product!
Go here for more reviews on Neutrogena skin care products
Categories:
Tags:

Beauty, Body Care, Body Cream, Body Gel, Hyaluronic Acid, Hydrating, Hydro Boost, Moisturizer, Moisturizing, Neutrogena, Neutrogena Hydro Boost Body Gel Cream, Skin Care