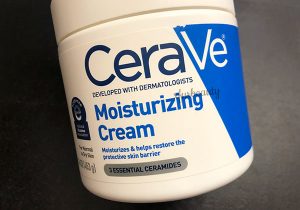 I officially finished my first jar of CeraVe after about 3 months. I thought it would take me much longer to finish the whole jar. But nope. I opened the jar one day and noticed that I was done with it. I hit the bottom of the jar! Yay! I've been waiting for this fine moment. It's officially here! lol. Now here are my thoughts on CeraVe Moisturizing Cream after finishing the cream…
If you missed out on my posts on CeraVe Moisturizing Cream, follow the links below. 🙂
So I picked up CeraVe Moisturizing Cream…
My thoughts on CeraVe Moisturizing Cream after 1 Month!
Like before, I didn't use the cream on my facial skin. The texture, consistency, finish of product isn't for my facial skin. I would end up with a ton of clogged pores. So! I used it only on my body instead. The product is creamy but doesn't feel as lightweight as I thought it was. It's a little thicker in texture. Soft and smooth. When applied to the skin, it feels soothing and calming, especially when it's cold. It absorbs into the skin nicely. Vanishes into the skin but leaves a thin layer of residue behind. That's where the slight heaviness comes in. This is what bothered me the most about the cream. The thin layer of residue that it leaves behind irritated my skin. I ended up with a rash on some parts of my body like my arms and shoulders. I can't use the cream on those parts of my body every day. It just makes my skin itchy and red. The product seems to work better for my legs, feet, and hands. That's where I use the cream most often. No problems there! But still, the thin layer of film it leaves behind is annoying.
So CeraVe Moisturizing Cream is called a 'Moisturizing' cream, but it's not that moisturizing, in my opinion. I can layer a bunch of this cream on my skin and still need more moisture. I didn't rely on this cream to keep my skin moisturized. It's not that great of a moisturizer. I really don't know why this cream is so popular. Perhaps it's because it contains ingredients such as ceramides and hyaluronic acid. And it's fragrance-free. 🤔 But we need to consider the overall formulation of the product. And honestly, I didn't see major changes in my skin using this cream. I just used it to finish up the jar (in which I did). BUT! I have a few more jars of this stuff to finish up. Don't ask me why I picked up a few more. Ugh! I'm just stuck with them now. Lol. I recently opened up a new jar quick so I can get started (to finish it up). So apparently, it takes me about 3 months to finish up a whole jar. But will I purchase any more CeraVe Moisturizing Creams after I'm truly done? Probably not. I'm really not that impressed with this product. It's pretty average. Nothing to call home about. There are better moisturizers out there. Don't get me wrong. I don't hate it. I just don't love it.
The only CeraVe product I actually kinda like and use is CeraVe Eye Repair Cream (click!), but it's not the best eye cream out there. Enjoy my review on it by clicking the link!
I hope my update on CeraVe Moisturizing Cream was helpful. Have a wonderful day. 🙂
Categories:
Tags:

Body Care, Body Cream, Body Lotion, Body Moisturizer, Ceramides, CeraVe, CeraVe Moisturizing Cream, CeraVe Skin Care, Experience, Hyaluronic Acid, Lifestyle, Lotion, Moisturizer, Moisturizing, Results, Skin Care, Skincare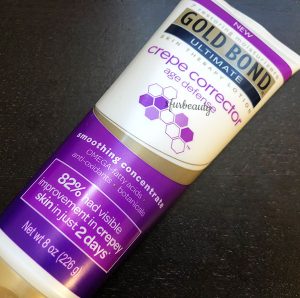 I picked up a bottle of Gold Bond Ultimate Crepe Corrector Age Defense. I never would have thought I would be using a Gold Bond product until they came out with some anti-aging, moisturizing skin care products. Like this one! It's the Crepe Corrector Age Defense!
Let's learn more about it!
The purpose of this product is to help diminish visible signs of crepey skin. Crepey skin is when the skin is thin, finely wrinkled like crepe paper. Like saggy skin that feels loose. Yeah, that doesn't sound pleasant, but we'll all get there some day. We all age. So this product deeply hydrates for 24 hours. Helps to visibly smooth and plump the skin. Visibly firms and tightens the skin. It's a smoothing concentrate product with omega fatty acids, antioxidants, and botanicals. It even says that 82% had visible improvement in crepey skin in just TWO DAYS!!! 😲
I'm really excited about this product! If it helps with crepey skin, it should help with fine lines and wrinkles too! I've used it for 3-4 days already. This is what I think about it…
The cream is thick and rich. It has a smell to it even though it's free of fragrance and essential oils. I'm not bothered by the smell of the product. When applied to the skin, it feels exactly like how I thought it would — thick, rich, and creamy. It's not runny. Love that it stays in place, which makes it very easy to use and to spread across the skin. It also doesn't ball up. Blends into the skin very well. It does leave a lotion type feel behind. Like I know I'm wearing moisturizer or a lotion. But, it's not too bad. I think I like it much better than CeraVe Moisturizing Cream and Cosrx Advanced Snail 92 All in One Cream. CeraVe tends to roll off the skin sometimes and leaves an annoying residue behind. The Cosrx Snail Cream does the same. It rolls off the skin. The reason why I can only use it at night. I tried using it in the morning, and it just didn't work with my other skin care products (including SPF).
This Gold Bond product is very moisturizing. It left my skin feeling ultra-soft and smooth. Since I don't have crepey skin, I can't vouch for that. But I haven't noticed it helping with fine lines or wrinkles. It just makes my skin feel super moisturized, which I really like! The difference between Gold Bond, CeraVe Moisturizing Cream, and Cosrx Snail Cream is very apparent. I just like the Gold Bond a lot more! It deeply moisturizes my skin. Sits on my skin well without making my skin itchy. It doesn't roll off the skin. My skin is tolerating it very well!
So what's in this cream??
The ingredients in the Gold Bond Ultimate Crepe Corrector Age Defense include hydroxyethyl urea, glycerin, dimethicone, petrolatum, selaginella lepidophylla extract, aloe barbadensis leaf juice, sodium pca, fatty acids and alcohols, other antioxidants (extracts). It even has magnesium ascorbyl phosphate (vitamin c) and whey protein at the bottom of the ingredient list. This is just naming a few ingredients. You can always check the label for the full ingredient list if you're interested. But the ingredients look pretty good. It contains ingredients to fight against aging and to help keep the moisture barrier happy and healthy. 😄
This moisturizer isn't something I would use on my facial skin. I feel that it's too heavy, and it'll clog my pores quick. I'm not going to take the risk. I like using it on my body, arms and hands. It's a thick, rich, creamy moisturizer that actually feels nice on the skin. For the price of $8-$10 and the size of the product is 8 oz., it's not bad at all! It's a good deal compared to other skin care products like the ones I mentioned (CeraVe Moisturizing Cream and Cosrx Advanced Snail 92 All in One Cream). I'm really liking the Gold Bond Ultimate Crepe Corrector Age Defense Moisturizer! I'll make an update in a few weeks to see how it's going! Stay tuned for my next update on this product!
For more reviews on anti-aging skin care products go here 👈🏻
Categories:
Tags:

Age Defense, Anti-Aging, Body Care, Crepe, Crepe Corrector, Crepe Skin, Crepey Skin, Experience, Fine Lines, Gold Bond, Gold Bond Skin Care, Gold Bond Ultimate Crepe Corrector Age Defense, Hand Cream, Lifestyle, Moisturizing, Review, Skin Care, Skin Care Product, Skincare, Wrinkles