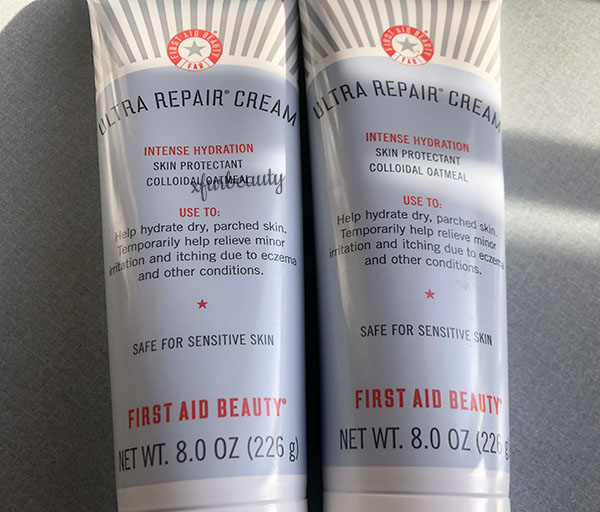 I was searching for a new moisturizer to help with dry, flaky, parched skin. This cream was constantly mentioned. It had good reviews too. I thought I would give it a try even after scanning the ingredients. It contains some comedogenic ingredients that I've had issues with before. But, I ignored it all and picked up a few bottles. They were on sale, hehe. The purpose of this product is to provide instant and long-term hydration for dry, distressed skin and eczema. It contains colloidal oatmeal, which is a skin protectant that helps to relieve itching caused by eczema, rashes, and other skin conditions. Shea butter to moisturize and protect the skin barrier with vitamins, minerals, and essential fatty acids. Allantoin to calm and soothe the skin. It's vegan, cruelty-free, and gluten-free. Since the weather is colder and cooler, and I've been dealing with dry skin, this seemed like the type of product that could help with dry, itchy skin. Also, as I mentioned earlier, it had a ton of good reviews. Some even labeled it as their HG. Let's see if this cream works or not. Here's my experience with this product.
My Experience with First Aid Beauty Ultra Repair Cream:
Texture & Application
The product is a cream. It feels soft, smooth, and creamy. When applied to the face, I didn't apply it like my other moisturizers. It was a little difficult to spread across the face. What I did was place dots of the cream all over my face then gently pat it into the skin. The cream blends into the skin well. But only if it's not used with other moisturizers. I tried using it with another moisturizer (underneath). The First Aid Beauty Ultra Repair Cream started pilling. When I used it alone without any other moisturizer, it blended into the skin easily, no pilling. Even though the product blends into the skin well, it doesn't fully absorb. It sits on top of the skin. I feel like there was a layer of product that's sitting on top of my skin the whole night. It reminded me of CeraVe Moisturizing Cream. They feel very similar on the skin. They both sit on top of the skin.
Helps with dryness and flaky skin.
This cream helps with dry, cracked, flaky skin. Even wounded skin. I noticed that some parts of my face was over-exfoliated. After a day of using this cream, my skin felt a little better. The over-exfoliated parts of my face looked like it healed and peeled off. It wasn't as dry anymore or reddish in color. It soothed my skin and helped to repair it.
A lightweight rich cream.
This is actually a rich cream even though it feels lightweight when applied and after it (somewhat) absorbs into the skin. My skin doesn't feel like it has moisturizer on even though it's sitting on top of my skin. It's a different feeling. The cream feels and looks matte on my face. It doesn't leave my skin looking glowy, shiny, or oily. The product feels very thin on the skin and a little goes a long way. I only used a little bit of product for my whole face and neck, chest. That amount of product was able to keep my skin from drying out and soothed it.
Did it clog my pores?
I only used this cream for 1 day and 6 hours on my face (nightly use). It should've been only one day. The first day, I noticed some clogged pores all over my oily t-zone. I didn't think it was the First Aid Beauty Ultra Repair Cream clogging my pores. I kept using it the next night. But, I eventually washed it off that same night because I noticed tons of blackheads out of nowhere. I developed pimples on my forehead, upper lip, chin, and a bunch of blackheads on my oily t-zone (especially my nose). The amount of blackheads I saw were disturbing. I washed the product off immediately and opted for my original moisturizer. The next morning, my skin looked much better. No new blackheads. I was going to leave First Aid Beauty Ultra Repair Cream for the second night but something didn't feel right. I was clearly breaking out from the cream. I'm glad I pulled the plug right before it got even worse than what I went through. Whew! If you have oily, acne-prone skin, do a patch test first. This product felt very occlusive on my skin (sits on top of the skin type of feeling). It was just bad for my skin.
It contains Eucalyptus globulus leaf oil.
The last ingredient in this product is eucalyptus. *pause* Why??!! On the bottle, it says that this product is safe for sensitive skin. If you have sensitive skin, do a patch test. I don't have sensitive skin, but my skin has been sensitized by my acne products. When I applied this cream to my face, I can feel my face tingling and slightly burning. It's the eucalyptus. The tingling/burning sensation fades away after a while, but why bother with this ingredient. I can't imagine someone with sensitive skin using this. But everyone is different. I know my skin didn't like it.
Final Thoughts
Unfortunately, the First Aid Beauty Ultra Repair Cream didn't work for me. I really wanted to like it, since I was searching for a new moisturizer. I picked my bottles up when they were on sale. The retail price is $46 each. Thank goodness I didn't pay that much for it. Because it was not worth it at all. I mean, it helped with dry, parched skin that's irritated, but it ended up clogging my pores and giving me tons of blackheads. My nose looked like a strawberry after I used it for a day and 6 hours (lol). It made my acne 10x worse than the actual dryness itself. What's the point of moisturizing when it causes blemishes? Ugh! And eucalyptus? I should've listened to the very few negative reviews I saw. But, in my mind, I just wanted to try it out for myself, haha. Now I'm left with full bottles of this cream that I can't use on my face. I'll use the rest of it on my body or as a hand cream instead. My hands are pretty crusty and dry right now due to the dry, cool weather. Anything helps. I won't repurchase First Aid Beauty Ultra Repair Cream again even if it was on sale. I feel that the CeraVe Moisturizing Cream works the same way without the eucalyptus. I've been using my last jar of CeraVe as my body cream.
Let's talk about the comedogenic ingredients. This is something I ignored (shouldn't have) thinking that it could work for me. Here are the ingredients that popped out when I was looking at the ingredients list. They are Glyceryl Stearate SE, Shea Butter, and Squalane. I've always avoided products with Glyceryl Stearate SE. This particular ingredient has always clogged my pores. Don't mistake this ingredient with Glyceryl Stearate. Glyceryl Stearate SE can cause acne issues if you're acne-prone. At least it did on my skin. Shea Butter is another culprit. I know Shea Butter and my skin don't go well together, especially for the face. I had this issue with another product not so long ago. Squalane is a hit or miss on my skin. I'm currently using a moisturizer (Vanicream Daily Moisturizer for Sensitive Skin) with squalane, and it seems like it's working better on my skin than the First Aid Beauty Ultra Repair Cream. I don't think it's entirely squalane's fault in clogging my pores. I think it's the Glyceryl Stearate SE and Shea Butter in combination with squalane that made my skin break out in acne. On top of that, Eucalyptus just adds into the mix and causes irritation.
I was hoping that the First Aid Beauty Ultra Repair Cream was one of those products that could work since it costs more, could possibly have higher quality ingredients. This cream is 46 bucks. It should be good, right? It's also a highly raved product! Nope, nope, nope, I was wrong. I developed terrible acne from this cream. I wouldn't recommend this product to anyone that is prone to clogged pores. Save your 46 dollars and spend it on something else. There are better moisturizers out there that are less expensive than this cream. I'm not a huge fan of the texture of the product either. It's odd that I don't see that many negative reviews on this product. Here is one, lol.
Back of the packaging.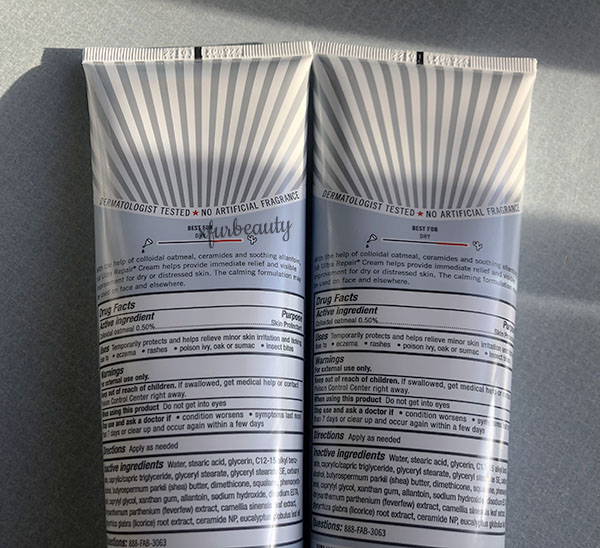 Products came sealed. Left, opened. Right, sealed.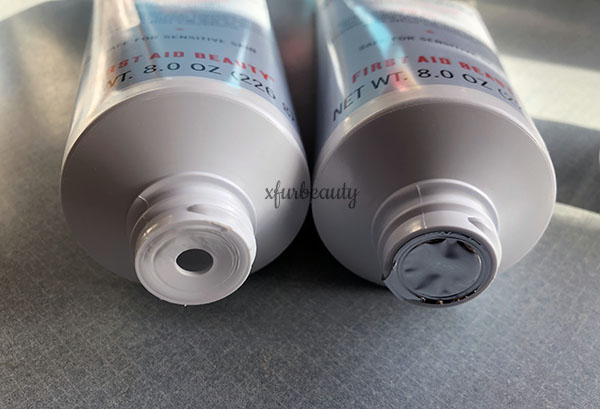 This is what the cream looks like.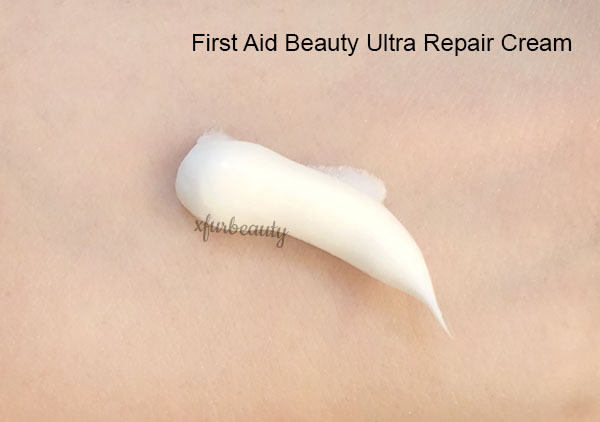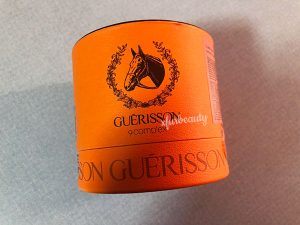 So I used horse cream on my face last night. This cream right here: GUERISSON 9 Complex Cream!! I thought I would give it try and use it on my facial skin instead. When I first used the cream, I thought it was too rich, too thick, too heavy, and way too buttery for my oily, acne-prone skin. But I've dealing with dry, flaky skin lately. Even my Eucerin Q10 Anti-Wrinkle Face Cream wasn't helping with the dryness and flakiness. It made it very difficult to wear foundation. My skin looked worse. Every single little dryness was accentuated. I didn't like that at all. So after a night of using this horse cream on my face, this is what happened…
In my last post on this horse cream, I mentioned that I've been using it as an eye cream and a neck cream only. And it's been working amazingly for those areas. It leaves my eye area and neck feel oh-so-moisturized throughout the day. The cream has been working very well for me. Even though I like Eucerin Q10 Anti-Wrinkle Face Cream, the horse cream takes it up a notch when it comes to moisture. It really, truly does replenishes the skin with a surge of moisture. My skin feels SO moisturized after adding it into my routine. So that's one of the reasons why I decided to use it on my face. And of course, I have it, so why not just try it out!
When I was applying the cream to my face, I noticed that it has this silicone-feel to it, which was expected because the cream contains dimethicone, cyclopentasiloxane (twice!), and beeswax. It's also not an oil-free cream. Obviously. It has horse fat/horse oil in it. Besides horse oil, it contains Bixa Orellana Seed Oil, Jojoba Seed Oil, and Soybean Oil. With these ingredients, I was afraid that it might clog my pores. But, good news, it's been a fortunate experience after a night of using this cream. I woke up today with skin that's more hydrated, smoother, and softer in appearance. The difference was pretty big. My moisture barrier feels and looks so healthy! It simply works so much better compared to Eucerin! Why???????!! 😥 I believe it's the HORSE FAT! This stuff is amazing!
But did it clog my pores??? Dun dun dun…
Not that I know of yet. I didn't notice any breakouts this morning. Just hydrated, smooth, soft skin that looks really healthy and moisturized. My makeup (foundation) went on better and looked better on my skin. My skin IS glowing! This is just insane how my skin looks so good just by using this cream on my face. None of my other moisturizers could do this. It also softened some fine lines and wrinkles too. WOW, I'm stunned. It's too good to be true. I'll make a new update soon on what's going on. I just hope it doesn't break me out! I just found something that improves the quality of my skin and actually moisturizes and gets rid of dry, flaky skin!
Stay tuned for my next update! 😃👌🏻
My previous post on this horse cream is right here, don't forget to check it out!!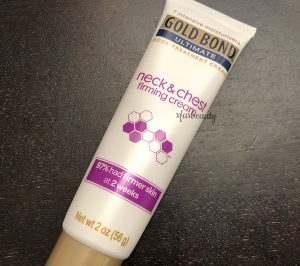 I have a new cream for my neck and chest skin…
It's the Gold Bond Ultimate Neck & Chest Firming Body Treatment Cream!
This is my second purchase of a Gold Bond skin care product. If you missed out on my first, go to this link right here: Gold Bond Ultimate Crepe Corrector Age Defense
This product is a lot smaller. It's only 2 oz (56 g). It made me curious what's so good about this cream vs the other cream (Crepe Corrector Age Defense). So! Let's learn more about it…
This cream is clinically tested and proven to increase elasticity, improve texture, visibly firm, boost hydration, and repair dry, depleted skin. It contains advanced hydration blend to draw in moisture to improve texture. Salicylic Acid (BHA) to exfoliate to help reveal a younger-looking complexion. Stress Response Proteins to boost skin's moisture retention to improve smoothness. It's fragrance-free and dermatologist-tested.
The more I read about this cream, the more excited I am for it, haha! It just seems so promising! I'M SO EXCITED!! 😅😃
This is what the cream looks like.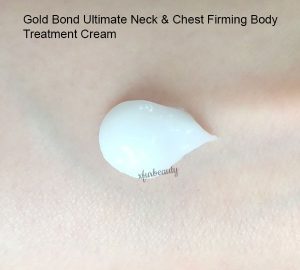 This cream feels very similar to the Crepe Corrector Age Defense. It's soft, thick, and creamy. It feels very rich and moisturizing. And yes! It felt soothing and moisturizing when I applied it to my neck and chest skin. With this cream, I noticed that it absorbed into the skin much better compared to the Crepe Corrector Age Defense. It just vanishes into the skin nicely, but it does leave a little bit of a sticky feeling behind. Just a little bit. I wasn't too bothered by the stickiness of the cream at first, but we'll see as I continue to use the product. On the box it says…
82% saw softer, smoother skin immediately
85% saw improvement in skin texture within 1 day
97% had visibly firmer, more taut skin in 2 weeks
88% had improvement in skin elasticity in 6 weeks
My Results After 1 Day…
Well, my skin did feel softer and smoother immediately. It is a moisturizing lotion. I'm not too surprised about that. My other moisturizers that are soft, thicker in texture, creamy leave my skin feeling softer and smoother immediately too. No biggie. Within 1 day of using this cream, I did notice an improvement in skin texture, but it could be from my other skin care products. I'm using other skin care products in conjunction with this neck and chest cream. But, good news, I like the way it moisturizes my skin and leaves my skin feeling hydrated! I can't wait to see what my skin is going to look like within 2 weeks and 6 weeks!!
What's in this product? Here are the ingredients!
water, hydroxyethyl urea, glycerin, dimethicone, hydroxyethyl acrylate/sodium acryloyldimethyl taurate copolymer, steareth-21, jojoba esters, petrolatum, selaginella lepidophylla extract, aloe barbadensis leaf juice, salicylic acid, stearyl alcohol, glyceryl stearate, isohexadecane, ubiquinone, whey protein, jojoba oil/macadamia seed oil esters, phytosteryl macadamiate, bisabolol, pyrus malus (apple) fruit extract, citrullus lanatus (watermelon) fruit extract, phytosterols, panthenol, tocopheryl acetate, magnesium ascorbyl phosphate, sodium lactate, methyl gluceth-20, C12-15 alkyl benzoate, sodium PCA, cetyl alcohol, hydrolyzed jojoba esters, squalene, cetearyl alcohol, stearamidopropyl PG-dimonium chloride phosphate, lens esculenta (lentil) fruit extract, methylparaben, ethylhexylglycerin, propylene glycol, tocopherol, EDTA, zingiber officinale (ginger) root extract, potassium hydroxide, polysorbate 60
This cream contains hydroxyethyl urea, which I mentioned about in my post about the Crepe Corrector Age Defense. It also contains petrolatum, aloe barbadensis leaf juice, salicylic acid, ubiquinone, whey protein, panthenol, vitamin e, vitamin c, and sodium pca, and many more ingredients. Just comparing the ingredients between the Crepe Corrector Age Defense and the neck and chest cream, the ingredients in the neck and chest cream are very similar to the Crepe Corrector Age Defense, except that the neck and chest cream contains salicylic acid and a few other ingredients that are different. Not by much. And it looks like the beneficial ingredients are way up higher on the ingredient list too in the neck and chest cream. That may be why the neck and chest cream comes in a smaller bottle (2 oz. vs 8 oz.). They're priced very similarly. Around 10 bucks. As I mentioned earlier, the neck and chest cream absorbs into the skin much quicker making it feel more lightweight on the skin.
Final Thoughts
So far, it's not a bad product. But it sure does feel like any other moisturizing product I have. I'm not too impressed yet, but I'm anxious to see what the results will be after using it for 2 or 6 weeks. I really hope to see visibly firmer and more taut skin (2 weeks) and an improvement in skin elasticity (6 weeks). If it lives up to its claims, I'm going to be thrilled! Well! We'll see what happens soon. That's all for now! I'll make an update when it reaches 2 or 6 weeks. See everyone there! 😃
For more reviews on Gold Bond skin care products click here!!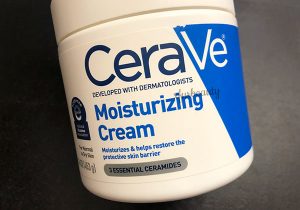 I officially finished my first jar of CeraVe after about 3 months. I thought it would take me much longer to finish the whole jar. But nope. I opened the jar one day and noticed that I was done with it. I hit the bottom of the jar! Yay! I've been waiting for this fine moment. It's officially here! lol. Now here are my thoughts on CeraVe Moisturizing Cream after finishing the cream…
If you missed out on my posts on CeraVe Moisturizing Cream, follow the links below. 🙂
So I picked up CeraVe Moisturizing Cream…
My thoughts on CeraVe Moisturizing Cream after 1 Month!
Like before, I didn't use the cream on my facial skin. The texture, consistency, finish of product isn't for my facial skin. I would end up with a ton of clogged pores. So! I used it only on my body instead. The product is creamy but doesn't feel as lightweight as I thought it was. It's a little thicker in texture. Soft and smooth. When applied to the skin, it feels soothing and calming, especially when it's cold. It absorbs into the skin nicely. Vanishes into the skin but leaves a thin layer of residue behind. That's where the slight heaviness comes in. This is what bothered me the most about the cream. The thin layer of residue that it leaves behind irritated my skin. I ended up with a rash on some parts of my body like my arms and shoulders. I can't use the cream on those parts of my body every day. It just makes my skin itchy and red. The product seems to work better for my legs, feet, and hands. That's where I use the cream most often. No problems there! But still, the thin layer of film it leaves behind is annoying.
So CeraVe Moisturizing Cream is called a 'Moisturizing' cream, but it's not that moisturizing, in my opinion. I can layer a bunch of this cream on my skin and still need more moisture. I didn't rely on this cream to keep my skin moisturized. It's not that great of a moisturizer. I really don't know why this cream is so popular. Perhaps it's because it contains ingredients such as ceramides and hyaluronic acid. And it's fragrance-free. 🤔 But we need to consider the overall formulation of the product. And honestly, I didn't see major changes in my skin using this cream. I just used it to finish up the jar (in which I did). BUT! I have a few more jars of this stuff to finish up. Don't ask me why I picked up a few more. Ugh! I'm just stuck with them now. Lol. I recently opened up a new jar quick so I can get started (to finish it up). So apparently, it takes me about 3 months to finish up a whole jar. But will I purchase any more CeraVe Moisturizing Creams after I'm truly done? Probably not. I'm really not that impressed with this product. It's pretty average. Nothing to call home about. There are better moisturizers out there. Don't get me wrong. I don't hate it. I just don't love it.
The only CeraVe product I actually kinda like and use is CeraVe Eye Repair Cream (click!), but it's not the best eye cream out there. Enjoy my review on it by clicking the link!
I hope my update on CeraVe Moisturizing Cream was helpful. Have a wonderful day. 🙂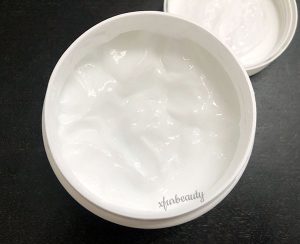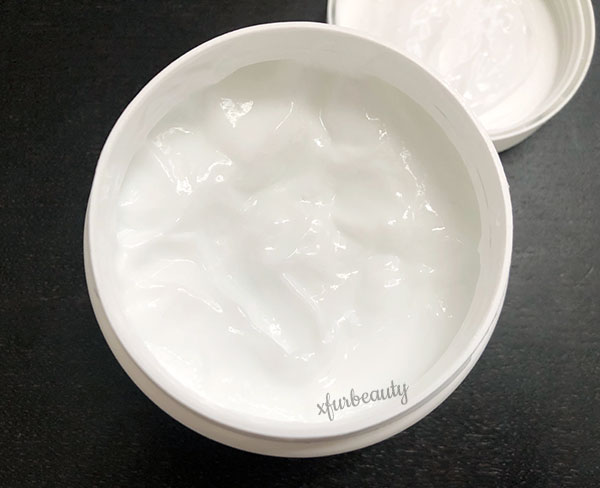 I've been using CeraVe Moisturizing Cream for about a month. I was very ecstatic about this product. Everyone talks about it. It gets a ton of praise. It contains ceramides and hyaluronic acid. It's made for very dry skin, dry skin for the face and body. Wonderful! But, I didn't use it on my face. I heard a ton of horror stories that this cream causes closed comedones and breakouts. From my personal experience with CeraVe, I believe them. CeraVe doesn't go on my face. Not the products I've had experience with so far. They all clogged my pores. Giving me cystic acne, closed comedones, blackheads, whiteheads. All of the acne that you can imagine. It was just terrible. My skin just looked very bad using CeraVe creams/moisturizers on my face. So, I only used the moisturizing cream on my body. Now here's my experience with CeraVe Moisturizing Cream after a month of use! 😊
The texture of the cream is very nice. It's soft and smooth to touch. It's very creamy and soothing on the skin. I couldn't wait to use it because of this. I started off using this cream twice a day then eventually only used it at night due to how thick the cream felt on my skin. It's odd. The cream feels heavy on the skin, but it doesn't go on heavy. It absorbs and sinks into the skin pretty well. But it leaves a thin layer of film behind on the skin that I didn't like. It sits on top of the skin. I think that's where the heaviness of the cream comes into play. Sometimes my skin would get itchy when using this cream too. I didn't think much about it, so I continued to use it at night to moisturize my skin.
As I continued to use the cream at night, I noticed that my arms would get itchy the next morning. I noticed that this would happen too often than it should. Maybe it's too moisturizing? Maybe it's too heavy on my skin? That annoying thin layer of residue that it leaves behind? I mean, it does contain petrolatum and heavier ingredients compared to what I usually use, which is a lightweight moisturizer. So I stopped it on itchy areas (which was mainly my upper body), but I kept using it on my legs and hands. Perhaps it's best to keep this moisturizing cream for my legs and use it as a hand cream. Or use it on dry spots on my skin when necessary. It's great that it contains ceramides and hyaluronic acid. It's also fragrance-free and leaves my skin feeling ultra-soft and smooth, but I'm not sure if I'm going to purchase it again. I'll use the rest of the moisturizing cream and see what happens next.