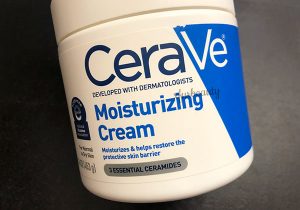 I officially finished my first jar of CeraVe after about 3 months. I thought it would take me much longer to finish the whole jar. But nope. I opened the jar one day and noticed that I was done with it. I hit the bottom of the jar! Yay! I've been waiting for this fine moment. It's officially here! lol. Now here are my thoughts on CeraVe Moisturizing Cream after finishing the cream…
If you missed out on my posts on CeraVe Moisturizing Cream, follow the links below. 🙂
So I picked up CeraVe Moisturizing Cream…
My thoughts on CeraVe Moisturizing Cream after 1 Month!
Like before, I didn't use the cream on my facial skin. The texture, consistency, finish of product isn't for my facial skin. I would end up with a ton of clogged pores. So! I used it only on my body instead. The product is creamy but doesn't feel as lightweight as I thought it was. It's a little thicker in texture. Soft and smooth. When applied to the skin, it feels soothing and calming, especially when it's cold. It absorbs into the skin nicely. Vanishes into the skin but leaves a thin layer of residue behind. That's where the slight heaviness comes in. This is what bothered me the most about the cream. The thin layer of residue that it leaves behind irritated my skin. I ended up with a rash on some parts of my body like my arms and shoulders. I can't use the cream on those parts of my body every day. It just makes my skin itchy and red. The product seems to work better for my legs, feet, and hands. That's where I use the cream most often. No problems there! But still, the thin layer of film it leaves behind is annoying.
So CeraVe Moisturizing Cream is called a 'Moisturizing' cream, but it's not that moisturizing, in my opinion. I can layer a bunch of this cream on my skin and still need more moisture. I didn't rely on this cream to keep my skin moisturized. It's not that great of a moisturizer. I really don't know why this cream is so popular. Perhaps it's because it contains ingredients such as ceramides and hyaluronic acid. And it's fragrance-free. 🤔 But we need to consider the overall formulation of the product. And honestly, I didn't see major changes in my skin using this cream. I just used it to finish up the jar (in which I did). BUT! I have a few more jars of this stuff to finish up. Don't ask me why I picked up a few more. Ugh! I'm just stuck with them now. Lol. I recently opened up a new jar quick so I can get started (to finish it up). So apparently, it takes me about 3 months to finish up a whole jar. But will I purchase any more CeraVe Moisturizing Creams after I'm truly done? Probably not. I'm really not that impressed with this product. It's pretty average. Nothing to call home about. There are better moisturizers out there. Don't get me wrong. I don't hate it. I just don't love it.
The only CeraVe product I actually kinda like and use is CeraVe Eye Repair Cream (click!), but it's not the best eye cream out there. Enjoy my review on it by clicking the link!
I hope my update on CeraVe Moisturizing Cream was helpful. Have a wonderful day. 🙂
Categories:
Tags:

Body Care, Body Cream, Body Lotion, Body Moisturizer, Ceramides, CeraVe, CeraVe Moisturizing Cream, CeraVe Skin Care, Experience, Hyaluronic Acid, Lifestyle, Lotion, Moisturizer, Moisturizing, Results, Skin Care, Skincare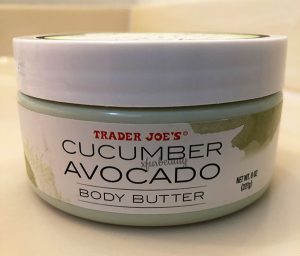 I finished my bottle of Neutrogena Hydro Boost Body Gel Cream. 👈🏻 Previous review here! Should I do a new update?? 🤔 We'll see! I'm currently looking for a new body moisturizer. I remembered that I had a jar of Trader Joe's Cucumber Avocado Body Butter. I thought I would give it a try again. It's there, so why not? lol. The purpose of this body butter is to moisturize, deeply hydrate, and leave the skin feeling super soft and supple. It's enriched with shea butter, avocado oil, cucumber extract, and jojoba oil. So did it do what it's supposed to do?? Keep reading to find out! Here's my experience with Trader Joe's Cucumber Avocado Body Butter!
My experience
The texture of the cream is super soft. It resembles more of a gel-cream than a body butter upon touch. But when applied to the skin, it feels much richer and leaves the skin moisturized. It absorbs and blends into the skin nicely. But it doesn't leave a clean finish behind. Feels like there's a layer of residue sitting on top of the skin after it blends into the skin. It doesn't feel sticky or greasy though. I feel that my skin becomes irritated due to the residue and the fragrance in this cream. Yes, it contains fragrance. This cream smells like artificial cucumbers. And I didn't like it at all. It gave me a really annoying headache each time I used it. So I can see why I stopped using this moisturizer for a while. In my opinion, the product is below average compared to other body moisturizers and butters. The smell is just way too strong for my taste. There's nothing special about this body butter. It contains shea butter, avocado oil, cucumber fruit extract, jojoba oil, sodium hyaluronate, vitamin e…but that's nothing out of the ordinary. A lot of products do too. I just think the overall formulation is just poor. It could've been better.
This is what the body butter looks like. I hope to finish it soon, lol.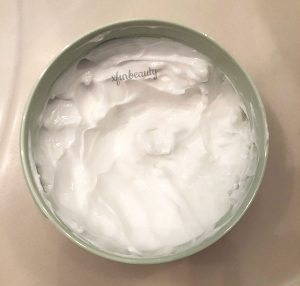 Pros & Cons
✅ Pros
Moisturizes
Contains shea butter, avocado oil, cucumber fruit extract, jojoba oil, sodium hyaluronate, vitamin e
Nice creamy, soft texture
Blends into the skin well
Not sticky or greasy
Not tested on animals
❌ Cons
Contains fragrance. Gave me a bad headache.
Leaves residue behind
Conclusion
Honestly, I don't like this product at all. I thought it would be good when I touched the cream, since it feels so soft and smooth in consistency. But when applied to the skin, it just feels very different. It doesn't leave the skin feeling sticky or greasy, but the residue that it leaves behind is annoying and irritating. I prefer products that just vanishes into the skin and doesn't feel like I have product on. The fragrance in this moisturizer is just as bad. I don't like it. Since it gives me headaches, I only use it on my feet, so I won't have to smell it, lol. All in all, I won't purchase again. I wouldn't recommend it either. It's not as great as I thought it would be.
For more reviews on moisturizers go here
Categories:
Tags:

Avocado, Avocado Cream, Body Butter, Body Care, Body Cream, Cruelty Free, Cucumber, Cucumber Avocado Body Butter, Cucumber Cream, Moisturizer, No Animal Testing, Review, Shea Butter, Skin Care, Skincare, Trader Joe's, Trader Joe's Cucumber Avocado Body Butter, Trader Joes