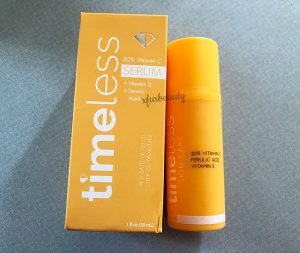 I'm always on the search for a good, effective vitamin c serum to add to my skin care routine. I haven't found one that works on my skin yet. This product right here, Timeless Vitamin C Serum, has so many glowing reviews. I had to try it out myself to see if it's worth the hype. It utilizes l-ascorbic acid (20% vitamin c) along with vitamin e and ferulic acid. I've also been searching for a good ferulic acid serum that my skin likes. This vitamin c serum happens to have both vitamin c and ferulic acid. That's awesome! The purpose of this serum is to brighten the skin, build collagen, and even out the skin tone. I purchased it mainly to brighten my skin and to help fade some stubborn acne scars or any other discolorations that I have. But the other benefits (anti-aging) are welcome just as well. This serum is paraben-free, contains no fragrance and dye (yay!), and it's cruelty-free. Love it! I must say, I was really excited about this vitamin c serum. It seems like a very promising product that would deliver. I was really hoping that it would work. My skin was looking a bit dull and needed something to brighten it up and make it look more lively and glowy. So I've had this serum for a couple of months now. Did it work? Did Timeless Vitamin C Serum do what it's supposed to do? What were the results? Well, I'm here to share my experience on this vitamin c serum! Keep on reading…
My experience
When I first dispensed the serum into my palm, I noticed that it smelled funny. I can't pinpoint what it smells like, but it's weird. Maybe a plastic smell to it. Citrus? It's a mixture of those things, lol. I was able tolerate it, so it wasn't a big issue. The product comes out liquidy, colorless (when I first purchased it). Keep in mind that this serum oxidizes very fast, so try using it daily if you can. That's what I tried to do. I used it in the morning and at night. I also made sure to store this serum in a dark, cool place away from light to prevent the product from oxidizing quick. The texture of the serum is light, runny, and it feels very nice applying it to the skin. It smooths over the skin without much effort. Just pat it into the skin, and you're all set! After application, I noticed that the serum made my skin look softer and smoother. I noticed an improvement in texture right away. I was stunned and so happy! After a couple of days of using this serum, my skin looked brighter and glowed. I saw the effects of this serum faster than expected. Within a few days!! As for acne scars, it helped to fade them within a month. Not entirely but I noticed that my acne scars weren't as noticeable as before. They were, in fact, lighter. There were improvements. My first impression of this product was really good! I loved the results! It worked! I was ecstatic with what I was seeing! Now let's move on to the next month.
After using Timeless Vitamin C Serum for 2 months, I was still seeing the brightening effect, but my skin was drying out just a little bit. I mean, it is a 20% vitamin c serum (l-ascorbic acid) after all. It's definitely a concentrated vitamin c serum. So I had to decrease my use to only mornings. The results were pretty much the same when I was using it twice a day (morning and night). Not much of a difference. I couldn't tell anyways. Just that I had one less product to use in my evening skin care routine. lol. After seeing visible results with this serum, I thought I could make it a staple in my routine. Compared to other vitamin c serums I have used, the results were spectacular. I could visually see a change in my skin. My skin looked brighter, felt softer. Skin tone was more even. Skin texture was the best it has ever been! I've never experienced results like this from a vitamin c serum before! It was awesome! My skin responded very well to this vitamin c serum. But, unfortunately, I started to noticed breakouts out of nowhere. Yep, that just had to happen. Ugh! I noticed blackheads and closed comedones. That's when my hopes to keep this serum in my routine went downhill. I knew it was the vitamin c serum causing the breakouts. Even though the results were really good, and the product feels lightweight on the skin, I noticed that it left a thin film on my skin. I think that's where the problem lies. The serum just sat on top of my skin. Whenever a product does that to my skin, it's a no-go. It won't work, so I stopped using it immediately. The breakouts eventually disappeared.
Another vitamin c serum down…
This is what the vitamin c serum bottle looks like without the cap. It's a 1 fl. oz. pump bottle. Very easy to use and very easy to dispense the product out. It's not messy at all but be aware that this serum can leak out and oxidize. That's what happened to me.
Pros & Cons
✅ Pros
Contains vitamin c in the form of l-ascorbic acid (20%)
Contains vitamin e, ferulic acid, and sodium hyaluronate
Brightens the skin
Evens out the skin tone
Softens the skin
Helps with acne marks, post-inflammatory hyperpigmentation
Improves the skin texture. Makes it look smoother and more refined.
One of the most effective vitamin c serums I've used! It works!
❌ Cons
Breakouts. Leaves a film on the skin. Blackheads, closed comedones.
Expensive yet effective
Conclusion
Timeless Vitamin C Serum delivers in terms of brightening, evening out the skin tone, and fading acne marks. It also helps to refine the skin texture. My skin felt so soft and smooth. I loved it so much! Too bad it had to do bad things to my skin, such as giving me blackheads and closed comedones. I noticed that my nose had more blackheads. It looked like a strawberry. I was very disappointed and sad when that happened. This is possibly the one of the most effective vitamin c serums that I have used. It does what it's supposed to do minus the breakouts (haha!). It actually helped improve the overall condition of my skin. Well! Since it breaks me out, I'm unable to keep it around. It's not worth it when it gives me awful acne in the end. It's time to let it go and move on to something else that my skin likes.
Categories:
Tags:

Acne Marks, Acne Scars, Acne Skin, Antioxidant, Beauty, Brightening Serum, Facial Serum, Ferulic Acid, Ferulic Acid Serum, Review, Skin Brightenin, Skin Care, Timeless, Timeless Vitamin C Serum, Vitamin C, Vitamin C Serum, Vitamin E