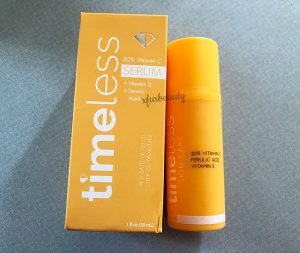 I'm always on the search for a good, effective vitamin c serum to add to my skin care routine. I haven't found one that works on my skin yet. This product right here, Timeless Vitamin C Serum, has so many glowing reviews. I had to try it out myself to see if it's worth the hype. It utilizes l-ascorbic acid (20% vitamin c) along with vitamin e and ferulic acid. I've also been searching for a good ferulic acid serum that my skin likes. This vitamin c serum happens to have both vitamin c and ferulic acid. That's awesome! The purpose of this serum is to brighten the skin, build collagen, and even out the skin tone. I purchased it mainly to brighten my skin and to help fade some stubborn acne scars or any other discolorations that I have. But the other benefits (anti-aging) are welcome just as well. This serum is paraben-free, contains no fragrance and dye (yay!), and it's cruelty-free. Love it! I must say, I was really excited about this vitamin c serum. It seems like a very promising product that would deliver. I was really hoping that it would work. My skin was looking a bit dull and needed something to brighten it up and make it look more lively and glowy. So I've had this serum for a couple of months now. Did it work? Did Timeless Vitamin C Serum do what it's supposed to do? What were the results? Well, I'm here to share my experience on this vitamin c serum! Keep on reading…
My experience
When I first dispensed the serum into my palm, I noticed that it smelled funny. I can't pinpoint what it smells like, but it's weird. Maybe a plastic smell to it. Citrus? It's a mixture of those things, lol. I was able tolerate it, so it wasn't a big issue. The product comes out liquidy, colorless (when I first purchased it). Keep in mind that this serum oxidizes very fast, so try using it daily if you can. That's what I tried to do. I used it in the morning and at night. I also made sure to store this serum in a dark, cool place away from light to prevent the product from oxidizing quick. The texture of the serum is light, runny, and it feels very nice applying it to the skin. It smooths over the skin without much effort. Just pat it into the skin, and you're all set! After application, I noticed that the serum made my skin look softer and smoother. I noticed an improvement in texture right away. I was stunned and so happy! After a couple of days of using this serum, my skin looked brighter and glowed. I saw the effects of this serum faster than expected. Within a few days!! As for acne scars, it helped to fade them within a month. Not entirely but I noticed that my acne scars weren't as noticeable as before. They were, in fact, lighter. There were improvements. My first impression of this product was really good! I loved the results! It worked! I was ecstatic with what I was seeing! Now let's move on to the next month.
After using Timeless Vitamin C Serum for 2 months, I was still seeing the brightening effect, but my skin was drying out just a little bit. I mean, it is a 20% vitamin c serum (l-ascorbic acid) after all. It's definitely a concentrated vitamin c serum. So I had to decrease my use to only mornings. The results were pretty much the same when I was using it twice a day (morning and night). Not much of a difference. I couldn't tell anyways. Just that I had one less product to use in my evening skin care routine. lol. After seeing visible results with this serum, I thought I could make it a staple in my routine. Compared to other vitamin c serums I have used, the results were spectacular. I could visually see a change in my skin. My skin looked brighter, felt softer. Skin tone was more even. Skin texture was the best it has ever been! I've never experienced results like this from a vitamin c serum before! It was awesome! My skin responded very well to this vitamin c serum. But, unfortunately, I started to noticed breakouts out of nowhere. Yep, that just had to happen. Ugh! I noticed blackheads and closed comedones. That's when my hopes to keep this serum in my routine went downhill. I knew it was the vitamin c serum causing the breakouts. Even though the results were really good, and the product feels lightweight on the skin, I noticed that it left a thin film on my skin. I think that's where the problem lies. The serum just sat on top of my skin. Whenever a product does that to my skin, it's a no-go. It won't work, so I stopped using it immediately. The breakouts eventually disappeared.
Another vitamin c serum down…
This is what the vitamin c serum bottle looks like without the cap. It's a 1 fl. oz. pump bottle. Very easy to use and very easy to dispense the product out. It's not messy at all but be aware that this serum can leak out and oxidize. That's what happened to me.
Pros & Cons
✅ Pros
Contains vitamin c in the form of l-ascorbic acid (20%)
Contains vitamin e, ferulic acid, and sodium hyaluronate
Brightens the skin
Evens out the skin tone
Softens the skin
Helps with acne marks, post-inflammatory hyperpigmentation
Improves the skin texture. Makes it look smoother and more refined.
One of the most effective vitamin c serums I've used! It works!
❌ Cons
Breakouts. Leaves a film on the skin. Blackheads, closed comedones.
Expensive yet effective
Conclusion
Timeless Vitamin C Serum delivers in terms of brightening, evening out the skin tone, and fading acne marks. It also helps to refine the skin texture. My skin felt so soft and smooth. I loved it so much! Too bad it had to do bad things to my skin, such as giving me blackheads and closed comedones. I noticed that my nose had more blackheads. It looked like a strawberry. I was very disappointed and sad when that happened. This is possibly the one of the most effective vitamin c serums that I have used. It does what it's supposed to do minus the breakouts (haha!). It actually helped improve the overall condition of my skin. Well! Since it breaks me out, I'm unable to keep it around. It's not worth it when it gives me awful acne in the end. It's time to let it go and move on to something else that my skin likes.
Categories:
Tags:

Acne Marks, Acne Scars, Acne Skin, Antioxidant, Beauty, Brightening Serum, Facial Serum, Ferulic Acid, Ferulic Acid Serum, Review, Skin Brightenin, Skin Care, Timeless, Timeless Vitamin C Serum, Vitamin C, Vitamin C Serum, Vitamin E
Here's my review on Yeouth Vitamin C & E Serum! This is the vitamin c serum I have in my skin care routine right now. I stopped using vitamin c products with ascorbic acid because that particular ingredient was irritating my skin (to the point of burning it, ouch!). Ascorbic acid is definitely not what my skin likes at the moment, so I had to find an alternative that's more gentle and a lot more suitable for sensitive skin. My skin isn't usually sensitive, but it is to acids when I'm on a more intense acne treatment. I had to eliminate a bunch of skin care products in my routine, and vitamin c serums with ascorbic acid was one of them. So this vitamin c serum utilizes magnesium ascorbyl phosphate instead. It's known to be more gentle on the skin. It's less harsh on the skin compared to ascorbic acid due to it being less potent, but that's ok! That's exactly what I'm trying to aim for…a vitamin c serum that doesn't burn off my face when my skin is in its fragile state. I've used Yeouth Vitamin C & E Serum for 3ish months now. It'll be 4 months soon enough. Here are my thoughts on this product!
My experience
Yeouth Vitamin C & E Serum comes in a 2 fl. oz. dark glass bottle. It took me nearly 4 months to finish half of the product. I used it in the morning and at night. Yay for it being a a dark bottle, but I'm not a fan of glass bottles. They're so clunky and can break easily when dropped. When I'm low on product, it gets stuck at the bottom. It's just something I never liked. Why not just put it in a tube? It'll be so much easier to store and use. As always, I do make sure to place all of my actives in a dark, cool area to prevent the product from oxidizing. So let's talk about ingredients! What are the ingredients in this serum? Looking at the ingredients of this product, it appears to be a very basic vitamin c serum. It contains magnesium ascorbyl phosphate (vitamin c), sodium hyaluronate, vitamin e, aloe leaf juice, and a few other ingredients. There's a total of 8 ingredients. It's very simple. That's one of the reasons why I purchased it in the first place. I didn't want a product with a long list of ingredients. It's also very easy to read and understand the ingredients at first glance.
So this vitamin c serum is a gel. When applied to the skin, it feels sticky, but it doesn't leave a sticky residue behind. Honestly, it feels like I didn't apply anything on my skin with this serum, lol. I only use 1 pump for the whole face and neck. Just pat the product into the skin, and let it absorb into the skin. It absorbs into the skin quite easily. It leaves my skin feeling clean. There's no stinging sensation. It doesn't feel irritating at all and didn't turn my face red. There's no pilling. It sinks into the skin very quickly. Works well with other skin care products too. I didn't have any issues with it using it twice a day. With this serum, it feels extremely gentle and soothing when applied to the skin. I think it has to do with the aloe leaf juice it contains. My skin is left feeling calm. Also, it helps to soothe inflamed acne, which leads to some good news. And that is, it didn't clog my pores!! I've experienced no breakouts from it. The serum feels very lightweight on the skin, so I think it's perfect for people with oily, acne-prone skin. That sounds good and all, but did this vitamin c serum actually live up to its claims? Did it work?
The purpose of this vitamin c serum is to help with texture, fine lines and wrinkles, and even out the skin tone while leaving the skin feeling nourished, supple, and deeply hydrated. It also claims to brighten and fade the appearance of dark spots and hyperpigmentation. So after using it for 3-4 months, using it in the morning and at night, the only thing I noticed is how soothing this serum is on my skin but that's it. It didn't deeply moisturize my skin or help brighten up my complexion. It didn't help fade dark spots or acne marks. I like the ingredients in this serum, but I haven't noticed much in that time span. It doesn't look like it's doing what it's supposed to do. I was hoping that it would at least brighten up my skin just a little bit or fade some acne marks. It would be nice if it truly did deeply hydrate my skin as it claims to do. My skin gets dehydrated sometimes. But this serum is not hydrating at all. It's far from it. Fine lines and wrinkles? Skin texture? Nope. I didn't see any of that. Perhaps I have to finish the whole bottle and see what happens. So far, I don't like it that much as far as results go.
Pros & Cons
✅ Pros
Contains magnesium ascorbyl phosphate (vitamin c), vitamin e, and sodium hyaluronate
No breakouts
Doesn't pill
Absorbs into the skin very well
Can be used twice a day since it's gentle on the skin
Good for people with sensitive skin, oily skin, acne-prone skin
Dark bottle to prevent oxidation
❌ Cons
Doesn't fade dark spots
Didn't brighten the skin
Didn't help with skin texture or fine lines and wrinkles
Doesn't deeply moisturize the skin. Hydration feels non-existent after application.
Annoying glass bottle
Conclusion
Yeouth Vitamin C & E Serum didn't give me any results in terms of skin brightening or fading of acne marks. The main reason why I purchased it in the first place. I had some acne marks to get rid of but nothing came out of this serum after months of using it. It didn't do much for a dull complexion either. This isn't the serum if you're looking for treating skin texture, fine lines and wrinkles, or hydrating the skin. When I think of it, it just felt like I was applying expensive aloe vera on my face, lol. So! I think I'm going to continue to use it since I have half of the product left. It won't hurt to just finish the product. Who knows what might happen in the next couple of months. haha. But I'm not holding my breath. lol. Fortunately, this serum didn't cause any breakouts. I'll just use it up for the time being. Would I purchase it again? The answer is no. It's not an effective vitamin c serum. On my skin that is.
Check out more reviews on vitamin c serums here.
Categories:
Tags:

Acne Scars, Antioxidant, Beauty, Brightening Serum, Dark Spots, Hyaluronic Acid, Hydrating, Moisturizing, Skin Care, Vitamin C Serum, Vitamin E, Yeouth, Yeouth Vitamin C & E Serum