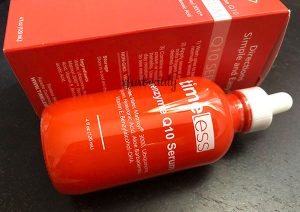 I did a review on Timeless Matrixyl 3000 Serum. If you missed out, go check it out! 😊 Also, don't forget to check out my review on their vitamin c serum! Go here: Timeless Vitamin C Serum 👈🏻 So this is the Timeless Coenzyme Q10 Serum. I was really excited for this, since the ingredients looked promising. It's short and simple. It also contains matrixyl (like the Timeless Matrixyl 3000 Serum). I thought I would give it a go! This serum contains 3 anti-aging ingredients. They are Coenzyme Q10, Matrixyl 3000, and hyaluronic acid. Coenzyme Q10 is an antioxidant that helps to rebuild collagen and elastin. Matrixyl 3000 helps to synthesize collagen in the skin. Last but not least, hyaluronic acid helps to increase and retain moisture in the skin. These three ingredients altogether help to replenish and repair the skin while smoothing out fine lines and wrinkles. This serum is recommended for all skin types (I hope!) with visible aging. I think this serum sounds so much better compared to the Matrixyl 3000 Serum. The Coenzyme Q10 Serum also contains matrixyl as one of the ingredients. Well, did it work?? I've used it for about 3 months. Here are my results!
My experience
This serum is pale yellow in color. When applied to the skin, it feels lightweight and gentle on the skin. It absorbs into the skin quickly and leaves the skin feeling lightly hydrated. Don't expect full on hydration. It sinks into the skin and disappears into the skin very fast. I wouldn't rely on it for moisture. It's not good at that. But I do love the fact that it just sinks into the skin without leaving any sticky residue or film behind. But (yes) I do wish that it provided a little bit more moisture. It would've been nice. I used this serum in the morning and night without any issues with application. It works well with other skin care products due to how lightweight it feels on the skin. It doesn't pill or roll off the skin.
As for results, after 3 months of using this serum, I didn't see much of a difference in my skin. It is an antioxidant and is used for prevention. So, it's one of those skin care products that you can't see visible results until later on. Who knows how long that would be, haha! It's not like alpha hydroxy acids or a vitamin c serum (where you can see a brightening effect or fading acne marks on the skin). The ingredients of this product look pretty good though! It contains matrixyl 3000, peptides, ubiquinone, aloe, hyaluronic acid. and vitamin e. It's very similar to Timeless Matrixyl 3000 Serum with a little more beneficial ingredients to it. The other difference is that I find the Coenzyme Q10 Serum less hydrating compared to the Matrixyl 3000 Serum. It just absorbs into the skin way quicker and more effortlessly.
With this serum, I would continue to use it, but I started having issues when I noticed little closed comedones on my skin that wouldn't go away. This was one of the last serums that I removed from my skin care routine. It's lightweight (as I mentioned before), but that doesn't mean it's not capable of contributing to clogged pores. After months of using this serum, I decided to stop using it. And there you have it, a lot of those tiny bumps vanished within a day. It looks like this serum isn't compatible with my skin. I like the idea of it, but I haven't seen results with it. Also, with the acne that I developed without knowing that it was causing breakouts, I stopped using it. For the price, I didn't think it was worth it. Well, not on my facial skin anyways. It didn't work out for me in the end as I wanted it to. The product looked so promising! It didn't really do much in terms of moisture and wrinkles. Seemed pretty useless for the price. Back to the drawing board, lol.
This is what Timeless Coenzyme Q10 looks like! It's a pale yellow color.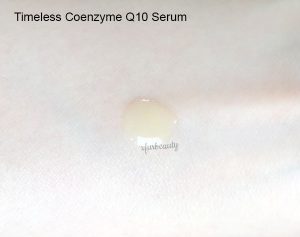 Pros & Cons
✅ Pros
Lightweight moisture
Absorbs into the skin quickly
Contains matrixyl 3000, peptides, ubiquinone, aloe, hyaluronic acid, vitamin e
❌ Cons
Contributed to closed comedones. Tiny pimples vanished when I stopped using it.
One of those serums used as a prevention, so I can't tell if it's working or not, lol.
Expensive
Conclusion
Strike 3! Another Timeless skin care product down! This was the one that I really, truly wanted to work. The reason why I continued to use it even though the results were below my expectations and what it claimed to do. After months of using it, I didn't think it was contributing to closed comedones, but who knew when I discontinued the product. Those closed comedones slowly faded away. Also, this serum didn't do much for my skin overall. It's a pretty expensive skin care product too. Perhaps it may work for someone else. Just not for me. Oh well. Moving on to something that works. Whatever that may be. haha.
For more reviews on Timeless skin care go here 👈🏻
Categories:
Tags:

Anti-Aging, Anti-Wrinkle, Antioxidant, Beauty, Coenzyme Q10, Coenzyme Q10 Serum, CoQ10, Dry Skin, Facial Serum, Fine Lines, Hyaluronic Acid, Oily Skin, Skin Care, Timeless, Timeless Coenzyme Q10 Serum, Wrinkles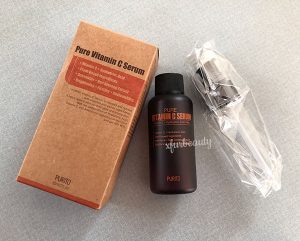 This was one of the vitamin c serums I tried out during the summer. It's Purito Vitamin C Serum. This vitamin c serum contains 5% ascorbic acid. The purpose of this serum is to brighten the skin, even out the skin tone, help fade the appearance of sun damage and hyperpigmentation, improve dullness and loss of firmness. In turn, making the skin look more healthy and radiant. It also contains sodium hyaluronate to provide adequate moisture to the skin. This vitamin c serum comes in a dark brown bottle to protect the ingredients from sunlight. Everything looks good about this vitamin c serum. It also comes in a 2 fl. oz. bottle! It wasn't too expensive either. I've used Purito Vitamin C Serum for 4 months already. I think I'm due for a review on it. Here's my experience with this product! 🙂
My experience
This vitamin c serum bottle is sealed before using. It comes with a pump applicator. When dispensed, the product itself is yellow. 😑 I really don't like it when a vitamin c serum is yellow in color when it's new, upon opening. It's like they're trying to hide something. This makes me worried that the product has already been oxidized, so it's useless, and the skin won't benefit from it. After saying that, let's take a look at the ingredients. It contains sodium hyaluronate, 5% ascorbic acid, niacinamide, adenosine, and a bunch of extracts. I've also noticed that a lot of skin care products I've been using contain 1,2-hexanediol. I wonder if it's a problem for my skin too. The last two essences I stopped using contained this ingredient. They are Cosrx Hyaluronic Acid Hydra Power Essence and Cosrx Advanced Snail 96 Mucin Power Essence. 1,2-hexanediol is a just a moisture binding humectant. But, maybe my skin just doesn't like it. I'm really not sure. Ever since I stopped using those products, my skin is doing so much better. Just an observation. I'll have to give it more time to see what's going on. I know for sure my facial skin really hates propanediol. lol. It ruins my skin to the core. 😭 It's also in a ton of skin care products.
On the box, it says to use the serum within 3 months after unsealing. Since that's the case, I used it in the morning and at night. It also says to store the bottle in the fridge. I didn't store mine in the fridge, but I placed it in a dark, cool place away from direct sunlight to prevent the product from oxidizing. I hope that's good enough. That's what I usually do to my vitamin c serums anyways. They all turn out fine.
With Purito Vitamin C Serum, I use 1 pump for the whole face. I think that's more than enough. I don't think it's necessary to use any more than that. It'll just be a waste of product. haha. So the serum feels thicker compared to the average serum, but it glides over the skin smoothly. It feels like jelly to me. It leaves the skin feeling well-conditioned, soft, and smooth. I actually really like the texture of this serum. It's one of the more moisturizing vitamin c serums I've used. It does a great job at smoothing out fine lines and wrinkles too. Leaving my skin feeling nice and firm.
After using the serum for 4 months, it didn't help brighten my overall complexion or fade acne marks. Well, I didn't notice any brightening effect. I think 4 months is a good amount of time to see results. And I didn't see any of that besides it leaving my skin feeling very hydrated. Thanks hyaluronic acid! 😘 But I had to stop using this vitamin c serum. It was for a very good reason too. The serum stained my skin orange every time I used it. I think it oxidized. Perhaps before? Since it was yellow. As I continued to use it and reached halfway through the bottle, the serum looked even more yellow-orange. I thought I was imagining things until I took some photos of my face and noticed that it looked like I had a fake tan going on. Well, that's too bad. Not sure if it caused breakouts, since I was using a bunch of skin care products during this time, but I loved how it hydrated my skin wonderfully. It's a very moisturizing vitamin c serum! Walking around looking like an oompa loompa is not my thing. haha. So, this vitamin c serum isn't for me.
Freshly, sealed out-of-box Purito Vitamin C Serum. ☺
Pros & Cons
✅ Pros
Contains 5% ascorbic acid (vitamin c)
Contains hyaluronic acid (second ingredient!)
Very moisturizing
Comes in a dark bottle to prevent ingredients from oxidizing
Comes in a 2 fl. oz. bottle
Affordable compared to other vitamin c serums
❌ Cons
Made my skin orange 🍊
Oxidized quickly even with proper storage
Feels sticky on the skin
The serum is yellow upon opening. I wonder if it has already been oxidized before using. 🤔😔
Conclusion
I really wished Purito Vitamin C Serum worked, but there were many aspects about this serum that I didn't like. It's awesome that it comes in a 2 fl. oz. dark bottle to prevent ingredients from oxidizing, and it's an affordable vitamin c product. But, this vitamin c serum starts off yellow (sealed). It makes it difficult to tell if the product has been oxidized or not. It makes it hard to trust this product. Also, I didn't notice any brightening benefits, such as evening out the skin tone, fading acne scars, or hyperpigmentation. That is the main reason why I purchased this vitamin c serum in the first place. The only thing it's good at is moisturizing the skin. In the end (lol), it turned me into an oompa loompa. 😂 It gave me a really bad fake tan. So there's something going on with this serum. I don't think the formula is that great as they make it out to be. After this experience, I can't recommend it. There are better vitamin c serums out there that won't turn the whole face orange. I'm still laughing about it because everyone else noticed it too. hahahah.
Go here for more reviews on Purito skin care products
Go here for more reviews on vitamin c serums
Categories:
Tags:

Acne Marks, Acne Scars, Acne Skin, Antioxidant, Ascorbic Acid, Beauty, Brightening, Brightening Serum, Purito, Purito Pure Vitamin C Serum, Purito Vitamin C Serum, Review, Skin Care, Vitamin C, Vitamin C Serum