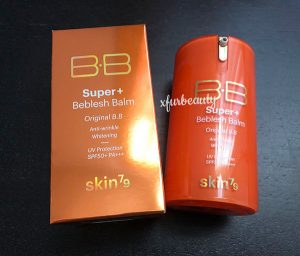 It's time for an update on Skin79 Super+ Beblesh Balm Orange! It's been 1 month of using this bb cream. I didn't use it every day, but I used it pretty often. This is what I think about it now! Here are my results! 🙂
I have a long history with this bb cream. It was my HG for so long that I was disappointed that it stopped working all of a sudden out of the blue. But I took the chance and decided to try it out again. Did it work this time? Did I break out from it? Did it clog my pores? What happened? So the first day of using it went well. I didn't have any issues with it in terms of breakouts. I think that's what I was most worried about. I didn't want to develop cystic acne or blackheads after trying it again. After using it for the first time again, I was ecstatic that I didn't notice any breakouts. My skin looked pretty good. There were no issues that bothered me too much besides how this bb cream is highly perfumed. I just can't get over the smell. I honestly don't remember if it smelled this way before. Who knows! So, overall, it all went well. Much better than I expected. This time, I really thought the bb cream was working for me again, since I loved how it contains a high SPF (SPF 50+ PA+++!!). It also provided good coverage while feeling somewhat lightweight on the skin. It didn't feel thick or heavy like other foundations I've used before. Also, it made my skin look flawless and just so much brighter and healthier looking! I wanted it to work, but…
Unfortunately, it didn't work for me this time. Not anymore. 😢 I started noticing blackheads on my forehead and some pimples on other parts of my face after using it. I didn't think it was this product but it is. I kept on getting random breakouts whenever I used it. I noticed the breakouts after removing my makeup at the end of the day. *sigh* I think this bb cream is just too heavy for my skin now even though it doesn't feel heavy on my skin. The texture and consistency feels much thicker than it is when it's on the skin. If that makes any sense, lol. It was one of the perfect bb creams I've used. I mean, I've used it for so many years until now. The bb cream made my skin appear dry sometimes too. I noticed dead skin on my face appearing more obvious. And it leaves my skin feeling and looking chalky and ashy due to the dryness. It's great at controlling oil but may be a little too much. Well, it looks like it didn't work out this time. I'm not going to try it again, haha. I think it's time to move on to something else or something new. After this, I'm pretty much over it. I still have a ton of product left too. This bb cream just isn't the same anymore. What really happened… 🤷🏻‍♀️
For more posts on Skin79 Super+ Beblesh Balm Orange…
Review: Skin79 Super+ Beblesh Balm Orange
Trying Skin79 Super+ Beblesh Balm Orange Again!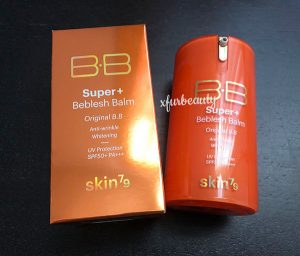 I'm testing out my previous skin care and makeup products again after leaving veganism. I have some products I'm still curious about. You know, the ones that I've used for 10+ years and all of a sudden stopped working out of the blue. I wanted to see if it was caused by the health issues I developed and experienced when I was vegan. So the last product I tried was a skin care product called Benton Fermentation Essence. You can read more about my experience with this product right here:
I Used Benton Fermentation Essence Last Night. This Is What Happened.
An Update on Benton Fermentation Essence. Did It Clog My Pores??
👆🏻 To find out what happened to my skin, feel free to click on the links!
Now on to this bb cream that has been one of my HG bb creams for so many years. I've used it for so long that I was extremely shocked that it caused breakouts. It was such a weird reaction. Now let's see if it still works or not. It should, right? How can something I've been using for so many years just stop working or change all of a sudden? The ingredients are the same as it was before! Has anyone experienced this? Anyways, so the bb cream I'm talking about today is Skin79 Super Plus Beblesh Balm Triple Function Orange BB Cream or what I call Skin79 Super+ Beblesh Balm Orange. Yes, I shortened the name of the product because the full name of the product was just way too lengthy, and I didn't want to keep saying it over and over (if I had to). Now on to my first time experience using this bb cream for a day!
My Experience Using Skin79 Super+ Beblesh Balm Orange for the First Time Again
The first day of using this bb cream felt very different and exciting. I haven't used it in so long that I can only recall how wonderful it used to be. How it provided good coverage, gave my skin a flawless look, and how it protected my skin from the sun because it contains a high SPF. This bb cream contains SPF 50+ PA+++!! That is on the high side of the spectrum for a bb cream and makeup product. No wonder why I always chose this bb cream over the rest that I had throughout the years. It's just that awesome. And it never broke me out. Really, it never did. I was so surprised a product like this worked on my skin since it does contain some comedogenic ingredients in it. But it worked and my skin was ok with it because it never clogged my pores. Sometimes it's not the individual ingredients alone that matters but the overall formulation of the product that matters if it'll work on your skin or not. Just gotta try it out to see if it works or not for yourself!
So this bb cream comes in an orange clunky pump bottle. It's rather big, but that never bothered me because it was an affordable and effective foundation for me over the years. I liked it. The product is only 1.35 fl. oz. (40 mL), but it seems to last for a very long time from my experience. I only purchased 1 bottle per year. Sometimes it'll last even longer than a year. The product when dispensed from the bottle is a light-medium beige color with strong yellow undertones. I wasn't bothered by the coloring of this bb cream. I mean, it's a little darker than my skin tone, but it's not that big of a deal. It blends into my skin just fine and the shade adjusts to my natural skin tone as it settles into the skin. The texture of the bb cream is soft, smooth, and creamy. It glides and smooths over my skin very nicely. Blends into the skin well and provides a lot more coverage compared to what I've been using! I would say it's medium coverage, but it's buildable.
With this bb cream, it did help cover up my dark under circles, some acne marks, and smoothed out the texture of my skin. Last time I used it, I experienced skin dryness, but I didn't experience dry skin this time. It actually helped to control excess sebum on my skin. Worked well on my oily skin! Even though it didn't dry out my skin, it did accentuate flaky skin. Oops, I think I just needed to exfoliate before using this bb cream, lol. Otherwise, my skin looked pretty good with the coverage that it gave me. The finish of this bb cream was dewy, semi-matte, not oily. It didn't accentuate fine lines and wrinkles like it did before. It gave my skin this flawless appearance to it. I love it! I'm very happy that my experience with this bb cream is very different this time. Also, I didn't break out after wearing it for only a day either. But who knows, it's only been a day. I think I'm going to keep using this bb cream and see how it goes. Everything is going well so far, except for this, which is the fragrance. It contains fragrance that smells like perfume, and it's pretty overwhelming.
That's my first day experience of using Skin79 Super+ Beblesh Balm Orange!! A new update coming up within a week or so!
Take a peek at my previous review if you wish ~ Skin79 Super+ Beblesh Balm Orange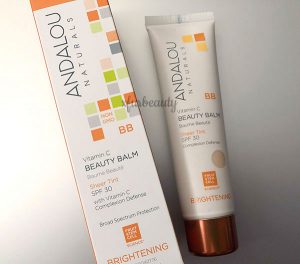 Here's a beauty balm that I used last summer. It's been sitting in my makeup bag unused. I still have ton of product left. I decided to try it again to see if it works. I didn't like it the first time. Let's see if it's any different this time around. I didn't want to let it go to waste. Either way! Let's try it! The makeup product is Andalou Naturals Vitamin C Beauty Balm. Yep, another Andalou Naturals product. I did a bunch of reviews on this brand in the past week or so. Check them out if you haven't yet!
Andalou Naturals 1000 Roses Eye Revive Contour Gel
Andalou Naturals 1000 Roses Pearl Exfoliator
Andalou Naturals 1000 Roses Rosewater Mask
Andalou Naturals Luminous Eye Serum
Andalou Naturals Clear Skin Lemon Sugar Facial Scrub
Here's some info on Andalou Naturals Vitamin C Beauty Balm real quick! >>> It's a bb cream that contains fruit stem cell complex and vitamin c. A multi-benefit balm providing broad spectrum from zinc oxide. A natural, sheer mineral tint for flawless coverage in one easy step! 98% nature derived, vegan, vegetarian, gluten-free, and cruelty-free.
That's awesome! I was attracted to this bb cream because it contains vitamin c and utilizes zinc oxide to protect the skin from harmful UVA and UVB rays! I wanted a bb cream that'll improve my complexion and also has some good SPF in it. This bb cream just looked so appealing and natural, so that's why I purchased it in the first place. This is round 2 of using the bb cream. And, also, it's the first day. Here are my thoughts! 👇🏻👇🏻👇🏻
My experience
This bb cream comes in a 2 fl. oz. (58 mL) tube with a twist cap. The product is a thick cream when dispensed from the tube. It feels soft and creamy. The shade is light-medium beige. It has a citrus smell to it. It smells really good. It makes me think of oranges. 🍊 YUM! This bb cream goes on the skin very well. It soft, blendable, and leaves the skin feeling moisturized due to how thick and rich the bb cream feels. Does it feel heavy on the skin? I would say it's between lightweight and heavy, so in the middle. Not too light and not too heavy. It leaves a dewy finish behind. Makes the skin feel a bit sticky though. It feels very moisturizing on the skin.
As for coverage, it is a sheer tint (as it claims to be), so it doesn't provide any coverage for dark under eye circles, blemishes, acne marks, and so on. It does help even out the skin tone a little bit and makes it appear brighter. I think that has to do with the zinc oxide in this product. If you're worried if this bb cream leaves a white cast on the skin, I'm sorry, it does! So if you have a darker, richer complexion, this may not work for you, but you can try it out if you want. It made my skin look a little whiter. Back to the zinc oxide, I love zinc oxide, but since it contains zinc oxide, if you have dry patches or dry skin in general, it might accentuate those areas. I noticed some dry skin on my face looking more obvious after applying this bb cream. The bb cream feels moisturizing on the skin, but it makes dry patches more noticeable. Something else about this bb cream I noticed is that it moves around on the face and settles into creases easily.
The bb cream utilizes vitamin c in the form of magnesium ascorbyl phosphate. This isn't the most effective vitamin c on my skin, but I love that it still has it. I love makeup and skin care that have vitamin c. Vitamin c helps to even out the skin tone, brighten it, and fights against free radicals and aging. But, unfortunately, I haven't noticed a difference in my complexion after using this product (today and last year). My skin didn't look brighter, more even toned, or even better. But it's nice to have it in the product along with my skin care. I just can't get enough of vitamin c, lol.
This is what the bb cream looks like. It's a light-medium beige color.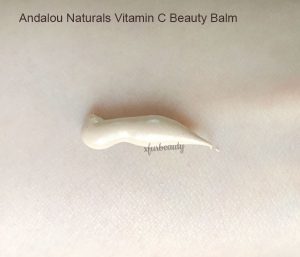 Pros & Cons
✅ Pros
Moisturizing
Contains SPF 30 (20.0% Zinc Oxide)
Contains vitamin c (magnesium ascorbyl phosphate)
Makes the skin look brighter (visually)
❌ Cons
Feels sticky on the skin
No coverage at all
Not long-lasting during the summer months
Not made for humid weather
Doesn't sit on the skin well, creases
Conclusion
My first time trying this bb cream wasn't too bad. My previous experience with this bb cream was much worse. I wonder if it has to do with the change in weather (summer vs winter). So I'm glad things are turning out differently this time. I would love for this bb cream to work. I've been searching for one that contains vitamin c and zinc oxide to brighten my skin and protect my skin from the sun. This hits both of those points. Also, it feels moisturizing on the skin. I'll put up with the stickiness and creasing if it works out. haha. All in all, the only thing that bothers me about this bb cream is that it settles into dry patches on the skin. I hope it stops doing that, but we'll have to see. Stick around for a new update in a week. See you all there! 😊
For more reviews on bb creams and makeup click here.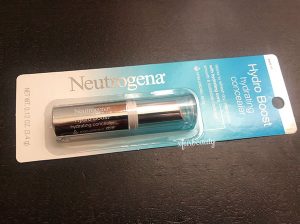 I picked up a new concealer! I've always wanted to try this concealer since it's from the Neutrogena Hydro Boost line. I love moisturizing makeup products even though I have oily skin. Makeup for oily skin just settles into dry patches and accentuates fine lines and wrinkles. My skin is already dry enough from using acne treatments. Why make it even more dry?? So this concealer contains hyaluronic acid (more hyaluronic acid in makeup and skin care products, lol), is non-greasy, oil-free, provides silky-smooth, natural-looking coverage, blends into the skin effortlessly to hide dark under eye circles, non-comedogenic, and ophthalmologist-tested. I've used it for a couple of weeks now. Here are my thoughts on it!
My experience
The color I chose was fair. It's the lightest shade they have. Neutrogena also offers Light, Light/Medium, Medium, and Deep (from the lightest to darkest shade). The color of this concealer was disappointing. It's not fair. It's much darker. It looks more like a medium shade to me. It looks orangey too. I was hoping that it wouldn't come out orange. But, from my experience with Neutrogena makeup products, it's always orange. One of the reasons why I don't use Neutrogena makeup products. I don't want to walk around with an unnatural orange-toned face. Now on to the texture and consistency of the concealer…
The concealer does feel soft when swatched on the skin. It's hydrating. Doesn't dry the skin out. The texture of the concealer felt really nice. It glides on the skin smoothly and effortlessly. It's really easy to blend the it into the skin too. Besides the horrid color of the concealer, I really liked the texture of the concealer. It feels like how I thought it would feel like on my skin. But that's just from swatching the product. When applied to the under eyes, why I purchased this concealer in the first place, I needed a moisturizing concealer that doesn't dry out my under eyes and provided smooth, long-lasting coverage, the result wasn't the same compared to just swatching it.
So when I tried using the concealer to cover my dark under eye circles or make my eye area look brighter and more lively, it was hydrating and felt smooth on my skin, but I noticed that it would clump up and settle into fine lines. It's weird. It feels hydrating. But at the same time, it makes my under eyes look worse. Since that's what I experienced from using this concealer, I eventually stopped using it to cover my dark under eye circles. I just didn't like the way it made it looked. I really wanted this concealer to work due to its moisturizing properties, and it also does provide decent coverage, but it didn't work for me. The color is just terrible, haha. If you have fair or light skin, this isn't it. I'm not sure what the richer, darker shades look like. But fair is not a fair shade.
Here's the concealer out of its packaging.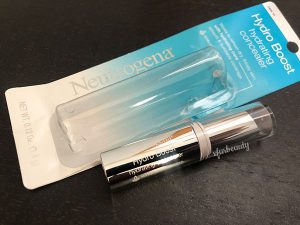 Fresh, new concealer. The white circle (in the center) is what makes this concealer moisturizing.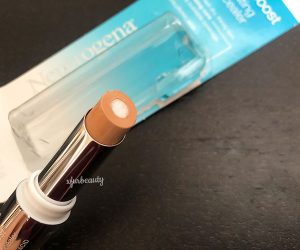 Here's a photo of the concealer after swatching…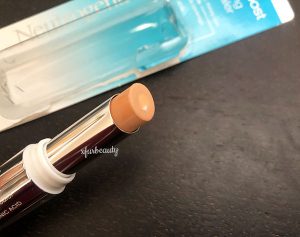 Here's a swatch of the concealer. It's much darker on my skin. I thought it could blend into my complexion, but it still had that orange tinge to it.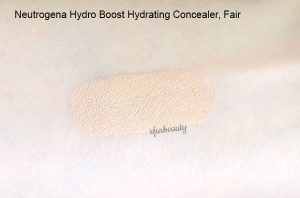 Pros & Cons
✅ Pros
Moisturizing
Affordable
Good coverage
❌ Cons
Color is not accurate. The shade fair is not truly fair. It's a medium shade that looks orange.
Looks orange when applied to the skin and even after blending it into the skin.
Accentuates fine lines and wrinkles underneath the eyes
Conclusion
This concealer is moisturizing, but it didn't work under my eyes. My under eyes ended up looking all crepey. The concealer settled into fine lines and wrinkles. The shade of the concealer didn't help much either. It was too dark on my skin, which made it look like I had a mask on. I tried blending the concealer into my skin very well. That didn't work either. The orangey color it leaves behind on the skin, lol. I think Neutrogena had something going on with this concealer. It could've been a better product. It's a nope for me.
For more reviews on Neutrogena products go here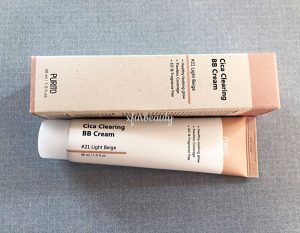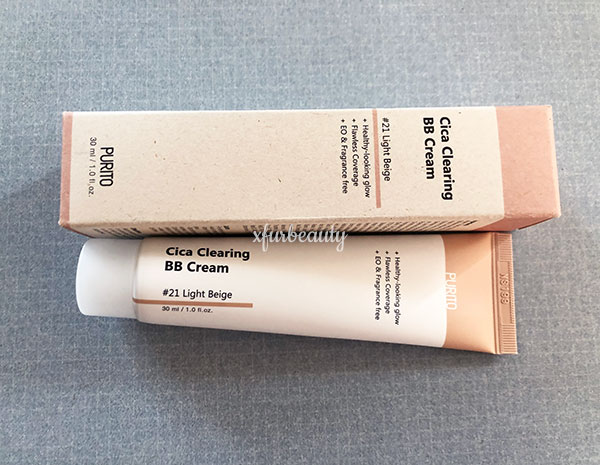 It's time for an update on Purito Cica Clearing BB Cream! If you missed out on my previous review, don't forget to check it out! Click here!
I gave Purito Cica Clearing BB Cream a second chance. It's a cheap bb cream. It's vegan, cruelty-free, and I remember liking the texture, coverage of this bb cream. It made my skin look dewy, glowy, and smoother. Overall, it made my skin look prettier. The effect it had on my skin was so nice. So I have the shade in Light Beige (#21). They only have 3 shades to choose from, which is pretty awful. Not just that. Shade #21 has dark, dull, greyish undertones to it that I was OK with at first since I thought it didn't break me out (more on this soon!). I prioritize a product not breaking me out over anything else if it's decent, but the color of this bb cream started to settle in as weeks past by. I didn't like the way it looked on my skin. It made my skin appear more dull and lifeless. It took that spark out of my skin. And I didn't enjoy using this bb cream even though it made my skin look pretty in texture. It smooths out the skin. Oh that dewy skin is so amazing, lol. But pretty, dewy skin wasn't enough for me to continue to use it. I needed a bb cream that matches my skin color. Also, a bb cream that brings out the beauty of my skin. This didn't do it for my skin. Keep reading, there's more to it…
The bb cream feels soft and creamy, which I loved. The texture is so silky to touch. Unfortunately, it feels rather thick on the skin. As time went on, I started to dislike how thick and heavy it felt on my skin, especially when I was using it on a daily basis. I can't imagine putting something like this on my skin forever. It just felt really gross on my skin. It felt and looked cakey and unnatural. I love that it smooths out fine lines and wrinkles due to the silkiness of the product, but it was just too darn thick and heavy on my skin. Makeup is supposed to look at least somewhat natural (and good) on the skin. This felt like a blob of goop on my face. It didn't matter how much I used either. The bb cream was too thick. Also, even though it's thick in texture, it didn't provide that much coverage. Medium at best but I could still see through the makeup. Since I have some acne scars (waiting to fade), I can still see them. Same with freckles. It doesn't bother me if it covers my freckles or not, but I'm just giving an example that it doesn't provide that much coverage. This bb cream has the tendency to transfer onto fabrics too. It comes off very easily and smudges. It doesn't stick to the skin well and isn't long-lasting.
Lastly, this bb cream broke me out. I didn't think it was breaking me out at first until I stopped using it for a week. I noticed less breakouts. That says a lot. Some of my clogged pores disappeared, and my skin appeared clearer. I tried using it again for a day, bam! I started to get random clogged pores out of the blue in a single day. One. Single. Day! Perhaps this bb cream is too thick and heavy on my skin that it suffocates my pores and irritates it. All I know is that my skin started to develop acne again. My pores looked like a huge mess. It was filled with gunk that wasn't there before. Ever since I noticed this, I haven't touched this bb cream since. Honestly, I don't seem to miss it either. My skin looks way better without it. So! That's all there is to it. No more Purito Cica Clearing BB Cream, lol. At least it wasn't too expensive. I'm not putting this bb cream down. It may work for others, but it didn't work for me. It's time for me to move on to something that's better for my skin. This isn't it. And I really wanted it to work due to how affordable it is.
For more reviews on Purito products, go here.