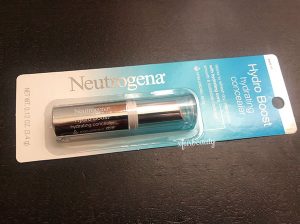 I picked up a new concealer! I've always wanted to try this concealer since it's from the Neutrogena Hydro Boost line. I love moisturizing makeup products even though I have oily skin. Makeup for oily skin just settles into dry patches and accentuates fine lines and wrinkles. My skin is already dry enough from using acne treatments. Why make it even more dry?? So this concealer contains hyaluronic acid (more hyaluronic acid in makeup and skin care products, lol), is non-greasy, oil-free, provides silky-smooth, natural-looking coverage, blends into the skin effortlessly to hide dark under eye circles, non-comedogenic, and ophthalmologist-tested. I've used it for a couple of weeks now. Here are my thoughts on it!
My experience
The color I chose was fair. It's the lightest shade they have. Neutrogena also offers Light, Light/Medium, Medium, and Deep (from the lightest to darkest shade). The color of this concealer was disappointing. It's not fair. It's much darker. It looks more like a medium shade to me. It looks orangey too. I was hoping that it wouldn't come out orange. But, from my experience with Neutrogena makeup products, it's always orange. One of the reasons why I don't use Neutrogena makeup products. I don't want to walk around with an unnatural orange-toned face. Now on to the texture and consistency of the concealer…
The concealer does feel soft when swatched on the skin. It's hydrating. Doesn't dry the skin out. The texture of the concealer felt really nice. It glides on the skin smoothly and effortlessly. It's really easy to blend the it into the skin too. Besides the horrid color of the concealer, I really liked the texture of the concealer. It feels like how I thought it would feel like on my skin. But that's just from swatching the product. When applied to the under eyes, why I purchased this concealer in the first place, I needed a moisturizing concealer that doesn't dry out my under eyes and provided smooth, long-lasting coverage, the result wasn't the same compared to just swatching it.
So when I tried using the concealer to cover my dark under eye circles or make my eye area look brighter and more lively, it was hydrating and felt smooth on my skin, but I noticed that it would clump up and settle into fine lines. It's weird. It feels hydrating. But at the same time, it makes my under eyes look worse. Since that's what I experienced from using this concealer, I eventually stopped using it to cover my dark under eye circles. I just didn't like the way it made it looked. I really wanted this concealer to work due to its moisturizing properties, and it also does provide decent coverage, but it didn't work for me. The color is just terrible, haha. If you have fair or light skin, this isn't it. I'm not sure what the richer, darker shades look like. But fair is not a fair shade.
Here's the concealer out of its packaging.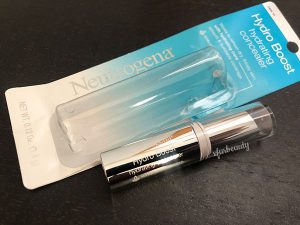 Fresh, new concealer. The white circle (in the center) is what makes this concealer moisturizing.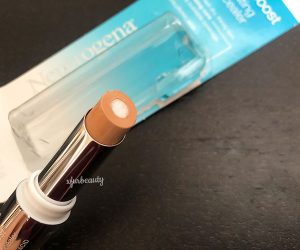 Here's a photo of the concealer after swatching…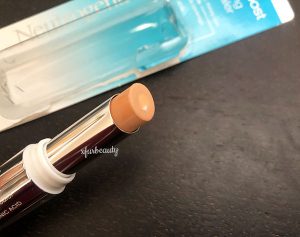 Here's a swatch of the concealer. It's much darker on my skin. I thought it could blend into my complexion, but it still had that orange tinge to it.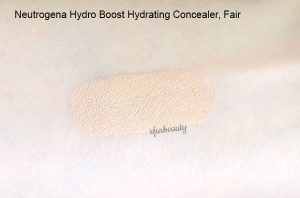 Pros & Cons
✅ Pros
Moisturizing
Affordable
Good coverage
❌ Cons
Color is not accurate. The shade fair is not truly fair. It's a medium shade that looks orange.
Looks orange when applied to the skin and even after blending it into the skin.
Accentuates fine lines and wrinkles underneath the eyes
Conclusion
This concealer is moisturizing, but it didn't work under my eyes. My under eyes ended up looking all crepey. The concealer settled into fine lines and wrinkles. The shade of the concealer didn't help much either. It was too dark on my skin, which made it look like I had a mask on. I tried blending the concealer into my skin very well. That didn't work either. The orangey color it leaves behind on the skin, lol. I think Neutrogena had something going on with this concealer. It could've been a better product. It's a nope for me.
For more reviews on Neutrogena products go here
Categories:
Tags:

Acne, Acne Skin, Concealer, Cosmetics, Hyaluronic Acid, Hydrating, Hydro Boost, Makeup, Moisturizing, Moisturizing Concealer, Neutrogena, Neutrogena Hydro Boost Hydrating Concealer, Neutrogena Makeup, Non-Comdeogenic, Oil-Free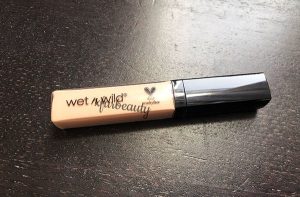 I think I'm past due for a review on Wet n Wild Photo Focus Concealer! I purchased this concealer when I was looking for an affordable concealer that'll help hide dark under eye circles and a few blemishes here and there. I found this concealer when I was shopping for new makeup. And Wet n Wild is a very affordable makeup brand. Yeah, I didn't want to spend that much on makeup, haha. If you missed out, I did a review on Wet n Wild Photo Focus Loose Setting Powder a few weeks ago. Don't forget to check it out! So this brand claims that the Wet n Wild Photo Focus Concealer will hide blemishes, scars, brightens the skin, and provides lightweight buildable coverage. Sounds like a good concealer to me! But is it? I've had this concealer for some time. Maybe at the beginning of this year. I'm not even joking. It seems to last forever. Well, since it's been this long, I think it's time for a review on it. I hope this review is helpful! Enjoy! 🙂
My experience
This concealer feels lightweight and very soft on the skin. I'm madly in love with the texture of this concealer. It comes out very smooth. It glides on the skin effortlessly too. The texture of this concealer is very impressive for an affordable concealer. It not only feels soft and smooth on the skin, but it blends into the skin nicely too. Feels very moisturizing on the skin. Works great underneath the eyes due to its moisturizing properties. That's the good part. Let's get into the not so good part (ahem, parts) of this concealer. So I have the color Light Ivory. This color is not a light ivory shade. It's obviously darker and looks orange (see photo below). Even though I love how the texture of the concealer is soft and smooth, the shade is not accurate. Who ever thought this color resembles light ivory?? lol. It doesn't make any sense! It looks orange! As for coverage, it comes out as medium coverage. Once I apply it onto my skin, it looks like it would give medium coverage, but that medium coverage fades away. The coverage of this concealer is very poor. It's not long-lasting. It just slips right off. Also, it's not buildable like it claims. It feels like it could work and give buildable coverage due to the texture of it, but it just doesn't. The concealer tends to thin out and doesn't offer much coverage. I've tried it on my dark under eye circles, acne scars, and pimples. It doesn't work. I had to reapply the concealer constantly with little results. Lastly, no brightening effect. I didn't see any when I was using it. Overall, this concealer was a huge let down. It didn't work for me. I still have it just because, lol.
Here's a photo of Wet n Wild Photo Focus Concealer in Light Ivory. It looks like it would give great coverage (and buildable), but it doesn't when applied to the skin, targeting an area on the face. To me, it just didn't work. Also, this is obviously orange. Not a light ivory shade, haha.
Pros & Cons
✅ Pros
Soft and gentle on the skin
Texture feels very smooth
No breakouts from it
Affordable
One tube of concealer lasts forever. Even though the packaging is small.
❌ Cons
Not long-lasting
Shade looks orange
Poor coverage
Not buildable
Conclusion
So Wet n Wild Photo Focus Concealer didn't live up to its claims. The shade isn't accurate, offers poor coverage, isn't buildable, and doesn't brighten the skin. The only thing it has going on for it is that it's lightweight and has a soft, smooth texture and consistency to it, but it's not worth it. The whole point of a concealer is to conceal troublesome areas. This didn't do it. It's affordable and all. Sounds all good and dandy, but I'm not repurchasing. I need something that stays in place and isn't (lol) orange. I don't recommend this concealer. It's not good at all. The price is attractive though.
Here's a review on elf concealers.
Let's start of with the elf HD Lifting Concealer.
This is my favorite concealer out of the three. It is thick and provides coverage. It's great underneath the eyes and concealing flaws. It's great for the price. The only gripe with this concealer is that the color isn't truly fair. It's more of a light to medium shade. I think I would purhcase this again due to its consistency, and it does provide good coverage. The product feels very soft and lightweight on the skin.
This isn't a true concealer. It's a 'color correcting' pen. It's supposed to brighten the skin up. I didn't see the point to this product. Why not just use a concealer that is actually a concealer. I won't buy this again. Next!
This is a color correcting stick for dark under eye circles. The shade of this product is orange. The orange color helps to neutralize the bluish tones. This may work for some people, but it didn't work for me. Maybe it's because my dark under eye circles are just terrible. I don't think I would purchase this again. The orange color was very difficult to blend into my skin even with regular concealer on top. It simply didn't work. If you look at the first photo, the product became loose and fell out. haha.
Have you used any of these products?
Love, Jen
Here's my review on NYX Gotcha Covered Concealer! Next time, I'll do a review on NYX Worth the Hype Volumizing & Lengthening Mascara. ? So, I've been using NYX Gotcha Covered Concealer for about 8+ months. I have the one in Ivory. I like the color. It blends into my skin tone and brightens it up on the spot. Loveeee!! The consistency of the concealer is thick and creamy. Even though it takes on that texture, it doesn't provide much coverage. I would think that it would! Nope! It does a poor job at covering pimples and dark under eye circles. Whenever I apply it to my skin, I have to layer it on multiple times to get some coverage. In the end, very poor coverage. I'm left with nothing. The reason why I still use it is because I have it. I'm not big on buying more makeup products when I don't have to. I would much rather use up what I have. ? If you're looking for a full-coverage concealer that covers discolorations and imperfections, this isn't it.
NYX Gotcha Covered Concealer does leave a nice dewy finish on the skin. I have oily skin, and I didn't have a problem with that. Also, it didn't cause my skin to break out in acne either, which is surprising. Sadly, even though it is infused with coconut oil for moisture, using this concealer on my face was a nightmare. It crept into every fine line, wrinkle and accentuated them like no other. I'm not liking it whatsoever. Is this concealer waterproof? Well, I can tell you that I swam in the ocean in Hawaii to test it out. No, it is not waterproof, lol. From this lengthy experience, I'm not impressed. On the bright side, it's a cheap concealer that seems to last forever, haha. I still have a lot of product left!  But, I will not repurchase in the future. I would like a concealer that provides coverage, especially for dark under eye circles. I would also like a concealer that doesn't accentuate fine lines and wrinkles!
Here's a Swatch of NYX Gotcha Covered Concealer (Ivory):
Have you tried NYX Gotcha Covered Concealer before? Did you like it? Share you experience by leaving a comment! ?
Categories: Tags: