Feb. 10, 2020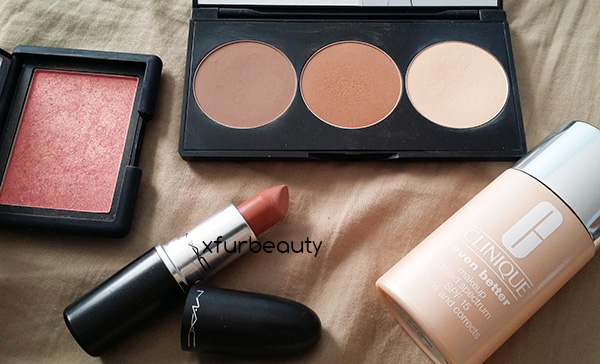 I started wearing makeup again yesterday. It was tough. It took a while for my skin to get used to it. My eyes were so swollen and puffy-looking. It was LOL. 😂 Today, I tried putting on makeup again. The results were much better. I was able to make my face makeup look 'skin-like'. Since my skin is 100% clear and smooth, it looked pretty good. I'm not complimenting myself. I'm just really ecstatic that my acne is gone. Anyone that has suffered from acne knows this feeling. Finally, I can feel comfortable in my own skin and not feel self-conscious.
So what makeup do I use? I don't use anything special, but here's my makeup routine.
Foundation:
I use BB Cream. I use Dr Jart+ Silver Label Rejuvenating BB Cream. It doesn't match my skin tone perfectly, but it doesn't break me out. The coverage is rather poor. If you have active acne, you won't be able to cover imperfections at all. It'll just slide right off. For me, I rather use makeup that doesn't break me out even if the color is a little off. I've suffered from acne for too long to care. I've tried tons of other BB Creams. This is the only one that hasn't caused me any issues. I think I'm done searching for the perfect foundation. I think, haha.
Makeup Primers:
I have a bunch of makeup primers, but I only use them on special occasions. Or, when I want my makeup to look extra silky and smooth. Here are the makeup primers I have…
I usually use the elf Poreless Putty Primer when I want my makeup to look extra, extra perfect. I use the NYX BB Cream Beauty Balm for my everyday makeup. I don't use the NYX Studio Perfect Photo-Loving Primer. It's too oily and greasy. It breaks me out.
Powder Foundation:
I do have a powder foundation. It's Sephora Matte Perfection Powder Foundation (shown below). I haven't been using it lately. Maybe I'll start. I usually just apply BB Cream, and that's it. I don't need an extra layer of foundation on my skin everyday. Perhaps for those special days.
Concealer:
Sephora Bright Future Gel Serum Concealer
This is probably my favorite concealer by far. It doesn't offer high coverage. But for some reason, it works well on my skin. It brightens up my dark under eye circles. I also use it if I have other imperfections or spots to cover. It's a good concealer and skin brightener in one.
Eyeliner:
Any eyeliner will do. I don't have a favorite. I haven't truly encountered an eyeliner that is to die for. They all work the same to me. I seem to make them all work regardless of price. I tend to choose liquid eyeliners over pencil/gel eyeliners. I like clean lines that intensifies the eyes. 🙂 I've been using liquid eyeliners for so many years. Above, I have elf Precision Liquid Eyeliner in Black. This isn't the best eyeliner. It peels if I go over it with other makeup products. Somehow I make it work. I won't repurchase though, lol.
Eyeshadows/Blushes:
As a true non-makeup addict (serious), I use whatever I have. I hardly ever purchase new eyeshadows and blushes. I use the same shit day in and out until I hit the pan. 🤣 I'm not even joking. LOL. I make sure I sanitize my eyeshadows and blushes after use.
Mascara:
This mascara is good. I don't think it's the best, but I'll stick to it for now since it works. I'll probably try out other mascaras after I finish the whole tube. I don't have a favorite mascara either. Any mascara that doesn't make my lashes appear clumpy, runs is OK in my book.
That's all the makeup I use for the everyday look. I try to go makeup free as much as possible. 🙂 I prefer to keep my makeup as natural as possible after having clear skin. 🙂 Covering my skin with makeup isn't a good idea to keep my skin clear. Clear Skin = Clean Skin. 😊
I hope you enjoyed this. 😀
Categories:
Tags:

Acne, Acne Makeup, Acne Skin, BB Cream, Beauty Balm, Black, Blemish, Blemish Balm, Blush, Concealer, Dr Jart Silver Label, Dr Jart+, elf Poreless Putty Primer, elf Precision Liquid Eyeliner, Everyday Makeup, Everyday Makeup Routine, Eyeliner, Eyeshadow, Foundation, Gel Serum Concealer, Life, Lifestyle, Makeup, Makeup Primer, Makeup Primers, Makeup Routine, Mascara, NYX, NYX BB Cream, NYX Studio Perfect Photo-Loving Primer, NYX Worth the Hype Mascara, Pimple, Powder Foundation, Primer, Review, Sephora Bright Future Gel Serum Concealer, Sephora Matte Perfection Powder Foundation, Studio Perfect, Thoughts, What I Use, Worth the Hype Mascara, xfurbeauty, xfurbeauy blog
Oct. 27, 2019
Leave a comment
I have three makeup products from NYX to review. Let's start off with the NYX Studio Perfect Photo-Loving Primer.
NYX Studio Perfect Photo-Loving Primer:
I was very excited to try this face primer out. I think NYX Studio Perfect Photo-Loving Primer is supposed to be comparable to Smashbox Photo Finish Primer. Unfortunately, from my experience, NYX Studio Perfect Photo-Loving Primer didn't live up to my expectations. It's nothing like Smashbox's. The texture of NYX was more runny and oily. It glides on the skin wonderfully and feels nice, but I didn't think it worked well as a face primer. It didn't make my foundation last longer or stay on my skin. It felt too slippery to stick to the skin. I had to re-apply my foundation more often than usual. I did soften my skin though. I would use NYX in conjunction with another primer, but is it worth it? Nah. I rather use a face primer that does it all. I wouldn't recommend this NYX Studio Pefect Photo-Loving Primer to anyone. Skip it.
NYX Worth the Hyper Mascara:
I used to be madly in love wth NYX Worth the Hype Mascara, but I'm not anymore. This is what the mascara claims to do:
Buildable formula that gives you fuller-looking lashes that are feathery soft
Stands up to rain, sweat, tears
Tapered tip lets you brush, build and lengthen even the littlest baby lashes at the inner corner of the eyes
It didn't leave my eyelashes looking feathery soft. It didn't help to lengthen my eyelashes either. The only thing that has helped moisturize and lengthen my lashes is Argan Oil. Not this mascara. I'll have to do an update on my skin care routine again soon. 🙂 I started to apply argan oil on my lashes and have noticed that my lashes have gotten longer. =O I'll use this mascara for now, but I will not repurchase. I'm over it. Onto the next!
NYX Lip Primer:
I thought I would try a lip primer, since my lip color keeps on coming off. Well, this didn't work for me. It didn't make my lip color last longer. BUT! Yes, there's a but. It works great at an eyeshadow primer and smooths over other imperfections amazingly. So, I've been using it for that instead of a lip primer. Who knew! I would purchase this lip primer for other purposes again. Just not for a lip primer.
Have you used NYX Studio Perfect Photo-Loving Primer, NYX Worth the Hype Mascara, or NYX Lip Primer? Share your thoughts in the comment section.
Love, Jen
Categories:
Tags:

Beauty, Beauty Tips, Cosmetics, Face Primer, Haul, How To, Lifestyle, Makeup, Makeup Haul, Makeup Review, Makeup Reviews, Makeup Tips, NYX, NYX Cosmetics, NYX Lip Primer, NYX Studio Perfect Photo-Loving Primer, NYX Worth the Hype Mascara, Primer, Review, Shopping, Thoughts, xfurbeauty, xfurbeauty blog