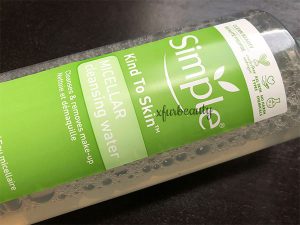 I have a few bottles of micellar cleansing water sitting around. I've been picking up on my cleansing routine too. Check out on the latest cleansing oil that I reviewed iUNIK Calendula Complete Cleansing Oil. Out of what I have, I decided to start off with Simple Micellar Cleansing Water. I really just picked one. This one looks pretty decent. The product claims to remove contaminants that irritate the skin leaving the skin clean and fresh. Boosts hydration by 90%. Also, it contains vitamin b3, vitamin c, and triple purified water. That's very interesting, but these are just claims. Since I have nearly a full bottle of Simple Micellar Cleansing Water left, let's see if it actually works or not. I've been using it for a couple of weeks already. Here are my thoughts on this product!
My experience
I started using micellar cleansing water again to boost my cleansing routine. I'm currently using a cleansing oil, oils, some wipes, and facial cleanser. Yeah, that seems a bit too much, but I have a few bottles of micellar cleansing water and cleansing oils to use up, haha. Following this routine hasn't done anything negative to my skin either. It seems to be working just fine. My skin is left clean and spotless each time afterwards. So with Simple Micellar Cleansing Water, I dispense some product on a single facial wipe (which isn't too wet to begin with) and wipe all of my makeup, sunscreen, dirt, debris, oil off of my face after a long day. Prior to using a facial wipe, I used a cotton pad, but cotton pads tend to be too small, and I always end up using more than one for the whole face, which was pretty wasteful. A face wipe seems to work better for me. It gets every corner of the face and every cervices. I only need to use one face wipe.
After using Simple Micellar Cleansing Water for a few weeks, I can't tell if my skin has improved or not. The product does help to remove gunk off of the skin, but so do other cleansing products (cleansing oil, oils, facial wipes). I don't think it made a huge impact on my skin in terms of cleansing. I have tried using the micellar cleansing water alone without other products too. That means no cleansing oil, oils, or facial wipes. Just the micellar cleansing water and a cotton pad. From what I remember, it didn't remove everything off of my face, especially my eye makeup (eyeliner and mascara). My makeup was still on my skin. Each time I run the micellar cleansing water over my face with a cotton pad, there would be more makeup on the cotton pad. It just took forever to remove my makeup when I could easily do it with an oil-based product. The reason why I switched over to an oil-based product in the first place. It breaks down makeup better and much more easily. I think Simple Micellar Cleansing Water may be too gentle on my skin. My skin does lean towards the oily side and needs something with more cleansing power.
So Simple Micellar Cleansing Water feels too gentle on my skin. I don't mind the gentleness of the product. I actually do prefer skin care products that are gentle on the skin, but it didn't help remove all of the gunk on my skin at the end of the day. On a good note, it does leave my skin feeling hydrated. In other words, it didn't dry out my skin. Also, it didn't irritate my skin or clog my pores. No breakouts! But I do follow up with a facial cleanser afterwards all the time to make sure my skin is completely clean. So is there a point in using this product at all? Honestly, it feels like another extra step in my skin care routine that I don't need. And nothing really stands out about this micellar cleansing water from the results I've seen so far. Maybe it's the brand? The product? I might have to try out other micellar cleansing water products to see if there's a difference. I do have a couple of other micellar cleansing water products sitting around. I'll get around to them soon…
Pros & Cons
✅ Pros
Doesn't dry out the skin
Gentle on the skin
Contains vitamin b3 and vitamin c
No breakouts
❌ Cons
Doesn't cleanse the skin or remove makeup thoroughly
Conclusion
I was hoping that Simple Micellar Cleansing Water would remove my makeup, but it failed to do so. I find it pretty wasteful that I have to go through multiple cotton pads to remove my makeup, and my makeup would still be on my skin after multiple attempts. It just didn't work for me. I'm better off using an oil-based product to remove my makeup or trying out another micellar cleansing water product that's more suitable for my skin type. Or using a combination of an oil-based cleansing product and micellar cleansing water to remove my makeup. But is that necessary? lol. It definitely seems like an extra step, additional product in my routine that I don't need, haha. But I do love how gentle this micellar cleansing water is on my skin and how it doesn't dry out my skin, but it's just not cutting it. No wonder why I haven't touched it in a while until now. lol. After I finish the whole bottle, I won't buy it again. I really don't think my skin is going to miss it, since it hasn't done much for my skin.