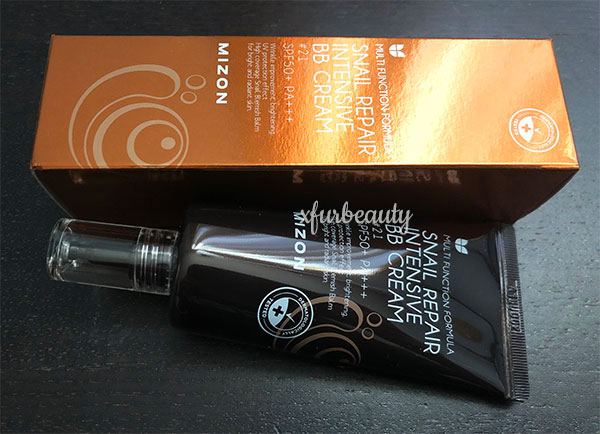 I tried Mizon Snail Repair Intense BB Cream SPF 50+ PA+++ again. I was sorting out my beauty items (bb creams) and noticed noticed that I still had nearly a full tube of this bb cream! Wow! I haven't used it since…was it last year??? So I decided to try it again this morning. Here's my previous review on this bb cream if you missed out:
Review: Mizon Snail Repair Intense BB Cream SPF 50+ PA+++
I last gave up this bb cream due to it being drying, irritating my skin, and causing breakouts. Sounds terrible, right? Why would I ever try something like this again? Well, since my skin is doing so much better now, I wanted to see if it'll work this time around. Sometimes things may work out after a while. Who knows. I've had products that didn't work at some point in time in my life, but after a good amount of time passes by, it worked great! Hopefully this bb cream is a success this time around!
So this bb cream is a multi-function bb cream. It's supposed to help with wrinkle improvement, brightening, provide UV protection (SPF 50+ PA+++), high coverage, makes the skin brighter and more radiant. That sounds nice and all, but let's get into my experience with this bb cream!
My Thoughts on Mizon Snail Repair Intense BB Cream SPF 50+ PA+++!
Honestly, I was pretty excited to try this bb cream again. My current bb cream looked very grey and much darker on my skin. I liked the texture and finish of it (dewy), but it obviously made my skin appear more dull. The only reason why I keep using it is because I like the way it looks on my skin (minus the grey coloring). It also contains SPF but not as high as Mizon Snail Repair Intense BB Cream (what I'm reviewing today).
The shade I have is #21. It's the lightest shade out of the bunch. This shade has some yellow undertones but leaning towards neutral. It's not too yellow on the skin. The shade adjusts to my skin tone just fine when applied. The texture of the bb cream is super soft and creamy. It feels like a dream come true. Before I applied this bb cream onto my face, I made sure to heavily moisturize my skin beforehand. It was really easy to use this bb cream. It moved across my face nicely without tugging at my skin. I finished the application by patting and pressing the bb cream to blend it into my skin much better.
After the application, my skin was left semi-matte. I had some oily areas. Maybe it's due to the moisturizers that I used. I fixed that by using a pressed powder to absorb excess oil. Wonderful! It worked! My results this time was a little different from before. The bb cream can make the skin appear drier if not moisturized properly beforehand. I'm glad I have richer, heavier moisturizers now to fix some of my dry skin issues (from acne treatments). My skin would've looked terrible with dry skin accentuated almost everywhere. I didn't have that much of an issue with the bb cream making fine lines and wrinkles more obvious this time. Take note that I didn't apply this bb cream around my eyes. My eyes are an ultra-dry area of my face. I used another moisturizing makeup product for that area.
This bb cream does contain ethanol in it, which is at the end of the ingredient list. That is a negative in my book. I prefer products without drying alcohols regardless where it is on the list. Fortunately, I didn't experience any negative side effects. It didn't burn my skin or dry it out to the extreme. Nothing like that. Since it does contain mineral sunscreens, it did accentuate some dry patches of skin. Mostly around my chin area, but that's it. Every other area of my face looked good to go.
Even though it contains alcohol in the ingredients list, it also contains other beneficial skin care ingredients in it as well, such as snail secretion filtrate, arbutin, sodium hyaluronate, adenosine, vitamin e, and even papaya fruit extract. This bb cream is supposedly fragranced. I didn't even notice that it had one. Lastly, coverage is pretty darn good. It's medium-full coverage. Not light-medium as I thought it was before. Since I don't have any major acne issues right now, the bb cream smoothed over my skin, provided enough coverage, and brightened my skin up! Breakouts? Not one in sight after a day of use. It looks like it worked out well minus some flaky skin on my chin (most likely from my acne treatments) and that it contains ethanol.
Will I buy it again? Probably not. I still prefer my makeup and skin care products without drying alcohols. That's just a preference of mine. I guess I'll go back to being grey. 😂
Here's a review on another bb cream! The last one I reviewed was Purito Cica Clearing BB Cream. Don't forget to go check that out! So today's review is on Mizon Snail Repair Intense BB Cream SPF 50+ PA+++. It's a multi-functional bb cream that helps with wrinkles, whitening, brightens the skin, makes it more radiant. And it provides high coverage while doing all of that. So this bb cream has so many good reviews on it. I had to try it myself. During this time, I was looking for a better bb cream. Something that won't break me out. I had trouble with a couple of bb creams around this time too. Also, Mizon Snail Repair Intense BB Cream SPF 50+ PA+++ is very affordable compared to the other ones I was using. I got mine for less than 10 dollars. It comes in a 50 mL tube. Honestly, I was just hoping for the best! Why not give it a chance? lol. I've had this bb cream for nearly a year now. I think that's more than enough time to do a review. haha. Here are my thoughts on it and my experience with it!
My experience
I purchased the bb cream in shade #21. This is the lightest shade they have. It has some yellow undertones leaning towards neutral. It's not too yellow. The color adjusts to my skin tone just fine, but I'm not too amazed by it. Honestly, I prefer my makeup with a little bit of more yellow to it. It brightens my skin up. There was something missing when I was using this bb cream. I didn't have that glow to my skin. It made my skin look a bit dull. The texture of the bb cream feels soft and creamy, but it doesn't move across the skin easily, so I gently pat the product into my skin. I don't want to tug at my skin and cause premature wrinkles. Even though it feels creamy on the skin, it doesn't leave a dewy finish behind. It's matte. I know I should be ecstatic about that (oily skin here), but I prefer that dewy finish on my oily skin. And dewy and oily isn't the same thing.
So this bb cream made my skin look drier. This dryness led to my skin appearing dehydrated and accentuated fine lines and wrinkles. That's not a good look. I didn't like it. Looking at the ingredients, it does contain zinc oxide and ethanol. If you're searching for a bb cream that doesn't contain alcohol, this isn't it. No wonder why my skin felt so dehydrated while using it! On the bright skin, it does contain arbutin, sodium hyaluronate, adenosine, vitamin e, and even papaya fruit extract. Oh, and fragrance. This is not a fragrance-free bb cream. I didn't even notice the fragrance, to be honest. If I didn't look at the ingredient list, I would have thought it was fragrance-free. As for coverage, it's light-medium but buildable (if you can deal with the dryness, lol). It started to look cakey and gross on my skin the more I apply it to my skin. It was obvious I had so much foundation on my face. Ugh, I didn't like wearing it.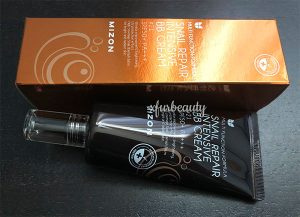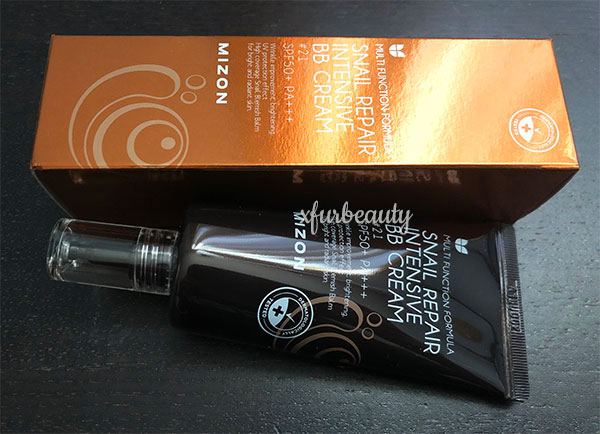 I've used the one in the old packaging and new. The previous packaging had a pump, while the new one had a pointed tip. I prefer the new packaging. It makes it easier to dispense the bb cream, mess-free. The product doesn't get stuck in the pump either. But, overall, I don't think this bb cream is right for me. The color is too neutral (even though I can live with it), it's too drying on the skin, made my skin look more dull and dehydrated, and ended up breaking me out. It clogged my pores. This bb cream feels pretty gross on the skin. I want something that feels more lightweight and natural on the skin. This didn't do it for me. I love the high SPF though! It contains SPF 50+ PA+++, which is pretty high compared to other foundations I've used. Also, it's only 50 mL, but it seems to last forever. The product is very concentrated. A little goes a long way. You don't need a lot of product for coverage. But that doesn't outweigh the cons. It's time to move on to something new…
Here's a swatch of Mizon Snail Repair Intense BB Cream SPF50+ PA+++ in shade #21.
Pros & Cons
✅ Pros
Contains snail secretion filtrate. It's a snail-based product after all!
Contains arbutin, sodium hyaluronate, adenosine, vitamin e…so many other good stuff!
Contains SPF 50+ PA+++
Concentrated bb cream
❌ Cons
Contains fragrance
Drying (contains alcohol)
Breakouts
Irritating due to the dryness
Dulls the skin out
Conclusion
I can't believe I lasted nearly a year on this bb cream, lol. But now I know it isn't suitable for my skin type. The fact that it dries out the skin is simply just terrible. It's so bad for the under eyes and overall skin texture. It made my skin look more aged and older. I still have this bb cream sitting around and don't know what to do with it. Perhaps use it as a concealer, haha. I won't purchase it again. It may work for others, but it didn't for me. It's too drying on the skin.
Go here for more reviews on bb creams