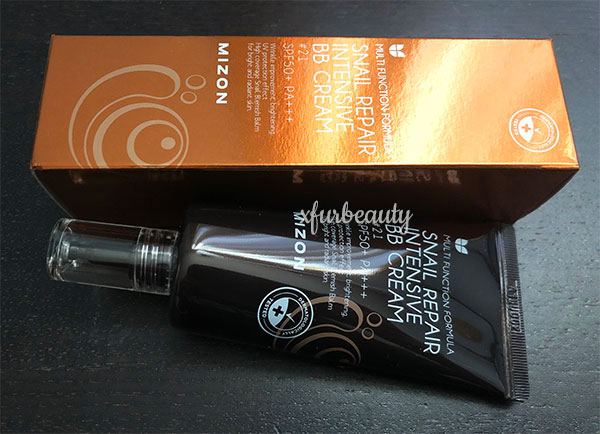 I tried Mizon Snail Repair Intense BB Cream SPF 50+ PA+++ again. I was sorting out my beauty items (bb creams) and noticed noticed that I still had nearly a full tube of this bb cream! Wow! I haven't used it since…was it last year??? So I decided to try it again this morning. Here's my previous review on this bb cream if you missed out:
Review: Mizon Snail Repair Intense BB Cream SPF 50+ PA+++
I last gave up this bb cream due to it being drying, irritating my skin, and causing breakouts. Sounds terrible, right? Why would I ever try something like this again? Well, since my skin is doing so much better now, I wanted to see if it'll work this time around. Sometimes things may work out after a while. Who knows. I've had products that didn't work at some point in time in my life, but after a good amount of time passes by, it worked great! Hopefully this bb cream is a success this time around!
So this bb cream is a multi-function bb cream. It's supposed to help with wrinkle improvement, brightening, provide UV protection (SPF 50+ PA+++), high coverage, makes the skin brighter and more radiant. That sounds nice and all, but let's get into my experience with this bb cream!
My Thoughts on Mizon Snail Repair Intense BB Cream SPF 50+ PA+++!
Honestly, I was pretty excited to try this bb cream again. My current bb cream looked very grey and much darker on my skin. I liked the texture and finish of it (dewy), but it obviously made my skin appear more dull. The only reason why I keep using it is because I like the way it looks on my skin (minus the grey coloring). It also contains SPF but not as high as Mizon Snail Repair Intense BB Cream (what I'm reviewing today).
The shade I have is #21. It's the lightest shade out of the bunch. This shade has some yellow undertones but leaning towards neutral. It's not too yellow on the skin. The shade adjusts to my skin tone just fine when applied. The texture of the bb cream is super soft and creamy. It feels like a dream come true. Before I applied this bb cream onto my face, I made sure to heavily moisturize my skin beforehand. It was really easy to use this bb cream. It moved across my face nicely without tugging at my skin. I finished the application by patting and pressing the bb cream to blend it into my skin much better.
After the application, my skin was left semi-matte. I had some oily areas. Maybe it's due to the moisturizers that I used. I fixed that by using a pressed powder to absorb excess oil. Wonderful! It worked! My results this time was a little different from before. The bb cream can make the skin appear drier if not moisturized properly beforehand. I'm glad I have richer, heavier moisturizers now to fix some of my dry skin issues (from acne treatments). My skin would've looked terrible with dry skin accentuated almost everywhere. I didn't have that much of an issue with the bb cream making fine lines and wrinkles more obvious this time. Take note that I didn't apply this bb cream around my eyes. My eyes are an ultra-dry area of my face. I used another moisturizing makeup product for that area.
This bb cream does contain ethanol in it, which is at the end of the ingredient list. That is a negative in my book. I prefer products without drying alcohols regardless where it is on the list. Fortunately, I didn't experience any negative side effects. It didn't burn my skin or dry it out to the extreme. Nothing like that. Since it does contain mineral sunscreens, it did accentuate some dry patches of skin. Mostly around my chin area, but that's it. Every other area of my face looked good to go.
Even though it contains alcohol in the ingredients list, it also contains other beneficial skin care ingredients in it as well, such as snail secretion filtrate, arbutin, sodium hyaluronate, adenosine, vitamin e, and even papaya fruit extract. This bb cream is supposedly fragranced. I didn't even notice that it had one. Lastly, coverage is pretty darn good. It's medium-full coverage. Not light-medium as I thought it was before. Since I don't have any major acne issues right now, the bb cream smoothed over my skin, provided enough coverage, and brightened my skin up! Breakouts? Not one in sight after a day of use. It looks like it worked out well minus some flaky skin on my chin (most likely from my acne treatments) and that it contains ethanol.
Will I buy it again? Probably not. I still prefer my makeup and skin care products without drying alcohols. That's just a preference of mine. I guess I'll go back to being grey. 😂