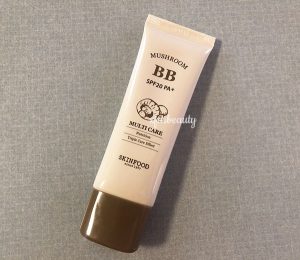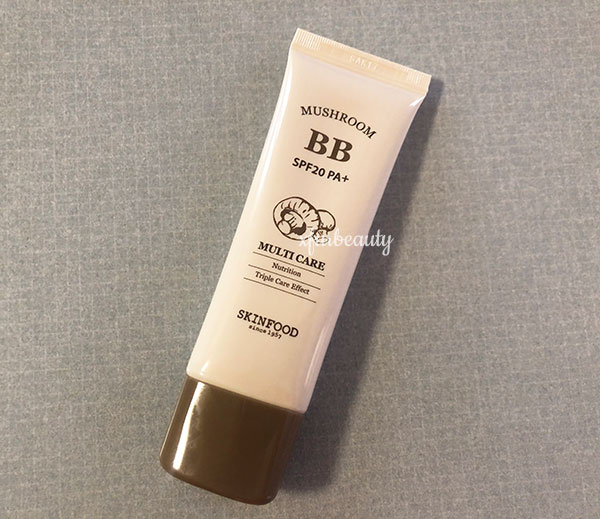 I've been makeup-free for a while now after discontinuing Purito Cica Clearing BB Cream, and I rarely (never, lol) use MAC Blot Pressed Powder. Don't forget to check out my reviews on these products! As for my skin, it's been doing so much better without these makeup products. I'm not going to stick to any makeup product. It has to be one that I really like and truly works on my skin. So I've been on the search for another makeup foundation. In my case, a bb cream, since I have a preference for bb creams. During my search, I stumbled upon Skinfood Mushroom Multi Care BB Cream SPF 20 PA+. I've used this bb cream before, and I have fond memories of it. I'm not sure if it's still the same. If it still works the same. But, I have good feelings about it. I didn't think it would still exist today. Some of the other bb creams I've used years ago have been discontinued. Shockingly, Skinfood Mushroom Multi Care BB Cream is still available. This bb cream contains mushroom and chamomile extracts to hydrate the skin. It's also a wrinkle-care product with firming and whitening properties. Sounds good. Here's my experience with this bb cream years later after trying it again! I hope this review is helpful!
My experience
This bb cream is soft and creamy. It doesn't feel like heavy silicones like my previous bb creams. When applied to the skin, it feels more like a thicker lotion yet feels lightweight on the skin at the same time. It's very easy to blend into the skin. I didn't have any issues with the application of this bb cream. If you have dry skin, it accentuates fine lines and wrinkles. Settles into those dry patches but also creases. This bb cream isn't good at smoothing out fine lines and wrinkles if that's what you're looking for. I was pretty much turned off by the texture and the way it made my skin looked. My skin's more on the dry side (oily at times) right now, and it just made my skin look worse. I didn't like the results at all. I don't remember this bb cream being this way, but I guess that's just how it is now. lol. So this bb cream is more drying rather than moisturizing. As for coverage, it provides very light coverage. I thought the coverage was very poor. It didn't matter how many layers of this bb cream I applied to my skin. It was never enough. Coverage isn't buildable either.
I have the shade in #02 Natural Skin. The shade of this bb cream is pretty dark on my complexion. It looks like a medium, tan shade. It has neutral-pink undertones. It made my skin appear more dull. Even though it contains whitening ingredients (arbutin, mushroom), I haven't noticed any brightening effects from it. The sun protection is nice, but it is pretty low compared to other bb creams that are available. It's also lower compared to the sunscreen I use on a daily basis. I guess a little sun protection is better than nothing. So I had to stop using this bb cream. The reason why is because I started to notice clogged pores on my chin. I didn't think it was the bb cream at first, so I kept using it. But I realized it was the cause of my new breakouts. I stopped using it, and my breakouts went away. Honestly, I don't remember breaking out from this bb cream when I tried it the first time. I finished the whole tube of it too. This time, this product seems very different. It's not the same anymore. Also, I can't stand the fragrance in this product. It's too irritating and strong.
Here's a swatch of #02 Natural Skin. It looks lighter and brighter in the photo. In person, it's actually much darker.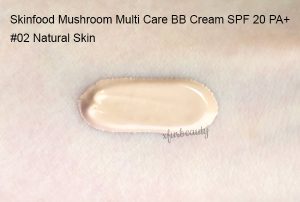 And the bb cream comes sealed.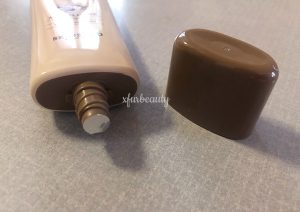 Pros & Cons
✅ Pros
Contains arbutin, aloe, chamomile, mushroom (50mg)
Contains SPF
❌ Cons
Low SPF (SPF 20 PA+)
Accentuates fine lines and wrinkles
Gave me chin breakouts
Shade was too dark on my skin (could work for others)
Drying
Annoying fragrance
Poor coverage
Conclusion
Here's another bb cream that I wanted to work but failed on me. I think I'm done searching right now until something good pops up. I don't want to keep spending on bb creams that don't work. I really thought this would work again (hoping that it would!), but I guess not. I'm very disappointed in the outcome. I didn't like this bb cream, so I can't recommend it. It's not good.
Go here for more reviews on Skinfood beauty products
Go here for more reviews on bb creams
Categories:
Tags:

Arbutin, BB Cream, Beauty, Blemish Balm, Brightening, Makeup, Multi Care, Mushroom BB Cream, Review, Skinfood, Skinfood Mushroom Multi Care BB Cream SPF 20 PA+, SPF, Whitening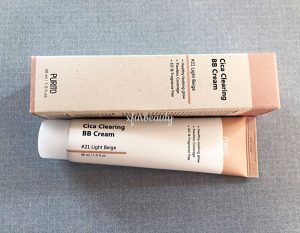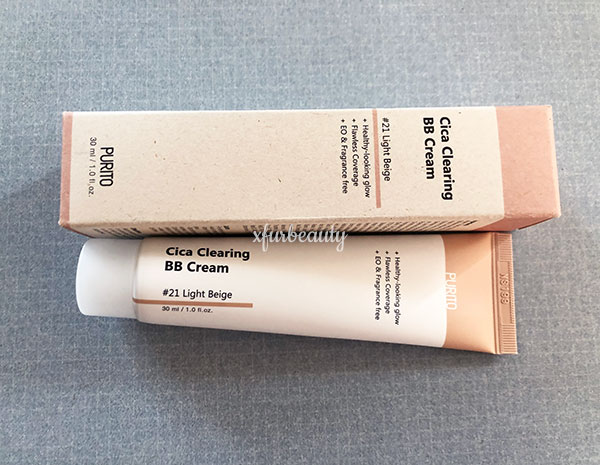 It's time for an update on Purito Cica Clearing BB Cream! If you missed out on my previous review, don't forget to check it out! Click here!
I gave Purito Cica Clearing BB Cream a second chance. It's a cheap bb cream. It's vegan, cruelty-free, and I remember liking the texture, coverage of this bb cream. It made my skin look dewy, glowy, and smoother. Overall, it made my skin look prettier. The effect it had on my skin was so nice. So I have the shade in Light Beige (#21). They only have 3 shades to choose from, which is pretty awful. Not just that. Shade #21 has dark, dull, greyish undertones to it that I was OK with at first since I thought it didn't break me out (more on this soon!). I prioritize a product not breaking me out over anything else if it's decent, but the color of this bb cream started to settle in as weeks past by. I didn't like the way it looked on my skin. It made my skin appear more dull and lifeless. It took that spark out of my skin. And I didn't enjoy using this bb cream even though it made my skin look pretty in texture. It smooths out the skin. Oh that dewy skin is so amazing, lol. But pretty, dewy skin wasn't enough for me to continue to use it. I needed a bb cream that matches my skin color. Also, a bb cream that brings out the beauty of my skin. This didn't do it for my skin. Keep reading, there's more to it…
The bb cream feels soft and creamy, which I loved. The texture is so silky to touch. Unfortunately, it feels rather thick on the skin. As time went on, I started to dislike how thick and heavy it felt on my skin, especially when I was using it on a daily basis. I can't imagine putting something like this on my skin forever. It just felt really gross on my skin. It felt and looked cakey and unnatural. I love that it smooths out fine lines and wrinkles due to the silkiness of the product, but it was just too darn thick and heavy on my skin. Makeup is supposed to look at least somewhat natural (and good) on the skin. This felt like a blob of goop on my face. It didn't matter how much I used either. The bb cream was too thick. Also, even though it's thick in texture, it didn't provide that much coverage. Medium at best but I could still see through the makeup. Since I have some acne scars (waiting to fade), I can still see them. Same with freckles. It doesn't bother me if it covers my freckles or not, but I'm just giving an example that it doesn't provide that much coverage. This bb cream has the tendency to transfer onto fabrics too. It comes off very easily and smudges. It doesn't stick to the skin well and isn't long-lasting.
Lastly, this bb cream broke me out. I didn't think it was breaking me out at first until I stopped using it for a week. I noticed less breakouts. That says a lot. Some of my clogged pores disappeared, and my skin appeared clearer. I tried using it again for a day, bam! I started to get random clogged pores out of the blue in a single day. One. Single. Day! Perhaps this bb cream is too thick and heavy on my skin that it suffocates my pores and irritates it. All I know is that my skin started to develop acne again. My pores looked like a huge mess. It was filled with gunk that wasn't there before. Ever since I noticed this, I haven't touched this bb cream since. Honestly, I don't seem to miss it either. My skin looks way better without it. So! That's all there is to it. No more Purito Cica Clearing BB Cream, lol. At least it wasn't too expensive. I'm not putting this bb cream down. It may work for others, but it didn't work for me. It's time for me to move on to something that's better for my skin. This isn't it. And I really wanted it to work due to how affordable it is.
For more reviews on Purito products, go here.
For more reviews on bb creams, go here.