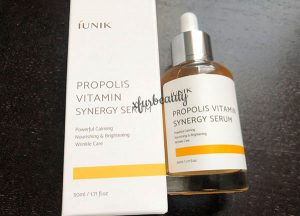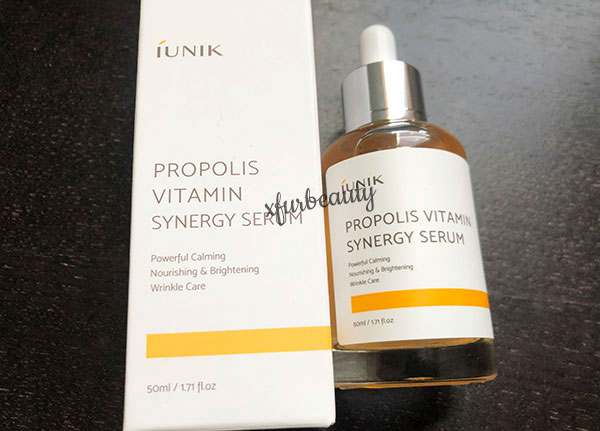 Here's another iUNIK skin care product I have. It's iUNIK Propolis Vitamin Synergy Serum! Don't forget to check out my review on the iUNIK Propolis Vitamin Eye Cream! So this serum is infused with Propolis Extract (70%), Hippophae Rhamnoides Fruit Extract (12%), and Centella Asiatica. The purpose of this serum is to soothe, nourish, revitalize the skin while reducing redness and calming the skin. From my experience, centella is amazing at reducing redness from acne and all-over skin redness. It's really good at that. And it works. This serum also helps with dry, damaged, dull skin, and hyperpigmentation. Delivering minerals, vitamins, and amino acids to the skin. In turn, it helps to prevent irritation, acne, breakouts, and wrinkles. It's ideal for sensitive skin, fragrance-free (yay!), hypoallergenic, and non-comedogenic too. But these are just claims. Let's see if it works! I've had iUNIK Propolis Vitamin Synergy Serum for about 6 months now. Here are my thoughts on this serum!
My experience
iUNIK Propolis Vitamin Synergy Serum comes in a 50 mL bottle. It's golden in color. I thought the color of this serum was quite intriguing. It's gold, bright, and glowy. So I used it in the morning and at night. Just a few drops of this serum and gently pat it into the skin. It feels a little bit sticky at first, but that feeling eventually disappears when it absorbs into the skin. It feels lightweight. Very hydrating and made my skin appear smoother, dewier, and more glossy. There was a nice sheen to my skin. My skin looked very moisturized and healthy. Even though it is fragrance-free, it has a subtle sweet smell to it. The smell is barely noticeable. Maybe it's just my nose, haha! The smell vanishes and doesn't last long, so that's not something to worry about. And yes, fragrance-free products can have a smell to them. Be it from essential oils or other ingredients in the product. In this case, this serum contains bergamot oil. That must be the sweet smelling scent. You know, I actually really do like the smell of bergamot oil. It smells pretty good. But this could be a problem for people that are sensitive to essential oils or fragrance.
After months of using this serum, I decreased my application to once a day, since the serum became too heavy on my oily skin. It started to feel more sticky and too much for my skin. Perhaps it was the change in weather. And the fact that I do have oily skin. Or it's just too moisturizing for my skin type. Even with using it once a day, I started noticing little bumps along my jawline and forehead and stopped using it immediately. So I think the breakouts had to do with one of the main ingredients in this product. Ahem, propolis. Propolis is a waxy substance. That explains that strange film it left behind on my skin every time I used it. When this happens, it's trapping in sebum, dirt, debris into the pores. This is definitely a huge no-no for my skin. Much like beeswax. I can't use skin care products with beeswax either. As for skin brightening, in the beginning, I noticed a little bit of brightening but not much. I didn't think this serum was that great at brightening the overall complexion. It didn't help with hyperpigmentation or acne marks either. It didn't do much for my skin besides hydrating it. Seems like this serum would work better for someone with dry or normal skin. My oily skin didn't like it in the long run. I wished it worked because it does have some nice ingredients in it, such as sodium hyaluronate, niacinamide, licorice. Well, that's too bad it didn't work out. Oh well, haha. Moving on…
This is what the serum looks like. A drop of serum.
Pros & Cons
✅ Pros
Contains Propolis Extract, Hippophae Rhamnoides Fruit Extract, and Centella Asiatica
Hydrating
Made the skin appear dewy
Soothes the skin
Fragrance-free
❌ Cons
Doesn't brighten the skin
Didn't help reduce redness in the skin
Didn't do much for hyperpigmentation
Can't tell if it did anything for wrinkles but it is hydrating
Left a weird film on my skin
It is fragrance-free but contains bergamot oil. If you're sensitive to fragrance or scents, this may be a problem.
Breakouts
Conclusion
I was really looking forward to the results of this serum. Many claimed it brightened their skin. Helped with wrinkles and so much more. I thought it was only good at hydrating the skin. It didn't help to brighten my skin tone or help with hyperpigmentation or acne marks. Well, on my skin, nothing changed but the hydration. But, unfortunately, I had to stop using this serum due to it breaking me out and leaving an annoying thin film on my skin that felt waxy. Trapping sebum, dirt, debris into my pores. That's what it felt like on my skin. It looks like propolis just isn't for my skin type. This may work for others, but it didn't work on my skin. It's best for me to stay away from products that contain this ingredient. The eye cream also contains propolis, but it worked because I only used it on my eyes. I'm happy that I didn't try it on my face. That would've been a disaster.
Go here for more reviews on iUNIK skin care products
If you're interested in eye creams… 👈🏻
Categories:
Tags:

Anti-Aging, Beauty, Brightening, iUNIK, iUNIK Propolis Vitamin Synergy Serum, iUNIK Skin Care, Propolis, Propolis Extract, Propolis Serum, Review, Skin Care, Wrinkle Care, Wrinkles