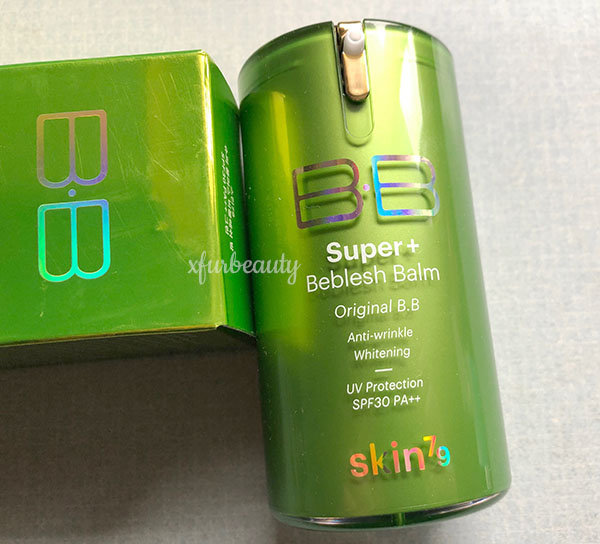 Shade: I still like the color, since it matches my skin very well compared to a lot of foundations I have used.
Texture: Soft and creamy. It feels nice, but it's not my favorite. I prefer silky, smooth formulas.
Finish: Matte-finish. It's good for oily skin.
Coverage: Low coverage. Don't even bother! You have no clue how many times I had to reapply throughout the day. =/
Fragrance: The fragrance eventually started to bother me. It lingers on the skin.
SPF?: SPF 30 PA++
Breakouts?: Read my final thoughts.
Final Thoughts: Here's an update on Skin79 Super+ Beblesh Balm Green. I wish this BB Cream worked for me, but it didn't. I love the color. It matches my skin much better compared to the other Skin79 BB Creams. Unfortunately, the texture and coverage didn't work well on my skin. It made my skin look dried out. You really do need flawless skin to wear this BB Cream. It accentuates every bump and pore. Just awful. I avoided using this BB Cream around my eyes because it would settle into fine lines and wrinkles. The coverage and lasting power was so poor. I had to reapply the BB Cream often during the day. It got old real quick. I don't see the purpose of BB Cream. What's the point? I would much rather use something else that stays on my skin and has all of the benefits that I want. I'm done with it. It's time to kick it to the curb! Don't waste your money on this. I don't think Skin79 is that great when it comes to BB Creams. The texture and coverage is lacking. There are better BB Creams out there. The packaging is clunky too. Meh. Over it. Next!
Other posts on Skin79 Super+ Beblesh Balm Green:
My New BB Cream: Skin79 Super+ Beblesh Balm (Green)
Review: Skin79 Super+ Beblesh Balm Green
Love, Jen
Categories: Tags: