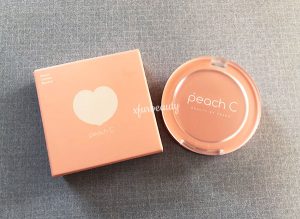 I've had this blush for quite some time. It's Peach C Peach Cotton Blusher in Peony P Cheek. I'm not a huge makeup person. I only have the essentials. And some eyeshadows. I just don't like collecting makeup. I prefer skin care. If you haven't noticed, most of my posts are on skin care with a little bit of makeup here and there. Maybe that'll change soon in the future. We'll see, lol. I just think it's more important to take care of your skin first before wearing makeup. I don't see the point of makeup if the skin underneath the makeup isn't in good shape or healthy. But that's just me. So let's get into this makeup blush that I have. What are the benefits of this blush? It's a cheek blusher for a lovely makeup finish. Adds color on the cheeks. It's long-lasting and has a vivid gorgeous finish. High temperature factor. I guess that means the blush should stay on the skin throughout harsh temperatures with less smudging. That's my take on it. Well! Here's my experience with this blush. Finally! I hope everyone enjoys this review! 🙂
My experience
The color I chose was Peony P Cheek. It's a soft peach color. I haven't tried this brand or color before, so I just chose one that I could possibly like. The texture of the blush is soft, fine, and smooth, which I really like. I didn't have any issues using the product, applying the blush to my skin. It seems to help tame my oily skin since it gives off a matte finish. I didn't break out from it either. Yay! But there's one thing I didn't like about this product. The color is very subtle on the skin. It didn't look like I have any color on my face. I thought it would be more pigmented just by touch the blush with my finger tips. The effect just wasn't the same when I dust the blush onto my cheeks. The color payoff was just bad. So, I didn't use this blush much often due to that fact. I like my blushes to give my face some color. Who doesn't? Isn't that the point of applying blush? lol. Overall, I like the texture, the color (just by looking at the compact), how it didn't break me out, but the color was too light, subtle on my face. I need something more. And I've used less expensive blushes that gave me more color than this. I'm not impressed. Moving on…
Here's the blush. It looks so pretty. 😍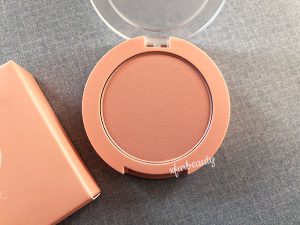 Pros & Cons
✅ Pros
Cute blush compact
Pretty subtle peachy color upon opening
Helps with oily skin, matte finish
Easy to use
Fine powder
Smooths over skin nicely
❌ Cons
Poor color payoff
Not long-lasting
Conclusion
This blush is so cute, but it didn't deliver in terms of color. It didn't last on the skin either. I have other blushes from other brands that are cheaper than this and work pretty well (for how much it is). This brand is affordable compared to high end brands, but it just wasn't worth it. I won't purchase again. I feel like I just wasted my money.
For more reviews on makeup go here
Categories:
Tags:

Beauty, Blush, Blusher, Experience, K Beauty, Makeup, Peach C, Peach C Peach Cotton Blusher, Peony P Cheek, Review, Thoughts
I have another blush palette! I've been using it (as you can see, lol). I chose this palette because it was on sale, haha. But also, I needed darker colors. I was there at the right time. ? The other one I have from elf is…
The colors in the second palette shown look very pretty, especially the color on the left. It's a peachy shade that looks really natural on my cheeks. It's subtle but gives my cheeks a pop of color. They're nice, but I wanted something more bold. I love changing up my colors one day to the next. It makes things more exciting and fun.
I really like elf blushes and bronzers. They're in a portable compact that's easy to open and use. The colors compliment each other very well. They work. It's pigmented enough and shows up on my skin. Works just the same or even better compared to more expensive blushes and bronzers. I would repurchase in the future. 🙂
Have you used elf blushes or bronzers? Did they work for you?
Love, Jen