Here's an update on the elf Acne Fighting Foundation. I've done a review on this foundation before in the past. Check it out below:
Review: elf Acne Fighting Foundation
NEW REVIEW:
I've used the elf Acne Fighting Foundation for less than 7 days now. Somewhere around there. I still hate the coloring of the foundation. It's definitely orange. Using my BB Cream on top didn't help much. My skin looked freaking orange. YUCK! ??Yeah, the orange-tinge it gave my skin was cringey too. I don't think anyone wants to look like an oompa loompa or look like they have a bad tan. lol.
As for breakouts, did it break me out?
This is an interesting question. The purpose of elf Acne Fighting Foundation is to help fight acne (what the foundation is called). With this foundation, I noticed tiny little clogged, filled in pores after using it. I developed a new irritated pimple on my jawline too. I really do think it could be the amount of silicones in this product that my skin doesn't like. It seems like it's trapping oil in my pores and causing me skin issues like acne. I love how silicones make my skin look but not when it's making me break out in acne. So if you have acne-prone skin, be aware of that. Just because it's made for 'acne', doesn't mean it'll work for you. I had to stop using this foundation ASAP.
I wouldn't recommend this foundation to acne-prone skin people. I won't buy it again due to the reasons above. I did make an update on my makeup routine. <<< Just eliminate the elf Acne Fighting Foundation from my routine. ?
P.S. elf is a vegan and cruelty-free brand. 🙂
Categories: Tags: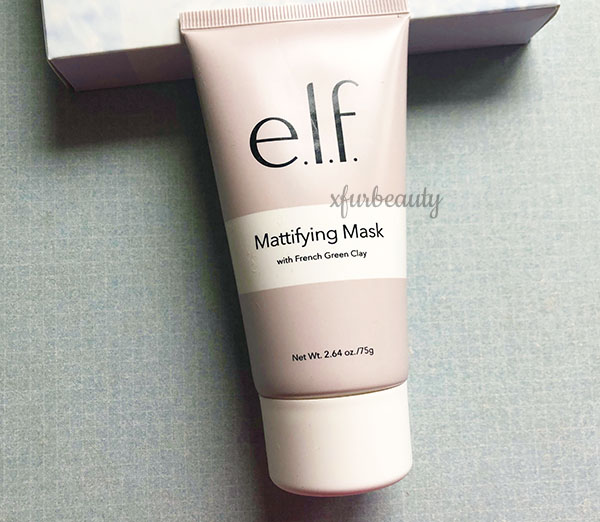 I did a couple of reviews on the elf Mattifying Mask with French Green Clay. I decided to use this face mask (to use it all up). I haven't touched it in a while. This was my experience with it.
I've been using this face mask out of convenience. I don't have to mix it like my Aztec Secret Indian Healing Clay. That was a really bad idea. I didn't think this face mask would break me out, but it did. I started to noticing clogged pores in the most random places. I even developed pustules. So, this mask is a no-go if you have acne-prone skin. I'm so disappointed. My skin was clear. But, at least I know what caused my skin to break out. I hope recovery is going to be fast and quick. Out this face mask goes!
?
More on facial masks:
Facial Masks in My Skin Care Routine
Review: elf Marsh-Mellow Soothing Mask
Does Bliss Mighty Marshmallow Bright & Radiant Whipped Mask Work??
Categories: Tags: