Dec. 1, 2020
So I only have a little bit of product left of the Cosrx Ultimate Nourishing Rice Overnight Mask. Here's an updated review on it! 🙂
I started off using this overnight mask twice a day. That eventually led to using it once a day at night. After that, I used it only a few times a week at night. Then I stopped. In the beginning, it was great! I noticed that it brightened and softened my skin. Gave my skin a nice glow. Well, that glow didn't last forever, sadly. 🙁 This overnight mask did leave my skin feeling moisturized. But, it was more of a slippery, oily feel. I didn't enjoy applying this product to my skin for that reason. There's a lot of raves surrounding this product, but I don't think it's that great anymore. And this is after nearly 2 months of using it. As I said before, it was great at first, but results went downhill from there. It's amazing how a couple of more weeks/a whole 'nother month can really change your mind about a product! I don't feel that this product is right for me. I love rice-based skin care products, but this one didn't do it for me in the end. I've gone days without it, and I don't even miss it one bit. I won't repurchase another tube. Next!
Reviews on Cosrx beauty products:
Review: Cosrx Oil-Free Ultra-Moisturizing Lotion (with Birch Sap)
Review: Cosrx Galactomyces 95 Tone Balancing Essence
Review: Cosrx Hyaluronic Acid Hydra Power Essence
Review: Cosrx Ultimate Moisturizing Honey Overnight Mask
Review: Cosrx Ultimate Nourishing Rice Overnight Spa Mask
Categories:
Tags:

Cosrx, Cosrx Ultimate Nourishing Rice Overnight Spa Mask, Life, Lifestyle, Review, Rice Mask, Skin Care, Skin Care Review, Skin Care Reviews, Skincare, Thoughts, Ultimate Nourishing Rice Overnight Spa Mask, Update, xfurbeauty, xfurbeauty blog
Dec. 1, 2020
Leave a comment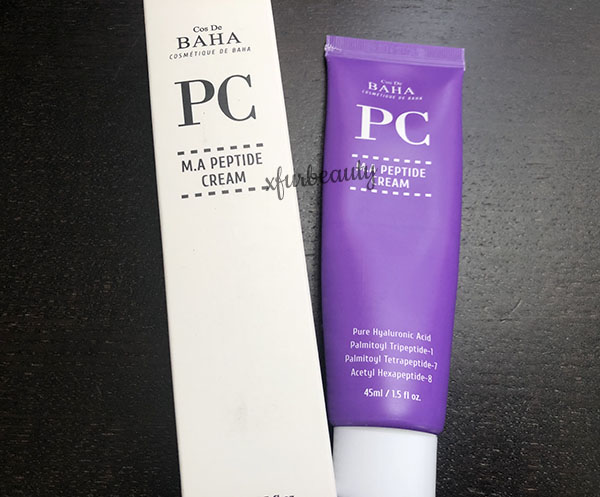 It's been about 2ish months using Cos De BAHA MA Peptide Cream. Here are my thoughts on it now.
I praised this cream in my last review, but my thoughts have changed since. I love the texture of this cream. I love the ingredients it contains. BUT, it just didn't work out for me. It didn't leave my skin feeling hydrated at all considering how thick and creamy it is. My skin still felt as if it needed more moisture after applying it to my skin. I don't think it had much effect on my skin in terms of moisture AND anti-aging compared to the other skin care products I'm using. Since this is a heavier cream, it did contribute to clogged pores. It took a while for them to show up. I think this cream would be better for someone with dry-normal skin without acne. It simply just felt too heavy on my skin without moisturizing it. You would think that it would actually do something, but it didn't. As for the packaging, the second tube I received looked like it had more air in it than product. I'm not going to purchase it again due to my experience with it after 2 months. The product containing only half of the tube or filled with mostly air is sketchy…so… :/
Another Cos De BAHA skin care product down…
Old reviews on Cos De BAHA skin care products:
Cos De BAHA Salicylic Acid & Galactomyces Serum
Cos De BAHA Snail Mucin HA Serum + Arbutin, & Eva Naturals Youth Restoring Eye Gel
Review: Cos De BAHA Snail Mucin HA Serum
Review: Cos De BAHA Arbutin Niacinamide Serum + Skin Care Update
Cos De BAHA MA Peptide Facial Toner + First Impression Review
Categories:
Tags:

2 Months, Anti Wrinkles, Antiaging, Cos De BAHA, Cos De BAHA MA Peptide Facial Toner, Cruelty-Free, Face Toner, Facial Toner, Fine Lines, Hyaluronic Acid, Life, Lifestyle, MA Peptide, Matrixyl, Moisturizing, Oil Free, Skin Care, Skin Care Products, Skin Care Routine, Thoughts, Update, Updated Review, Vegan, Vegan Skin Care, xfurbeauty, xfurbeauty blog