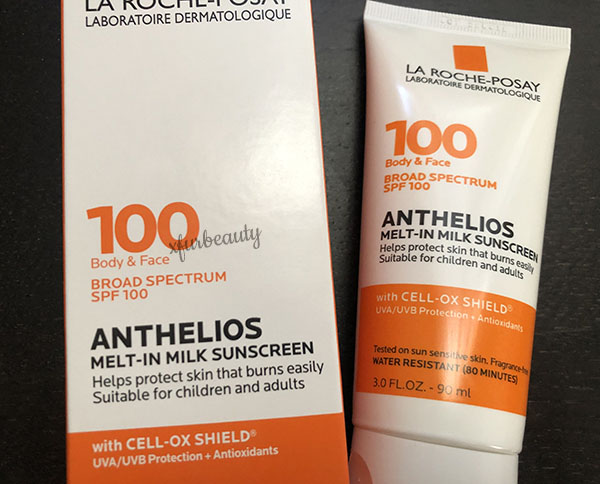 I tried La Roche-Posay Anthelios Melt-in Milk Face & Body Sunscreen Lotion SPF 100 again. I stopped using my moisturizer (Vanicream Daily Moisturizer for Sensitive Skin), and my skin became so dry and flaky. I needed a product that would moisturize my skin. The only product that came to mind was La Roche-Posay Anthelios Melt-in Milk Face & Body Sunscreen Lotion SPF 100 (that I have). My experience using it last time was very bad. You can read more about it right here. I'm still using a mineral sunscreen, and it's been an unpleasant experience. It's not the worst mineral sunscreen I've used, but it still leaves a white cast and dries my skin out like crazy (even though it's a tad moisturizing, just not enough). With La Roche-Posay Anthelios Melt-in Milk Face & Body Sunscreen Lotion SPF 100, at least it's moisturizing and has a SPF of 100. Here's my experience with La Roche-Posay SPF 100 sunscreen again this time around!
My experience…
I was very hesitant about trying this sunscreen again. I could just go out and purchase a new sunscreen, but I wanted to see if this sunscreen would work first without using a moisturizer underneath. From what I remember, it's moisturizing enough by itself. Also, I loved the way it felt on my skin. It's so moisturizing with a high SPF of 100. So my last experience with this sunscreen was not good. I experienced burning eyes, a non-stop migraine, and clogged pores by the second day. It was one of those experiences where I thought I would never touch this sunscreen ever again. But, here I am, trying it out again just because I have it and don't want to buy another sunscreen at the moment. Also, my skin is feeling extremely dry. I thought the sunscreen would help with the dryness in the meantime.
The first day of using this sunscreen went well, but I didn't use it from morning to night. I only used it once in the evening. It was my last SPF application of the day. I didn't experience any redness, itchiness, or any other skin irritations. My eyes burned a little bit but not by much. The burning sensation disappeared after a few minutes. I was able to wear the sunscreen.
The sunscreen felt soft in texture and smoothed over my facial skin easily. It feels very nice on the skin. Possibly one of the most softest and soothing sunscreens I've used so far. I really liked the texture and consistency of this sunscreen. It was perfect for me. Even though it's super moisturizing on the skin, it does lean towards the greasy side, but I could deal with it because the sunscreen didn't stick to my hairline or leak into my eyes. It melted into my skin when applied and stayed in place. The lotion isn't messy to use. It feels like a quality sunscreen. I didn't breakout the first time I used it either. It simply just left my skin feeling moisturized when applied and after rinsing it off. I was happy with the results.
I tried using the sunscreen again the next day. This time I was able to use it from morning until night. Unfortunately, it didn't work out. I started to have issues. My eyes started to burn. They became red and watery. I couldn't open them. I tried applying the sunscreen just on my face (avoiding the eye area), my eyes still burned. The smell of the sunscreen started to get to me. I also noticed my face warming up when using this sunscreen. Is this normal? Probably not. Seems like it's not compatible with my skin. I stopped using it when I realized this sunscreen was giving me issues. That's too bad. It works very well on my body but not my face. I tried it the second time, and it failed on my again. I can't recommend this product as a face sunscreen. It may work for someone else, but it didn't for me.
La Roche-Posay Anthelios Melt-in Milk Face & Body Sunscreen Lotion SPF 100
Categories:
Tags:

Acne, Acne Marks, Acne Scars, Acne Skin, Anti-Aging, Antioxidants, Beauty, Body Sunscreen, Cell Ox Shield, Experience, Face Sunscreen, Hyperpigmentation, La Roche-Posay, La Roche-Posay Anthelios Melt-in Milk Sunscreen Lotion SPF 100, Lifestyle, Oxybenzone Free, Review, Skin Care, Skincare, SPF, SPF 100, Sun Care, Sunblock, Sunscreen, Thoughts, UVA, UVB, Wrinkles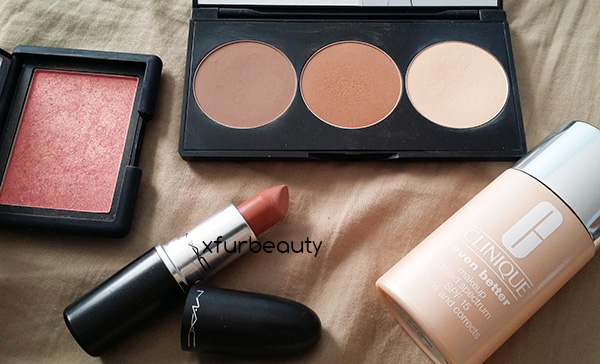 Welcome to the first week of the 4th month! 👏🏻 Here are my results!
My Thoughts & Results 🙂
So the weather has been messing up my skin lately. It's been extremely hot. Ugh, heat waveeeee. 🔥 I noticed that my skin was getting a lot oilier. Even my sunscreen which is oil-absorbing couldn't tame the oil on my face. At least it didn't dry my skin out. But, my skin has been a lot oilier, greasier due to the weather. Along with that comes with breakouts. *sigh* I haven't increased my dose of tret. I'm still using it 1-2 times a week. There's no way I can increase it at this point with the higher strength. It works on my acne and is very strong at the same time. The funny thing is that it's strong only on certain parts of my face. For example, my cheeks and the sides of my mouth. Everywhere else seems to take tret just fine. I might have to find another way to use tret while keeping in mind where my sensitivities are. I'll try something new next time. 🙂 At the moment, I don't have that much acne. Just breakouts from purging from tret and breakouts from the annoying hot weather. No cystic acne. My skin looks pretty clear. The breakouts aren't even that noticeable. It's only noticeable to me because I see my face every day, lol. But it's been going well. Hopefully it just gets better with time. I'm still able to use Vanicream, but I'm still hanging on hoping that it's not going to break me out. This moisturizer has saved my skin big time. My skin heals so much better and faster while on tret. My skin burns and stings less. I'm really falling in love with this moisturizer. No breakouts? Not yet! Just not yet. Moisturized skin? Absolutely! Skin that looks healthy and glowy? LOVE! 🥰 I'm crossing my fingers that it'll work out long term. It's working way better than my other moisturizers. It protects my skin from dryness and irritation. Yay! I hope it keeps on working without causing any issues!
On to something else that I wanted to talk about…
Sunscreen over makeup?
I started wearing makeup again. I miss it so much! I love applying and wearing makeup. Always have. Taking a break is nice too, but I think it's time to bring back makeup. The only makeup I really do wear is eye makeup and a bb cream. I love bb creams because they tend to smooth out the skin and contains SPF. With that in mind, it's very difficult to apply sunscreen over makeup. It just swishes everything around and ruins the initial makeup application. Honestly, the only product (that contains SPF) I've noticed that doesn't mess up makeup is a face powder. That's what I used to use before. I stopped because I couldn't find a powder that I liked since the one I was using was discontinued. So I moved on to bb creams for that reason. I just stuck to bb creams since. If it works, it works, right? Also, I don't like traditional foundations. I never have. Tinted moisturizers? Never found one that I liked. They don't give the skin much coverage anyways. What's the point? I prefer a product that provides at least some coverage. Sunscreen sprays? They usually contain denatured alcohol. I find them too irritating on my skin. I love the idea though! Sunscreen sticks? They're quite sticky, messy, and a bit too heavy on my skin. I'm still searching for a product that works on top of makeup, and it's been a challenge finding something that works without ruining makeup. So this is what I did. I started off with what I had…
Remember Trader Joe's Daily Facial Sunscreen Broad Spectrum SPF 40? I tried it again. This sunscreen is a gel sunscreen with a lightweight texture. It blends into the skin nicely (on clean skin). On top of makeup, it doesn't work. It swishes makeup around. I stopped using it on top of my makeup after a single day, lol. I didn't use it long enough to notice breakouts. But, I didn't like the way it felt on my skin. It made my skin appear more oily and just sat on top of my skin. At least I didn't get it in my eyes. It burned my eyes last time.
Another sunscreen I tried was my current sunscreen La Roche-Posay Anthelios Body & Face Mineral Sunscreen Gentle Lotion. It worked better than Trader Joe's. When reapplying over makeup, it's difficult to get the same amount of sunscreen on the face, but I tried my best. Using La Roche-Posay wasn't too bad. Since I didn't have any flaky skin, it was much easier to reapply over makeup. All I did was dab the sunscreen all over my face and pat it into my skin. It helped to absorb excess oil too. After a few hours, my skin gets really oily, so the oil-control was very nice. My skin appeared less shiny after application. So the sunscreen application wasn't perfect, but it was something I can live with right now until I find another way that's best for me to reapply during the day.
It's been a good week. I'm happy to see more improvements in my skin! Yay! I've been battling this for too long, and it looks like I'm finally going somewhere (for the billionth time, HA!). My skin definitely looks way better compared to when I started. Let's keep hoping for the best! 🙏🏻 See everyone next week!
If you missed out on products I used up in August 👈🏻
My Acne Journey (3 Months!!) 👇🏻👇🏻👇🏻
My Acne Journey: 3 Weeks Results!
My Acne Journey: 4 Weeks Results!
My Acne Journey: 6 Weeks Results…
My Acne Journey: 7 Weeks Results
My Acne Journey: 2 Months + 1 Week Results!
My Acne Journey: 2 Months + 2 Weeks!
My Acne Journey: 2 Months + 3 Weeks Results!
Categories:
Tags:

3 Months 1 Week, 3 Months 1 Week Results, Acne, Acne Journey, Acne Marks, Acne Prone Skin, Acne Scars, Acne Skin, Anti-Aging, Beauty, Experience, Life, Lifestyle, Makeup, My Acne Journey, Results, Review, Skin Care, Skin Care Routine, Skincare, Sunblock, Sunscreen, Thoughts, Tret, Tret Journey, Tretinoin, Wrinkles