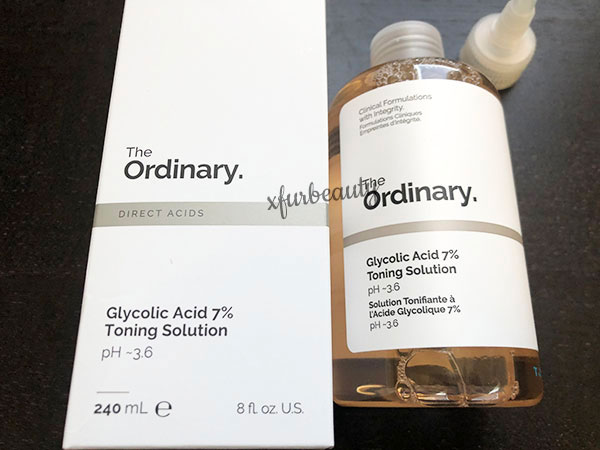 It's been 2 weeks using The Ordinary Glycolic Acid 7% Toning Solution! This week, I used glycolic acid products and benzoyl peroxide (more on this in a bit!). So, I started off the week using only glycolic acid products. Just this toner and another glycolic acid serum (read more about it by going to that link!). Glycolic acid has helped improve my skin. But, I can tell that it's not going to clear up my skin fully. While using glycolic acid, I noticed smoother, brighter skin, and some closed comedones moving up to the surface, but it's not getting to the source. It's not going to be the miracle cure for my acne. I stopped using it every day. Now I'm only using it only a few times a week for exfoliation. Hopefully it'll help with acne marks with continued use. It's a nice product to have in my routine. I haven't had any issues using it. No redness, itchiness, or burning. The stinging sensation has diminished over time too. My skin is getting used to it real fast. Now on to my experience with benzoyl peroxide…
I decided to use benzoyl peroxide last minute (at the end of the week). It's because I didn't see much results with glycolic acid acne-wise. I know it's only been 2 weeks, but that's more than enough time for me to see if it works for my acne or not. I just don't think it's working. I noticed inflamed acne popping up, and it looks like it's going to get worse if I didn't do anything about it. Glycolic acid alone just isn't going to cut it. At least for the products I was using. I'm using benzoyl peroxide now. I didn't expect to use it again, but here I am, using it again, haha. Let's see if it works this time around. It has worked plenty of times before. I just ended up venturing out to other ingredients/products to help with my acne. I guess, to no avail. Here's my experience using benzoyl peroxide for the first time again.
So before applying benzoyl peroxide to my skin, I applied my moisturizer (La Roche Posay Toleriane Double Repair Matte Face Moisturizer for Oily Skin) first. I might re-add Cosrx Advanced Snail 96 Mucin Power Essence to increase moisture in my skin. I removed it because I didn't need it anymore. But, more moisture right now wouldn't be a bad thing while using benzoyl peroxide. Moisturizing the skin helps to prevent skin dryness and any other skin irritations. After applying moisturizer, I applied benzoyl peroxide all over my face! I'm not using it as a spot treatment. Just not yet until my skin is clear. The results the next morning was pretty amazing. I noticed a decrease in sebum, clearer skin, less closed comedones, and my overall complexion just looked less inflamed. I had some inflamed pimples the night before. They have diminished in redness and in size. I also notice some clogged pores making an appearance. That didn't bother me much. I'm trying to unclog my pores for a smoother feel anyways. My skin has been super clogged for a long time. I can feel this gross bumpy texture to my skin when I move my fingers over my skin. It doesn't look bad visually, but I can feel it when I wash my face. That's been bothering me a lot. Hopefully benzoyl peroxide works this time.
Here's my current skin care routine + benzoyl peroxide added last minute. Stay tuned for my results next week. I'm constantly changing up my skin care routine and trying to figure out what works.
Products I'm Experimenting With…
Alpha Skin Care Intensive Renewal Serum:
I really like this glycolic acid serum. It's a higher percentage (14%) and leaves my skin feeling soft, smooth, and exfoliated. My skin is tolerating it pretty well. When applied to the skin, it stings a little bit. That stinging sensation eventually disappears. I tried using it every day and didn't have any issues using it every day. But, I don't think it's necessary to exfoliate the skin that much. I'm only using this serum once or twice a week whenever I feel like it. The higher percentage of glycolic acid has helped blemishes move up to the surface even faster than the glycolic acid toner. My skin looks brighter and so much smoother. I'm really liking what I'm seeing so far. Hopefully it'll continue to make a difference in my skin.
Canmake Mermaid Skin Gel UV SPF 50+ PA++++ Clear:
I tried the Canmake Mermaid Skin Gel UV SPF 50+ PA++++ Clear this week. It was a last minute kind of thing. I haven't let this product touch my face in ages. I still have a few bottles left, so I thought I would give it another try, lol. Hopefully it doesn't clog my pores like last time. My skin care routine is pretty minimal right now so I'll know if it's breaking me out or not. The sunscreen felt really nice when applied to the skin. It's lightweight, gel-like. It absorbs easily into the skin and leaves the skin feeling and looking matte. I didn't experience a sheen on my skin like I used to. The sunscreen does soak up oils on the skin. I used a moisturizer before applying this sunscreen. From my past experience with this sunscreen, it doesn't protect my skin well. I noticed some skin darkening when I used it. But, I'm not going to use it alone. I'll use my usual, daily sunscreen on top. This is a good way to use up a sunscreen that I won't purchase again. I kind of miss the gel texture. It feels amazing on my oily skin.
I stopped using this sunscreen, but I started using it again. Since my routine is shorter, why not give it another chance? Also, I finished my first bottle of this sunscreen this week! It took forever! So this sunscreen is still moisturizing and leaves the skin looking greasy on the surface of the skin. It burns the eyes if any gets in there. I really do love how protective this sunscreen is. It has a high SPF and high UVA. I hope it doesn't clog my pores, but we'll see as I continue to use it. I bought quite a few. I don't want to waste them.
If you missed out on my updates…
Update: The Ordinary Lactic Acid 10% + HA & La Roche-Posay Anthelios Body & Face Mineral Sunscreen Gentle Lotion SPF 50
My Experience After 1 Week Using The Ordinary Glycolic Acid 7% Toning Solution + Other Skin Care Updates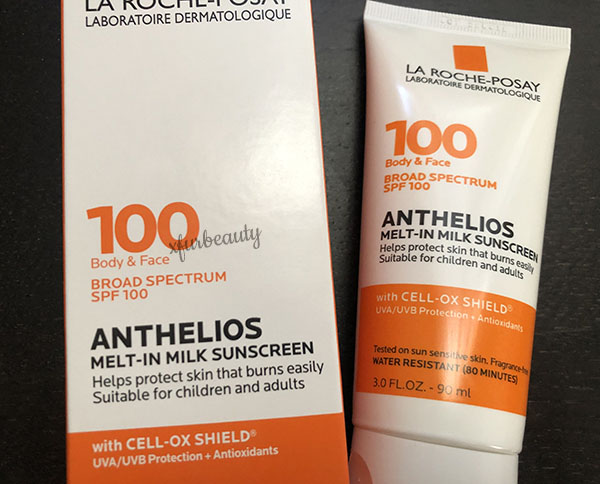 I tried La Roche-Posay Anthelios Melt-in Milk Face & Body Sunscreen Lotion SPF 100 again. I stopped using my moisturizer (Vanicream Daily Moisturizer for Sensitive Skin), and my skin became so dry and flaky. I needed a product that would moisturize my skin. The only product that came to mind was La Roche-Posay Anthelios Melt-in Milk Face & Body Sunscreen Lotion SPF 100 (that I have). My experience using it last time was very bad. You can read more about it right here. I'm still using a mineral sunscreen, and it's been an unpleasant experience. It's not the worst mineral sunscreen I've used, but it still leaves a white cast and dries my skin out like crazy (even though it's a tad moisturizing, just not enough). With La Roche-Posay Anthelios Melt-in Milk Face & Body Sunscreen Lotion SPF 100, at least it's moisturizing and has a SPF of 100. Here's my experience with La Roche-Posay SPF 100 sunscreen again this time around!
My experience…
I was very hesitant about trying this sunscreen again. I could just go out and purchase a new sunscreen, but I wanted to see if this sunscreen would work first without using a moisturizer underneath. From what I remember, it's moisturizing enough by itself. Also, I loved the way it felt on my skin. It's so moisturizing with a high SPF of 100. So my last experience with this sunscreen was not good. I experienced burning eyes, a non-stop migraine, and clogged pores by the second day. It was one of those experiences where I thought I would never touch this sunscreen ever again. But, here I am, trying it out again just because I have it and don't want to buy another sunscreen at the moment. Also, my skin is feeling extremely dry. I thought the sunscreen would help with the dryness in the meantime.
The first day of using this sunscreen went well, but I didn't use it from morning to night. I only used it once in the evening. It was my last SPF application of the day. I didn't experience any redness, itchiness, or any other skin irritations. My eyes burned a little bit but not by much. The burning sensation disappeared after a few minutes. I was able to wear the sunscreen.
The sunscreen felt soft in texture and smoothed over my facial skin easily. It feels very nice on the skin. Possibly one of the most softest and soothing sunscreens I've used so far. I really liked the texture and consistency of this sunscreen. It was perfect for me. Even though it's super moisturizing on the skin, it does lean towards the greasy side, but I could deal with it because the sunscreen didn't stick to my hairline or leak into my eyes. It melted into my skin when applied and stayed in place. The lotion isn't messy to use. It feels like a quality sunscreen. I didn't breakout the first time I used it either. It simply just left my skin feeling moisturized when applied and after rinsing it off. I was happy with the results.
I tried using the sunscreen again the next day. This time I was able to use it from morning until night. Unfortunately, it didn't work out. I started to have issues. My eyes started to burn. They became red and watery. I couldn't open them. I tried applying the sunscreen just on my face (avoiding the eye area), my eyes still burned. The smell of the sunscreen started to get to me. I also noticed my face warming up when using this sunscreen. Is this normal? Probably not. Seems like it's not compatible with my skin. I stopped using it when I realized this sunscreen was giving me issues. That's too bad. It works very well on my body but not my face. I tried it the second time, and it failed on my again. I can't recommend this product as a face sunscreen. It may work for someone else, but it didn't for me.
La Roche-Posay Anthelios Melt-in Milk Face & Body Sunscreen Lotion SPF 100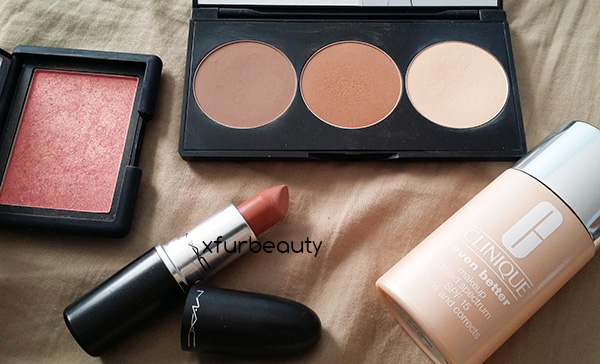 Welcome to the first week of the 4th month! 👏🏻 Here are my results!
My Thoughts & Results 🙂
So the weather has been messing up my skin lately. It's been extremely hot. Ugh, heat waveeeee. 🔥 I noticed that my skin was getting a lot oilier. Even my sunscreen which is oil-absorbing couldn't tame the oil on my face. At least it didn't dry my skin out. But, my skin has been a lot oilier, greasier due to the weather. Along with that comes with breakouts. *sigh* I haven't increased my dose of tret. I'm still using it 1-2 times a week. There's no way I can increase it at this point with the higher strength. It works on my acne and is very strong at the same time. The funny thing is that it's strong only on certain parts of my face. For example, my cheeks and the sides of my mouth. Everywhere else seems to take tret just fine. I might have to find another way to use tret while keeping in mind where my sensitivities are. I'll try something new next time. 🙂 At the moment, I don't have that much acne. Just breakouts from purging from tret and breakouts from the annoying hot weather. No cystic acne. My skin looks pretty clear. The breakouts aren't even that noticeable. It's only noticeable to me because I see my face every day, lol. But it's been going well. Hopefully it just gets better with time. I'm still able to use Vanicream, but I'm still hanging on hoping that it's not going to break me out. This moisturizer has saved my skin big time. My skin heals so much better and faster while on tret. My skin burns and stings less. I'm really falling in love with this moisturizer. No breakouts? Not yet! Just not yet. Moisturized skin? Absolutely! Skin that looks healthy and glowy? LOVE! 🥰 I'm crossing my fingers that it'll work out long term. It's working way better than my other moisturizers. It protects my skin from dryness and irritation. Yay! I hope it keeps on working without causing any issues!
On to something else that I wanted to talk about…
Sunscreen over makeup?
I started wearing makeup again. I miss it so much! I love applying and wearing makeup. Always have. Taking a break is nice too, but I think it's time to bring back makeup. The only makeup I really do wear is eye makeup and a bb cream. I love bb creams because they tend to smooth out the skin and contains SPF. With that in mind, it's very difficult to apply sunscreen over makeup. It just swishes everything around and ruins the initial makeup application. Honestly, the only product (that contains SPF) I've noticed that doesn't mess up makeup is a face powder. That's what I used to use before. I stopped because I couldn't find a powder that I liked since the one I was using was discontinued. So I moved on to bb creams for that reason. I just stuck to bb creams since. If it works, it works, right? Also, I don't like traditional foundations. I never have. Tinted moisturizers? Never found one that I liked. They don't give the skin much coverage anyways. What's the point? I prefer a product that provides at least some coverage. Sunscreen sprays? They usually contain denatured alcohol. I find them too irritating on my skin. I love the idea though! Sunscreen sticks? They're quite sticky, messy, and a bit too heavy on my skin. I'm still searching for a product that works on top of makeup, and it's been a challenge finding something that works without ruining makeup. So this is what I did. I started off with what I had…
Remember Trader Joe's Daily Facial Sunscreen Broad Spectrum SPF 40? I tried it again. This sunscreen is a gel sunscreen with a lightweight texture. It blends into the skin nicely (on clean skin). On top of makeup, it doesn't work. It swishes makeup around. I stopped using it on top of my makeup after a single day, lol. I didn't use it long enough to notice breakouts. But, I didn't like the way it felt on my skin. It made my skin appear more oily and just sat on top of my skin. At least I didn't get it in my eyes. It burned my eyes last time.
Another sunscreen I tried was my current sunscreen La Roche-Posay Anthelios Body & Face Mineral Sunscreen Gentle Lotion. It worked better than Trader Joe's. When reapplying over makeup, it's difficult to get the same amount of sunscreen on the face, but I tried my best. Using La Roche-Posay wasn't too bad. Since I didn't have any flaky skin, it was much easier to reapply over makeup. All I did was dab the sunscreen all over my face and pat it into my skin. It helped to absorb excess oil too. After a few hours, my skin gets really oily, so the oil-control was very nice. My skin appeared less shiny after application. So the sunscreen application wasn't perfect, but it was something I can live with right now until I find another way that's best for me to reapply during the day.
It's been a good week. I'm happy to see more improvements in my skin! Yay! I've been battling this for too long, and it looks like I'm finally going somewhere (for the billionth time, HA!). My skin definitely looks way better compared to when I started. Let's keep hoping for the best! 🙏🏻 See everyone next week!
If you missed out on products I used up in August 👈🏻
My Acne Journey (3 Months!!) 👇🏻👇🏻👇🏻
My Acne Journey: 3 Weeks Results!
My Acne Journey: 4 Weeks Results!
My Acne Journey: 6 Weeks Results…
My Acne Journey: 7 Weeks Results
My Acne Journey: 2 Months + 1 Week Results!
My Acne Journey: 2 Months + 2 Weeks!
My Acne Journey: 2 Months + 3 Weeks Results!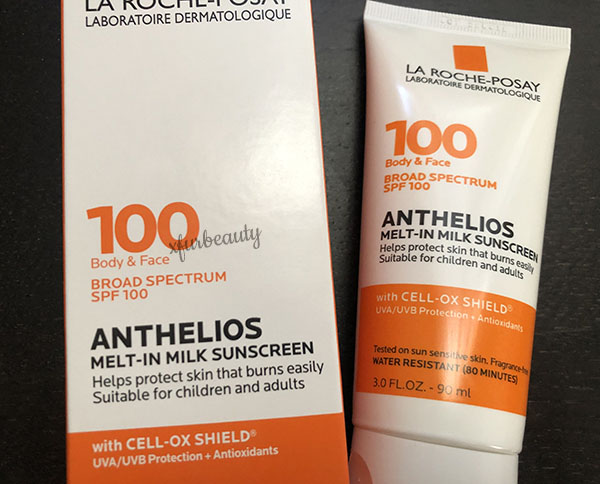 I have a new sunscreen! 😎 I picked up another La Roche-Posay sunscreen. It's the La Roche-Posay Anthelios Melt-in Milk Face & Body Sunscreen Lotion SPF 100. I decided to go for SPF 100 instead of 50. Also, I decided to try a chemical sunscreen instead. I'm getting tired of the dryness and white cast from mineral sunscreens (in general). I love my zinc sunscreens, but the white cast is getting annoying for daily use, especially when my skin is dry and peeling. Everything gets magnified 10x more with mineral sunscreens. I can't use a sunscreen that gives off a white cast when I'm in a professional setting. It just looks awful and embarrassing. But it's a good choice if I'm at home lounging or going on hikes with friends. I don't care if I have a white cast at that point. haha.
So this sunscreen is a broad spectrum sunscreen for the face and body. It helps to protect skin that burns easily and is oxybenzone-free. It contains Cell-Ox Shield with UVA/UVB protection and antioxidants. Fragrance-free. Water-resistant (80 minutes). The filters in this sunscreen are Avobenzone 3%, Homosalate 15%, Octisalate 5%, and Octocrylene 10%.
I haven't used a 100% chemical sunscreen on my face for a while. I've been using a hybrid sunscreen and mineral sunscreen this whole year (so far). I had good results with La Roche-Posay Anthelios Body & Face Mineral Sunscreen Gentle Lotion. My skin didn't burn at all. It's the first time that I noticed that my freckles are fading and my skin just looks super amazing. Way better when I was using Canmake Mermaid Skin Gel UV SPF 50+ PA++++ by itself. But then, I've been reapplying sunscreen diligently and religiously. The fact that Canmake is not sweat or water-resistant may play a part too. I still like Canmake. It leaves my skin feeling silky, and I'm still using it because I can't seem to let it go! lol. The texture of the sunscreen is like no other! It'll work for winters but not for summers. It just doesn't hold up in hot, humid, sweaty weather. It just doesn't stick to the skin. So I hope to get good results with La Roche-Posay Anthelios Melt-in Milk Face & Body Sunscreen Lotion SPF 100! Hopefully no breakouts like the La Roche-Posay mineral sunscreen. Now on to my experience with La Roche-Posay Anthelios Melt-in Milk Face & Body Sunscreen Lotion SPF 100!
My Experience with La Roche-Posay Anthelios Melt-in Milk Face & Body Sunscreen Lotion SPF 100:
Texture & Application
This is a lotion (as it states on the bottle). The sunscreen feels thick when dispensed from the bottle. When applied to the facial skin, it feels soft and blends into the skin very easily. It just melts into the skin. They're not lying when they called this sunscreen 'melt-in milk'. It really does melt into the skin. The texture and consistency of the sunscreen makes it very easy to smooth the product across the facial skin. No tugging or pulling at the skin involved. Just smooth it over and blend it into the skin. I thought it was very easy to use. Even though the application is simple, the sunscreen doesn't seem to absorb into the skin quickly. It didn't on my skin, lol. It felt like some of the sunscreen absorbed and the rest just sat on top of my skin. Since this is a chemical sunscreen, there isn't a white cast, obviously. That's not something to worry about when it comes to chemical sunscreens. It wasn't streaky either. As I said earlier, it just melts into the skin when applied.
Moisturizing & Alcohol-Free
It's a moisturizing sunscreen. I was in awe how much it moisturized my skin, but my skin felt a little dry to begin with. It helped with dry patches and dry skin in general. Even though it felt moisturizing, I thought this sunscreen felt greasy on the skin. It's moisturizing, but it made my skin look more shiny, greasy, and oily. Keep in mind that I do have oily skin (can get dry sometimes), but my skin is naturally oily. I think this sunscreen would work much better for someone with naturally dry skin or normal skin.
I was looking through La Roche-Posay sunscreens and most of them had alcohol in them. This one in particular is alcohol-free. I prefer sunscreens that don't contain drying alcohols. My skin gets itchy, red, and super dry when I use skin care products that contain drying alcohols. Alcohol in skin care tends to accentuate every line on my face too. That's why I don't use skin care products with alcohol. I'm glad this one doesn't have it. The other sunscreen that use from La Roche-Posay doesn't have it either (La Roche-Posay Anthelios Body & Face Mineral Sunscreen Gentle Lotion).
Breakouts? Other issues?
I didn't notice any breakouts the first day, but I noticed breakouts on the second day. I developed one cyst, clogged pores, and a few more bumps. I didn't doubt the breakouts. Once I saw the acne, I rinsed the sunscreen off ASAP. I think this sunscreen is way too heavy and greasy for my skin type, which is oily and acne-prone. It just sits on top of my skin and suffocates it. 😭 I also noticed that this chemical sunscreen felt warmer on my skin compared to what I usually use (mineral sunscreen). It's just an observation. I could feel my face warming up after application. Maybe I'm not used to chemical sunscreens yet. I've been off of them for a while now (or my skin can't handle them, who knows). With this sunscreen, there were some other issues besides acne I should touch up on like my eyes burning and headaches. This sunscreen burned my eyes. I could barely keep my eyes open. I tried avoiding the eye area when applying and my eyes were still watery. It must be the fumes from this sunscreen. It just seeps into the eyes. I also noticed headaches. I started developing a migraine out of nowhere. I didn't link it to the sunscreen until I stopped using it. That's when my eyes stopped becoming watery and headaches disappeared. Seems like I just can't use this sunscreen on my face. I have no issues using it from the neck down or even on my ears. Just not my face.
Final Thoughts
I really liked the idea of this sunscreen. The texture of the product is soft and smooth. It's has a very nice consistency that just blends into the skin with little effort. It moisturized my skin and didn't accentuate dry skin or acne. SPF 100 is nice to have. But it's unfortunate that it caused acne, burning eyes, and headaches. The days using this sunscreen was pure torture. I couldn't take it anymore. It's just so irritating. I went back to my hybrid and mineral sunscreens. All of these issues just went away once I returned to my usual sunscreens. I really wished this one worked out for me, but it is what it is. I'm not going to keep using a product that irritates my eyes, skin, and gives me migraines. I'll be on the search for another chemical sunscreen that's more suitable for me. For now, I'll stick to what works (minerals).
If you missed out on my acne journey, be sure to check it out! 🙂
My Acne Journey: 3 Weeks Results!
My Acne Journey: 4 Weeks Results!
My Acne Journey: 6 Weeks Results…
My Acne Journey: 7 Weeks Results
My Acne Journey: 2 Months + 1 Week Results!
My Acne Journey: 2 Months + 2 Weeks!
My Acne Journey: 2 Months + 3 Weeks Results!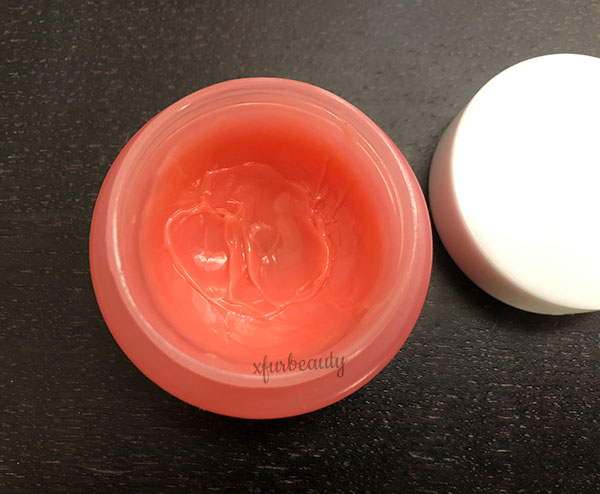 I finally finished a whole jar of Carenel Lip Night Mask. Looks like I finished it in a year and a half. Whoa! But anyways here are my thoughts on this lip night mask once more. If you missed out on my previous review on it, don't forget to click that link above!
My experience with this lip mask has been positive. It does what it's supposed to do and that is to moisturize the lips overnight for soft, plump lips the next morning! That's what it exactly did! It's not your basic lip balm that provides subtle or lightweight moisture. It deeply moisturizes and drenches the lips overnight until the next morning. The product does claim to exfoliate the lips. Um, no, it doesn't. But that's OK. It's just a very moisturizing lip night mask and it works for that purpose. I purchased it to keep my lips hydrated anyways. The lip mask has a berry smell to it. I'm pretty neutral about the fragrance of the product. Maybe I'm just used to it. The smell of the product doesn't bother me at all. The product itself feels a bit sticky and tacky, but that wasn't a huge problem. The texture of the product made it easier to apply the lip mask at night over my lips without melting off of my lips. The stickiness helped to keep the mask on my lips without making a mess.
The lip mask comes with a tiny spoon. I used it for a little bit but threw it out later on. I don't remember when, but I didn't need it anymore. It was more of a hassle to use the little spoon with the mask compared to just using my fingers to scoop out the product. I washed my hands before dipping my fingers into the jar, by the way. Each time I used the product too. So the product is soft and intact. It's really easy to use. I enjoyed my time using it. Also, it's very affordable. Mine lasted pretty long. As mentioned before, about a year and a half. I just opened a fresh new jar of the lip night mask. Honestly, I like it. 💞 FYI, I used the lip mask every night. I mean, why not?? I like to keep my lips soft, smooth, and moisturized. And my lips look way better the next morning, especially when applying lipsticks, lip colors. They just look smoother on my lips. I'm glad I was dedicated to using this product, lol. There were times I didn't use the lip mask alone. After applying the mask over my lips, I followed up with another product. That product is the CeraVe Healing Ointment. I tend to slather my lips with a product or two for softer and smoother lips in the morning. I had a few containers of the CeraVe Healing Ointment and needed to use them up. The combination of the mask and ointment did a wonderful job at healing my lips and sealing in moisture overnight. It also helped with the removal of dead skin cells. I could easily exfoliate my lips at ease with little effort.
Overall, I think I would purchase this product again in the future or try something new. I'm not entirely committed to it, to be honest, haha. 😂 It's a nice product. It works. Maybe I'm just searching for more. lol. I have another jar to finish anyways. I'm not going to purchase anything else any time soon. Well! I hope this review was helpful. 💋