I picked up a tub of CeraVe Healing Ointment! I have a tube of Aquaphor, but it wasn't working too well for me. It made my skin really itchy, didn't glide on my skin easily, and didn't help moisturize my skin that much either. Yeah, I know it's an occlusive, but I needed something that my skin could tolerate much better. I've always wanted to try CeraVe Healing Ointment. I also have the CeraVe Moisturizing Cream, but there's no way I can use that cream on my face. It contains ingredients that clogs pores. On my skin, it does. It could work for someone else. Everyone's skin responds differently to products. So this ointment contains petrolatum as the main ingredient (46.5%). An effective occlusive that helps to seal in moisture into the skin. It also contains dimethicone, ceramides, cholesterol, vitamin e, hyaluronic acid, and panthenol. This healing ointment is just petroleum jelly with extra skin care benefits. And that's exactly what I wanted. Also, I was curious to see if the CeraVe Healing Ointment surpasses Aquaphor or plain ol' petroleum jelly.
This product was formulated to temporarily protect, soothe, and hydrate the skin. It contains ceramides to help restore and maintain the skin's natural barrier. Hyaluronic acid to help retain skin's natural moisture. Suitable for dry, cracked, and chafed skin. Fragrance-free and lanolin-free. It says it's non-comedogenic (we'll see!!), preservative-free, and dye-free.
Here's my experience with CeraVe Healing Ointment! ☺
My experience
I started using CeraVe Healing Ointment not too long ago. About less than a week ago. I thought about using it on my face, but I decided not to. Just not yet. I'll leave it for days when my skin ever gets irritated and red. I tried using Aquaphor and 100% Pure Petroleum Jelly during those times, and I felt like clawing my face off! With this healing ointment, I use it on sensitive areas like my eye area and neck. I have really dry skin around my eyes and my neck gets really itchy. I can't just use anything on it. It gets irritated really fast. This healing ointment helps to seal in moisture while providing skin repairing ingredients and moisture to the skin. I've had no irritation from this product in those areas, and I really love it! It also helps to prevent my acne treatments from drying my eye area out or leaking down to my neck area and preventing rashes.
The healing ointment feels soft and smooth. It's thinner compared to Aquaphor (if you have used that before) and a little bit lighter compared to pure petroleum jelly. Just a tad. Since CeraVe Healing Ointment contains other beneficial skin care ingredients besides petrolatum, it makes the product even better. I needed some extra moisture and healing properties in a petrolatum-based product. I tried using it all over my body, and it made the skin on my body feel silkier and softer. My skin felt super moisturized. But, I couldn't continue to use it all over my body for a reason. My skin started to get itchy. It must be due to the stickiness of the product. So I think this healing ointment is really good at spot treating dry, taut, and irritated areas of the skin instead of using it as an all-over body moisturizer. It's a nice product to have around just in case to treat skin flare-ups.
The product does come in a jar. Not sanitary at all. So I make sure to wash my hands before dipping my fingers into the jar. A spoon can be used too to scoop out the product. I'm not sure if I'm going to purchase the jar version again if I ever consider using it on my face. As you can see, I've been using the ointment from the seal, lol. I haven't poked at the ointment in the jar yet, haha! Soon…
This is what the ointment looks like. It comes sealed.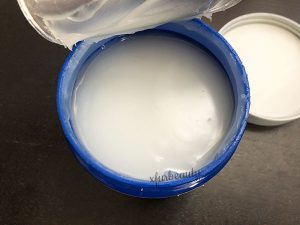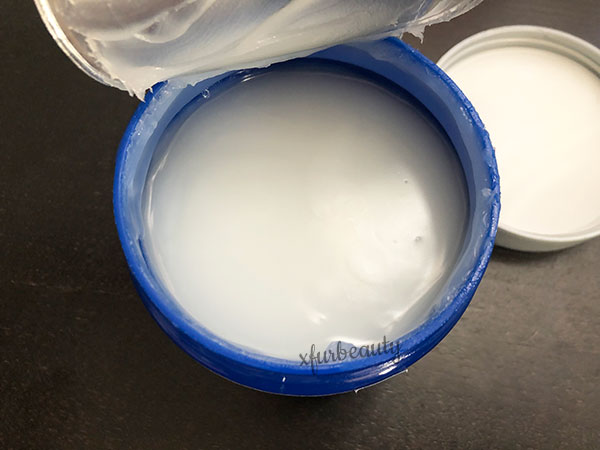 Pros & Cons
✅ Pros
Contains ceramides and hyaluronic acid
Nice petrolatum product!
Feels silky and soft
Glides on very easily
Doesn't irritate the skin
Soothing
Leaves the skin feeling softer
Fragrance-Free
Lanolin-Free
Dye-Free
❌ Cons
Conclusion
So far, I really like this ointment. I love that it's not just a petrolatum skin care product. It contains other ingredients, such as ceramides and hyaluronic acid. It's also fragrance-free and lanolin-free. I wonder if it's the lanolin in Aquaphor that's making me itchy. I'm not allergic to lanolin, by the way. Just a thought. Well, not that I know of. The only downside to the product (as of now) is that it comes in a jar. Perhaps I'll just purchase the tube version when I finish the jar. I'm not sure how long that's going to take because this tub of petrolatum comes in a decent size. Overall, I like it a lot more compared to Aquaphor and Pure Petroleum Jelly. It's working!
If you're interested in more reviews on CeraVe, click on this link!
Categories:
Tags:

Beauty, Ceramides, CeraVe, CeraVe Healing Ointment, CeraVe Ointment, Chafed Skin, Cracked Skin, Dry Skin, Dye Free, Fragrance Free, Healing Ointment, Hyaluronic Acid, Lanolin Free, Non Comedogenic, Ointment, Petrolatum, Review, Skin Care, Skin Protectant, Skincare, Thoughts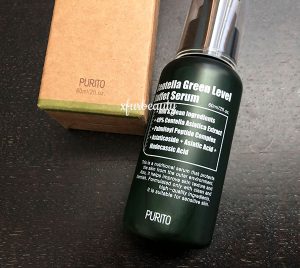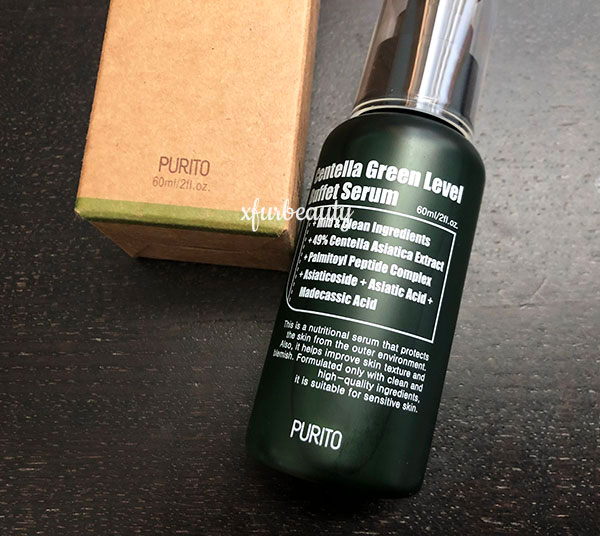 I stopped using Purito Centella Green Level Buffet Serum a while ago. But my face has been getting really red from dryness. I'm still trying to find a moisturizer that works on my skin. Vanicream wrecked my skin. Since this isn't a heavy moisturizer, I thought I would give it a chance again. My face was feeling itchy and taut. Ugh! I couldn't put up with it anymore. I was looking through my skin care products and noticed I still have Purito Centella Green Level Buffet Serum…so why not. So this serum is supposed to enhance skin barrier repair and reduce inflammation. It contains Centella Asiatica Extract (49%) and Panthenol to soothe irritated skin caused by external environmental stressors and prevent skin inflammation. I've been using it for a week. Yes, I lasted a week on it. haha. I guess that's a good sign. Here's my experience with Purito Centella Green Level Buffet Serum!
My experience
This serum is a gel. It feels hydrating when applied to the skin. Leaves the skin feeling like it's doing something good for the skin. Skin feels soft and supple afterwards. Sinks into the skin well too. Even though it leaves a slight film behind, after it absorbs into the skin fully, feels like there's nothing on the skin. This serum does feel hydrating on the skin when first applied, but it's not a good hydrating serum. It feels drying at times. At the same time, it leaves my skin looking really healthy. I started using Purito Centella Green Level Buffet Serum because my skin was feeling really dry and itchy. I needed something to keep my skin moisturized. I didn't want to risk using a heavier moisturizer again and breaking out. This seemed to be it.
Does it help with dryness? Kinda. Does it help with redness? Yes! I love the fact that I noticed a reduction in redness in my skin after a day of use. This serum has a calming effect on the skin. I needed something that was able to heal my broken barrier too. This worked! So it helped soothe and strengthen the skin barrier as it claims to do. Awesome! Because not all serums and moisturizers do (just because it's moisturizing). This serum contains Ceramide NP to help with that. And I've used ceramide-based creams that only left my skin congested and irritated. This serum just soaks into my skin and improves it!
This serum also contains centella asiatica extract (49%), niacinamide, panthenol, hydrolyzed collagen, green tea extract, sodium hyaluronate, pepetides, adenosine, and so much more! The ingredients look pretty good! The serum does have a lavender oil smell to it (contains lavender oil), so if you're sensitive to essential oils, they do have a unscented version of this seurm. I didn't have a problem with the scented version, so I kept on using it. It hasn't irritated my skin at all. Also, this product also contains Polyglyceryl-10 Laurate and Polyglyceryl-10 Myristate. If you have fungal acne, this is not for you.
Breakouts??
Not yet so far. At one point I thought I had issues with this serum, but it might've been caused by another product or products in my routine. I'm looking at you The Ordinary. But yeah, no clogged pores from this serum yet. I hope it stays that way because I'm hoping to officially add this serum into my routine. I needed a nice serum with a bunch of skin care goodies like this one. I really like how it calms my skin and heals my moisture barrier.
Pros & Cons
✅ Pros
Lightweight
Feels hydrating on the skin at first
Doesn't feel heavy
Soothes the skin
Absorbs into the skin well
Reduces redness, inflamed skin
Keeps the moisture barrier healthy
❌ Cons
Smells like lavender oil (may be irritating for some)
Leaves a slight film behind. Just a little bit.
Not enough moisture
Conclusion
After a week of using this serum, everything seems to be going well. I haven't noticed clogged pores from this serum. Thankfully! It's not the most hydrating serum, but my skin seems to benefit from it. It reduces redness in my skin. Makes my skin look more soft and smooth. Keeps my moisture barrier healthy and happy without feeling heavy on the skin. I know brands like Vanicream and CeraVe have ceramides in their products, but they're not acne-friendly as people make it out to be. None of their face products work on my acne-prone skin. SO! I like this serum. The ingredients are pretty amazing. For the price and what you get, it's a good deal! Especially when compared to high end skincare products that costs hundreds of dollars. This 60 mL bottle of serum delivers. Now just as long as it doesn't break me out! I'm hoping for another good week on this serum! Look out for my new update soon to find out!
For more reviews on Purito skin care products go here
Categories:
Tags:

Acne Skin, Beauty, Buffet Serum, Centella, Centella Serum, Dry Skin, Hydrating Serum, Hydrator, Moisturizer, Oily Skin, Purito, Purito Centella Green Level Buffet Serum, Purito Serum, Purito Skin Care, Redness, Review, Skin Care, Skincare, Thoughts