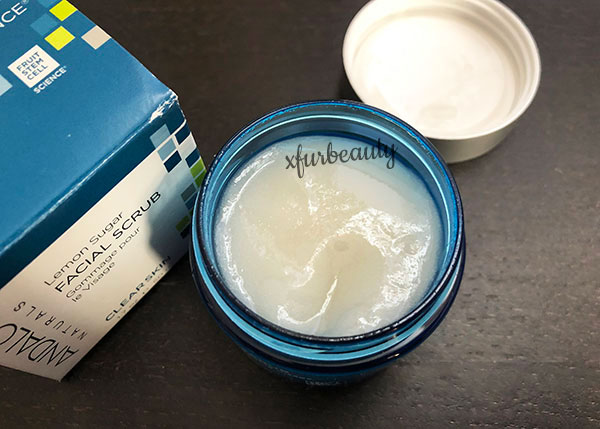 Sugar Scrubs
Andalou Naturals Clear Skin Lemon Sugar Facial Scrub felt so harsh on my skin at some point. I don't know what was going on with it or with my skin, but I used it again with awesome results. It didn't feel too harsh or rough on my skin this time. It helped remove dead skin cells off of my face and left my skin feeling and looking smoother. I had dry patches of stubborn, flaky skin that came off using this facial scrub. My skin looked clearer and more glowy afterwards. It looked better. I didn't think it felt harsh or rough on my skin as before. It's like my skin just changed and the facial scrub now works. So much has happened over the past year. My skin is finally healing ❤️‍🩹. I don't need a lot of product when using this facial scrub to exfoliate my skin either. Just a little bit goes a long way. This is what I've been using to remove dead skin cells off of my face for the time being. Even though the results have been good, I'm still not sure if I'll purchase it again. I'll have to think about it. I do have another facial scrub (Skinfood Black Sugar Scrub), but I don't really like it. I'm just using it to get rid of it. It doesn't have the same effect as the Lemon Sugar Facial Scrub. Also, the granules are larger too and feels more abrasive on the skin. I'm also not a fan of the stickiness of the Skinfood Black Sugar Scrub. The results have been so much better with the Lemon Sugar Facial Scrub that's all.
Peeling Gels
I still have nearly a full tube of Benton PHA Peeling Gel, which I've been using only once a week. That's if I remember to. I've lost interest in peeling gels. They do absolutely nothing for my skin. I haven't noticed any improvements whatsoever. Yeah, they feel nice on the skin. Like I'm pampering myself, but I feel like it's a waste of time and money. I haven't noticed any significant results using it. I still have a couple of more unopened tubes of peeling gels that I purchased a while back (of a different brand). Maybe they'll be different compared to Benton. I'll have to try them out to find out. So, I'm not a fan of this particular peeling gel — Benton PHA Peeling Gel. It's not for me. No results. Waste of money. Waste of time. I got nothing out of it. I'm not going to purchase any peeling gels any time soon. Moving on…
I'm just going to get to the point. This product isn't what it used to be. It doesn't work at all. At least on my skin. I was still developing acne, blackheads, cysts, pustules, whatever. The point is, it didn't nothing for my acne. I'm not going to purchase it again when I'm done with it. I really don't know what to do with what I have left. Probably just give it away. Haha. Out it goes! I really tried to make it work too. It's an overhyped product, in my opinion. It wasn't worth it for me.
That's a quick update on some products that I have and what I think about them. I feel like I'm purging a bunch of skin care products from my life. If it doesn't work, it just doesn't work. Stay tuned for more skin care updates!!
Categories:

Acne, Anti-Aging, Beauty, Face Scrub, Peeling Gel, Skin Care, Toner
Tags:

Acne, Acne Prone Skin, Acne Skin, Beauty, Benton, Benton PHA Peeling Gel, BHA, BHA Liquid, Facial Scrub, Life, Peeling Gel, PHA, Review, Skin Care Review, Skin Care Routine, Skincare, Skinfood, Sugar Scrub