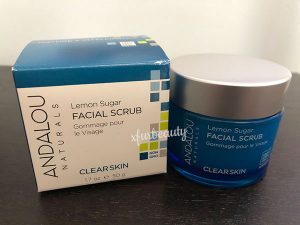 Here's one more Anadalou Naturals skin care product! I hope! So this is the Andalou Naturals Clear Skin Lemon Sugar Facial Scrub. It's not in the rosewater collection. For reviews on the rosewater collection & other Andalou Naturals skin care products I have reviewed, go here:
Review: Andalou Naturals 1000 Roses Eye Revive Contour Gel
Andalou Naturals 1000 Roses Pearl Exfoliator
Review: Andalou Naturals 1000 Roses Rosewater Mask
Review: Andalou Naturals Luminous Eye Serum
This face scrub is made from fruit stem cell complex with argan stem cells, manuka oil, agave, and organic cane sugar to gently exfoliate dull, dry skin to improve tone and texture. Meyer lemon refreshes and revitalizes for a bright and balanced complexion. It is non-GMO, vegan, cruelty-free, and gluten-free.
Enjoy my review on Andalou Naturals Clear Skin Lemon Sugar Facial Scrub! 🙂
My experience
This facial scrub smells like vanilla-lemon. I'm not too fond of the smell of the product. The mixture of vanilla and lemon isn't for me. It smells weird. The scrub feels grainy and rather rough. Seems a little too much for the facial skin, to be honest. Once I tried it on my face, yep, it was way too much for my skin. It's a sugar scrub, so the pieces of exfoliant feels granular. But the exfoliant melts a little when mixed with some water and as the scrub is rubbed into the skin. Still, it still feels too rough on the skin. That's just not good or healthy for the skin. It'll create micro-tears in the skin. Also, the lemon in this product burns the skin. Lemons and the facial skin just don't go together. It irritated my skin like no other. My skin was bright red after using it. It's just way. too. harsh! In my opinion, this facial scrub is just plain terrible for the face. It's more for the body like the hands, feet, and elbows. But, there's a few good things I noticed when using this facial scrub, which is funny because of how awful it is for the facial skin. It actually did leave my skin feeling and looking softer and smoother afterwards. It removed dead skin cells! I noticed how velvety my skin felt when I was washing my face the next morning and my makeup went on ultra smoothly. Also, my skin looked brighter and glowy. Hmmm, interesting! 🤔
How can something be so bad but be so good? lol.
Well! From this experience, the bad outweighs the good no matter how good the good is. This facial scrub is just too rough on the facial skin no matter how much I don't want it to be, lol. I was very ecstatic to try this facial scrub. It just looks very promising and seems like it'll give results. And it did! With a price. 😮‍💨 The product looks good upon opening too. It's also vegan and cruelty-free. What's not to love? But, I can't imagine using it again (on my face, of course). I'll use it on my feet or legs. The other ingredients in it besides the exfoliant looks pretty good too. Let's do a run through of the ingredients at a glance…
It contains sugar cane juice, vegetable glycerin, coconut oil, aloe barbadensis leaf juice, sunflower seed oil, olive fruit oil, vitamin c, vitamin e, manuka honey, fruit stem cells (argan, malus domestica, solar vitis), bioactive berry complex, white tea leaf extract, lemon peel oil…
The ingredients look more natural compared to other skin care products I've used. Too bad that it had to be so harsh on the facial skin. I stopped using it.
This is what the Clear Skin Lemon Sugar Facial Scrub looks like. The coloring of the packaging is so cool. 😍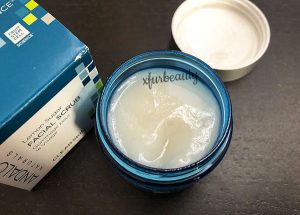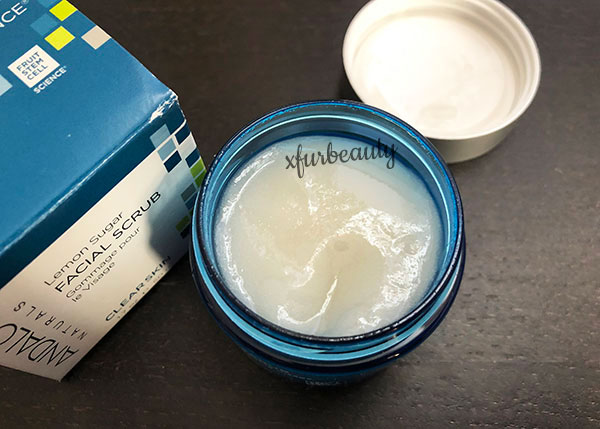 Pros & Cons
✅ Pros
Removes dead skin cells
Leaves the skin feeling softer and smoother
Makeup goes on much smoother after using this facial scrub
Vegan and cruelty-free product!
❌ Cons
Way too harsh on the facial skin
Burns 🍋🍋🍋
Not a fan of the smell of the product
Conclusion
I still have an almost full jar of Andalou Naturals Clear Skin Lemon Sugar Facial Scrub sitting around. I haven't been using it much. Only once in a while if I remember, lol. I've been using it to scrub my lips. I'm just happy that I'm using it for something, or it'll go to waste. But, I won't purchase it again. I'd much prefer a facial scrub that's more suitable for the facial skin. You know, a more gentle yet effective exfoliant that doesn't harm the skin. haha. Would I recommend? No.
Categories:
Tags:

Acne, Acne Skin, Andalou Naturals, Andalou Naturals Clear Skin Lemon Sugar Facial Scrub, Beauty, Blemishes, Clear Skin Face Scrub, Cruelty-Free, Exfoliant, Experience, Face Scrub, Facial Scrub, Lemon Scrub, Lemon Sugar, Lemon Sugar Scrub, Lifestyle, Review, Skin Care, Skin Care Products, Skincare, Sugar Scrub, Vegan