Jun. 24, 2020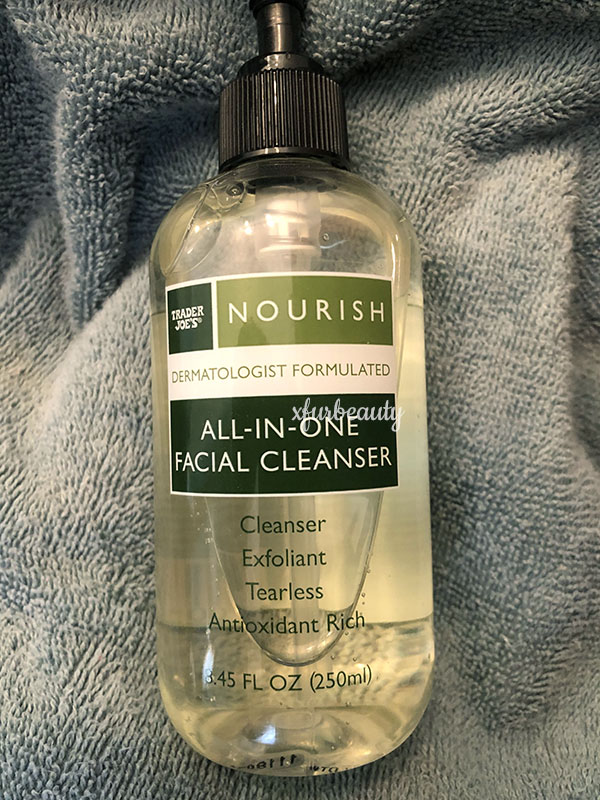 I have a new face wash!!!! 🙂 It's because the Trader Joe's Tea Tree Face Wash made my skin tingle and dried it out a bit. I needed something more gentle, especially when I'm on Tretinoin. So I picked up Trader Joe's Nourish All-in-One Facial Cleanser. More about this face wash:
All-in-One dermatologist formulated
Leaves skin feeling clean, smooth, and cared for
Gently washes away impurities
Antioxidant rich
Tearless
Exfoliant
Review:
I've been using this face wash ever since my skin became extremely dry and itchy. It's a gel cleanser. All you need is a single pump to cover the whole face. A single pump is a lot of product. It lathers up and rinses clean. It doesn't burn the eyes. Soft and gentle. Right now, this face wash feels good on my irritated, sensitive skin. I like it. But, I'll make an update in the near future. 🙂
Check out My Tretinoin Journey:
Beginning My Tretinoin Journey 🙂
My Tretinoin Journey: 1 Week Results!!
My Tretinoin Journey: 2 Weeks In!
My Tretinoin Journey: 3 Weeks Results
Categories:
Tags:

Acne, All in One Facial Cleanser, Antioxidants, Beauty, Cleanser, Cruelty Free, Exfoliant, Face Wash, Facial Cleanser, First Impression, No Animal Testing, Oily Skin, Review, Sensitive Skin, Skin Care, Tearless, Trader Joe's, Tretinoin, Vegan
Feb. 21, 2020
Leave a comment
I've been using Pixi skintreats Retinol & Glow Tonic consistently for weeks. I don't remember how long I've been using them, but here's an idea where I'm at. With the Retinol Tonic, I'm halfway done with the bottle. With the Glow Tonic, I only have a quarter of the product left.
What are the results? Read on!
Pixi skintreats Retinol Tonic:
I use Pixi skintreats Retinol Tonic only at night. And when I don't use BP. This has been working quite well for me. It does leave my skin feeling refreshed and clean. I haven't noticed any changes in my skin though. I don't know if it's truly worth it. I bought quite a few bottles, so we will see what happens in the long run. It didn't irritate my skin or break me out. This toner is good for acne-prone skin that is oily. Who knows, it could be working, but I can't see the results because of the other skin care products I'm using. It's good at prepping the skin though. I'll continue to use it. 🙂
Pixi skintreats Glow Tonic:
I use the Glow Tonic only in the morning. I use it every single day too. Like the Retinol Tonic, it does a great job at prepping the skin before applying other skin care products. I have noticed some changes in my skin when using this toner. It leaves my skin feeling clean, but not clean to the point where my skin feels stripped and dry. I did get some breakouts when I used it in the beginning. I'm over that stage. This toner is a good gentle exfoliant. I noticed that my skin flakes a tiny bit when I wash my face at night (sometimes). I would say this makes a good, gentle exfoliant. My skin is doing well on it.
My experience with Pixi skintreats Retinol & Glow Tonic has been good. I don't think they are spectacular skin care products. They are worth the try if you're interested. I'm not sure if I'll buy them again when I'm done with them. We'll see. As I mentioned earlier, I do have several bottles of this stuff left. Look forward to my next update! Coming soon!
Check out other posts on my skin care routine:
My Skin Care Routine for Acne Skin
My BP & AHA Skin Care Products are here!
BP Journey: 1 Month + 1 Week Results
Clear Skin Journey: 1 Month + 3 Weeks Results
Clear Skin Journey: 2 Months Results!!
Clear Skin Journey: 2 Months + 1 Week Results
Update: Skin Care Routine for Acne Skin
Clear Skin Journey: 2 Months + 2 Weeks Results
Clear Skin Journey: 2 Months + 3 Weeks Results
Clear Skin Journey: 3 Months Results
Categories:
Tags:

Acne, Acne Skin Care, Acne Skincare, Exfoliant, Experience, Glycolic Acid, Life, Lifestyle, Oily Skin Care, Pixi, Pixi Skin Care, Pixi Skincare, Retinol, Retinol Skincare, Skin Care, Skin Care Products, Skin Care Routine, Skincare, Skincare Routine, skintreats, Update, xfurbeauty, xfurbeauty blog