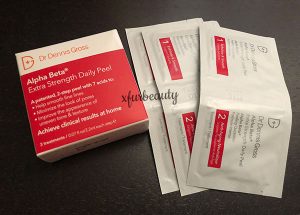 I received a sample of Dr Dennis Gross Alpha Beta Extra Strength Daily Peel a while ago with one of my orders. The box came with 3 sample pieces. Each with an exfoliating treatment and an anti-aging neutralizer. What is this system supposed to do???
This is a two-step AHA/BHA anti-aging system. Each pad is pre-dosed with seven acids to reduce the look of fine lines and wrinkles, acne scars, pores, dull skin, uneven texture, shine, and blemishes. For dry, combination, normal, and oily skin. It is vegan, cruelty-free, gluten-free, and comes in a recyclable packaging.
The star ingredients in this product are glycolic acid (reduces visible signs of aging), salicylic acid (reduces clogged pores and supports natural collagen), and lactic acid (supports natural cell renewal).
Let's look deeper into the ingredients…
The exfoliating treatment: The first two ingredients in the exfoliating treatment is Water and Alcohol Denature (SD Alcohol 40-B). Ouch! I'm not a fan of products with alcohol. They tend to irritate and dry my skin out! The exfoliating treatment also contains Glycolic Acid, Salicylic Acid, Lactic Acid, Mandelic Acid, Malic Acid, Citric Acid, and Salix Alba Willow Bark Extract. If you're wondering what the seven exfoliating acids are in this product, that's what they are! Glycolic Acid being at the top of the ingredient list. Alcohol is listed again at the end of the ingredient list. *sigh* That's just too much. And it does contain fragrance (if you're sensitive to fragrance).
The anti-aging neutralizer: It contains Sodium Bicarbonate along with anti-aging ingredients, such as Resveratrol, Retinol, Ascorbic Acid, Ubiquinone, Phospholipids, Adenosine, Tocopheryl Acetate. I can see why it's called an 'anti-aging' neutralizer from the ingredients it contains!
The first step is a combination of AHAs and BHAs to exfoliate the skin. Treat the signs of aging and support cell renewal. The second step provides the skin with retinol and resveratrol to maximize anti-aging benefits. It helps to hydrate and smooth the skin for a more youthful appearance.
But did it work? Here's my experience with the peel!
I was very excited about this product. Perhaps it could help get rid of breakouts and smooth out my skin. At least do something good! Well, let's see if it does! So the product was very easy to use. All you have to do is massage (Step 1) the pad onto clean, dry skin until the pad is dry. Wait 2 minutes. Let the product sit and soak into the skin. Repeat with Step 2. The peel tingled my skin just a little bit, but it felt nice on the skin. It felt like it was doing something. It didn't irritate my skin or turn it beet red. I noticed acne bumps shrinking in size when using the peel! I had a pimple on the side of my temple that became smaller when I applied the peel to it. I actually gave it special treatment by holding the peel on the pimple. Letting the product soak into that pimple. The product worked! It didn't dry my skin out like I thought it would. Alcohol is listed as one of the first ingredients and listed again at the bottom of the list. Once again, my skin didn't feel stripped or dehydrated after use.
From my experience, after finishing the samples, I think this is a good product for acne-prone skin. It's gentle and effective. It made my skin look better afterwards and improved my acne on the spot. So this could work for those times when there's a huge pimple that's throbbing underneath the surface and you have somewhere important you have to be. It won't get rid of the pimple right away, but it helps to reduce the swelling. So would I purchase the full-size product?? Unfortunately, this product is quite expensive. For the full-size product, it's $88 for 30 treatments. In my opinion, I think it's a good product. It exfoliates, helps with acne, and makes the skin look smoother, but I don't think it's worth that much. Especially for $88 (30 treatments only). That's pretty much overpriced for what you get. There are other peels and acne treatments out there that are more affordable and also as effective as this peel. I won't purchase the full-size product. This is what I'm using instead! Check out my experience on it here:
Starting Alpha Skin Care Intensive Renewal Serum!
After 1 Week of Alpha Skin Care Intensive Renewal Serum! My Results!
My Experience with Cosrx AHA BHA Clarifying Treatment Toner
Categories:
Tags:

Acne, Acne Prone Skin, AHA, AHA Exfoliating Pads, BHA, Blemishes, Clear Skin, Complexion, Dr Dennis Gross, Dr Dennis Gross Alpha Beta Extra Strength Daily Peel, Exfoliant, Exfoliating, Experience, Fine Lines, Glycolic Acid, Lifestyle, Review, Salicylic Acid, Skin Care, Skin Care Products, Wrinkles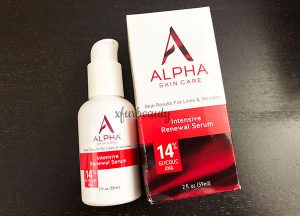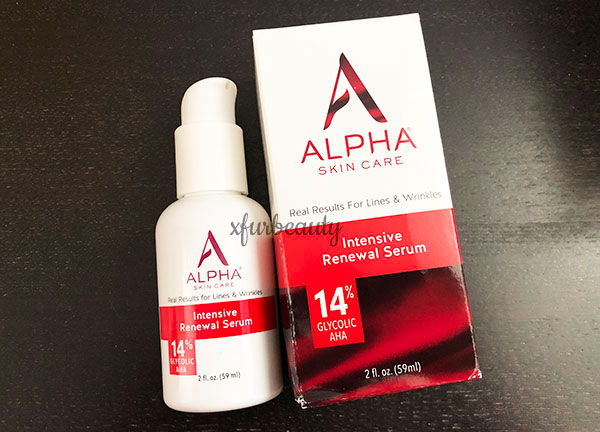 It's been 1 WEEK of using Alpha Skin Care Intensive Renewal Serum! This is what happened after a single week! If you missed out on my previous post on Alpha Skin Care Intensive Renewal Serum, don't forget to check it out!! Click that link! 🙂
I started off using the serum only at night. I alternated it with another acne treatment. Go here to read more about it!! So, I didn't use the serum every single night. So far, it's been working for me. Every time I use the serum, I wake up with skin that's softer, smoother, and more refined the next morning. The difference is very noticeable (before and after). I'm very happy with the results just after the first night of using it and as I continue to use it. Even though the main reason why I started using the serum again is to treat my stubborn, clogged pores, I noticed an improvement in *any* fine lines and wrinkles (not deep wrinkles) that exist on my face. My skin looks more even toned and glowy. It looks so much better than before. This is so exciting because I've been on an acne prescription cream for years now, and it hasn't done much for my acne compared to this serum. I've been really trying to clear my skin FOR YEARS with little results. And, fortunately, this magically worked again. It didn't work last summer when I tried it. The results are very odd (in a good way) and surprising this time around!
I was planning on sticking to using the serum only at night and every other night, but I decided to start using the serum in the morning after the first couple of days. Yeah, I didn't expect that to happen but it did. This decision seems rushed, but my skin didn't tingle anymore using the serum. I didn't have any major irritation or redness. My skin is just getting better and better by the day! Honestly, I think the formulation of this product is so much gentler compared to other AHA products I've used before even though it states that it contains 14% glycolic acid (pH 3.7). I've used a lower percentage that felt stronger and more aggressive on my skin. This serum just sunk into my skin, and my skin took it pretty well. In the beginning, I didn't want to use it in the morning because it's an AHA product. But, I'm hardly ever outdoors anyways since it's been cooler outside. I changed my mind, haha. I'm also using SPF 50 instead of 30 (just in case) to protect my skin from harmful UV rays.
So after increasing my dose of this serum, there's an even greater improvement in my acne and oily skin. Instead of unclogging pores every other day at night. It's more of an every day thing now. It has accelerated the healing process considerably. I just hope it doesn't stop working. As I mentioned earlier, it's a more gentle AHA product. It feels weaker compared to other AHA products I've used before (especially for the percentage). But I'm going to stick to it for now and see what happens. BUT! I'm not planning on using it in the morning for too long. From my personal experience with using glycolic acid this much, my skin is more prone to burning. The reason why I don't use glycolic acid too often or any other chemical exfoliant for that matter!! Especially during the summer when the sun is beaming. My skin burns so much faster even when I'm using SPF and reapplying! I love the results though! Just have be extra cautious with sun exposure that's all.
That's my one week update! Everything is going good so far! My skin has improved. Acne is going away along with some fine lines. Deep wrinkles? No. Not at all. But we'll see within a few more weeks. Stay tuned for my next update! See you all there!!
⭐ If you missed out on my previous experience with tret…
My experience with tret the first week…
After 1 Month on Tret + Skin Care Routine. Here are My Results.
2 Months on Tret. My results. 🙂
Back to tret! 1 Week Results & My Skin Care Routine. Did it work? 🤔
A break from Tret & What I'm Doing Now
Surprise! Back on tret + Other Acne Treatments for Clear Skin. 🙂
Categories:
Tags:

1 Week Results, Acne, Acne Marks, Acne Scars, Acne Skin, Acne-Prone Skin, AHA, Alpha Skin Care Intensive Renewal Serum, Anti-Aging, Blemishes, Exfoliant, Experience, Glycolic Acid, Glycolic Acid Serum, Hyperpigmentation, Lifestyle, Results, Review, Skin Care, Skin Care Products, Skincare, Thoughts, Wrinkles