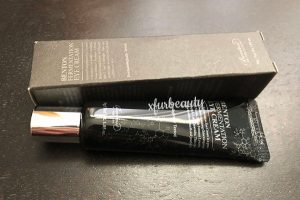 Alright everyone! I'm here to share another eye cream! I did a review on two eye creams just last week. They are The INKEY List Retinol Eye Cream and The INKEY List Caffeine Eye Cream. If you missed out on those reviews, all you have to do is click on the links provided! 😊 Now back to this eye cream I'm going to share! So the eye cream I want to talk about is Benton Fermentation Eye Cream. This eye cream contains fermented ingredients, such as bifida ferment lysate and galactomyces ferment filtrate to help repair skin damage. It also contains ceramide, hyaluronic acid, aloe, and panthenol to deeply hydrate the skin. Also, beta-glucan and adenosine to plump up the skin and smooth out the eye area for a brighter, younger appearance. Goodness knows how many tubes of this eye cream I have gone through, but I'm here to share my experience with everyone. I can't wait!! Let's go! 🙌🏻
My experience
This eye cream comes in a 1.05 oz. (30 g) tube. The product is a silky-smooth, creamy gel texture. It feels so soft and glides over the under eyes soooo nicely. I love it so much! It blends into the skin easily with little effort. I love eye creams that just goes on the eye area without doing much. This is one of them. The silky texture of the eye cream gets me every time I use it. Texture and consistency-wise, this stuff is amazing!! It's a somewhat thicker eye cream that feels concentrated but doesn't feel heavy on the skin.
The ingredients in this eye cream are pretty good too. It contains fermented ingredients like galactomyces ferment filtrate and bifida ferment lysate. I can't use fermented ingredients on my facial skin. My skin goes nuts. I start breaking out like crazy. But I can use it around my eye area without any issues. This eye cream also contains macadamia oil, ceramide np, aloe barbadensis leaf extract, sodium hyaluronate, beta-glucan, panthenol, and adenosine. Lots of beneficial skin care ingredients for the eye area. 🙂
As for results, it leaves my eye area feeling super nourished and moisturized. I just love how moisturizing it is. But, I don't think it has done much for fine lines and wrinkles. Or even dark under eye circles. But keeping the eye area moisturized helps to smooth out fine lines and wrinkles, which is better than nothing. Even though it didn't help with fine lines, wrinkles, or dark under eye circles, I really like the overall formulation of this eye cream. So, it's been good so far. I've already gone through plenty of tubes of this stuff. Since I'm still using it, that says something about it. I like it.
Pros & Cons
✅ Pros
Silky smooth, moisturizing
Smooths out the skin
Contains fermented ingredients (bifida ferment lysate and galactomyces ferment filtrate)
Contains ceramide, hyaluronic acid, aloe, panthenol, beta-glucan, and adenosine
❌ Cons
Doesn't do much for fine lines, wrinkles, or dark under eye circles
Conclusion
This is one of my favorite eye creams. I love the silky, creamy, smooth texture and consistency of this eye cream. How it glides over my under eyes and leaves it feeling very hydrated and moisturized. My skin feels super nourished each time I use it. I just love how it feels on my eyes. It deeply hydrates and moisturizes it. That's one of the product claims of this eye cream and that's what it did! Other eye creams I have used don't even give my eyes that much moisture, and that includes eye creams I mentioned earlier, such as The INKEY List Retinol Eye Cream and The INKEY List Caffeine Eye Cream. I think I'm going to keep this eye cream in my routine like I've been doing, lol. Looooveeee it! 🥰
👉🏻 Watch me unbox a NEW tube of The INKEY List Retinol Eye Cream RIGHT HERE!!!! 👈🏻
Categories:
Tags:

Anti-Aging, Beauty, Benton, Benton Fermentation Eye Cream, Benton Skin Care, Bifida, Experience, Eye Care, Eye Cream, Ferment, Fermentation, Fermentation Eye Cream, Fine Lines, Galactomyces, Results, Review, Skin Care, Skin Care Review, Skincare, Wrinkles