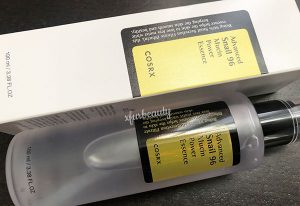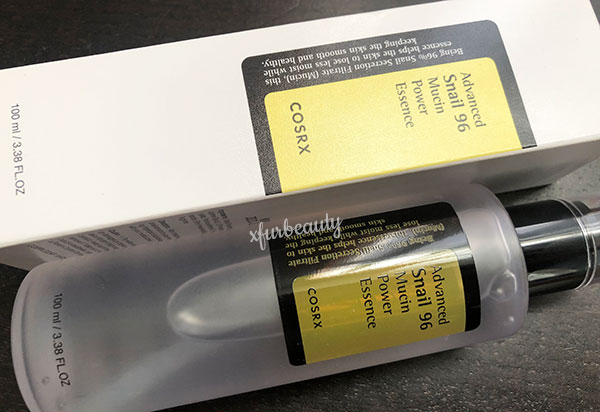 Here's another skin care product that I wanted to retry. It's Cosrx Advanced Snail 96 Mucin Power Essence. I did try another snail product before this. It was the Snail Bee High Content Essence. Read my review on this skin care product here. So snail (snail mucin) is not a vegan ingredient, but it has so many good reviews on it. I wanted to try it out. It's supposed to help with acne, hyperpigmentation, fine lines and wrinkles, elasticity of the skin, and skin texture. Also, more benefits includes hydrating the skin, brightening, repairs the skin, and helps maintain skin moisture. This sounds too good to be true. Yep, gotta try it out. I gotta see what this snail thingamajig from Cosrx is like. This was my first snail product. I tried a couple of others too, which includes Snail Bee High Content Essence that I reviewed. I stopped using Cosrx Advanced Snail 96 Mucin Power Essence because I was using a lot of products and had to eliminate a bunch of of them to figure out what's going on with my skin. Cosrx Snail was chosen to be eliminated. But now it's back! Here's my experience and results on this product! Round 2! 🙂
My experience
This essence isn't runny. One pump of the product is a droplet. It's looks pretty cool when it comes out. It's not messy at all. It's very easy to apply this essence to the skin. I rub it between the palm of my hands and pat it into my skin. I only use one pump. Seems more than enough to cover the whole face and neck area for me. It does feel sticky when applied to the facial skin, but it's not extremely sticky. The sticky feeling is there. It's snail mucin after all. It's known to be sticky and gooey. Once absorbed into the skin, it leaves the skin quite clean. It just vanishes into the skin. It didn't irritate my skin at all even though the texture is sticky. The product claims to be hydrating. I mean, it does somewhat hydrates the skin. On my skin, it wasn't too hydrating. There's a little bit of moisture there. Just not a lot. But I do love the fact that this essence feels lightweight on the skin. I can use it twice a day without any issues.
So after 2 weeks of using Cosrx Advanced Snail 96 Mucin Power Essence, I noticed the texture of my skin looked smoother and more refined. In terms of moisture, it's not the best hydrating essence. I thought it would be more hydrating just from the reviews that I've read. Sadly, I didn't notice a brighter complexion either. My skin didn't look glowy, but it looked more dewy. I love that dewiness. Not much skin repair going on. I was hoping that the snail product would help with some active acne and acne marks. Honestly, I didn't see any of that. Maybe I have to use it much longer? I've only used it for only 2 weeks. I wonder what the results would be like within a month of use! Here's the good news. After all of this, after 2 weeks of using this product, my skin did not break out from it! At one point I thought my skin had issues with snail products. Nope, not this one. No breakouts so far. I'm pretty shocked. I finished up a bottle in the past thinking it was one of the causes of my closed comedones, breakouts. Wow, I really thought it was an acne culprit, but I guess not. Everything is going well so far.
Pros & Cons
✅ Pros
Lightly hydrates the skin
Feels lightweight on the skin
No breakouts
No fragrance
Not irritating
❌ Cons
Conclusion
It looks like I'm not allergic to snail products. Seems like I haven't found the right one yet until now. Cosrx Advanced Snail 96 Mucin Power Essence is working for me! As in it doesn't cause me horrible acne. I'm stunned! But this is only after 2 weeks of using it. My pores are in good shape after including this essence in my skin care routine. It looks like everything is going well. I think I'm going to continue to use it. It's light on the skin and provides some moisture. I wonder what my skin is going to be like in a month or two with this product. I'll make another update when it hits 1 month! So far, from my experience with this product, I would recommend this product. I like what I'm seeing in my skin. No issues with acne. I'm happy! Stick around for a new update on Cosrx Advanced Snail 96 Mucin Power Essence! Coming up in a few weeks. I hope this review was helpful!
For more reviews on Cosrx skin care products 👈🏻
Categories:
Tags:

Acne, Acne Marks, Acne Scars, Anti-Aging, Beauty, Cosrx, Cosrx Advanced Snail 96 Mucin Power Essence, Essence, Hydrating, Hyperpigmentation, Moisturizing, Review, Skin Care, Snail, Snail Mucin, Texture