I have another sunscreen from Eucerin. It's the Eucerin Advanced Hydration SPF 50 Sunscreen Spray with Hyaluronic Acid + Humectants. It's the sunscreen spray instead of the lotion. More about this sunscreen: It's formulated with 5 antioxidants, hyaluronic acid, and humectants for an immediate long-lasting hydrating effect. It's lightweight and non-greasy. Has a dry-touch finish that leaves no visible residue. It's a non-alcoholic lotion spray, non-comedogenic (won't clog pores), hypoallergenic, suitable for sensitive skin, suitable for daily use, formulated for all skin tones. It's free of fragrance, dyes, parabens, PABA, phthalates, oxybenzone, and octinoxate. Water-resistant (up to 80 minutes) and sweat-resistant. I've been using this product for at least a month now. Here are my thoughts and experience on it.
My Experience with Eucerin Advanced Hydration SPF 50 Sunscreen Spray with Hyaluronic Acid + Humectants:
Texture & Application
This sunscreen comes in a spray bottle (60 oz. / 170 g.). The nozzle is very easy to use. To use the sunscreen spray, twist the nozzle until there's an opening then press down. To close the spray, turn the nozzle until the opening is hidden. I didn't have any issues with the product getting stuck. I really liked the packaging of this product. When dispensed from the bottle, the texture of this sunscreen is lightweight and bubbly. It has a nice cold, cooling, soothing feeling when sprayed on the skin. The sunscreen is white, but it doesn't leave a white cast or residue behind. Once rubbed into the skin, it blends into the skin well, but it leaves the skin feeling very greasy. I love that this sunscreen is alcohol-free. One of the reasons why I wanted to try it out in the first place. Unfortunately, this sunscreen burned my eyes and skin. I noticed a tingly sensation on my skin when applied to the skin. So my use of this sunscreen didn't last for too long. I had to stop using it due to irritation. I ended up using the rest of the sunscreen on my body instead. I think it works better as a body sunscreen rather than a facial sunscreen.
It's hydrating.
It's a hydrating and moisturizing sunscreen, but I thought it was too greasy on my skin. I've used plenty of greasy sunscreens and this one takes the cake. Besides the burning, I couldn't deal with the greasiness of the product. It feels uncomfortable on the skin.
It stinks.
The spray is fragrance-free, but it does have smell to it. The smell is very strong (sunscreen/chemical smell) that irritated my skin and eyes. Even though I use it on my body, I didn't enjoy using it on my body. The smell of the sunscreen is just so strong that it gets into my eyes. I get teary and spend the rest of the day with bloodshot eyes.
Did it clog my pores?
It's greasy, but I didn't notice any clogged pores (surprisingly). But, I didn't use it for long. My skin and eyes became irritated pretty quick. I use it on my body and haven't had any breakouts. I don't have acne on my body though.
Final Thoughts
I finally had the chance to try out the Eucerin sunscreens (especially the spray). I've been wanting to try it out for the longest time! Too bad, so sad. The sunscreen spray didn't live up to my expectations and some of its claims like being non-greasy, having a dry-touch (no it didn't), for sensitive skin (I don't have sensitive skin, and it burned my skin). I thought the sunscreen was very irritating, and I didn't enjoy using it. I would think it would be more gentle on the skin due to how lightweight it is on the skin. It feels like bubbles! Also, it contains hyaluronic acid and humectants to soothe the skin. Nope, I was betrayed. My facial skin and eyes didn't like it one bit. My experience using it on my body was different, but is it worth it? In my opinion, no. I wasn't impressed with this sunscreen spray for the face or the body. Thought I had found a good alcohol-free sunscreen spray. I guess not. I won't purchase again.
On the left, the Eucerin SPF 50 Lotion. On the right, the Eucerin SPF 50 Spray. I've already finished the lotion. For a full review on the lotion, go here.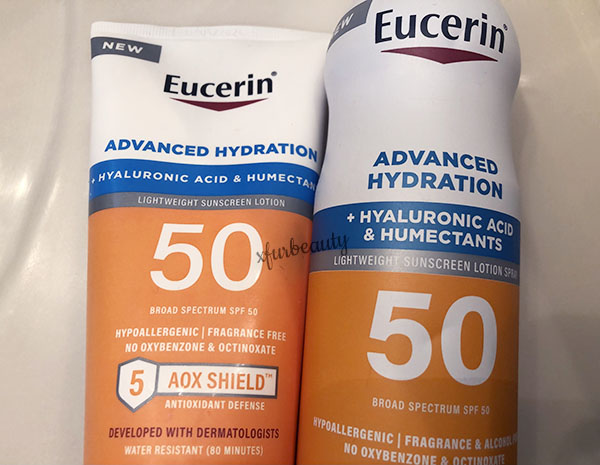 Categories:
Tags:

Acne, Acne Skin, Anti-Aging, Beauty, Eucerin, Eucerin Advanced Hydration, Eucerin Advanced Hydration SPF 50 Sunscreen Lotion with Hyaluronic Acid + Humectants, Eucerin Advanced Hydration SPF 50 Sunscreen Spray with Hyaluronic Acid + Humectants, Eucerin Skin Care, Experience, Hyaluronic Acid, Hydration, Lifestyle, Review, Skin Care, Skin Care Products, Skincare, Spray, Spray Sunscreen, Sunblock, Sunscreen, Wrinkles