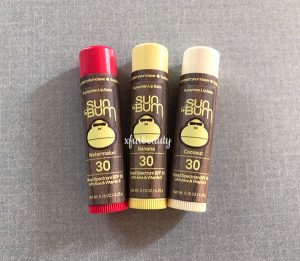 It's time for a review on Sun Bum Sunscreen Lip Balm SPF 30! I found these lip balms with SPF when I was searching for something that is moisturizing, has sun protection, is vegan, and cruelty-free. Sun Bum Sunscreen Lip Balm SPF 30 was the only set of lip balms I could find at the store that fit this description. I was very excited for these because most lip balms contain beeswax or some other animal by-product in it. So the first Sun Bum Lip Balm I purchased was the Coconut. Next, I wanted to try out Key Lime, Watermelon, Mango, and Banana. They didn't have a fragrance-free one, but that's ok. I was hoping that the lip balms didn't have an overpowering smell to them. I thought I'd try them out anyways. They're vegan and cruelty-free. I've been using these lip balms for nearly a year now. Whew! That's such a long time. Time just flew by that quick! I kinda just stuck to using them, since I already have them. Finally, I can share my experience and thoughts with everyone on these lip balms.
My experience
These lip balms are indeed moisturizing. They leave my lips well moisturized throughout the day upon application. They're all pretty similar besides having a different scent to them. I'll go through them real quick…
Key Lime: It smells exactly like what it's supposed to smell like. And that is key lime. My first thought when I took a whiff of this lip balm was key lime pie. Mmm…
Coconut: Smells just like coconut. This one is not for me. I find it too overwhelming.
Mango: This one smells too artificial to me. Too sweet for my liking.
Watermelon: I received a defective product of this lip balm in this flavor. There was no smell to it. Smells like the other ingredients in the lip balm. The next one I purchased had a sweet light smell to it. It doesn't smell like watermelon to me. If you're sensitive to fragrance or smells, this one would be the right one for you. The other lip balms have noticeable scents.
Banana: This one is my favorite. Smells like bananas! A bit artificial. But I can handle it. I like it. I prefer this one out of the bunch. It's weird how I like this one. hah.
So that's what they smell like (to me). Everyone has their own taste and perceptions. Now let's go into more detail about this product! I mentioned that these lip balms are moisturizing. They truly are, but they tend to become soft and mushy easily, especially when exposed to humidity and the hot sun. ☀ They need to be kept in a cool place to remain intact and solid. If not, they'll melt. I placed one lip balm in my pocket during the summer, and that's exactly what happened. Sometimes when I stash one in my bag, the same thing happens. Even though they are still usable, it's just not pleasant to find that the lip balm is mushy and messy-looking. It makes it less enjoyable to use. It's quite disappointing too.
These lip balms contain SPF 30 with chemical filters (Avobenzone 3%, Homosalate 10%, Octocrylene 8%, Octisalate 5%). I haven't had any issues with these lip balms, except for them melting on me. The sun protection seems to really work. Maybe it's because I'm constantly reapplying, lol. I haven't had any new freckles on my lips since using them. My lips are also left soft, smooth, and moisturized. So after a year (nearly a year) of using this product, I think they're not too bad. Just that one defective lip balm (Watermelon) I purchased was annoying. The other lip balms were in good shape. It looks like they're working for me. I've already finished the old set of lip balms I purchased months ago and now on to a new pack. I recently finished the Watermelon in the new pack, since it was the one with the most subtle fragrant to it. By the way, I use these lip balms daily to moisturize and protect my lips! Works…but they are quite expensive compared to other lip balms I've used.
Here's a new pack of Sun Bum Sunscreen Lip Balm SPF 30. This time, this one includes Coconut, Banana, and Watermelon.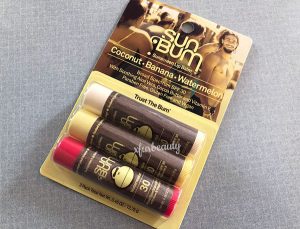 What the lip balm looks like when opened. I love seeing a new lip balm.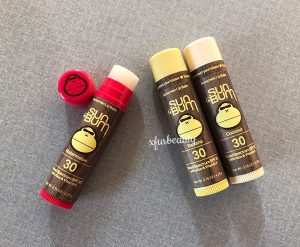 Here's the old set (or the previous set) that I used. They are Key Lime, Coconut, Mango, and Watermelon. This is where the defective Watermelon lip balm resides, lol.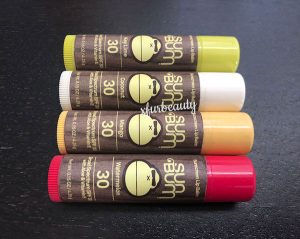 Pros & Cons
✅ Pros
Moisturizing
Contains SPF 30 (Avobenzone 3%, Homosalate 10%, Octocrylene 8%, Octisalate 5%)
Contains aloe vera, cocoa butter, vitamin e, argan oil
Vegan
Cruelty-free
❌ Cons
Melts, gets mushy in hot humid weather
Expensive. It's $3.99 per balm. $9.99 for a pack (includes 3 lip balms in Coconut, Banana, and Watermelon).
Check to see if the lip balms are defective or not. I can't get over the fact that one of my lip balms were defective. This stuff is not cheap!
Conclusion
I think Sun Bum Sunscreen Lip Balm SPF 30 are not too bad. They're ok. I mean, they're moisturizing and protects the lips from harmful UV rays. But so do other lip balms when used correctly. I'm not too big on fragrance when it comes to lip balms or skin care products in general. I don't find it necessary to have them in my products. What is it really doing for my skin? That's right, absolutely nothing. I enjoyed the banana, but I wouldn't mind if it didn't have a smell to it. But then, I guess I did receive a lip balm without a smell (Watermelon), lol. And it wouldn't be banana flavor anymore. So these lip balms are good, but I don't find them to be special compared to other lip balms. I can easily purchase a pack of lip balms for the same price as a single Sun Bum Lip Balm ($3.99). Yeah, they're vegan and cruelty-free. That's nice and all, but I'm not trying to spend a lot of money on something when I don't need to. Would I buy them again? Once in a while. Other lip balms are more affordable for long term.
Categories:
Tags:

Beauty, Cruelty Free, Gluten Free, Lip Balm, Lip Care, Review, Sun Bum, Sun Bum Sunscreen Lip Balm SPF 30, Sunblock, Sunscreen, Vegan
My review on Sun Bum Revitalizing Shampoo and Conditioner! =)
About Sun Bum Revitalizing Shampoo and Conditioner:
Shampoo:
Shampoo helps deliver deep nutrition, intense moisture, and smoothing to the most difficult-to-manage-hair
Lock in color and to keep it looking beautiful
Helps to restore lost moisture, repair damage, and provide unmatched humidity-resistant frizz control
Perfect for all hair types
Cruelty Free
Vegan
Gluten Free
Silicone Free
Color Safe
Paraben Free
UV Protecting
Conditioner:
Conditioner helps deeply hydrate and awaken hair
Making it highly reponsive and manageable
Helps lock in hair color and repair damage
Powerful antioxidants provide UV protection to help prevent color fade and damage
Makes hair super smooth, shiny, and happy
Cruelty Free
Vegan
Gluten Free
Silicone Free
Color Safe
Paraben Free
UV Protecting
Review:
I'm finishing up this shampoo & conditioner, and here are my thoughts on it! When I first used this shampoo & conditioner, I enjoyed the smell of it. It smelled like coconuts and bananas. I really liked it, but the performance was something I didn't like. The shampoo left my hair looking flat and lifeless. It made my hair look waxy. I had a hard time managing and combing through my hair when I used the shampoo and conditioner. It simply made my hair look greasy and limp. It didn't clean my hair well either. The conditioner wasn't that hydrating. Like the shampoo, it felt like it coated my hair with wax. Left my hair looking flat. I was expecting a lot more out of this shampoo and conditioner, but I'm left disappointed. I will not purchase them again. They were pretty terrible. The only good thing about this shampoo and conditioner was the smell. It smells good, but that's it. I'm going to search for something that really works. This isn't it. I wouldn't recommend it.
More reviews on Sun Bum beauty products:
Review: Sun Bum Vegan Sunblock
Review: Sun Bum Sunscreen Lip Balm SPF 30
I'm back with a new skin care product! It's called Sun Bum Face 50 UVA/UVB Broad Spectrum. I've been looking for a sunblock to protect my skin when I'm outdoors. This was the only one that was vegan, and I'm trying my best to purchase only vegan skin care products. This is what it states on the tube:
Water Resistant (80 minutes)
Lightweight
Oil-free
Fragrance-free
Breakout-free
Dermatologist-tested
Gluten-free
Vegan
I've used this sunblock a couple of times. I cautiously monitored my skin, so I can stop immediately if I notice any breakouts. The tube states that it's 'breakout-free'. Unfortunately, this sunblock did clog my pores. I noticed my pores filling up with hard sebum. I stopped using this sunblock ASAP. I loved how moisturizing it is. It is lightweight. The product is slightly on the runny side, but it blends in well. Love that it's fragrance-free. LOVE that it's vegan. But, I cannot use a skin care product that causes my skin to breakout. I'm back to the drawing board. Since it's summer, I need a sunblock to protect my skin from the harsh UV rays. Without sunblock, I've been avoiding the sun a lot more. Hey, I'm trying to keep my skin looking young and ageless. ? The sun ages the skin tremendously!
Have you tried Sun Bum Face 50 UVA/UVB Broad Spectrum before? Share your thoughts in the comments seciton! ?
Love, Jen
Categories: Tags: