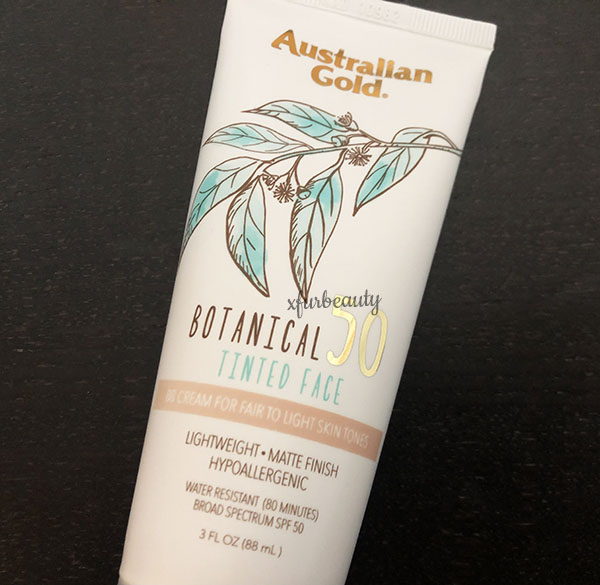 I picked up Australian Gold Botanical SPF 50 Tinted Face Sunscreen Lotion in Fair-Light. I've been hearing about this sunscreen for so many years. I thought, maybe I should just try it out. What put me off from trying this sunscreen out in the first place is that it contains red algae (Porphyra Umbilicalis Extract). And my experience with algae in general in skin care products have not been good. It clogs my pores. But, anything can clog anyone's pores. It really depends on how the person's skin reacts to the ingredients/overall formulation of the product. So, I've read so many reviews raving about this product! Am I missing out on something?? Hmmm! Now, here I am, with a tube of this stuff. Here are my thoughts on it!
My Experience with Australian Gold Botanical SPF 50 Tinted Face Sunscreen Lotion!
Texture & Application
The texture of this sunscreen is a mousse-cream. It's a very different type of texture and consistency that I didn't expect from a bb cream/tinted lotion. It's soft, lightweight, and souffle-like. It glides over the skin very easily and smoothly. It was very easy to use this product. Very easy to blend into the skin without tugging at the skin. I didn't have any problems with application. It was a simple process that didn't take a lot of time. I loved using it around my eyes. It didn't burn my eyes. But, the sunscreen looks a little greasy and shiny upon application at first. I used the required amount for sunscreen too, which is a lot of product. After about 30 minutes, the product looked matte on the skin. The next 15 more minutes, my skin looked even more matte. It is truly a matte sunscreen as it states on the bottle (matte finish).
Fragrance-Free?
The product is fragrance-free, but it does have smell to it. When I first opened it and sniffed it, I thought it smelled like tanning lotion. After smelling it again just now, it smells like plant extracts. Maybe a combo of both? I'm not too fond of the scent, but it didn't bother me too much.
Shade (Fair-Light Skin Tones)
I wasn't impressed with the shade of this product. It says it's for fair to light skin tones. The color of this product is literally orange when dispensed from the tube. On my skin, it was orange if I used too much. 🍊😂 I didn't like that at all. 👎🏻 If I use it as a makeup product rather than my main sunscreen, it works out pretty well. It doesn't turn my skin extremely orange, but there is an orange tint to the skin. That tint eventually fades away a little bit, so it wasn't too bad. There is no coverage. It seems to work very well as a makeup primer. It seems to coat my eyelashes too. Eyelash primer as well? lol. So this product works out if you're searching for a mineral sunscreen that is tinted (no white cast). I actually used it on top of my mineral sunscreen (that gives a white cast) to eliminate the white cast. Worked very well. Cast begone! 👋🏻
Great for oily skin!
Since the sunscreen is matte, it works amazingly on oily skin. I have very oily skin, and this sunscreen was perfect on my skin when it comes to taming excess oil. It makes my face appear very clean compared to the dewy, oily look, haha. If you have dry skin, you might want to apply a good moisturizer underneath. This sunscreen is definitely aimed towards people with oily skin. I'm not saying it won't work for dry skin. It's truly a matte lotion sunscreen. I didn't think it was drying at all on my skin.
It stays in place.
Most sunscreens swish around my face when I reapply. That might be the reason why I was developing more freckles! When I went in for a reapplication, I can feel that this sunscreen did not shift at all on my face. It stayed in place. Reapplying was not a pleasant experience since it felt like I was applying on top of more product. The sunscreen feels lightweight when applying, but it leaves a layer, film of product on the skin. I can feel that there's product sitting on my skin. It's quite annoying.
Breakouts? Clogged pores?
I was dreading using this sunscreen on my face because of the red algae. The other ingredient, shea butter, is a hit or miss on my skin. I thought this sunscreen was a tad too rich on my skin, which is odd because I thought it would be drying (from the reviews I've read). It leaves a sticky residue on my skin and just feels too moisturizing. I noticed closed comedones, some blackheads, and milia in my breakout-prone areas. That's when I stopped using it. Could it be the red algae? Shea butter? Who knows. My skin didn't like it. It feels very occlusive on the skin, especially when reapplied. By the way, I started noticing breakouts by day 2, but I didn't stop by day 3. By day 3, it became more obvious that my pores were getting clogged.
How to remove.
This is one of the most difficult sunscreen products to remove from the skin. It does not come off by simply cleansing with a face wash. To remove this product, oil cleanse (leave on for a few minutes) and wash with a facial cleanser. I do have a facial brush too to help remove the sunscreen off of the skin. If the product does not budge, oil cleanse, oil cleanse, oil cleanse some more. Just make sure the sunscreen is all off. If you do not remove the sunscreen off properly, you'll in up with residue on your face, which can lead to clogged pores. I removed the sunscreen off properly and made sure my skin was squeaky clean, so my breakouts were from the ingredients in the product. It's not compatible with my skin type.
Final Thoughts
I was so excited to try this sunscreen out. It's affordable, comes in a 3 fl. oz. tube, has SPF 50, and it's a mineral sunscreen (4% Zinc Oxide, 4% Titanium Dioxide). The smell of the product isn't too bad. I got used to it after a few uses. The shade of the product could be better. I wish it wasn't orange. 😂 Fair to light isn't fair to light. I could see the drastic difference in my skin color when using this sunscreen. Too bad that it clogged my pores too. I wished my skin didn't react the way it did, but it did. *sigh* I wanted it to work. It would've work well for outdoor workouts, hikes, pool days, and going to the beach. It sticks to the skin like crazy. If you want a sunscreen that stays on your skin, this will do it. For everyday use? It's not for my skin type. Like I said before, it feels too heavy, sticky on the skin. It's weird because the sunscreen feels lightweight when applied to the skin. After a few hours, it takes on this sticky texture, film that I dislike. I don't like it and my skin doesn't like it. It gets in my hair. It's difficult to remove. The breakouts killed it for me. All in all, I won't repurchase. This sunscreen has been hyped up so much that I thought it would be amazing. It's a nope for me.
What Australian Gold Botanical SPF 50 Tinted Face Sunscreen Lotion in Fair-Light looks like:
It looks more orange in person. It has a whipped-mousse texture to it.
This sunscreen was sealed when I purchased it. 👌🏻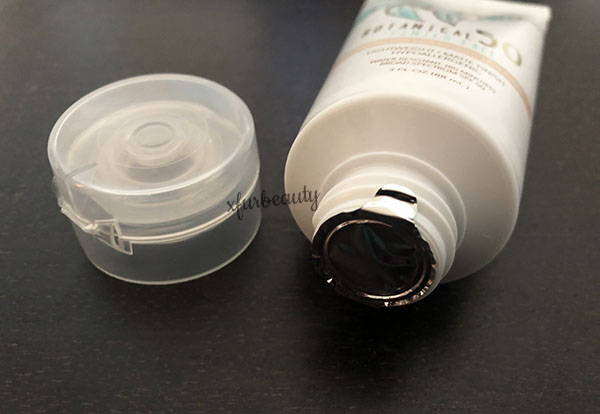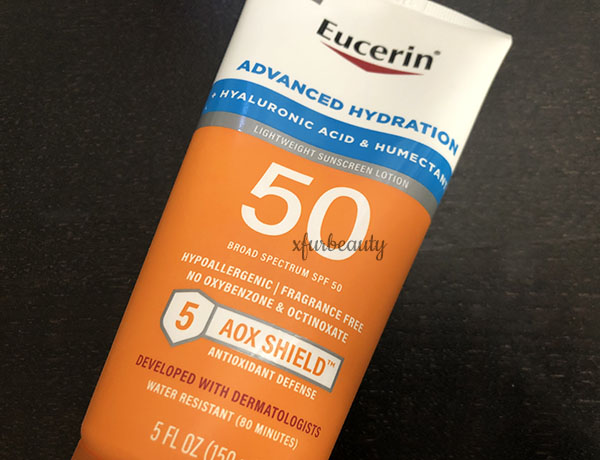 I have a new sunscreen to review. 🙂 I have the Eucerin Advanced Hydration SPF 50 Sunscreen Lotion with Hyaluronic Acid + Humectants. I've been eyeing this sunscreen for a while. I finally picked up a bottle to try it out. I've been trying to find a new sunscreen for the face. A sunscreen that doesn't leave a white cast behind and doesn't dry out the skin. This seemed like a good pick. This sunscreen is supposed to be lightweight and non-greasy with a dry touch finish that leaves no visible residue. It's formulated with 5 antioxidants, hyaluronic acid, and humectants for an immediate and long lasting hydrating effect. Developed with dermatologists. It's non-comedogenic (won't clog pores) and hypoallergenic. Suitable for sensitive skin and for daily use. Formulated for all skin tones. Free of fragrance, dyes, parabens, PABA, phthalates, oxybenzone, and octinoxate. It's water-resistant (up to 80 minutes) and sweat-resistant. It also comes in a bigger bottle (5 fl. oz.). I honestly can't stand sunscreens that come in tiny little bottles. I use a ton of sunscreen per day, and it gets so expensive. Here are my thoughts on Eucerin Advanced Hydration SPF 50! Did it work out? Read on to find out!
My Experience with Eucerin Advanced Hydration SPF 50 Sunscreen Lotion with Hyaluronic Acid + Humectants:
Texture & Application
This sunscreen is a lotion. The texture of the sunscreen is soft and smooth. I tried the sunscreen on the face and body. On the face, it felt very moisturizing, but it was very difficult to apply. The sunscreen doesn't glide across the facial skin well. It takes a while to blend the sunscreen into the skin. After blending, it leaves a little bit of white residue behind. This was weird because it's a chemical sunscreen. I've never experienced this with a chemical sunscreen before. They usually just absorb into the skin nicely without leaving any white residue or a cast behind. The product felt extremely sticky on my face. It didn't really set on the skin. I waited for about 30 minutes, and my skin still felt sticky. I didn't like the way the sunscreen sat on my skin. It claims to be non-greasy, but it feels very oily and greasy. Very, very oily. It was not a good experience using the product. I could see some of the hairs on the side of my face sticking up as well. The sunscreen also leaked into my hairline and made my hair feel sticky, greasy, and super shiny. As a face sunscreen, it didn't work for me. On the body, that's a different story. It worked. The product is moisturizing and blends into the skin well. I didn't have any issues applying the sunscreen lotion on my body.
It's a moisturizing sunscreen! 💦
One of the reasons why I purchased this sunscreen is because it's a hydrating and moisturizing sunscreen. And it is! But, it didn't work on my face. It felt too oily, greasy, and heavy on my facial skin. I didn't like using it as a face sunscreen. As a body sunscreen, it's nice. I've been using it on my hands, and it works for that purpose. Just not my face.
Burning eyes, smells like crap.
This product claims to be fragrance-free. In fact, it does have a smell to it. It has a chemical smell that bothered me. I honestly didn't like it. Even though I'm not using the sunscreen on my face (anymore), I still can't stand the smell of it using it on my body. It's so strong that it burns my eyes and makes my eyes watery. It's a bit too much for me. It's a sunscreen that actually smells like a sunscreen. It would be nice if the product didn't have a strong chemical smell to it. I'm not too fond of smells, I guess, lol.
Breakouts? Clogged pores??
Even though I loved how moisturizing this sunscreen is, I noticed clogged pores using it on my face after 2 days. The sunscreen is just too oily and greasy on my face. It makes my skin appear more shiny and oily too. That's just not good for my skin type. I noticed whiteheads along my mouth area and jawline. Ugh! I was sooo mad when I saw the breakouts. The sad thing is, I didn't expect this sunscreen to break me out just by looking at the ingredients list. But, it did, it broke me out.
Final Thoughts
Another sunscreen that I really wanted to work, lol. I feel like I'm just going through sunscreens, and it's freaking annoying. I was searching for a chemical sunscreen since they tend to be more moisturizing and don't leave a white cast behind. Well, this one left a little bit of white residue behind for some odd reason. My experience with it was just overall bad. It's nice that it's moisturizing, but does it really matter if it doesn't work on my skin? It irritated my eyes, left my skin feeling and looking greasy, was difficult to apply, felt heavy on the skin, and reapplying was a pain. I won't purchase it again. I can't recommend it either unless it's used as a body sunscreen. It just didn't work for me as a facial sunscreen. What a disappointment. I can't wait to finish the rest of the bottle and toss it out.
What Eucerin Advanced Hydration SPF 50 Sunscreen Lotion with Hyaluronic Acid + Humectants looks like:
Just your typical white lotion. 😊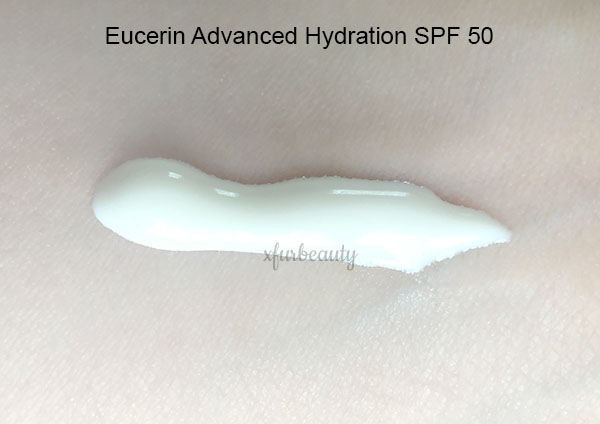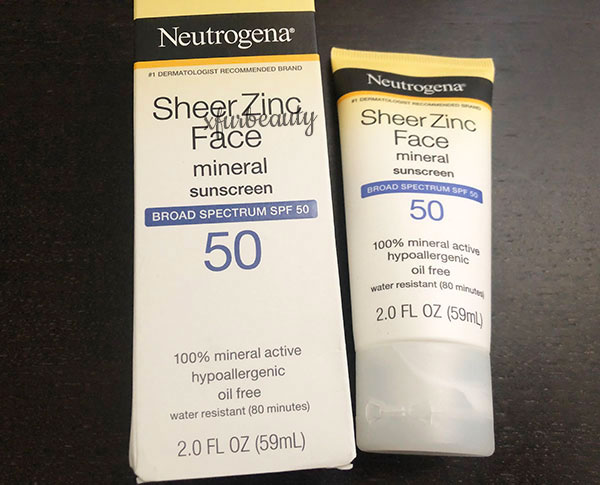 I'm back with an update on Neutrogena Sheer Zinc Face Mineral Sunscreen SPF 50! I stopped using this sunscreen last year. I thought I would try it again after eliminating so many products from my routine. Also, I was looking for a sunscreen that's purely zinc to add to my morning SPF routine. This one popped in my mind. It contains 21.6% Zinc Oxide. Awesome!
So this is the Neutrogena Sheer Zinc Face Mineral Sunscreen SPF 50. For more information on this product, go here. My experience with this sunscreen before wasn't good. I had issues, such as the product being too thick, difficult to spread across the face and blend, breakouts, pilling, dry skin, and the sunscreen leaving a white cast behind. Since my skin is doing so much better now, I'll take the risk and try it again. Here are my updated thoughts on the Neutrogena Sheer Zinc Face Mineral Sunscreen SPF 50!
My 1 Week Experience with Neutrogena Sheer Zinc Face Mineral Sunscreen SPF 50!
The sunscreen comes in a 2 fl. oz. (59 mL) bottle. On the box it says that it's a broad spectrum sunscreen with SPF 50. I will only purchase sunscreens that are SPF 50 and above from now on unless it's a product I really like. I'm on the pale side and much prefer high protection sunscreens to prevent burning and freckling. I've started to notice a huge difference in my skin after using SPF 50 and reapplying often throughout the day. I haven't developed any new freckles. This sunscreen contains 100% mineral active (21.6% Zinc Oxide). It's hypoallergenic, oil-free, and water-resistant (80 minutes).
How I applied the sunscreen.
This sunscreen has a strong chemical smell to it. At first, it was too much for me. I sneezed a few times after opening the bottle. I have a very sensitive nose. Fortunately, mid-week, it didn't bother me as much anymore. I got used to it. Odd, I know, lol. When dispensed from the bottle, it's a white creamy gel texture that feels soft and smooth yet sticky to touch. Honestly, this sunscreen was pretty difficult to apply to the skin for the first couple of days. To successfully apply this sunscreen, the key is to smooth the product out then pat it into the skin. I was using too much product at one point. It's best to apply the sunscreen layer by layer to get even coverage that doesn't look blotchy and messy on the skin. Also, while using this sunscreen, from my experience, it's best to use it on clean skin without skin care products or very minimal, lightweight skin care products underneath. Nothing too moisturizing. It sticks better to the skin when there's less, non-moisturizing skin care products underneath. I've gotten really nice results (easier application) eliminating products from my morning routine when using this sunscreen.
White cast? 👻
The sunscreen does have a white cast, but it's not too bad like I thought it would be. All mineral sunscreens have somewhat of a white cast. This white cast has helped me get away with not wearing makeup because it sort of helps to even out the complexion, lol. So after about 10 minutes (around there), the white cast blends and sinks into the skin. But I wouldn't recommend this sunscreen to individuals with richer, darker skin tones. The product is already difficult to blend into the skin as a pale person. On top of that, even if it blends into the skin, there's still a slight white cast that's noticeable. Remember, this sunscreen contains 21.6% Zinc Oxide. I have yet found a mineral sunscreen that doesn't have a white cast.
It's moisturizing. 🙂
Since the sunscreen has a silicone feel to it, it works decently well as a makeup primer. I tried applying makeup, and my makeup looked really smooth. It's definitely not the best makeup primer out there due to the stickiness of the product, but it's something. The stickiness of the sunscreen would make my hair stick to my face. But maybe it's because it's summer?? 🤔 It's already super hot and humid out! This sunscreen feels very moisturizing on the skin too. I can just use this sunscreen without using a proper moisturizer underneath without drying my skin out. Even though it doesn't dry the skin out, since it's a mineral sunscreen, it can still accentuate dry patches on the skin. I've had my good days and my bad days with this sunscreen and dry patches.
Did it break me out?
As for breakouts, after a week of using this sunscreen, I didn't break out in cysts or even small little pimples. But, I did notice some other acne-related issues like my pores filling up. I noticed more sebaceous filaments on my nose and other oily areas of my face like my forehead and mouth area. The sunscreen is on the thicker and heavier side. It leaves my skin looking very shiny and glossy rather than matte. Not ideal for my skin type, but that didn't bother me too much if it didn't cause acne. Unfortunately, it does cause some acne issues since my skin is very oily. Surprisingly, at the same time, I noticed that it helped to reduce the size of some blemishes. And it's possibly due to the zinc oxide in this product. Zinc oxide is known to have anti-inflammatory properties and helps to promote healing in the skin. ✨ I think it's the inactive ingredients that my skin has problems with.
How to remove the sunscreen.
It's a water-resistant sunscreen. That's a good thing, but this is one of the most difficult sunscreens I've had to remove from my skin. It truly does stick to the skin. I used an oil cleanser and micellar water to break down the sunscreen first. After that, I used The Ordinary Squalane Cleanser (still have it, gonna use it) to break down the sunscreen and oils even further. Next, I finish off with my main facial cleanser with a facial brush. That seems like a lot of steps, but it's a must to remove all of the sunscreen, sebum, oils, dirt, and debris from the skin. That could be the reason why I haven't had any breakouts like cysts from this sunscreen like I did before in the past. I made sure I removed every trace of the sunscreen product from my skin. For the sebaceous filaments, there's not much I can do about it. I think it's because this sunscreen is pretty occlusive on the skin. My skin just pumps out oil like no other, and it gets trapped underneath the sunscreen. It just builds up in my pores from there.
Final thoughts
It's only been a week, but my experience so far with Neutrogena Sheer Zinc Face Mineral Sunscreen SPF 50 has been OK. I thought I would get a massive breakout (mainly cysts) and itchy skin, but it's been quite the opposite. It has actually helped heal some of my acne, so it's not just a sunscreen. It's also very beneficial for acne-prone skin! That only applies to big bumps on the skin like cysts. Sadly, I feel like this sunscreen is just too occlusive for me for everyday use. It definitely fills up my pores with gunk. I continued to use it to make sure I wasn't seeing things, lol. My pores kept filling up over time. It was pretty much out of control. Other than that, this sunscreen left my skin feeling very moisturized. Since it's occlusive, it seals moisture into the skin very well and leaving the skin feeling hydrated. I really wanted to like this sunscreen due to the high percentage of zinc, which does amazing things for my acne-prone skin, but I'm not sure what to think about it anymore after noticing more sebaceous filaments. I think I'm going to take a break from it for a while and see what happens.
Check out my current sunscreen — La Roche-Posay Anthelios Body & Face Mineral Sunscreen Gentle Lotion SPF 50. I took a break from it when I started using Neutrogena Sheer Zinc Face Mineral Sunscreen SPF 50. I guess I'm back to it now after this experience, lol.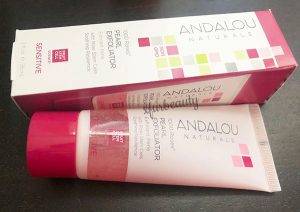 So I have another Andalou Naturals skin care product to talk about. Yes, another one! lol. If you missed out on my previous reviews on Andalou Naturals skin care products, click on the links below to check them out!
Review: Andalou Naturals Luminous Eye Serum
Review: Andalou Naturals 1000 Roses Eye Revive Contour Gel
The product I'm sharing this time is Andalou Naturals 1000 Roses Pearl Exfoliator. I was on the quest to find an amazing facial scrub. I thought I would give the brand Andalou Naturals a try. So this exfoliator is a mineral exfoliator with alpine rose stem cells. It gently sweeps away impurities, dull skin, and dry skin. Contains pomegranate to uplift tone. Has moisture-binding humectants to help revive skin's hydro lipid barrier for a flawless looking complexion. It's non-GMO, gluten-free, vegan, cruelty-free, pH balanced, hypoallergenic, and dermatologist tested. I finished the whole product. Now here are my thoughts on it!
My experience
This product is a gel with very tiny exfoliating beads in it. The beads are not harsh or abrasive. They're smooth. This exfoliator is indeed very gentle on the skin. It didn't burn or irritate my skin. I want to emphasize the gentleness of this facial scrub because it truly is. Even though I love how gentle it is on the skin, I wish it was more exfoliating and actually did something for my skin. I didn't think it did anything. I saw no improvements in the condition of my skin. I still had dead skin stuck to my face after use. It's supposed to be an exfoliator, right? Shouldn't it remove dead skin cells and leave my skin feeling softer and smoother afterwards? It just didn't do anything. It's too gentle. The amount of beads in this product is very sparse. It feels more like a facial cleanser than an exfoliator/facial scrub. Since the exfoliator was terrible at removing dead skin cells, I tried pressing the exfoliating beads onto my skin a little more. Giving it a little bit more pressure to feel the beads on my facial skin, but that didn't work either. It didn't help remove dead skin from my face. From this experience, I think this exfoliator is just too weak and just not right. When I'm exfoliating my facial skin, I want the process to be a smooth, effortless, and natural as much as possible. For that reason, I didn't like this facial scrub. I wasn't happy finishing the product. It's just a very bad product.
Pros & Cons
✅ Pros
Extremely gentle on the skin
Good for sensitive skin
Cruelty-free
Vegan
❌ Cons
Not enough exfoliating beads in this product.
Doesn't exfoliate the skin. I still had dead skin stuck on my skin after use.
Conclusion
Another Andalou Naturals product down. This exfoliator was just really bad. It didn't exfoliate like it's supposed to. It didn't sweep away impurities, dull, dry skin or uplift the tone. It didn't leave my skin looking flawless. My complexion didn't glow afterwards. I had no results from this product. It was a waste of money. I won't purchase again. It's not an exfoliator I would recommend. Don't buy.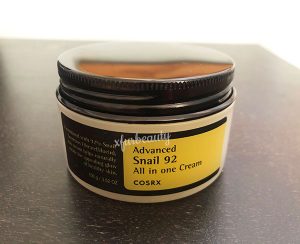 It's been a year without Cosrx Advanced Snail 92 All in One Cream. I decided to try it out again. My neck was getting super dry and itchy, and I needed something that would fix that itch real quick. I tried using CeraVe Moisturizing Cream, but it didn't help much. I needed something more effective. So this cream is a snail-based product. Yeah, that doesn't sound pleasant, but snail mucin has many skin care benefits like replenishing hydration levels and softens rough skin. Good for tired complexions and is suitable for all skin types but especially dehydrated skin. It not only hydrates the skin but brightens and supports healthy skin repair. Nourishes and helps to reduce redness. Also, supports skin elasticity and plumps up the skin. This cream has a pH of 5.5-6.5. Dermatologist-tested. Hypoallergenic. Paraben-free. Sulfate-free, Phthalate-free, Alcohol-free. It sounds like a miracle cream. We'll see about that! So I've been using it for a couple of weeks now. Here's my experience with this cream so far!
My experience
I've been using this snail cream at night. I don't use it on my face. Just my neck. It contains Caprylic/Capric Triglyceride, which my skin dislikes. I get really bad closed comedones when I use products with this ingredient. I try my best to avoid it. From my prior experience with this snail cream, it did clog my pore on my face. So that's why I'm not using it on my facial skin. Lesson learned. After a few weeks of using this cream on my neck, my skin isn't dry anymore. I used it once and woke up the next morning with skin that's extremely moisturized. The itchiness went away and skin just went back to normal. It made my skin feel softer and a lot smoother. This cream is working a lot better compared to my other moisturizers. It does have a sticky, slimy texture to it. It makes it hard to use the product. The product also comes in a jar, so it's not sanitary. I make sure to wash my hands before I dip my fingers into the jar anyways. Maybe they should change the packaging of this product into a tube instead. That would make it a lot easier to use the product. Just a thought. Overall, my experience with this cream has been good. I like how it helped with skin dryness, itchiness, and just made my skin feel calm and soothes it. I love that there's no fragrance to this cream. It doesn't smell like anything. Amazing. Wow, I'm falling in love with this snail cream once again. It's super effective.
A jar of snail slime! 🐌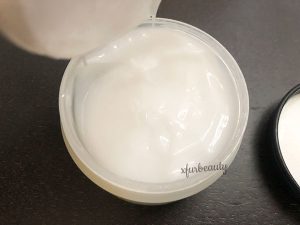 Pros & Cons
✅ Pros
Contains 92% snail mucin and hyaluronic acid
Super moisturizing
Leaves the skin feeling soft and nourished
Great nighttime moisturizer
Absorbs into the skin nicely
Results the next morning
❌ Cons
May cause breakouts if you're prone to breakouts (face)
Comes in a jar
Difficult to retrieve product from jar due the sticky texture of the product
Conclusion
I didn't think I would like this snail cream this time. But I was so happy when I noticed that the skin on my neck wasn't itchy anymore. Also, my skin became super soft, smooth, and just so nourished. I haven't broken out in a rash with this product. Amazing. I have a very sensitive neck, and it seems like it can only tolerate gentle facial products and not products made for the body. I like the results I'm seeing, so I'm going to continue to use this cream. I love it so far! I highly recommend trying it out if you're interested!