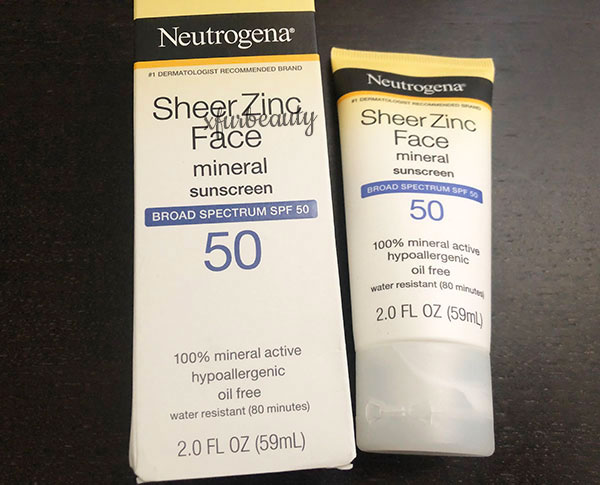 I'm back with an update on Neutrogena Sheer Zinc Face Mineral Sunscreen SPF 50! I stopped using this sunscreen last year. I thought I would try it again after eliminating so many products from my routine. Also, I was looking for a sunscreen that's purely zinc to add to my morning SPF routine. This one popped in my mind. It contains 21.6% Zinc Oxide. Awesome!
So this is the Neutrogena Sheer Zinc Face Mineral Sunscreen SPF 50. For more information on this product, go here. My experience with this sunscreen before wasn't good. I had issues, such as the product being too thick, difficult to spread across the face and blend, breakouts, pilling, dry skin, and the sunscreen leaving a white cast behind. Since my skin is doing so much better now, I'll take the risk and try it again. Here are my updated thoughts on the Neutrogena Sheer Zinc Face Mineral Sunscreen SPF 50!
My 1 Week Experience with Neutrogena Sheer Zinc Face Mineral Sunscreen SPF 50!
The sunscreen comes in a 2 fl. oz. (59 mL) bottle. On the box it says that it's a broad spectrum sunscreen with SPF 50. I will only purchase sunscreens that are SPF 50 and above from now on unless it's a product I really like. I'm on the pale side and much prefer high protection sunscreens to prevent burning and freckling. I've started to notice a huge difference in my skin after using SPF 50 and reapplying often throughout the day. I haven't developed any new freckles. This sunscreen contains 100% mineral active (21.6% Zinc Oxide). It's hypoallergenic, oil-free, and water-resistant (80 minutes).
How I applied the sunscreen.
This sunscreen has a strong chemical smell to it. At first, it was too much for me. I sneezed a few times after opening the bottle. I have a very sensitive nose. Fortunately, mid-week, it didn't bother me as much anymore. I got used to it. Odd, I know, lol. When dispensed from the bottle, it's a white creamy gel texture that feels soft and smooth yet sticky to touch. Honestly, this sunscreen was pretty difficult to apply to the skin for the first couple of days. To successfully apply this sunscreen, the key is to smooth the product out then pat it into the skin. I was using too much product at one point. It's best to apply the sunscreen layer by layer to get even coverage that doesn't look blotchy and messy on the skin. Also, while using this sunscreen, from my experience, it's best to use it on clean skin without skin care products or very minimal, lightweight skin care products underneath. Nothing too moisturizing. It sticks better to the skin when there's less, non-moisturizing skin care products underneath. I've gotten really nice results (easier application) eliminating products from my morning routine when using this sunscreen.
White cast? 👻
The sunscreen does have a white cast, but it's not too bad like I thought it would be. All mineral sunscreens have somewhat of a white cast. This white cast has helped me get away with not wearing makeup because it sort of helps to even out the complexion, lol. So after about 10 minutes (around there), the white cast blends and sinks into the skin. But I wouldn't recommend this sunscreen to individuals with richer, darker skin tones. The product is already difficult to blend into the skin as a pale person. On top of that, even if it blends into the skin, there's still a slight white cast that's noticeable. Remember, this sunscreen contains 21.6% Zinc Oxide. I have yet found a mineral sunscreen that doesn't have a white cast.
It's moisturizing. 🙂
Since the sunscreen has a silicone feel to it, it works decently well as a makeup primer. I tried applying makeup, and my makeup looked really smooth. It's definitely not the best makeup primer out there due to the stickiness of the product, but it's something. The stickiness of the sunscreen would make my hair stick to my face. But maybe it's because it's summer?? 🤔 It's already super hot and humid out! This sunscreen feels very moisturizing on the skin too. I can just use this sunscreen without using a proper moisturizer underneath without drying my skin out. Even though it doesn't dry the skin out, since it's a mineral sunscreen, it can still accentuate dry patches on the skin. I've had my good days and my bad days with this sunscreen and dry patches.
Did it break me out?
As for breakouts, after a week of using this sunscreen, I didn't break out in cysts or even small little pimples. But, I did notice some other acne-related issues like my pores filling up. I noticed more sebaceous filaments on my nose and other oily areas of my face like my forehead and mouth area. The sunscreen is on the thicker and heavier side. It leaves my skin looking very shiny and glossy rather than matte. Not ideal for my skin type, but that didn't bother me too much if it didn't cause acne. Unfortunately, it does cause some acne issues since my skin is very oily. Surprisingly, at the same time, I noticed that it helped to reduce the size of some blemishes. And it's possibly due to the zinc oxide in this product. Zinc oxide is known to have anti-inflammatory properties and helps to promote healing in the skin. ✨ I think it's the inactive ingredients that my skin has problems with.
How to remove the sunscreen.
It's a water-resistant sunscreen. That's a good thing, but this is one of the most difficult sunscreens I've had to remove from my skin. It truly does stick to the skin. I used an oil cleanser and micellar water to break down the sunscreen first. After that, I used The Ordinary Squalane Cleanser (still have it, gonna use it) to break down the sunscreen and oils even further. Next, I finish off with my main facial cleanser with a facial brush. That seems like a lot of steps, but it's a must to remove all of the sunscreen, sebum, oils, dirt, and debris from the skin. That could be the reason why I haven't had any breakouts like cysts from this sunscreen like I did before in the past. I made sure I removed every trace of the sunscreen product from my skin. For the sebaceous filaments, there's not much I can do about it. I think it's because this sunscreen is pretty occlusive on the skin. My skin just pumps out oil like no other, and it gets trapped underneath the sunscreen. It just builds up in my pores from there.
Final thoughts
It's only been a week, but my experience so far with Neutrogena Sheer Zinc Face Mineral Sunscreen SPF 50 has been OK. I thought I would get a massive breakout (mainly cysts) and itchy skin, but it's been quite the opposite. It has actually helped heal some of my acne, so it's not just a sunscreen. It's also very beneficial for acne-prone skin! That only applies to big bumps on the skin like cysts. Sadly, I feel like this sunscreen is just too occlusive for me for everyday use. It definitely fills up my pores with gunk. I continued to use it to make sure I wasn't seeing things, lol. My pores kept filling up over time. It was pretty much out of control. Other than that, this sunscreen left my skin feeling very moisturized. Since it's occlusive, it seals moisture into the skin very well and leaving the skin feeling hydrated. I really wanted to like this sunscreen due to the high percentage of zinc, which does amazing things for my acne-prone skin, but I'm not sure what to think about it anymore after noticing more sebaceous filaments. I think I'm going to take a break from it for a while and see what happens.
Check out my current sunscreen — La Roche-Posay Anthelios Body & Face Mineral Sunscreen Gentle Lotion SPF 50. I took a break from it when I started using Neutrogena Sheer Zinc Face Mineral Sunscreen SPF 50. I guess I'm back to it now after this experience, lol.
Categories:
Tags:

Beauty, Fragrance Free, Hypoallergenic, Mineral Sunscreen, Neutrogena, Neutrogena Sheer Zinc Face Mineral Sunscreen, Oil Free, Paraben Free, Review, Sheer Zinc, Skin Care, Skincare, Sunblock, Sunscreen, Updat, UVA, UVB, Water Resistant, Zinc, Zinc Oxide, Zinc Sunscreen