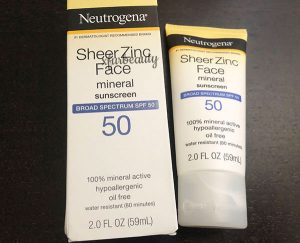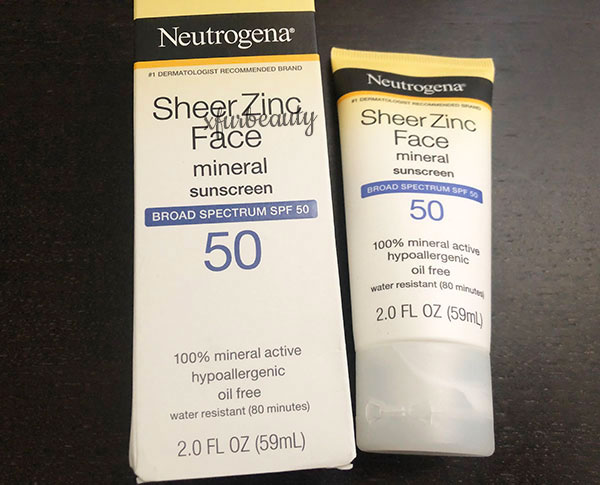 Here's another sunscreen that I used earlier on this year! It's Neutrogena Sheer Zinc Face Mineral Sunscreen SPF 50! I was searching for a sunscreen that was a physical sunscreen and stumbled upon this one. This sunscreen contains 21.6% Zinc Oxide. It says it's a gentle formula that protects the skin against UVB and UVA rays. Good for sensitive skin, fragrance-free, paraben-free, phthalates-free, hypoallergenic, non-comedogenic, oil-free, won't sting eyes, water-resistant (80 minutes), and doesn't contain irritating chemicals. It's specifically formulated for the face. Contains antioxidants and layers invisibly underneath makeup. Easy to apply with a lightweight, non-greasy finish. The product claims sound really good. Neutrogena Sheer Zinc Face Mineral Sunscreen SPF 50 had really good reviews too. I thought I would give it a try to see if it works or not. Here's my experience with this sunscreen!
My experience
This sunscreen is very thick. It looks and feels like a thick, white paste. Goopy in texture. Neutrogena claims that this product is easy to apply to the skin. It's far from the truth. It was very difficult to apply. The sunscreen just doesn't blend into the skin. It was so hard to move it across the facial skin. Patting it into the skin didn't work too well either. It took so much time to apply this sunscreen in the morning. What a waste of time! So, the application wasn't pleasant. The product is labeled sheer, but it's definitely not sheer at all. lol. It left a horrible white cast on my face. At first, it wasn't a big issue, since I'm not that tan, but it became very annoying since I didn't like the whiteness that it left behind on my face. I wanted something that blends into my skin and looks natural on my skin. This sunscreen didn't give me that. It was just a terrible sunscreen.
The first day of using this sunscreen was mostly disastrous, but there were a few pros to this sunscreen. It left my skin matte and less oily. Since I have oily skin, this was a good thing. It also helped dry up some pimples. I didn't get any breakouts on the first day. The next day, I had issues with it. The product pilled under my eyes. It dried out my skin. My skin felt extremely dry. I noticed dry patches on my chin. After I removed the sunscreen thoroughly (cleansing oil, micellar water, face wash with facial brush), I noticed closed comedones on my forehead, chin, and on the sides of my face. They left marks behind too. So let's take a look at what's in this sunscreen…
It's pretty heavy in silicones and some wax. It contains some antioxidants. It's nothing out of the ordinary or special. I'm not too fond with the ingredients, especially the silicones. I can use products with a little bit of silicone, but this product was just too dense and heavy on the skin. It felt like the sunscreen just sat on my skin and trapped sebum within my pores, which can lead to breakouts! And it did! It makes a really good makeup primer though! My makeup went on silky smooth, and my skin looked smoother. But it's not worth it. It clogs my pores! I wouldn't recommend this to anyone with acne skin.
Pros & Cons
✅ Pros
Contain 21.6% Zinc Oxide
Affordable
Works as a makeup primer
❌ Cons
White cast. Looks like a mask, lol.
Too thick in texture
It's not easy to apply
Tugs at the skin when applying
Feels like silicones
Breakouts
Dries the skin out
Pills
Conclusion
I didn't like this sunscreen. It's way too thick, pore-clogging, too many silicones. There's absolutely nothing special about the antioxidants in this product. It's so overhyped because it contains zinc oxide to protect the skin from UVA and UVB rays. There are other sunscreens that do the same without making the skin look terrible. This was just a horrible sunscreen. I wouldn't recommend it. Save your money.
Go here for more reviews on Neutrogena skin care products
Go here for more reviews on sunscreens
Categories:
Tags:

Beauty, Fragrance Free, Hypoallergenic, Mineral Sunscreen, Neutrogena, Neutrogena Sheer Zinc Face Mineral Sunscreen, Oil Free, Paraben Free, Review, Sheer Zinc, Skin Care, Skincare, Sunblock, Sunscreen, UVA, UVB, Water Resistant, Zinc, Zinc Oxide, Zinc Sunscreen