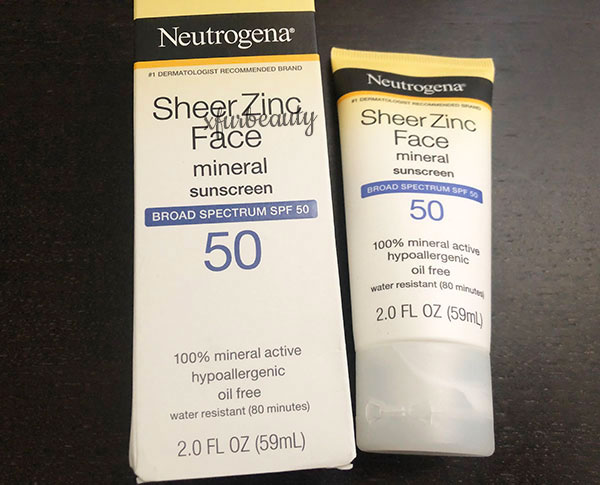 I'm back with an update on Neutrogena Sheer Zinc Face Mineral Sunscreen SPF 50! I stopped using this sunscreen last year. I thought I would try it again after eliminating so many products from my routine. Also, I was looking for a sunscreen that's purely zinc to add to my morning SPF routine. This one popped in my mind. It contains 21.6% Zinc Oxide. Awesome!
So this is the Neutrogena Sheer Zinc Face Mineral Sunscreen SPF 50. For more information on this product, go here. My experience with this sunscreen before wasn't good. I had issues, such as the product being too thick, difficult to spread across the face and blend, breakouts, pilling, dry skin, and the sunscreen leaving a white cast behind. Since my skin is doing so much better now, I'll take the risk and try it again. Here are my updated thoughts on the Neutrogena Sheer Zinc Face Mineral Sunscreen SPF 50!
My 1 Week Experience with Neutrogena Sheer Zinc Face Mineral Sunscreen SPF 50!
The sunscreen comes in a 2 fl. oz. (59 mL) bottle. On the box it says that it's a broad spectrum sunscreen with SPF 50. I will only purchase sunscreens that are SPF 50 and above from now on unless it's a product I really like. I'm on the pale side and much prefer high protection sunscreens to prevent burning and freckling. I've started to notice a huge difference in my skin after using SPF 50 and reapplying often throughout the day. I haven't developed any new freckles. This sunscreen contains 100% mineral active (21.6% Zinc Oxide). It's hypoallergenic, oil-free, and water-resistant (80 minutes).
How I applied the sunscreen.
This sunscreen has a strong chemical smell to it. At first, it was too much for me. I sneezed a few times after opening the bottle. I have a very sensitive nose. Fortunately, mid-week, it didn't bother me as much anymore. I got used to it. Odd, I know, lol. When dispensed from the bottle, it's a white creamy gel texture that feels soft and smooth yet sticky to touch. Honestly, this sunscreen was pretty difficult to apply to the skin for the first couple of days. To successfully apply this sunscreen, the key is to smooth the product out then pat it into the skin. I was using too much product at one point. It's best to apply the sunscreen layer by layer to get even coverage that doesn't look blotchy and messy on the skin. Also, while using this sunscreen, from my experience, it's best to use it on clean skin without skin care products or very minimal, lightweight skin care products underneath. Nothing too moisturizing. It sticks better to the skin when there's less, non-moisturizing skin care products underneath. I've gotten really nice results (easier application) eliminating products from my morning routine when using this sunscreen.
White cast? 👻
The sunscreen does have a white cast, but it's not too bad like I thought it would be. All mineral sunscreens have somewhat of a white cast. This white cast has helped me get away with not wearing makeup because it sort of helps to even out the complexion, lol. So after about 10 minutes (around there), the white cast blends and sinks into the skin. But I wouldn't recommend this sunscreen to individuals with richer, darker skin tones. The product is already difficult to blend into the skin as a pale person. On top of that, even if it blends into the skin, there's still a slight white cast that's noticeable. Remember, this sunscreen contains 21.6% Zinc Oxide. I have yet found a mineral sunscreen that doesn't have a white cast.
It's moisturizing. 🙂
Since the sunscreen has a silicone feel to it, it works decently well as a makeup primer. I tried applying makeup, and my makeup looked really smooth. It's definitely not the best makeup primer out there due to the stickiness of the product, but it's something. The stickiness of the sunscreen would make my hair stick to my face. But maybe it's because it's summer?? 🤔 It's already super hot and humid out! This sunscreen feels very moisturizing on the skin too. I can just use this sunscreen without using a proper moisturizer underneath without drying my skin out. Even though it doesn't dry the skin out, since it's a mineral sunscreen, it can still accentuate dry patches on the skin. I've had my good days and my bad days with this sunscreen and dry patches.
Did it break me out?
As for breakouts, after a week of using this sunscreen, I didn't break out in cysts or even small little pimples. But, I did notice some other acne-related issues like my pores filling up. I noticed more sebaceous filaments on my nose and other oily areas of my face like my forehead and mouth area. The sunscreen is on the thicker and heavier side. It leaves my skin looking very shiny and glossy rather than matte. Not ideal for my skin type, but that didn't bother me too much if it didn't cause acne. Unfortunately, it does cause some acne issues since my skin is very oily. Surprisingly, at the same time, I noticed that it helped to reduce the size of some blemishes. And it's possibly due to the zinc oxide in this product. Zinc oxide is known to have anti-inflammatory properties and helps to promote healing in the skin. ✨ I think it's the inactive ingredients that my skin has problems with.
How to remove the sunscreen.
It's a water-resistant sunscreen. That's a good thing, but this is one of the most difficult sunscreens I've had to remove from my skin. It truly does stick to the skin. I used an oil cleanser and micellar water to break down the sunscreen first. After that, I used The Ordinary Squalane Cleanser (still have it, gonna use it) to break down the sunscreen and oils even further. Next, I finish off with my main facial cleanser with a facial brush. That seems like a lot of steps, but it's a must to remove all of the sunscreen, sebum, oils, dirt, and debris from the skin. That could be the reason why I haven't had any breakouts like cysts from this sunscreen like I did before in the past. I made sure I removed every trace of the sunscreen product from my skin. For the sebaceous filaments, there's not much I can do about it. I think it's because this sunscreen is pretty occlusive on the skin. My skin just pumps out oil like no other, and it gets trapped underneath the sunscreen. It just builds up in my pores from there.
Final thoughts
It's only been a week, but my experience so far with Neutrogena Sheer Zinc Face Mineral Sunscreen SPF 50 has been OK. I thought I would get a massive breakout (mainly cysts) and itchy skin, but it's been quite the opposite. It has actually helped heal some of my acne, so it's not just a sunscreen. It's also very beneficial for acne-prone skin! That only applies to big bumps on the skin like cysts. Sadly, I feel like this sunscreen is just too occlusive for me for everyday use. It definitely fills up my pores with gunk. I continued to use it to make sure I wasn't seeing things, lol. My pores kept filling up over time. It was pretty much out of control. Other than that, this sunscreen left my skin feeling very moisturized. Since it's occlusive, it seals moisture into the skin very well and leaving the skin feeling hydrated. I really wanted to like this sunscreen due to the high percentage of zinc, which does amazing things for my acne-prone skin, but I'm not sure what to think about it anymore after noticing more sebaceous filaments. I think I'm going to take a break from it for a while and see what happens.
Check out my current sunscreen — La Roche-Posay Anthelios Body & Face Mineral Sunscreen Gentle Lotion SPF 50. I took a break from it when I started using Neutrogena Sheer Zinc Face Mineral Sunscreen SPF 50. I guess I'm back to it now after this experience, lol.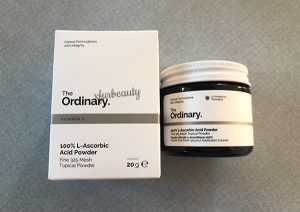 It's been 4 months using The Ordinary 100% L-Ascorbic Acid Powder. Yes, 4 MONTHS! If you need a recap on this product, GO HERE. So I started using this ascorbic acid powder to help with acne marks and to achieve a brighter complexion. I was having trouble with other vitamin c essences and serums. I couldn't find a vitamin c product that was compatible with my skin. I would get clogged pores and breakouts from other vitamin c products. So I thought, hey, let's try the powder form instead. It doesn't contain any other ingredients in it besides vitamin c. It's 100% l-ascorbic acid powder! 🍊
So this product comes in a jar. It's tiny. It's only 20g. Even though it's only 20g, I still have a ton of product left after 4 months of use. Seems like it'll last for a couple of years since I don't use much of it anyways, and I use it on a daily basis. Just a little bit of product goes a long way. It can get annoying when I have unscrew the lid, scoop out the powder, and mix it with my other skin care products. I have to be more careful because I don't want to spill the product all over the place. It's just plain messy. I think that's one of the downsides of this product — it's not mixed for you, you have to do it yourself.
With this ascorbic acid powder, I can use almost half a scoop without any issues. I worked my way up to that amount of powder over the months. It doesn't sting or burn my skin. My skin just takes it without any issues. I mix the ascorbic acid powder with my essences, which are the Cosrx Hyaluronic Acid Hydra Power Essence and Cosrx Advanced Snail 96 Mucin Power Essence. I mix these two together. Yeah, I'm weird, but I like the combination. I have hyaluronic acid and snail. It's an amazing combo to lightly moisturize the skin, especially for oily skin like myself. Works great since I've been doing it! 👍🏻 And I haven't had any issues with using them. No irritation, redness, or breakouts. All is good so far!
Now let's get into the results! It's been 4 months of using ascorbic powder. Have I seen any results?? Hmmm! Honestly, it's been tough. I haven't noticed visible results using it, but I'm not too disappointed in it. I mean, it works as a great antioxidant for my skin. I use it in the morning for the antioxidant properties and to boost my UV protection (while using SPF). Also, since the powder lasts forever, there's not much to complain about yet besides having to mix it myself in the morning. haha. Even though I'm still using this ascorbic acid powder, I've also continued on to using other vitamin c products…
More on my other vitamin c products in another post! 🙂 So, so far, The Ordinary 100% L-Ascorbic Acid Powder hasn't been too bad. But, I still think it's pretty overpriced for what you get. After finishing this powder, I think I'm just going to purchase ascorbic acid powder (not from The Ordinary) from somewhere else. Ascorbic acid powder is pretty cheap. Come on now, right? Why pay more for something that's just ascorbic acid powder. lol. Those are my thoughts on my experience with this product after 4 months. I hope this was helpful. I'll see everyone in my next update! Stay tuned!!
Moisturizing is very important! 💧 Check out my thoughts on the moisturizers that I use!
Another Update on My Moisturizers. What I'm Using Now.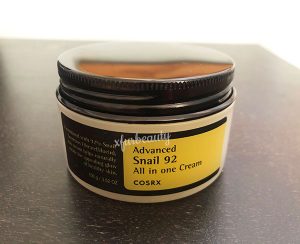 It's been a year without Cosrx Advanced Snail 92 All in One Cream. I decided to try it out again. My neck was getting super dry and itchy, and I needed something that would fix that itch real quick. I tried using CeraVe Moisturizing Cream, but it didn't help much. I needed something more effective. So this cream is a snail-based product. Yeah, that doesn't sound pleasant, but snail mucin has many skin care benefits like replenishing hydration levels and softens rough skin. Good for tired complexions and is suitable for all skin types but especially dehydrated skin. It not only hydrates the skin but brightens and supports healthy skin repair. Nourishes and helps to reduce redness. Also, supports skin elasticity and plumps up the skin. This cream has a pH of 5.5-6.5. Dermatologist-tested. Hypoallergenic. Paraben-free. Sulfate-free, Phthalate-free, Alcohol-free. It sounds like a miracle cream. We'll see about that! So I've been using it for a couple of weeks now. Here's my experience with this cream so far!
My experience
I've been using this snail cream at night. I don't use it on my face. Just my neck. It contains Caprylic/Capric Triglyceride, which my skin dislikes. I get really bad closed comedones when I use products with this ingredient. I try my best to avoid it. From my prior experience with this snail cream, it did clog my pore on my face. So that's why I'm not using it on my facial skin. Lesson learned. After a few weeks of using this cream on my neck, my skin isn't dry anymore. I used it once and woke up the next morning with skin that's extremely moisturized. The itchiness went away and skin just went back to normal. It made my skin feel softer and a lot smoother. This cream is working a lot better compared to my other moisturizers. It does have a sticky, slimy texture to it. It makes it hard to use the product. The product also comes in a jar, so it's not sanitary. I make sure to wash my hands before I dip my fingers into the jar anyways. Maybe they should change the packaging of this product into a tube instead. That would make it a lot easier to use the product. Just a thought. Overall, my experience with this cream has been good. I like how it helped with skin dryness, itchiness, and just made my skin feel calm and soothes it. I love that there's no fragrance to this cream. It doesn't smell like anything. Amazing. Wow, I'm falling in love with this snail cream once again. It's super effective.
A jar of snail slime! 🐌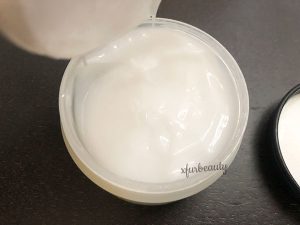 Pros & Cons
✅ Pros
Contains 92% snail mucin and hyaluronic acid
Super moisturizing
Leaves the skin feeling soft and nourished
Great nighttime moisturizer
Absorbs into the skin nicely
Results the next morning
❌ Cons
May cause breakouts if you're prone to breakouts (face)
Comes in a jar
Difficult to retrieve product from jar due the sticky texture of the product
Conclusion
I didn't think I would like this snail cream this time. But I was so happy when I noticed that the skin on my neck wasn't itchy anymore. Also, my skin became super soft, smooth, and just so nourished. I haven't broken out in a rash with this product. Amazing. I have a very sensitive neck, and it seems like it can only tolerate gentle facial products and not products made for the body. I like the results I'm seeing, so I'm going to continue to use this cream. I love it so far! I highly recommend trying it out if you're interested!
For more reviews on Cosrx beauty products go here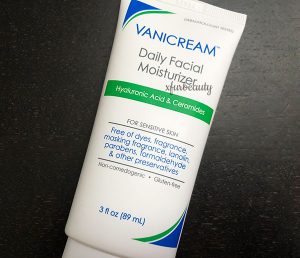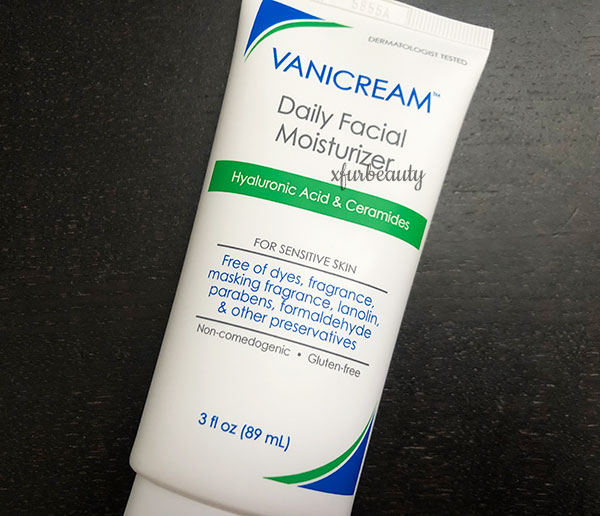 Here's my update on Vanicream Daily Facial Moisturizer for Sensitive Skin! I know my previous review on Vanicream wasn't too long ago, but…
The first two days of using this moisturizer was amazing. My skin felt and looked so healthy and moisturized. It was glowing. I was so excited that my moisture barrier was healthy. There were no flakes, itchy skin, and no redness to my skin after using this moisturizer. My skin healed from dryness. My skin looked so much better. It was absolutely perfect! I thought I had found the moisturizer of my dreams for my skin. It contains ingredients that I love too, which are ceramides and hyaluronic acid. I was a bit iffy about the squalane and fatty alcohols, but I continued to use the moisturizer anyways.
The following day, my skin felt wonderful. My skin looked and felt softer and more supple than before. My skin felt so moisturized that I was in love. I was hoping that it would work out in the end, so I could make this moisturizer permanent in my routine. Unfortunately, it didn't work out the way I wanted it to. I woke up the next day with noticeable blackheads out of the blue. At first, I didn't want to believe it was the moisturizer causing the clogged pores, so I pushed that idea to the side. By night, I noticed more blackheads after a few hours of having the moisturizer on my freshly cleansed face.
Sadly, it's true. This moisturizer clogged my pores. It caused a bunch of blackheads and a few other inflamed acne that popped up randomly. My skin started to act up so quick that I stopped using it immediately. I love the texture, some of the ingredients (haha), and how it repaired my moisture barrier, but there's no way I can continue to use it when it destroyed my skin in less than five days. *sigh* And this moisturizer was made for sensitive skin. Maybe some people like me just aren't meant to moisturize like the rest. This moisturizer does make a lovely eye cream though. I guess I can use whatever I have left for that so it won't go to waste. Or use it as a hand cream.
So I think my skin reacted to the squalane in this product. Could be another ingredient(s) too. The acne looked very similar to when I was using squalane oil. The reason why I was afraid of trying this moisturizer out in the first place. This moisturizer does feel slightly occlusive on the skin without feeling greasy or heavy. It could've been a good moisturizer if it didn't have squalane in it. If you have acne-prone skin, do a patch test first or examine your skin carefully when using. I'm glad I caught it before my skin went nuts even more. Well, that's all there is to it. Another moisturizer down, what next? I'll probably lay off heavier moisturizers for now. I'm too traumatized by this experience. Now back to my lightweight moisturizers that fail to moisturize my skin but does at least something, lol.
For more reviews on moisturizers go here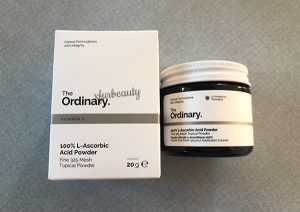 So my skin looks really good right now. Most of my acne is gone. All thanks to Olay Regenerist Collagen Peptide 24 Cream Cleanser. 👈🏻 Don't forget to read more about this cream cleanser right here!! I'll make an update on my progress with this cream cleanser soon. Stay tuned for that too! Since my skin has cleared up so much, and it took so many years to get it all situated out. It's time to add a vitamin c product into my skin care routine! I've been waiting for the right time to include one. I have a few leftover vitamin c serums from before, but they don't work on my skin. They either cause blackheads, clog my pores, or don't do anything for my skin. So I picked up a jar of The Ordinary 100% L-Ascorbic Acid Powder. I've had this for a while, but I was waiting until my acne was under control first. I think it's time! I started using it a week ago, and everything seems to be going well.
What is the purpose of this product?
It's an antioxidant that brightens the skin, fights free radicals, boosts sun protection when used in the morning, and helps to fade acne scars.
The ingredients…
The ingredients in this product is pretty straight forward. It only contains ascorbic acid. I was having trouble with The Ordinary vitamin c products due to other ingredients that it contains. I think this one might be a better choice for me.
And let's not forget.
It's paraben-free, vegan, cruelty-free, gluten-free, and comes in recyclable packaging.
My First Impression
This product comes in a jar with 20 grams of ascorbic acid (vitamin c) powder. Retails at $5.80. It looks extremely affordable (because all of their other products are pretty cheap), but it's on the expensive side for the amount of product. Ascorbic acid can be purchased for much less on the market. I purchased this ascorbic acid powder a few months ago without thinking too much about it. I was just looking through The Ordinary products that I haven't tried yet. This was one of them. I thought, hey, let's give it a shot without much thought. Now here I am with a jar of ascorbic acid from The Ordinary. Let's try it out! lol.
The jar comes sealed. Like this. It comes with a mini plastic scooper.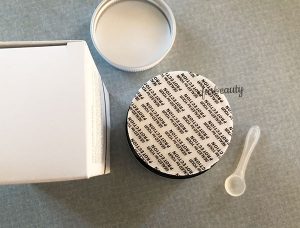 This is what the powder looks like. It's just white powder. Looks a bit clumpy, but that's OK. It works just fine. There's nothing wrong with it.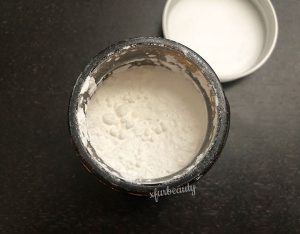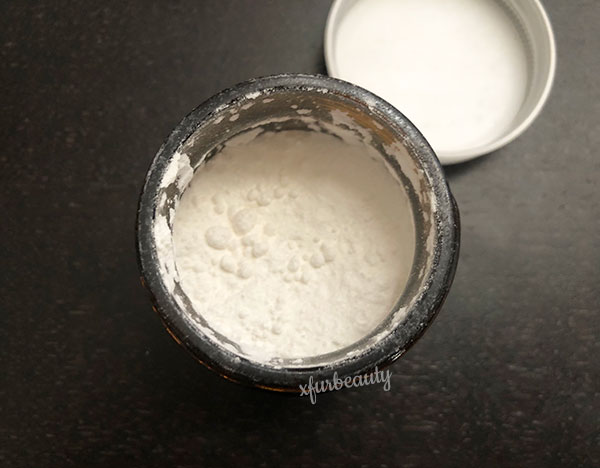 The powder feels very very fine. Not gritty at all. Hoping that it would blend into other products just fine. And guess what? It did! I used it with my moisturizer (and tried it with an essence), which is Vanicream Daily Facial Moisturizer for Sensitive Skin and Cosrx Hyaluronic Acid Hydra Power Essence. The tricky thing about using this vitamin c powder is the pH. For vitamin c to work on the skin, it needs to be acidic but not too low where it irritates and burns the skin. I tested the pH of my mixture, and it's good to go! When applying the mixture to the skin, there was a slight stinging sensation (not too much), but that's pretty normal when using vitamin c products. It's the same stinging sensation I get when using other vitamin c serums that contain ascorbic acid. The stinging sensation goes away pretty quick. The difference is that my skin likes the mixture better vs the store bought serums. There's less ingredients to worry about. I haven't found a good vitamin c serum yet due to this issue.
I tried The Ordinary Ascorbic Acid 8% Alpha Arbutin 2%, and it didn't work on my skin. It dried out my skin, made it look aged, saw no results after several months of using it. It was such a waste of time and money. So I'm glad I gave the powder a chance. My skin can't handle propanediol in high amounts from my experience with The Ordinary skin care products with this ingredient. The Ordinary seems to utilize this ingredient quite often. And, it just didn't work for me as I wanted it to. Oh well…haha.
With the ascorbic acid powder, the instructions states to not mix with formulations that contain niacinamide and EUK 134. You can read about my experience with The Ordianry EUK 134 0.1% Serum here. I like niacinamide, but I haven't found a serum that works on my skin. The Ordinary Niacinamide 10% + Zinc 1% (one of the products I've used) gave me the worst acne of my life. 👈🏻 For a more in depth review, go check it out! But the whole using ascorbic acid and niacinamide at the same time has to do with skin sensitivity and skin flushing. I've used both products at the same time but not mixed (layering) without any issues. I don't have sensitive skin to begin with. And my skin doesn't flush with these two ingredients. If you have rosacea or are prone to skin redness, that's something to keep in mind. Other advisories include making sure to avoid the eyes, do a patch test, don't use it on broken skin.
I haven't had any problems with this product yet. I started off using it in the morning and at night, but now I only use it in the morning. I don't think it's necessary to use it twice a day (unless I want to). When using vitamin c in the morning, it boosts sun protection. That seems like a great, better idea. 👍🏻 So far, my skin really likes this version of vitamin c. Other vitamin c products contain other ingredients that are pore-clogging and messed up my skin. I've already seen minor results after a week of using it. My skin feels smoother, a bit more even, and just looks really good. No breakouts or skin irritation thus far. Also, I would like to mention that I don't fill up the whole scooper when using this product. I only use about 1/4-1/3 of ascorbic acid powder. Ascorbic acid is an acid (as the name states), so be careful when using. If you have very sensitive skin, make sure to do a patch test first! ⚠ You can burn yourself.
So I like the results I'm seeing using this product, but will I purchase another jar of ascorbic acid from The Ordinary again? Hmmm, I'll use it all up first and think about it. As I mentioned earlier, this vitamin c powder is definitely expensive for the amount of product. I might just purchase ascorbic acid powder somewhere else. It seems like they want you to do the work for them. haha. They should've formulated a better ascorbic acid serum and released that instead. I'm really not impressed with most of their serums so far. But this powder is awesome! My skin is looking soooo good! Cheers to clearer, brighter, acne-free skin! 🥂✨
An update on The Ordinary 100% L-Ascorbic Acid Powder coming up soon!
If you missed out on my reviews on The Ordinary skin care products, have fun reading them all! 😁