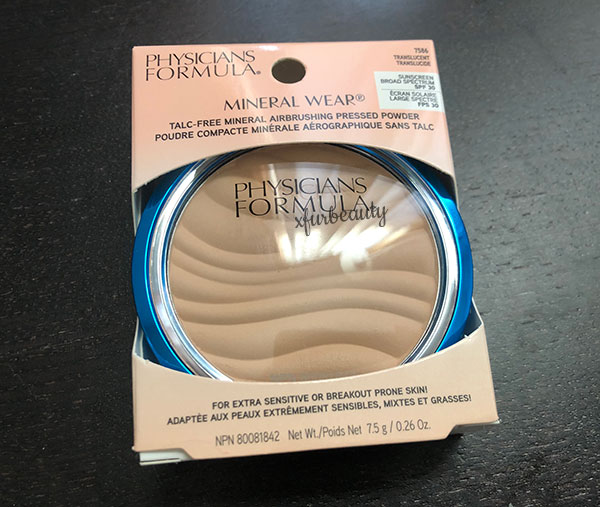 I decided to give Physicians Formula Mineral Wear Talc-Free Mineral Airbrushing Pressed Powder SPF 30 another chance, since my skin is in a better state now. I wonder if the condition of my skin last year resulted in poor results with this makeup powder. Hmmmmmm! Who knows! I thought I threw this product out, but it looks like I still have it. Let's try it again! I've been searching for a good makeup powder with SPF but didn't feel like purchasing a new one. haha. I can't seem to find one that's worth purchasing right now. I don't want to bother buying a new one if my heart's not in it. I guess I'll just test this one out and see how it goes! I hope it works!
The powder does what it did before. If you missed out on my previous review, don't forget to go here for more! The texture of the powder feels fine and soft. It gives the face an airbrushed look to it. It helps to smooth out the skin. It feels lightweight on the skin even though it gives the skin medium-full coverage. I usually prefer the full coverage look because I don't see the point of wearing makeup if it doesn't do anything for my skin. I'm also using this face power for the SPF. This is what I did before too. Um, before my favorite makeup powder was no longer available. RIP. 😭 I would just use a face powder with SPF for sun protection and coverage throughout the day since reapplying liquid sunscreen is messy and impossible for me, especially with makeup on. I don't want more acne on my face either! Also, my skin is very oily and prefers powders over liquid products. Less breakouts and skin issues overall. With this powder, I took a soft face brush and dusted it all over my face. The powder feels a bit drying on the skin, so make sure to moisturize the skin well beforehand. It contains mineral filters that can dry out the skin. On my skin, mineral filters tend to dry it out. When that happens, the powder settles into the pores and looks not as smooth as it should be. That was my first impression of the powder.
Here's my experience after less than a week! I couldn't use it any longer. This is why!
As mentioned before, it contains mineral filters. I still thought the powder was drying on my skin even after moisturizing, lol. But after a full face application, my skin gets super oily during the day, I would dust more of the powder on my skin to get rid of that oil. I love how the powder absorbs excess oil on my skin. My face is even more oily since it's summer. In the amount of time I used this powder, it looked good on some days. On other days, my skin looked terrible. If you have dry skin, this will not work for you unless you're okay with light coverage. The powder is indeed drying overall. With the dryness, this leads to fine lines and wrinkles becoming more prominent. It settles into creases (yuck!). I avoided applying the powder in areas that has the tendency to crease easily like my under eyes. Reapplying was not fun. The powder doesn't blend well and end up in blotches all over the face. And yes, I heavily moisturized my skin beforehand. Lots and lots of moisturizers. It. Just. Didn't. Work!
As for the coloring, I have the power in Translucent. This powder does have a slight peachy color to it. On my skin, it made my skin look whiter or brighter. However you want to put it. My face looked washed out when the application was fresh on my skin (hmmmm, minerals), but it turned into an orange color after a few hours. There ya go, I'm orange once again. 🍊 ha! Lastly, yes, it can provide medium-full coverage, but it can look cakey if too much is used. The powder starts to settle into the pores and accentuates them much more. I have pretty large pores due to acne, so I didn't like that. So it looks like I didn't like the outcome of this product once again. But this time, I didn't breakout from it. I have my acne under control much better this time around. Thank goodness! I think the Physicians Formula Mineral Wear Talc-Free Mineral Airbrushing Pressed Powder SPF 30 is too drying on my skin to be used as an all-over full face application. I didn't like how the coloring (it's not supposed to have any!!!) of the product changed on my face too. Also, fine lines and wrinkles and so on. Ugh! No, just no. I won't be purchasing or using it again due to this experience and the experience before this, lol.
I do have another powder from Physician's Formula. It's the Physicians Formula Mineral Wear Talc-Free Face Powder SPF 16. The SPF is way too low for me to consider it as an option. I'm not too fond of Physician's Formula powder makeup anymore. They used to be good. I don't know what happened. 😩 So I'm not going to bother with it. It's too bad Physicians Formula Mineral Wear Talc-Free Mineral Airbrushing Pressed Powder SPF 30 didn't work out. I was hoping it would due to the fact that it's summer. I needed more protection for those hot, sunny days. ☀️😎
Don't forget to checkout my update on sunscreens 👈🏻
Categories:
Tags:

Acne, Airbrushing Pressed Power, Anti-Aging, Experience, Makeup, Mineral Sunscreen, Physicians Formula, Physicians Formula Mineral Wear Talc-Free Mineral Airbrushing Pressed Powder SPF 30, Review, Skincare, SPF, SPF 30, Sun Protection, Sunscreen, Talc-Free, Wrinkles