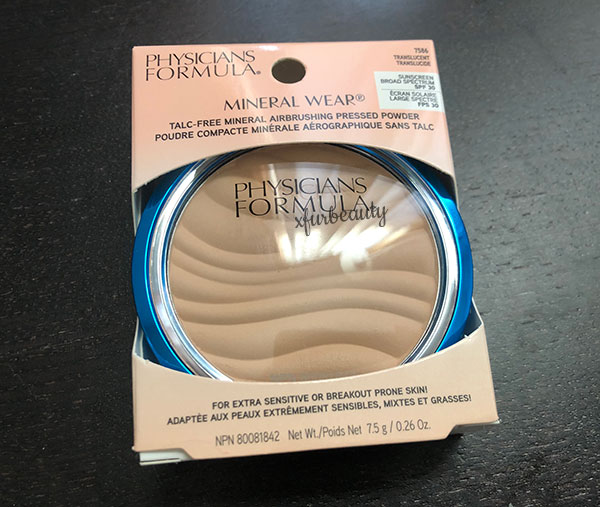 I decided to give Physicians Formula Mineral Wear Talc-Free Mineral Airbrushing Pressed Powder SPF 30 another chance, since my skin is in a better state now. I wonder if the condition of my skin last year resulted in poor results with this makeup powder. Hmmmmmm! Who knows! I thought I threw this product out, but it looks like I still have it. Let's try it again! I've been searching for a good makeup powder with SPF but didn't feel like purchasing a new one. haha. I can't seem to find one that's worth purchasing right now. I don't want to bother buying a new one if my heart's not in it. I guess I'll just test this one out and see how it goes! I hope it works!
The powder does what it did before. If you missed out on my previous review, don't forget to go here for more! The texture of the powder feels fine and soft. It gives the face an airbrushed look to it. It helps to smooth out the skin. It feels lightweight on the skin even though it gives the skin medium-full coverage. I usually prefer the full coverage look because I don't see the point of wearing makeup if it doesn't do anything for my skin. I'm also using this face power for the SPF. This is what I did before too. Um, before my favorite makeup powder was no longer available. RIP. 😭 I would just use a face powder with SPF for sun protection and coverage throughout the day since reapplying liquid sunscreen is messy and impossible for me, especially with makeup on. I don't want more acne on my face either! Also, my skin is very oily and prefers powders over liquid products. Less breakouts and skin issues overall. With this powder, I took a soft face brush and dusted it all over my face. The powder feels a bit drying on the skin, so make sure to moisturize the skin well beforehand. It contains mineral filters that can dry out the skin. On my skin, mineral filters tend to dry it out. When that happens, the powder settles into the pores and looks not as smooth as it should be. That was my first impression of the powder.
Here's my experience after less than a week! I couldn't use it any longer. This is why!
As mentioned before, it contains mineral filters. I still thought the powder was drying on my skin even after moisturizing, lol. But after a full face application, my skin gets super oily during the day, I would dust more of the powder on my skin to get rid of that oil. I love how the powder absorbs excess oil on my skin. My face is even more oily since it's summer. In the amount of time I used this powder, it looked good on some days. On other days, my skin looked terrible. If you have dry skin, this will not work for you unless you're okay with light coverage. The powder is indeed drying overall. With the dryness, this leads to fine lines and wrinkles becoming more prominent. It settles into creases (yuck!). I avoided applying the powder in areas that has the tendency to crease easily like my under eyes. Reapplying was not fun. The powder doesn't blend well and end up in blotches all over the face. And yes, I heavily moisturized my skin beforehand. Lots and lots of moisturizers. It. Just. Didn't. Work!
As for the coloring, I have the power in Translucent. This powder does have a slight peachy color to it. On my skin, it made my skin look whiter or brighter. However you want to put it. My face looked washed out when the application was fresh on my skin (hmmmm, minerals), but it turned into an orange color after a few hours. There ya go, I'm orange once again. 🍊 ha! Lastly, yes, it can provide medium-full coverage, but it can look cakey if too much is used. The powder starts to settle into the pores and accentuates them much more. I have pretty large pores due to acne, so I didn't like that. So it looks like I didn't like the outcome of this product once again. But this time, I didn't breakout from it. I have my acne under control much better this time around. Thank goodness! I think the Physicians Formula Mineral Wear Talc-Free Mineral Airbrushing Pressed Powder SPF 30 is too drying on my skin to be used as an all-over full face application. I didn't like how the coloring (it's not supposed to have any!!!) of the product changed on my face too. Also, fine lines and wrinkles and so on. Ugh! No, just no. I won't be purchasing or using it again due to this experience and the experience before this, lol.
I do have another powder from Physician's Formula. It's the Physicians Formula Mineral Wear Talc-Free Face Powder SPF 16. The SPF is way too low for me to consider it as an option. I'm not too fond of Physician's Formula powder makeup anymore. They used to be good. I don't know what happened. 😩 So I'm not going to bother with it. It's too bad Physicians Formula Mineral Wear Talc-Free Mineral Airbrushing Pressed Powder SPF 30 didn't work out. I was hoping it would due to the fact that it's summer. I needed more protection for those hot, sunny days. ☀️😎
Don't forget to checkout my update on sunscreens 👈🏻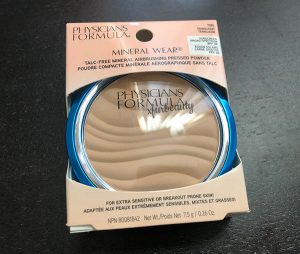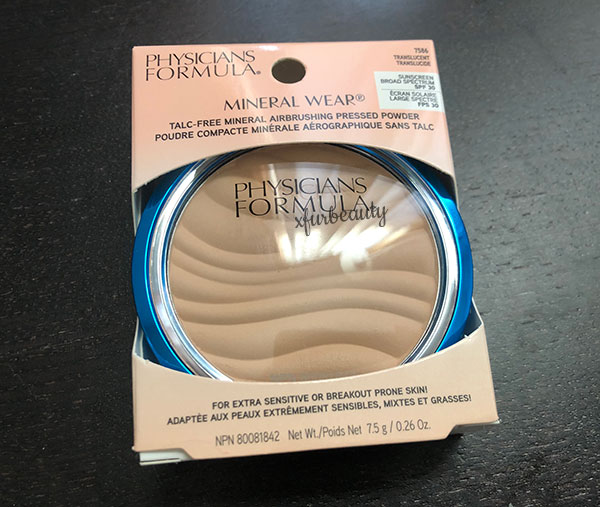 I have a new pressed powder that I've been trying out. It's Physicians Formula Mineral Airbrushing Pressed Powder SPF 30! Check out my review on Physicians Formula Mineral Wear Talc-Free Face Powder SPF 16 if you haven't yet. 🙂 Here are my thoughts on this face powder. I purchased the powder in Translucent. In reality, the color of this powder is apparent. It's not a no color 'translucent' powder as it claims to be. It's more of a light-medium but leaning towards medium. It was a little dark on my skin, but I continued to use it anyways since I already have it. I can work with the color. I still wanted to see what the formula is like. The overall formulation of the product may work. And honestly, I would be happy if it did. I'm having trouble finding a foundation, liquid or powder, that won't clog my pores. Read on! ☺
My experience
This powder feels fine and soft. It smooths out the texture of the skin. It gave my skin an airbrush look as the product is described on the packaging. I was surprised! I really didn't expect that. All of the powders I have tried this year didn't provide my skin much coverage and made my skin look awful. The powder is a medium-full coverage foundation. It can provide light coverage just by simply dusting a bit of powder across the face. With medium-full coverage, it helps to cover minor acne scars and some fine lines here and there. And it actually does help reduce the appearance of fine lines and wrinkles. Besides finding a foundation that doesn't cause breakouts, another reason why I chose this powder is because it contains SPF. I needed a powder on days when I do wear makeup to reapply my sunscreen. There's no way I'm going to apply sunscreen again and reapply my makeup. It just doesn't work. I really do not have the time either.
This powder has a higher SPF compared to the other powder from Physicians Formula (Physicians Formula Mineral Wear Talc-Free Face Powder SPF 16). The SPF in this powder is Titanium Dioxide (15%) and Zinc Oxide (10%). Awesome. But, I had trouble reapplying this powder throughout the day. My skin dried out terribly after each application. It could be because it's a physical sunscreen. I haven't found a single sunscreen that's 100% physical that doesn't dry out my skin, so I tend to stick to chemical blockers. Unfortunately, the powder accentuated every single pore and wrinkle on my face. It made my pores look more obvious. It's just too drying on my skin. I tried using it on my face where I was breaking out in pimples. It made my acne look worse by making my skin look oily and greasy. At the same time, the powder collected into oily areas and dry patches. It didn't truly help to cover spots. The outcome was terrible. I didn't feel comfortable wearing this on top of acne for coverage or my skin for that matter. It looks like the issue with this powder is when I'm layering or reapplying. The more I put on, the drier my skin gets. Otherwise, the first application seems to go well. But I wanted something that I can reapply throughout the day. lol.
Pros & Cons
✅ Pros
❌ Cons
Not true to color. Translucent has color to it.
Can look cakey on the skin when reapplying
Dries out the skin when reapplying
Accentuates pores and makes them look larger
Looks matte after application but skin looks oily after a few hours (if you have oily skin)
Not oil-free. Contains safflower oil. Not necessarily a bad thing but I prefer oil free products due to having excessively oily skin.
Can cause minor breaks if you have oily skin or acne-prone skin. It did for me. I developed tiny spots of pimples.
Conclusion
It looks like this powder didn't work out as I wanted. The idea of this product is absolutely perfect. It provides good coverage. It smooths over fine lines and wrinkles. Makes the skin texture look more youthful. You know, that airbrush flawless look. It also contains SPF 30 to protect the skin from harmful UV rays. I wouldn't mind the color if it didn't dry my skin out and accentuated every pore, fine line, and wrinkle on my face. Also, it has a very short ingredient list, which I really do love! Since the results were disappointing and not up to par, it's time to move on to something new. Farewell. 👋🏻
I stopped using liquid foundations and bb creams. The ones I've used so far have caused more harm than good. My skin needs a break from heavy foundations. Now I'm on the search for the perfect (or at least a decent powder) that doesn't break me out. I picked up Physicians Formula Mineral Wear Talc-Free Face Powder SPF 16. I've used Physicians Formula powders before. I'm pretty sure I've used this one before once upon a time. I just don't remember what it's like. The ingredients are very minimal. It contains less than 15 ingredients. I thought I would give it a chance again due to that fact. I'm running low on options too, since every foundation breaks me out. Also, this powder contains SPF 16 to protect the skin from harmful UV rays. It's not a high SPF pressed powder but every little bit helps. ☀
My experience
This face powder is soft and feels super silky to touch. It's fine and ultra smooth. Very easy to spread on the facial skin. It goes on effortlessly due to the silky and velvety nature of the product. The powder tends to crumble easily when used with a face brush. I lightly swish a makeup brush over the powder, and it's already breaking apart. Perhaps a little too much for my liking. I feel that I'm using more product than I should. I would suggest going light on this face powder. Don't be too heavy-handed. The compact gets really messy too, since powder gets everywhere. To my surprise, this powder gives full coverage. It smooths out the skin and makes it look like I'm wearing liquid foundation without the shine.
I loved the way it looked when I first applied it but reapplying the powder did not work. It made my skin look heavy and cakey. It gave me that too much makeup look that looks fake and made up. It settled into large pores and looked blotchy on my skin. This powder is definitely not good for oily skin. It made my skin appear more oily and migrated all over my face throughout the day. It just sits on top of my skin as it melts all over my face. And to my disappointment, it irritated my skin and broke me out. This powder is just too greasy on my oily skin. I really liked the coverage, but it didn't work out in the end as I had hoped for. I stopped using it immediately after noticing my old breakouts re-clogging and seeing new breakouts appearing out of nowhere.
Pros & Cons
✅ Pros
Fine, soft, smooth, silky, what's more to like? This powder feels like a dream.
Buildable coverage
SPF 16 (6% Titanium Dioxide and 4.5% Zinc Oxide)
❌ Cons
The powder crumbles very easily, which can lead to an excess use of product. The excess product can be tapped off, but it gets annoying. This also leaves the compact messy after use.
Not true to color. Translucent isn't truly translucent. It has color.
Not good on oily skin. Left my skin super oily and greasy.
Can look cakey on the skin
Breakouts. It did for me and irritated those spots. It made my skin red.
SPF 16 is too low. I always shoot for SPF 30+.
Contains squalane. Which I think contributed to breakouts in my skin. It just sat on top of my skin.
Conclusion
Overall, this powder has really good coverage. Much better than I expected, especially when it's a drugstore foundation! The texture of the powder is also silky and smooth. Super soft and velvety. Too bad it's not compatible with my skin type. It's too heavy and oily. Sat on my skin and irritated it, which led to breakouts. Irritated existing pimples and re-clogged them. I noticed my pores filling up so quick. Reapplying this powder was difficult, since it made my skin and overall look appear cakey and made up. It looked like I was wearing a ton of makeup. The powder does contain SPF 16, but it's pretty low, in my opinion. Yes, a little bit of sun protection is better than nothing, but I'm not too impressed. Looks like another dud. I won't purchase again. If you missed out, check out my review on the Mineral Airbrushing Pressed Powder from Physicians Formula: Physician's Formula Mineral Wear Talc-Free Mineral Airbrushing Pressed Powder SPF 30 👈🏻 Thank you for reading. ♥