I started using Neutrogena Hydro Boost Water Gel Lotion Sunscreens again. I have a bunch of sunscreens to use up, and I noticed that I still had Neutrogena Hydro Boost Water Gel Lotion Sunscreens sitting around. What better time to use up my sunscreens than this time of the year. It is summer and sunny after all! ☀️ So with these sunscreens, I'm using them on my body. I didn't like using them on my face. I tried. It just didn't work out as a face sunscreen for me. That's the reason why I stopped using them for a while. You can read more on my previous thoughts on the Hydro Boost sunscreens right here:
Neutrogena Hydro Boost Water Gel Lotion Sunscreen SPF 30
Neutrogena Hydro Boost Water Gel Lotion Sunscreen Broad Spectrum SPF 50
My Experience with Neutrogena Hydro Boost Water Gel Lotion Sunscreen Broad Spectrum SPF (30 and 50)!
I have this sunscreen in SPF 30 and SPF 50. They both work similarly besides each being a different SPF. Honestly, I would choose the SPF 50 over the 30 any day. But I remember my first time trying this product was the SPF 30. The SPF 50 was always out-of-stock. 😢 I prefer sunscreens with a higher SPF. I need all of the sun protection that I can get from a sunscreen. My skin is very prone to freckling. So from the label, it claims that both of these sunscreens are broad spectrum, has an invisible finish, is non-greasy, and water-resistant. They're both chemical sunscreens. Here are the filters in each sunscreen bottle:
SPF 30: Avobenzone 2.7%, Homosalate 9%, Octisalate 5%, Octocrylene 9%
SPF 50: Avobenzone 2.7%, Homosalate 9%, Octisalate 5%, Octocrylene 9%, Oxybenzone 4.5%
I really love the idea of the Hydro Boost sunscreen. It's supposed to be a water gel lotion (what it's called). I've used Asian sunscreens that are lightweight, feels watery on the skin, and just soothing on the skin. They just vanish into the skin while providing sun protection. It's amazing stuff. I think this sunscreen was supposed to be similar to that type of texture and feel. And you know what? The texture and consistency of the Hydro Boost sunscreen wasn't bad at all. It feels like a gel and feels soothing on the skin. It absorbs pretty well into the skin and doesn't leave a sticky, tacky film behind. The sunscreen didn't look greasy on my skin. It was indeed invisible and non-greasy.
This sunscreen is not alcohol-free. It contains denatured alcohol at the top of the ingredient list for both (SPF 30 and SPF 50). I remember using the sunscreen on my face without my skin drying out. It was actually more moisturizing than drying even though it contains alcohol. The alcohol content wasn't that big of an issue when it comes to this product. Even though I do prefer sunscreen products without drying alcohols. I had other issues with it, such as my eyes burning. I can't use this sunscreen near my eyes at all. My eyes start tearing up. It also contains an overpowering fragrance, which I didn't like. I remember it breaking me out too at some point. That's one of the main reasons why I stopped using it.
Another issue that really bothered me (while using it as a body sunscreen) is trying to reapply the sunscreen throughout the day. The product would ball up and just roll off of my skin. So this sunscreen, from my experience, is not good for reapplication. It doesn't layer on properly or in a clean way. I thought it was really annoying to use. If it rolls off of my skin, that means the product isn't working to protect my skin. I finally finished the SPF 30 bottle this week. I'm almost done with the SPF 50 too. I most likely won't purchase either one again. I didn't enjoy using them. I'm just glad I'm done with them, but it was nice to try them out again.
More thoughts on sun care products!! 👇🏻👇🏻👇🏻
More Sunscreens I Tried Again for Summer!
Review: Trader Joe's Daily Facial Sunscreen Broad Spectrum SPF 40
Review: Cetaphil Sheer Mineral Sunscreen Stick Broad Spectrum SPF 50
Update: Cetaphil Sheer Mineral Sunscreen Stick SPF 50 + Other Cetaphil Mineral Sunscreens
I have a new sunscreen! La Roche-Posay Anthelios Body & Face Mineral Sunscreen Gentle Lotion SPF 50! Does it work?
Trying CeraVe Hydrating Mineral Sunscreen SPF 30 Face Sheer Tint + Review!
Categories:
Tags:

Acne, Acne Skin, Acne-Prone Skin, Anti-Aging, Beauty, Experience, Helioplex, Hydro Boost, Neutrogena Hydro Boost Water Gel Lotion Sunscreen Broad Spectrum SPF 30, Neutrogena Hydro Boost Water Gel Lotion Sunscreen Broad Spectrum SPF 50, Non-greasy, Oily Skin, Review, Skin Care, Skin Care Products, Skincare, SPF, Sun Care, Sun Protection, Sunblock, Sunscreen, Water Gel Lotion, Water Gel Lotion Sunscreen, Wrinkles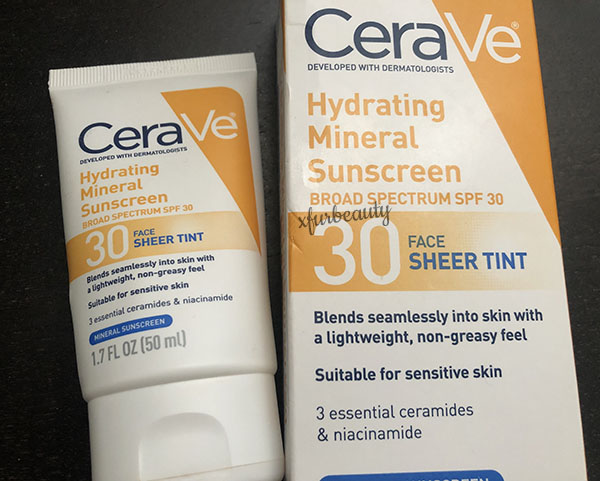 I had a chance to try out CeraVe Hydrating Mineral Sunscreen SPF 30 Face Sheer Tint. I was getting annoyed with the white cast that mineral sunscreens give off even after blending it into the skin. That darn white cast (though sometimes subtle) never truly goes away. And I'm also trying to wear less makeup and focus on taking care of my skin aka controlling my acne breakouts. The less skin care products on my face, the better. So it seems like it after eliminating a ton of skin care products from my routine. So one day, I did a quick search and this product popped up. It's the CeraVe Hydrating Mineral Sunscreen SPF 30 Sheer Tint!
So I'm not too fond of CeraVe skin care products. I haven't had a good experience with this brand, and I've tried plenty of their products. It's like my face just doesn't like CeraVe. I've tried products from sunblock (tried it more than once), moisturizing cream, eye cream, face washes. The leave-on products break me out, face washes don't leave my skin feeling clean (breakouts), and the eye cream is simply a waste of money. It does absolutely nothing, doesn't even moisturize. The only product that I can tolerate is the CeraVe Healing Ointment. I rarely use it on my facial skin. Only when I have dry patches of skin on my face. Otherwise, I use it on my lips to moisturize. This is the only good product that works on my skin that I have from CeraVe, lol. With that in mind…
Now back to CeraVe Hydrating Mineral Sunscreen SPF 30 Face Sheer Tint.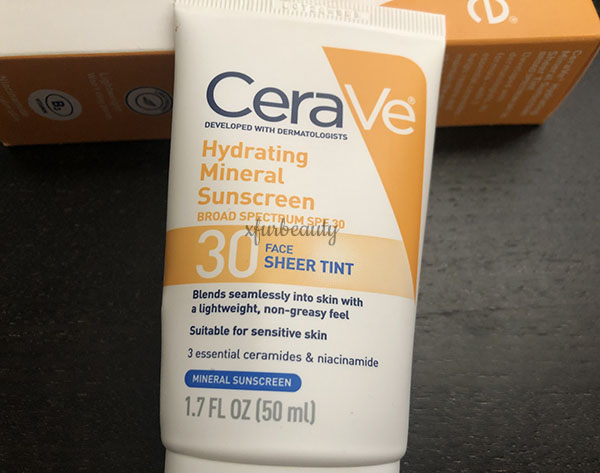 My Thoughts on CeraVe Hydrating Mineral Sunscreen SPF 30 Face Sheer Tint!
This tinted sunscreen product comes in a 1.7 fl. oz. (50 mL) tube. It's actually pretty cute. I really like the packaging and coloring of it. So this isn't a high SPF product. It's only SPF 30. I wish it was at least SPF 50, but it is what it is. I decided to pick up a box anyways. The product is NOT sealed upon opening. I prefer products that are sealed. That was a huge disappointment. As for the product itself, it's a cream that feels super soft and moisturizing. The ingredients include ceramides, niacinamide, and sodium hyaluronate. Knowing the ingredients, this product would provide some skin healing, moisturizing benefits. Pretty awesome, especially when my moisture barrier was on fire.
When I applied the cream to my face, it smoothed over the skin very easily and effortlessly. It feels soft, smooth, and very, very moisturizing. I must emphasize how moisturizing it is on the skin. I think a little too moisturizing for my skin type, which is the oily type. I was a bit worried since I know I can't use products this moisturizing. On the box, it did say that it's a 'hydrating mineral sunscreen'. It truly is hydrating. But on my skin, it looked very oily and I would say on the greasy side. I had to apply another product over CeraVe to tame the oiliness, greasiness. If you have dry or normal skin, this might work better for you. It just made my face look like pure grease.
As for the shade of the product, there's only one shade available. It's a sheer tint product. It's supposed to work on all skin colors from extremely pale to deep, rich skin tones. On my skin, it was too dark and a little too orangey for my taste. I tried to make it work, but when I was going out, I noticed my face looked super orange compared to the rest of my body. The cream does blend and vanish into the skin, but there's still an orange tinge left behind. It just made my face look like a pumpkin. 🎃 Also, there is no coverage (if that's what you're looking for). It's a sheer tint (what it is). I'm putting this out there because I can understand that some people might have acne marks, dark under eye circles, and uneven skin tone they want to cover even when using a tinted product. This product won't cover them at all.
This is what the cream looks like. It's an orange, tan color. I think this would work best on medium, golden skin tones. I think I'm too pale for this product. 😢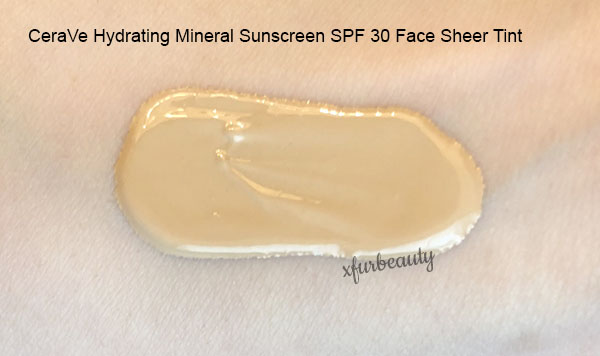 Lastly, did it break me out? I've been using it for about a week. At first, I thought I found a pretty good moisturizer even though I didn't like the shade of the product. I was super excited! I was planning on using it anyways because of that. But, nope, I noticed clogged pores by the end of the week. The product is too heavy on my skin. Way too oily. Way too greasy. It didn't sit on my skin well. It feels wet and feels like my face is being suffocated. The cream also transfers onto clothing and can easily be scraped off the face. lol. Maybe my face is just too oily?
I was initially attracted to this product because I wanted a mineral sunscreen that didn't leave a white cast behind. That white cast settles into the eyebrows, hairline, and creases of the skin. I noticed it made my skin look blotchy too. I can see white patches of sunscreen even after blending and blending some more. I needed a product that would hide that white cast. I thought this product (or any other tinted product) would make it easier to reapply sunscreen throughout the day too, since I wouldn't have to deal with that embarrassing white cast. But it looks like this isn't it for me. It just didn't work out. I guess this is another CeraVe product down. lol. There's something about CeraVe products that don't mesh with my skin. Oh well. Moving on, hahaha.
Categories:
Tags:

Acne, Acne Skin, Anti-Aging, Beauty, CeraVe, CeraVe Hydrating Mineral Sunscreen SPF 30 Face Sheer Tint, Experience, Hydrating, Makeup, Mineral Sunscreen, Review, Skin Care, Skincare, SPF, SPF 30, Sun Protection, Sunscreen, Wrinkles