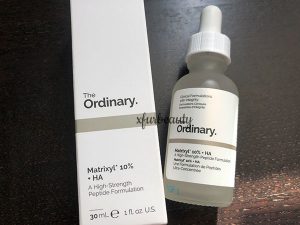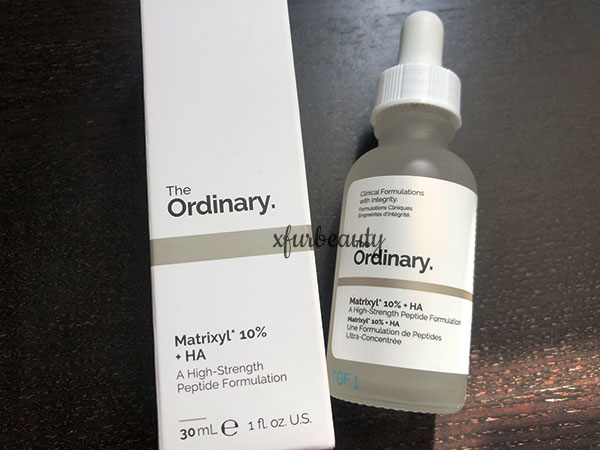 Here's another The Ordinary product I decided to reintroduce back into my skin care routine!! It's The Ordinary Matrixyl 10% + HA! The other one I added back into my routine is The Ordinary Argireline Solution 10%. <<< My thoughts on it right here. CLICK! 🙂
So, just like The Ordinary Argireline Solution 10%, I've been using it for nearly a week. I've always wanted to use The Ordinary Matrixyl 10% + HA on my face. I thought I would try it out again after having issues with it last time. I broke out from it. Yep, once again, it's probably that vegan diet again. Well, let's see if it works this time around or not. So this serum feels like an actual serum. It's not runny. It comes out in blobs. It's not the most pleasant serum to use, but I'll use it anyways since it's a high strength peptide formula. It should be good for fine lines, wrinkles, and anti-aging in general. That's why I purchased it in the first place. Hoping that it'll help with these skin issues (now and in the long run). After a week of using this serum, I didn't notice big changes in my skin, but I did notice that my skin looked a lot smoother than before. I think it's working! Maybe! And this is after only a week of using the serum. The changes may be little, but I'm really excited for the results if this is how it's going to go. After a single week??!!! Wow, I'm so amazed! Also, I didn't get any clogged pores from this serum! WOW!! That's just so awesome! I struggled with clogged pores (closed-comedones) with this serum before. I guess it wasn't it. I'm glad to be able to use The Ordinary Matrixyl 10% + HA on my skin again without breaking out or having other skin issues. I love it so far! I'm looking forward to future results!
It looks like everything is going well with this serum! Stay tuned for an update on my results soon! See you all there! 😊
Other skin care products I reintroduced into my routine recently…
I Used Benton Fermentation Essence Last Night. This Is What Happened.
My Update on Benton Fermentation Essence. Did It Clog My Pores??
Trying Skin79 Super+ Beblesh Balm Orange Again!
My Thoughts on Purito Galacto Niacin 97 Power Essence!
It looks like my routine is growing again! But all is well as long as I don't get breakouts from them! hehe!
Categories:
Tags:

Acne, Acne Skin, Anti-Aging, Anti-Wrinkle, Beauty, Experience, Fine Lines, Matrixyl, Oily Skin, Peptide, Review, Skin Care, Skin Care Routine, Skincare, The Ordinary, The Ordinary Matrixyl 10% + HA, Wrinkles