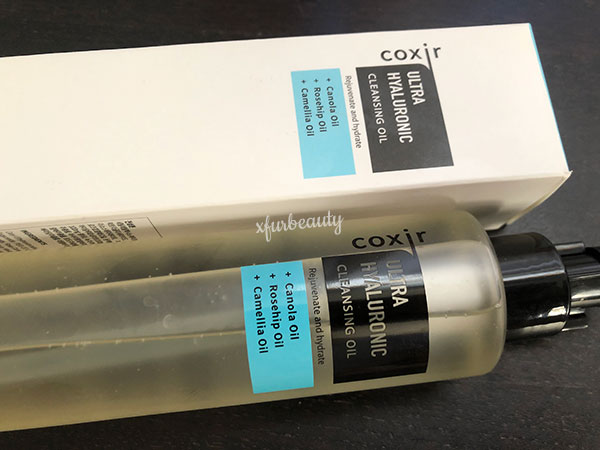 I haven't introduced this cleansing oil yet, but I finished using it yesterday. It's called Coxir Ultra Hyaluronic Acid Cleansing Oil. I started using it after finishing Kose Softymo Speedy Cleansing Oil. Here's more about Coxir Ultra Hyaluronic Acid Cleansing Oil!
This cleansing oil is supposed to remove dirt, blackheads, and sebum. It's a moisturizing formula that contains hyaluronic acid to hydrate and moisturize the skin. It leaves the skin feeling refreshed and supple after every cleanse. It also contains camellia oil, rosehip oil, canola oil, and aloe vera extract. Other ingredients in this cleansing oil includes tea tree, acerola, blueberry, grape, and sweet cherry.
So I'm not really big on cleansing oils. I feel like I've said this so many times, lol. Honestly, I really can't see the difference in my skin using a cleansing oil and not using one. I've been using oil (just pure oil) to cleanse my face as a makeup remover for so many years. I find that using oils, such organic coconut oil and extra virgin olive oil works the same without the high price tag. I still have a large container of organic coconut oil that I use to cook with and for beauty purposes. A huge tub of organic coconut oil just lasts forever compared to a bottle of pre-mixed oil. So that's why I'm not too wild about pre-mixed cleansing oils. Since I still have them, I'm just going to use them for now.
Here are my thoughts on Coxir Ultra Hyaluronic Acid Cleansing Oil…
This cleansing oil feels like any other cleansing oil. It feels a little thick and oily (duh, lol). It moves over the facial skin just fine. It feels soft and smooth on the skin. I didn't have any issues with it tugging at my skin. I didn't use this cleansing oil alone. I used it as a makeup remover only. So I used this cleansing oil first then followed up with my everyday face wash. It helped to breakdown my makeup before washing my face. I think it did a better job at removing my eye makeup including my stubborn waterproof eye makeup compared to other cleansing oils I have used. This cleansing oil gets a thumbs up for that! Even though the product says that it'll help remove dirt, blackheads, and sebum, I wouldn't trust that. Once I rinsed the oil off of my face, my skin didn't feel clean. Just oily. A good facial cleanser is recommended after using the cleansing oil. That's what I did as mentioned. I didn't get any breakouts because of that. It didn't help with blackheads like it claims to do. I experienced some blackheads when I was using it (not from the cleansing oil). I'm just saying that the cleansing oil didn't do anything for blackheads. It's not going to remove them. My overall experience with this cleansing oil wasn't too bad. I mean, it helped remove my makeup very well due to the thickness of the oil. I remember using iUNIK Calendula Complete Cleansing Oil, and this product was terrible at removing my eye makeup. So it all comes down to, am I going to purchase Coxir Ultra Hyaluronic Acid Cleansing Oil again? Probably not. I don't need it that's all.
Now on to other thoughts…
Here are some more products I stopped using! Yeah, I've been eliminating products from left to right. Have a much more minimal routine since I don't have time to apply this many skin care products daily anymore. It just became way too much for my lifestyle. If you missed out on my previous posts on products I gave up on, here they are!
Skin Care Products I Stopped Using
Continued: Skin Care Products I Stopped Using
***
I stopped using 2 moisturizing products from my moisturizing skin care products list. They are Hada Labo Gokujyun Premium Lotion and Cos De BAHA MA Peptide Facial Toner…
Hada Labo Gokujyun Premium Lotion:
I really liked this hyaluronic acid toner (gel moisturizing product). It does give my oily skin the moisture that it needs, but I think it's way too much moisture for me. More than I actually thought. I started noticing a greasy and more oily complexion while using it. I mean, I love the combination of hyaluronic acids in this product but perhaps this product is too heavy for the warm, hot, humid weather where I'm at. My skin just feels way too damp. I noticed a few breakouts out of nowhere while using it. I feel like my skin retaliated against the excess moisture, so I decided to stop using it for now. Maybe I'll bring it back in the winter if my skin gets dry. I actually feels nice to not use it. I'm trying to accelerate my routine. haha. It's a good product, but it's not so much for me right now.
Cos De BAHA MA Peptide Facial Toner:
I decided to remove Cos De BAHA MA Peptide Toner from my moisturizing routine. I like the ingredients in this product and the fact that it does hydrate my skin. It makes my skin appear moisturized and smooth. It's just that I don't really need it. I started to feel like it's an extra step in my moisturizing my skin. It's just another product that isn't necessary. So I don't think I'm purchasing it again when I'm done with it. It's time to say goodbye to this facial toner. 👋🏻
There goes 2 more products being dropped from my moisturizing routine. I like what I'm doing right now, but I may stop using more products if I don't see any results from them. Stay tuned for more updates!
Categories:
Tags:

Acne, Acne Skin, Beauty, Blemishes, Cleansing Balm, Cleansing Oil, Coxir, Coxir Ultra Hyaluronic Acid Cleansing Oil, Experience, Hyaluronic Acid, Hyaluronic Acid Cleansing Oil, Lifestyle, Makeup, Makeup Remover, Moisture, Moisturizing, Review, Skin Care, Skin Care Routine, Skincare