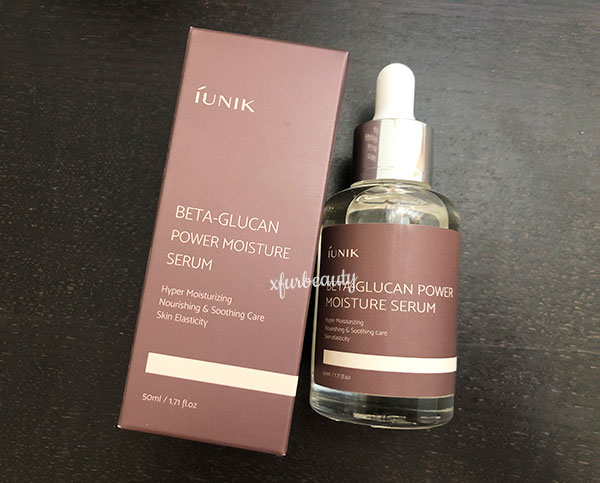 I tried iUNIK Beta-Glucan Power Moisture Serum again this week! Keep in mind that I stopped using all of my skin care products besides a facial cleanser, acne products, and sunscreen. It's been going well, but I had to take a 3 day break to let my skin rest and heal. I noticed that I still had a bottle of iUNIK Beta-Glucan Power Moisture Serum. I thought I would try it out to hydrate and heal my skin during this short period of time. Also, this serum only has 6 ingredients in it. Here's the ingredient list: Water, butylene glycol, 1,2-hexandediol, beta glucan, sodium PCA, ethylhexylglycerin. That's a very short list of ingredients. So what happened when I used it??
Here's a recap on what this product is supposed to do for the skin. It claims to be hyper moisturizing, nourishing, soothing, and improves skin elasticity. Beta-glucan helps to moisturize and strengthen the skin's barrier, brightens, and helps with wrinkle care. My skin was irritated from my acne products, and this serum seemed like it would help to moisturize and nourish my skin. The texture of the serum is soft, smooth, and moisturizing on the skin. It's a slightly thicker serum (compared to other serums I've used). Once it fully absorbs into the skin, it leaves the skin feeling hydrated upon application. The moisture from the serum isn't long-lasting. My skin felt dry after a few minutes. I didn't use anything else on my skin afterwards. Just this serum. I didn't reapply the serum either for more moisture. Why would I have to? It should work with a single application, right? One application is all I did. I lasted 3 days on this serum. I tried using it in the morning once, but I didn't like how it made my skin more oily. I mainly used it at night to hydrate my skin. Sadly, it didn't work as I thought it would. It dried my skin out terribly. My skin didn't feel hydrated or moisturized.
Some other issues I had with this serum is that it made my skin feel a little more rough instead of soft and moisturized. My skin felt crusty. It didn't help soothe, nourish, or brighten my skin. I noticed my skin was more red and irritated as I continued to use it. It could be the star ingredient or other ingredients (or a combination of ingredients/formulation) that my skin didn't agree with. I noticed new breakouts while using it too. I developed a cyst and a few tiny clogged pores on my chin out of nowhere. Once I noticed the breakouts, I stopped using it immediately. I'm glad I stopped using it before it gets even worse than I have experienced. After using this product, I think my skin is better off just not using anything at all besides what is necessary (cleanser, acne products, sunscreen, or nothing). I was going to try out my other serums and essences since I still have them (still trying to finish them!), but my experience with this serum alone really did put me off from using any other serums or essences on my skin. 3 days of use and I'm already breaking out in acne. I'll just use the rest of my leftover skin care products on my body instead and be done with them. There's no going back after this. They just don't work on my skin.
I hope this review was helpful. Stay tuned for my update on my acne journey coming up this week! 🙂
Categories:
Tags:

Acne, Acne Skin, Anti-Aging, Beauty, Beta Glucan, Beta Glucan Serum, Experience, Facial Serum, iUNIK Beta-Glucan Power Moisture Serum, Lifestyle, Moisturizing, Review, Skin Care, Skin Care Products, Skincare, Wrinkle Care, Wrinkles