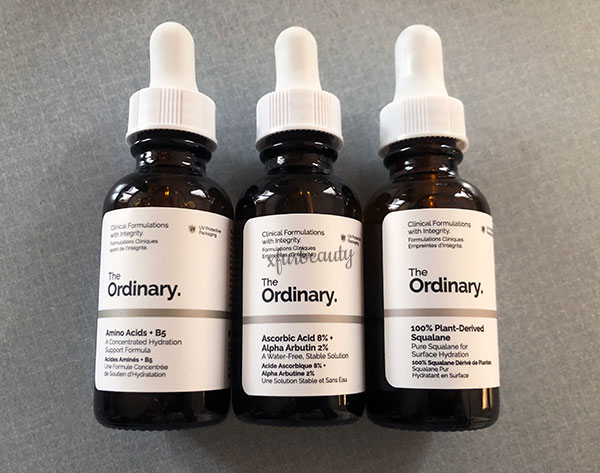 Here's a list of The Ordinary skin care products I'm trying to finish. I've been trying to use them every night. I couldn't use most of them during the day. The texture of most of these serums are too thick, heavy, and greasy on my skin. I started to get itchy from them too due to the oiliness of the serums. But I've been trying to purge these products from my life. But since I've been using them consistently, what are my thoughts on them now? Are they any good? Will I try them out again or just drop them from my routine? Keep reading to find out!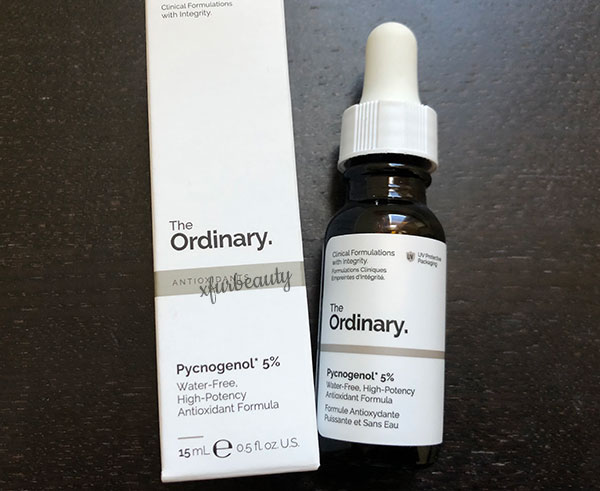 I remember when I first purchased this serum. I thought it would work well with my other antioxidants. The product advertised itself to recycle oxidized vitamin c. It's supposed to help hydrate the skin and improve skin elasticity. Also, scavenge free radicals and so much more. When I was using vitamin c serums, my face was darker than the rest of my body. My facial skin was literally a pumpkin. 🎃 Who knows if the pycnogenol serum did anything to help recycle oxidized vitamin c. The overall formulation of this product is moisturizing, but it's more on the greasy, heavy side. It didn't help to rejuvenate my skin or improve skin elasticity. I didn't notice any changes in my skin. Why did I purchase this again? lol. The bottle of the serum is tiny. It comes in a 0.5 fl. oz (50 mL) glass dropper bottle. It's cute and all, but it's not worth it for me. It did nothing for my skin. I've been using more than one drop (more than I usually use) to finish it up. Still, it's taking forever to finish it. It lasts forever. I guess that's a good thing if you're interested in this product. I'm on my last bottle and can't wait to be done with it!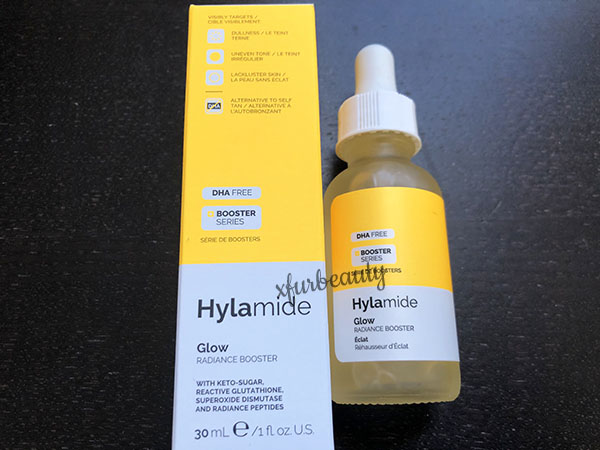 Before I begin, this product is a self-tanning serum. It contains a raspberry derived alternative instead of self-tanning ingredient DHA to build pigment in the skin. The purpose of this product is to give the skin some radiance, golden glow after 2-3 days of use. I made a mistake of purchasing this product thinking that it would help fade some acne marks and skin discolorations. It's a self-tanning product, not a product to help fade acne marks or post-inflammatory hyperpigmentation. The last time I used a self-tanning product was when I was a teenager. That was when it was all about having that bronze, glowing tanned skin for me. Since I've only used self-tanning products to get a tan, I think I saved my skin from UV damage over the years. Looking back, I'm pretty happy with most of my skin care decisions. haha. I said most, lol.
When I first opened this product, it smelled so bad. I almost vomited. The smell of the product just gives me headaches as I continued to use it. The smell lingers on the skin too. I haven't used this on my face in months due to it having an awful smell. But also, I didn't really like the results. The times I used it on my face, I took a few drops and pat the serum into my skin, twice a day. After a few days, I noticed some color in my skin. It really does add some pigment into the skin. Unfortunately, it made my skin extremely yellow (just like the color of the serum). I was expecting a more natural, less-yellowish hue to my skin. More like a light tan, bronze shade that I got from my past tanning products. I didn't get those results from this product. I stopped using it. It takes some time for the color to fade, so my skin was just bright yellow for a while. I don't remember how long it lasted, but I could clearly recall how yellow my face was. I've always liked the smell of tanning products but this one just stinks. 🤢
The Ordinary 100% Plant-Derived Squalane: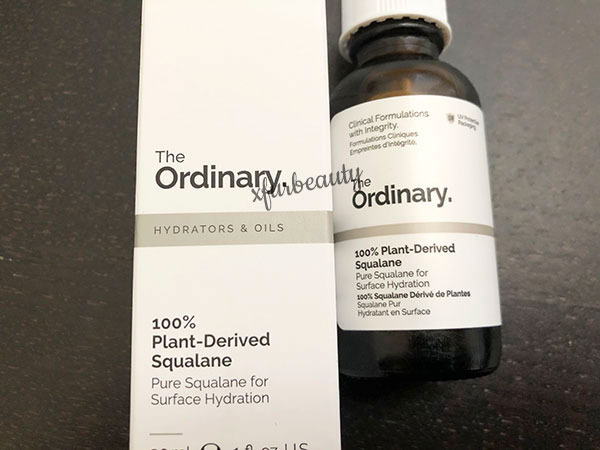 I used to love squalane in products when I first started off with skin care. I was able to use them without clogging my pores. But it seems like pure 100% squalane does a number on my skin. The oil sits on top of my skin and doesn't absorb as quickly. The product claims that this serum is a fast-absorbing oil-like serum. No, it didn't absorb fast. It felt heavy and greasy on my skin. It saturates the top layer of my skin and just sits there. It just makes my skin appear more oily. It doesn't hydrate or moisturize my skin either. Maybe oils are just not for me. This squalane oil serum didn't work for me. I didn't like the way it felt on my skin. I've been using it on my feet to get rid of it, lol. I can't use it on my upper body. It sticks to everythinga and (once again) it doesn't sink into the skin properly.
The Ordinary Amino Acids + B5: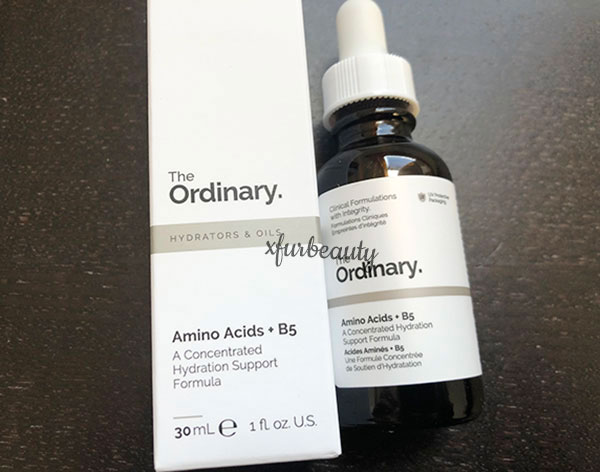 One of The Ordinary products that feels like water. 💧 The purpose of this serum is to add hydration to the skin. The key ingredients are Betaine, Arginine, Panthenol, Sodium PCA, Sodium Lactate, and PCA. It also contains other amino acids, to name a few, Valine, Proline, Isoleucine, Phenylalanine, and Threonine. The product is called 'Amino Acids' for a reason. It contains a bunch of amino acids in it. B5 or panthenol is a b vitamin. Panthenol is an ingredient that soothes, moisturizes, and strengthens the skin. I love skin care products with this ingredient. It's non-irritating and leaves my skin in good condition. But, this serum didn't live up to my expectations. As I mentioned, the serum feels like I'm applying water to my skin. It didn't leave my skin feeling hydrated at all. I tried applying it once (didn't hydrate my skin well) and applying layers of the product to my skin (no hydration or extra hydration, just wasted product). Honestly, I didn't think this serum did anything special for my skin including something as basic as hydration. It absorbs into the skin quick, but I didn't see any noticeable improvements in my skin. This serum was a waste of time and money. On my skin, at least.
The Ordinary Retinol 1% in Squalane: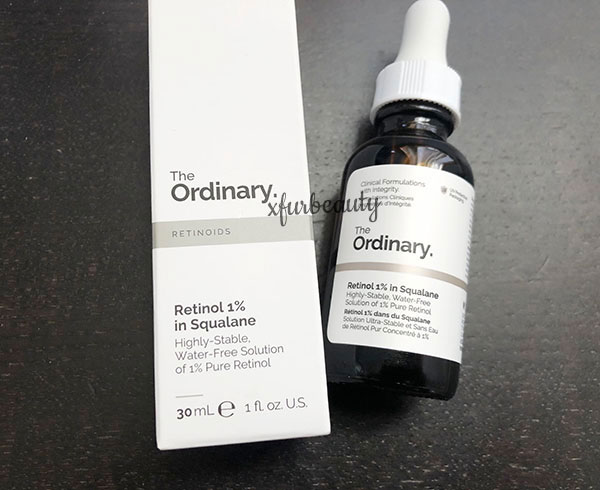 The purpose of this retinol product is to help with uneven skin tone, texture irregularities, signs of aging, and dryness. Bingo. That's what retinol does for the skin. For me, even though this is advertised as high-strength retinol, I thought it was too gentle on my skin. I wasn't able to use it for too long due to the other ingredients being incompatible with my skin type. I thought the texture and consistency of the serum was too oily. The first ingredient in this product is squalane. And I know that squalane won't work on my skin if it's the first ingredient or base of the serum. It also contains jojoba seed oil and tomato fruit extract. I wish the ingredients were even shorter for my acne-prone skin. This serum ended up breaking me out (not a purge). It clogged my pores, and my skin never improved using it due to the breakouts. I don't think this is a terrible product. If your skin can handle the other ingredients besides retinol in this product, it could work for you. My skin didn't like the overall formulation of this retinol product. So, as you can see, I've been using it on my body instead.
The Ordinary Resveratrol 3% Ferulic Acid 3%: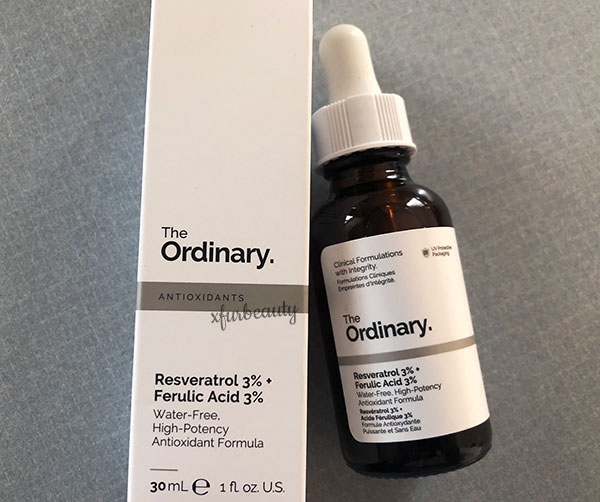 So the purpose of this serum is to help with dullness and target the signs of aging. I'm a fan of resveratrol and ferulic acid. And I was madly in love with this antioxidant serum for a while. I kept trying it over and over again. I even tried it on my face again not so long ago. I was hoping that it would work on my skin because it's an affordable serum and contains resveratrol and ferulic acid. Nope, too bad, my skin rejected this serum. I started breaking out in acne out of nowhere. I didn't have to use this serum for too long to develop breakouts. I think I'm finally over this serum. I don't have the urge to use it on my facial skin anymore, lol. I love the active ingredients in it, but the overall formulation of the product is too heavy and greasy for my oily skin. It makes my skin even more greasy and shiny. So I'm glad I have finally detached myself from using it ever again (on my face). I thought about purchasing it for the skin on my body (haha!), but I can't seem to get over how greasy it is. It's official. I'm over it. It's time to move on.
The Ordinary Ascorbic Acid 8% Alpha Arbutin 2%: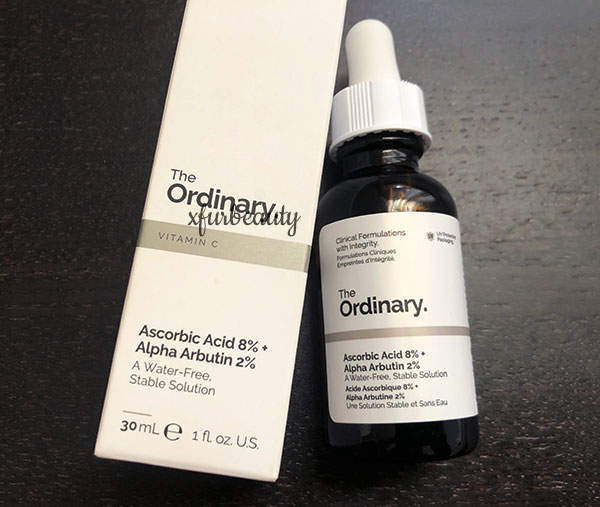 Another product that I kept on going back to like the Resveratrol & Ferulic Acid is the Ascorbic Acid & Alpha Arbutin. The purpose of this serum is to even out the skin tone, combat signs of aging and dullness, and it's also an antioxidant (woohoo vitamin c!!). I was in deep denial when I was using this serum (not the first time, lol). With this serum, I didn't notice much brightening in my skin. I didn't notice fading of acne marks or post-inflammatory hyperpigmentation either. My skin actually turned orange. It made my face darker than the rest of my body. I just kept using it because it was affordable and contains vitamin c plus alpha arbutin. I didn't think it was worth using anymore due to poor results. But also, the serum has a greasy, heavy feel to it (like a bunch of other The Ordinary skin care products). I was using it in combination with the Resveratrol & Ferulic Acid serum, and it was a huge disappointment. I can't believe I stuck with it for years! This serum isn't coming back to my routine. Once I'm done with it, it's done.
The Ordinary Lactic Acid 10% + HA: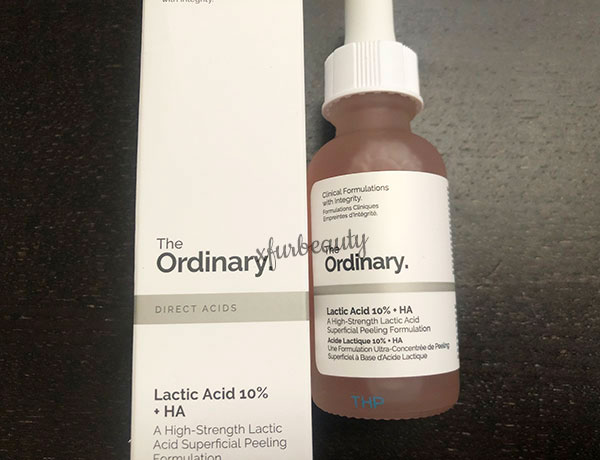 I really love lactic acid. It's one of my favorite aha products. It's gentle, works to exfoliate the skin, leaves the skin looking glowy and smooth. It's just amazing. I'll choose it over glycolic acid any day. It simply works better on my skin with less irritation. So this lactic acid serum is a high-strength exfoliator that works to reveal smoother skin. It's for uneven skin tone, texture irregularities, and skin dullness. All I needed was a few drops for the whole face, pat it into the skin, and that's it! It absorbs pretty fast into the skin without leaving any sticky residue and doesn't feel heavy or greasy on the skin. It's not like the other The Ordinary serums that I've talked about. This one is lightweight and feels decent after application. I've used this product on and off over the years. The first time I used it was a mess. My skin was just terrible and nothing was working. Not even this lactic acid serum alone. I stopped using it for a while. I started using it again, and it seemed like it worked better on my skin this time around! I was shocked and excited at the same time. My skin was actually peeling like it's supposed to when using a chemical exfoliator. Keep in mind that this is the 10% formula. It's much stronger. If you're not experienced with lactic acid, The Ordinary has the 5% formula. I haven't tried the 5% yet. I've only used the 10%. I stopped using this product because I went on to use other products to treat my acne like salicylic acid. They seem to work better for my acne than lactic acid. So, in saying that, I would definitely give this serum a try again if it comes to it. That's if my other acne products stop working. I'm currently using this product up right now because I don't want to let it expire. It'll be a waste.
The Ordinary Argireline Solution 10%: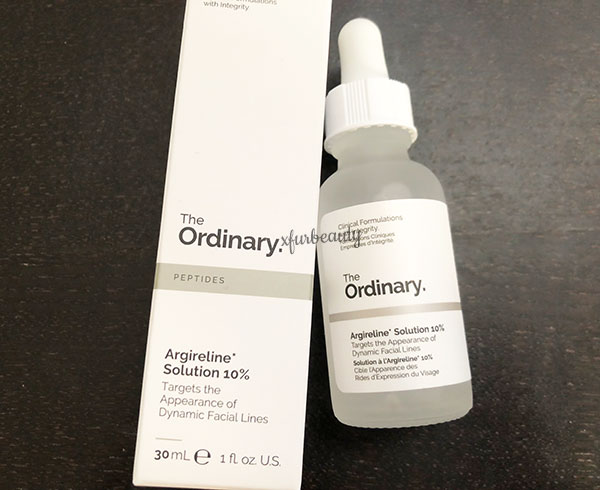 This product is advertised as a 'non-injective' solution for dynamic lines. It's supposed to treat crow's feet and signs of aging. Some say it's 'botox in a bottle'. The star ingredient in this product is Acetyl Hexapeptide-8. I don't have major dynamic wrinkles, but the product did claim that it'll help with signs of aging. I have some signs of aging that I could tackle or at least prevent. The serum is a watery liquid and very easy to use. It absorbs into the skin fast and leaves the skin feeling like there's nothing on the skin. It felt like I was applying water to my skin. As for the results, I didn't like what it did to my skin. I noticed my skin started to look droopy and saggy. Like, what, what's going on? I stopped using it immediately, but that was after going through a more than a few bottles. ha! *sigh* My skin bounced back to what it was before using the product. Thank goodness! While using this serum, I would like to mention that my skin didn't freeze or feel motionless. From my experience with this product, I won't purchase again. Honestly, I don't care much about it anymore. Just trying to finish up what I have now (not on my face).
The Ordinary Matrixyl 10% + HA: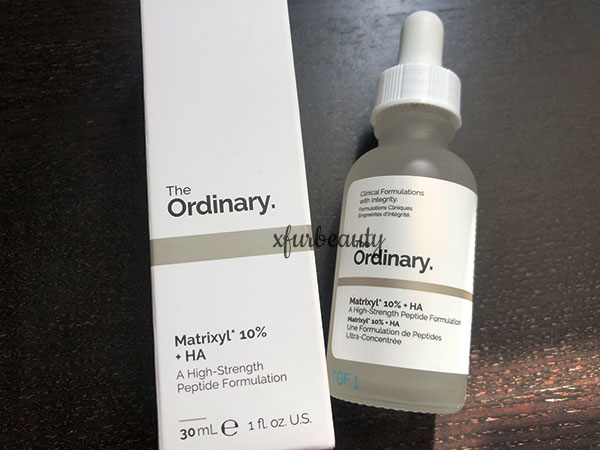 With The Ordinary Argireline Solution 10%, I used the Matrixyl 10%. The Ordinary Matrixyl 10% + HA is a skin-firming serum that targets fine lines and signs of aging. This product contains peptides, such as Palmitoyl Tripeptide-1, Palmitoyl Tetrapeptide-7, Palmitoyl Tripeptide-38. I've gone through several bottles of this serum too. I'm not sure if it did anything for my skin. In my mind, I was hoping that it did and will. 😁 It's an affordable product that contains peptides. I stopped using this product on my face. My skin doesn't like the texture of the serum. It's a gel that blends into the skin well, but it seems to dry out my facial skin and irritates it to no end. After quitting this serum for months, maybe I should try it again? lol. Not on my face but the skin around my eyes. I have some fine lines that I want to get rid of or at least diminish. Hopefully it'll help with the 'signs of aging' too. Why not? I still have it. I think this is the only serum I'll make an update on soon! Counting down the days and look forward to a new review on The Ordinary Matrixyl 10% HA!!
I do have more products from The Ordinary that weren't included on this list like The Ordinary EUK 134 0.1% and The Ordinary Mandelic Acid 10% + HA. They're on my list to finish up, but I'm feeling a bit overwhelmed with the amount of products I'm using right now. 😮‍💨 I'll get to them when I can. More reviews coming up soon!
Categories:
Tags:

Acne, Acne Marks, Acne Scars, Acne Skin, Alpha Arbutin, Amino Acids, Amino Acids + B5, Anti-Aging, Anti-Wrinkle, Antioxidant, Argireline, Argireline Solution, Ascrobic Acid, Beauty, Booster, Botox, Brightening, Brightening Serum, Exfoliant, Experience, Facial Serum, Ferulic Acid, Glow, Hyaluronic Acid, Hylamide, Hylamide Booster Glow, Hyperpigmentation, Lactic Acid, Lifestyle, Matrixyl, Plant-Derived Squalane, Resveratrol, Retinol, Retinol in Squalane, Review, Skin Care, Skincare, Squalane, The Ordinary, The Ordinary 100% Plant-Derived Squalane, The Ordinary Amino Acids + B5, The Ordinary Argireline Solution, The Ordinary Argireline Solution 10%, The Ordinary Ascorbic Acid 8% Alpha Arbutin 2%, The Ordinary Lactic Acid 10% + HA, The Ordinary Matrixyl 10% + HA, The Ordinary Pycnogenol 5%, The Ordinary Resveratrol 3% Ferulic Acid 3%, The Ordinary Retinol 1% in Squalane, Vitamin C Powder, Vitamin C Serum, Wrinkles