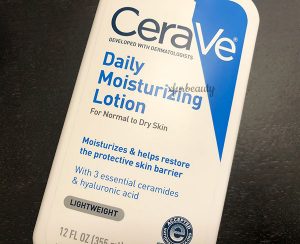 I picked up a bottle of CeraVe Daily Moisturizing Lotion when I was trying to find a good moisturizer for the cold, winter months. This seemed like a good choice. Everyone seems to like CeraVe, right? lol. So the purpose of this lotion is to moisturize and restore skin's natural protective barrier. It's lightweight, non-greasy, and provides 24-hour hydration. Contains ceramides and hyaluronic acid. It's non-comedogenic, oil-free, and fragrance-free. I'm on my second bottle of this lotion. Here's my experience with this moisturizer!
My experience
This lotion feels lightweight on the skin. It absorbs into the skin easily and doesn't leave a greasy feeling behind. It moisturizes, but it's not super moisturizing. If you're searching for a lotion that is extremely moisturizing, this isn't it. It's a pretty basic lotion. I love that it contains ceramides and hyaluronic acid, but I didn't see much of a difference in the texture or condition of my skin using this lotion. I was dealing with very dry skin. I had to use another moisturizer to fix that dry, itchy skin I was experiencing. CeraVe Daily Moisturizing Lotion didn't help much. I find CeraVe very average at best. It didn't live up to the glowing reviews. Yeah, it contains ceramides, hyaluronic acid, and is fragrance-free, but I wasn't impressed. My skin didn't feel moisturized using it. I needed something more moisturizing. The moisture in this lotion didn't last on my skin either.
So I didn't use this lotion on my face. It contains caprylic/capric triglyceride, cetearyl alcohol, cetyl alcohol, cetearth-20. Looks pretty pore-clogging to me. I've used CeraVe products on my face before in the past. It claims to be non-comedogenic, but from my experience, it clogged my pores. I can't use CeraVe products on my face. If you missed out on my review on their sunscreen, check it out! 👉🏻 CeraVe AM Facial Moisturizing Lotion with Sunscreen That sunscreen didn't work out for me either. For the full review, click on the link! 🙂
Overall, this lotion isn't too bad as a daily moisturizer. At least it doesn't leave a weird film behind and doesn't feel oily on the skin. It sits pretty comfortably on the skin. Also, it didn't irritate my skin. It's gentle and doesn't make my skin feel itchy. If you're able to use it on your face, you're pretty lucky because I wish I could. It's not too expensive considering the ingredients and quality of the product. But, I think it's more of a body lotion for me. But will I continue to use it after finishing the second bottle? Probably not. It's not moisturizing enough for my body.
Pros & Cons
✅ Pros
Feels lightweight on the skin
Gentle on the skin
Good for daily use
Contains ceramides and hyaluronic acid
Fragrance-free
Doesn't irritate the skin
Doesn't make the skin itchy
Not irritating
❌ Cons
Conclusion
Even though I like the ingredients in this lotion, I don't think I'm going to purchase it again. It just felt like any other moisturizing lotion to me. I might have to experiment with other body lotions first to see what I like. This one was OK. But, it's not standing out to me, especially when it costs more compared to other body lotions. Also, the skin on my body isn't too picky. Well, I'll keep this lotion as an option if nothing else works.
For more reviews on CeraVe skin care products go here
Categories:
Tags:

Beauty, Body Care, Body Skin Care, Ceramides, CeraVe, CeraVe Daily Moisturizing Lotion, CeraVe Daily Moisturizing Lotion for Normal to Dry Skin, CeraVe Lotion, Dry Skin, Hyaluronic Acid, Lightweight Moisturizer, Lotion, Moisturizer, Moisturizing Lotion, Normal Skin, Oil-Free, Review, Skincare