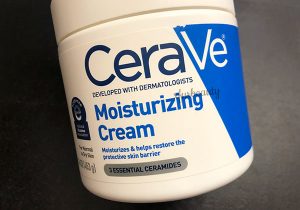 I picked up CeraVe Moisturizing Cream! I've always wanted to try this moisturizing cream out! It's highly raved and talked about constantly. I finally bit the bullet and picked up a jar! So the purpose of this cream is to repair the moisture barrier. Prevents dryness and itching. It contains hyaluronic acid and ceramides to help combat those issues. It provides 24-hour hydration, is non-comedogenic, and fragrance-free. I love that CeraVe is a no-frills skin care line. It's simple and pretty basic. That's perfect! But did it work on my skin? Well, read more to find out! Here's my experience with CeraVe Moisturizing Cream!
My experience
My first impression of this cream is that it's much more moisturizing and richer compared to CeraVe Daily Moisturizing Lotion for Normal to Dry Skin. It goes on the skin easily and absorbs into the skin nicely. It feels lightweight, non-greasy, and has no fragrance to it (yay!). It left my skin feeling moisturized and that moisture lasted throughout the day. Looking at the ingredients, it contains petrolatum to seal in the moisture. It also contains caprylic/capric triglyceride, cetearyl alcohol, cetyl alcohol, and cetearth-20. It's the same combination of pore-clogging ingredients in CeraVe Daily Moisturizing Lotion. I didn't use it on my facial skin for that reason. I'm going to stick to using this cream on my body instead. I'm not going to bother trying it on my face because I know what's going to happen. And that is, breakouts! But I am trying it out as an eye cream, and it seems to work decently for that. I'll keep everyone updated on my results. So far, it's been good. It's light and blends into the skin well. It also works well under my sunscreen and makeup (eye area).
This cream sounds all good and dandy so far, but there's a few negatives that I wanted to point out. The finish of this cream feels a bit odd. It doesn't feel like it completely absorbs into the skin. It sits on top of it. It leaves a slight noticeable residue behind. I'm glad I didn't use it on my facial skin. That would've been terribly bad. Also, the product has the tendency to pill sometimes. I only use this cream sparingly and gently pat it into my skin.
It comes in a 16 oz. jar. There was no lid (inside the jar) or seal when I purchased it. I wish it had a seal, so I know it's brand new and hasn't been tampered with.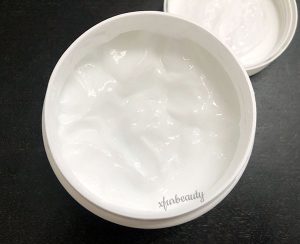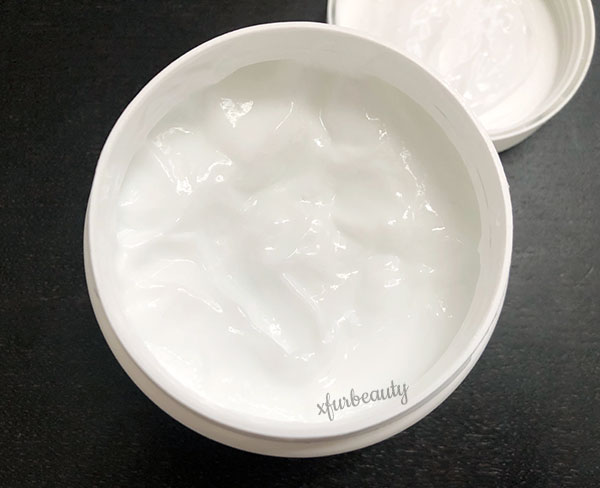 Pros & Cons
✅ Pros
Moisturizing
Contains ceramides, hyaluronic acid
Fragrance-free
Feels soft and gentle on the skin
Soft, lightweight texture
Absorbs well
Non-greasy
Non-irritating
❌ Cons
Pills
Leaves a noticeable (very thin) film behind
Conclusion
CeraVe Moisturizing Cream wasn't too bad. It was good. It just wasn't amazing as everyone says it is. I mean, yeah, it contains ceramides and hyaluronic acid, but I don't think that's what's keeping my skin feeling moisturized. It's most likely the petrolatum. Products with this ingredient are great at sealing in moisture and keeping the skin feeling moisturized. Sometimes I add pure petroleum jelly or Aquaphor in my routine when my skin is feeling very dry and flaky. It works to get rid of the dryness and flakiness. With this cream, the pilling can get annoying, but if I use a little bit of product it seems to work out just fine. Since I'm not using the cream on my face, I don't have to worry too much about the thin film it leaves behind. So far using this cream, it works for what it is. I don't think it's the most moisturizing skin care product out there, but I haven't had any issues that are preventing me from continuing to use the product. It's gentle, non-irritating, and leaves the skin feeling soft and moisturized. But will I purchase it again? I don't know yet. I'll have to wait until I finish the whole jar. Stay tuned for an updated review on CeraVe Moisturizing Cream!
For more reviews on CeraVe skin care products go here
My thoughts on CeraVe Moisturizing Cream after 1 Month! 👈🏻 Update!!!
Categories:

Beauty, Body Care, Hand Cream, Moisturizer, Moisturizer, Skin Care
Tags:

Acne Skin, Beauty, Ceramides, CeraVe, CeraVe Cream, CeraVe Moisturizing Cream, Dry Skin, Fragrance Free, Hyaluronic Acid, Hydration, Moisturizer, Non Comedogenic, Review, Skin Care, Skin Cream, Skincare, Very Dry Skin