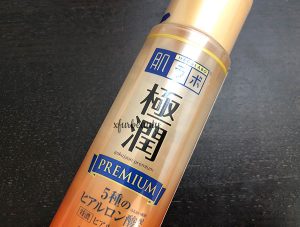 I'm ready for another moisturizing product in my routine! I feel like I've been adding so many skin care products into my routine once again, lol. But good news! No breakouts this time from them. And I enjoy using them. That's all that matters, right? hehe.
Here I have Hada Labo Gokujyun Premium Lotion. I've been meaning to add this lotion back in for so long. I stopped using it when I was having major skin issues. I had to eliminate some products and this was one of them. Finally, it's time to bring it back into my skin care routine! 🙌🏻
More about this product…
This lotion is infused with seven kinds of hyaluronic acids. It comes in a rich texture that provides instant and long-lasting hydration. It doesn't contain any fragrances, colorants, essential oils, alcohol, and parabens. Packaging is eco-friendly too. As always, I had to dig into the ingredients. So what are the seven kinds of hyaluronic acids in this product that it mentions??
First off, I would like to mention that the first couple of ingredients in this lotion includes glycerin and hydroxyethyl urea. Hydroxyethyl urea is a very good moisturizer and humectant. It moisturizes the skin by helping the skin cling onto water. It helps to maintain normal moisture balance in the skin. Here's another product that I use that contains this ingredient. It's been a very moisturizing product so far! So don't forget to check it out! Now on to the hyaluronic acids. What are the seven hyaluronic acids? They are…
Sodium Hyaluronate, Hydrolyzed Hyaluronic Acid, Sodium Acetylated Hyaluronate, Hydroxypropyltrimonium Hyaluronate, Sodium Hyaluronate Crosspolymer, Lactococcus/Hyaluronic Acid Ferment, Hydrolyzed Sodium Hyaluronate
Did it work to moisturize my skin?
I've been using this lotion for about nearly 2 weeks. So, not too long. But I think that's a good amount of time to share my thoughts on my experience with this product. If you look at the name of the product, it says it's a lotion. When the product is dispensed from the bottle, it's more of a gel than a lotion. The product feels a little bit sticky and gel-like. When applied to the skin, it feels a little jelly and sticky, but it absorbs into the skin well. I didn't have any problems with application. This lotion left my skin feeling super moisturized without feeling heavy or greasy. My skin loved it even though I'm oily. It felt lightweight on the skin, and it didn't make me look more oily, but it gave my complexion this dewy and nice glowy appearance to it. It works great when my skin feels a little bit more sensitive than usual too. Even though this product feels hydrating on the skin, I didn't think it kept my skin hydrated for long. But I think that's OK. It's more of a lightweight gel moisturizer than a rich, heavy, nourishing moisturizer. I think it helped to alleviate some dry skin that's chapped. But just not on it's own. I use it in combination of other hydrating skin care products to keep my skin hydrated throughout the day. Overall, I think it's a good gel moisturizer that didn't let me down. I also didn't get breakouts from it. Surprisingly, because at some point I thought it did. Interesting! It looks like I have another moisturizing product in my routine! It's working for me! 👍🏻
Categories:
Tags:

Acne, Acne Skin, Anti-Aging, Beauty, Essence, Experience, Hada Labo, Hada Labo Gokujyun Premium Lotion, Hyaluronic Acid, Hydrating, Lifestyle, Lotion, Moisturizer, Moisturizing, Moisturizing Gel, Premium Lotion, Results, Review, Skin Care, Skin Care Products, Skin Care Routine, Skincare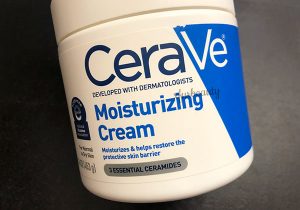 I officially finished my first jar of CeraVe after about 3 months. I thought it would take me much longer to finish the whole jar. But nope. I opened the jar one day and noticed that I was done with it. I hit the bottom of the jar! Yay! I've been waiting for this fine moment. It's officially here! lol. Now here are my thoughts on CeraVe Moisturizing Cream after finishing the cream…
If you missed out on my posts on CeraVe Moisturizing Cream, follow the links below. 🙂
So I picked up CeraVe Moisturizing Cream…
My thoughts on CeraVe Moisturizing Cream after 1 Month!
Like before, I didn't use the cream on my facial skin. The texture, consistency, finish of product isn't for my facial skin. I would end up with a ton of clogged pores. So! I used it only on my body instead. The product is creamy but doesn't feel as lightweight as I thought it was. It's a little thicker in texture. Soft and smooth. When applied to the skin, it feels soothing and calming, especially when it's cold. It absorbs into the skin nicely. Vanishes into the skin but leaves a thin layer of residue behind. That's where the slight heaviness comes in. This is what bothered me the most about the cream. The thin layer of residue that it leaves behind irritated my skin. I ended up with a rash on some parts of my body like my arms and shoulders. I can't use the cream on those parts of my body every day. It just makes my skin itchy and red. The product seems to work better for my legs, feet, and hands. That's where I use the cream most often. No problems there! But still, the thin layer of film it leaves behind is annoying.
So CeraVe Moisturizing Cream is called a 'Moisturizing' cream, but it's not that moisturizing, in my opinion. I can layer a bunch of this cream on my skin and still need more moisture. I didn't rely on this cream to keep my skin moisturized. It's not that great of a moisturizer. I really don't know why this cream is so popular. Perhaps it's because it contains ingredients such as ceramides and hyaluronic acid. And it's fragrance-free. 🤔 But we need to consider the overall formulation of the product. And honestly, I didn't see major changes in my skin using this cream. I just used it to finish up the jar (in which I did). BUT! I have a few more jars of this stuff to finish up. Don't ask me why I picked up a few more. Ugh! I'm just stuck with them now. Lol. I recently opened up a new jar quick so I can get started (to finish it up). So apparently, it takes me about 3 months to finish up a whole jar. But will I purchase any more CeraVe Moisturizing Creams after I'm truly done? Probably not. I'm really not that impressed with this product. It's pretty average. Nothing to call home about. There are better moisturizers out there. Don't get me wrong. I don't hate it. I just don't love it.
The only CeraVe product I actually kinda like and use is CeraVe Eye Repair Cream (click!), but it's not the best eye cream out there. Enjoy my review on it by clicking the link!
I hope my update on CeraVe Moisturizing Cream was helpful. Have a wonderful day. 🙂
Categories:
Tags:

Body Care, Body Cream, Body Lotion, Body Moisturizer, Ceramides, CeraVe, CeraVe Moisturizing Cream, CeraVe Skin Care, Experience, Hyaluronic Acid, Lifestyle, Lotion, Moisturizer, Moisturizing, Results, Skin Care, Skincare