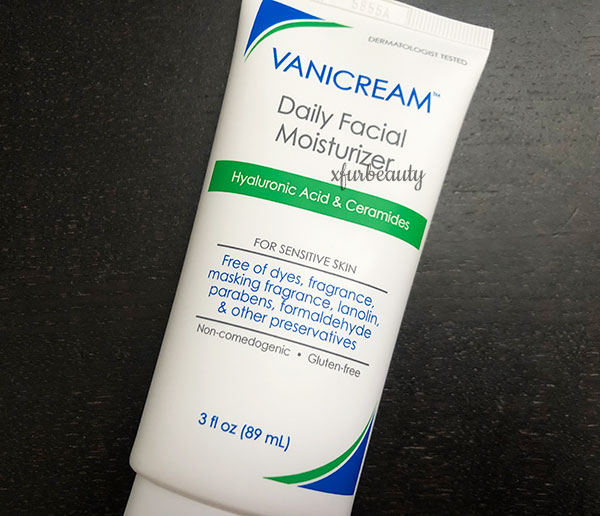 I remember picking this moisturizer up and hoping that it'll become my main moisturizer. The ingredients look sooo good, the price was also not too bad, and it's accessible where I live. All points lined up and was perfect. Here's a quick snapshot of the moisturizer: It's a rich, lightweight lotion that provides effective moisturization for day or night. It's formulated with 5 key ceramides and hyaluronic acid to hydrate and retain skin's moisture. It leaves the skin feeling soft and deeply moisturized while still being lightweight and suitable to wear under makeup. It's free of dyes, fragrance, masking fragrance, lanolin, parabens, formaldehyde, and other preservatives. It's non-comedogenic and gluten-free. That sounds like a dream come true moisturizer. So it's been 1 month using Vanicream Daily Facial Moisturizer for Sensitive Skin. Here are my thoughts and experience with this moisturizer.
Texture & Application
This moisturizer is a lotion. It's not a cream. The texture of the product is soft and smooth. It's on the thicker side. The moisturizer glides on the skin smoothly without tugging at the skin. It takes a little bit of time to blend the lotion into the skin, but the moisturizer eventually blends into the skin. It vanishes into the skin nicely. After applying the moisturizer, the finish of the moisturizer is sticky. It doesn't feel like it fully absorbs into the skin. It sits on top of the skin, which can feel uncomfortable and bothersome. I didn't like the stickiness of the lotion. It made my skin feel unclean and just plain annoying. As someone with oily skin, I thought the lotion was heavy and thick on the skin. I wish it was more lightweight and absorbed into the skin better. Even when my skin was feeling a little more dry, I still thought the product was heavy and thick on the skin. The product claims to be lightweight, but it's not. This moisturizer worked pretty well underneath my makeup. My makeup went on better. Much smoother. It just glides across my facial skin much more easily. It made my skin appear softer, smoother, and flawless.
Heals & Protects
This moisturizer is very good at healing and protecting the skin. It contains ceramides, hyaluronic acid, and squalane. I loved the ingredients in this product. The ingredients were the perfect combination for my skin and helped to heal my skin from my acne treatments/chemical exfoliants. It help to strengthen my moisture barrier when it's damaged or experiencing a burning sensation. Out of all of the moisturizers that I have used to heal my skin, Vanicream Daily Moisturizer for Sensitive Skin was the only one that worked so far (after trying a bunch of moisturizing skin care products!!). My skin didn't feel dry, red, or irritated after using it. On occasion, if my moisture barrier is damaged, it did burn upon application, but it wasn't too bad. This product was the least irritating as of yet. It sat uncomfortably on my skin after it settled down. With this moisturizer, my moisture barrier felt healthy after each use. On my skin, it was extremely moisturizing. I was so happy that I had found a moisturizer that improved my skin over time.
Clogs pores??
I didn't notice clogged pores at first, but I noticed clogged pores after using it for a month. Maybe they were there before and I was in denial, lol. I really wanted this moisturizer to work since it helped to moisturize my skin, not just lightly hydrate it. It did an amazing job at protecting my skin from dryness and irritation. But, unfortunately, the clogged pores became noticeable as time went on. I developed blackheads and tons of sebaceous filaments. Some of the blemishes were not noticeable until I stopped using the moisturizer. My skin started to break out in acne. After the acne appeared, they started to clear up rapidly. My skin became less oily and clogged. Blackheads diminished on my nose. So, this moisturizer ended up clogging my pores in the long run. Shocking? Not so much. I haven't found a moisturizer that moisturizes my skin in years. And I still haven't found one that works well on my skin. *sigh* Back to the drawing board…maybe…haha.
Final Thoughts
Another moisturizer down, I guess, lol. I think I'm done searching for a moisturizer for my face right now. It's getting really annoying using a moisturizer for a month and experiencing negative side effects afterwards thinking that it was working. 😮‍💨 Even though it didn't work on my face, I'm not going to remove it from my routine. I like the ingredients in this product (ceramides and hyaluronic acid), and it helps to protect and heal my skin. It works very well as a moisturizer at an affordable price. I'm using it as an eye cream and neck/chest cream instead. It works even better than my eye creams that are eye creams. Also, I'm keeping it around to use on my face (yup!) when I'm treating my skin with my acne treatment/chemical exfoliants, which isn't often. I just can't use it daily as a facial moisturizer, which is kinda funny since it's called a 'Daily Facial Moisturizer'. In my opinion, I don't think this moisturizer is entirely bad. I mean, I'm still using it. I like the product, but it's a bummer that it didn't work on my face as a daily facial moisturizer.
If you missed out on my acne journey, don't forget to check them out!!
My Acne Journey: 3 Weeks Results!
My Acne Journey: 4 Weeks Results!
My Acne Journey: 6 Weeks Results…
My Acne Journey: 7 Weeks Results
My Acne Journey: 2 Months + 1 Week Results!
My Acne Journey: 2 Months + 2 Weeks!
My Acne Journey: 2 Months + 3 Weeks Results!
My Acne Journey: 3 Months + 1 Week Results
My Acne Journey: 3 Months + 2 Weeks Results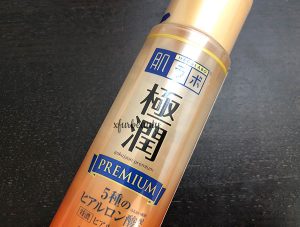 I'm ready for another moisturizing product in my routine! I feel like I've been adding so many skin care products into my routine once again, lol. But good news! No breakouts this time from them. And I enjoy using them. That's all that matters, right? hehe.
Here I have Hada Labo Gokujyun Premium Lotion. I've been meaning to add this lotion back in for so long. I stopped using it when I was having major skin issues. I had to eliminate some products and this was one of them. Finally, it's time to bring it back into my skin care routine! 🙌🏻
More about this product…
This lotion is infused with seven kinds of hyaluronic acids. It comes in a rich texture that provides instant and long-lasting hydration. It doesn't contain any fragrances, colorants, essential oils, alcohol, and parabens. Packaging is eco-friendly too. As always, I had to dig into the ingredients. So what are the seven kinds of hyaluronic acids in this product that it mentions??
First off, I would like to mention that the first couple of ingredients in this lotion includes glycerin and hydroxyethyl urea. Hydroxyethyl urea is a very good moisturizer and humectant. It moisturizes the skin by helping the skin cling onto water. It helps to maintain normal moisture balance in the skin. Here's another product that I use that contains this ingredient. It's been a very moisturizing product so far! So don't forget to check it out! Now on to the hyaluronic acids. What are the seven hyaluronic acids? They are…
Sodium Hyaluronate, Hydrolyzed Hyaluronic Acid, Sodium Acetylated Hyaluronate, Hydroxypropyltrimonium Hyaluronate, Sodium Hyaluronate Crosspolymer, Lactococcus/Hyaluronic Acid Ferment, Hydrolyzed Sodium Hyaluronate
Did it work to moisturize my skin?
I've been using this lotion for about nearly 2 weeks. So, not too long. But I think that's a good amount of time to share my thoughts on my experience with this product. If you look at the name of the product, it says it's a lotion. When the product is dispensed from the bottle, it's more of a gel than a lotion. The product feels a little bit sticky and gel-like. When applied to the skin, it feels a little jelly and sticky, but it absorbs into the skin well. I didn't have any problems with application. This lotion left my skin feeling super moisturized without feeling heavy or greasy. My skin loved it even though I'm oily. It felt lightweight on the skin, and it didn't make me look more oily, but it gave my complexion this dewy and nice glowy appearance to it. It works great when my skin feels a little bit more sensitive than usual too. Even though this product feels hydrating on the skin, I didn't think it kept my skin hydrated for long. But I think that's OK. It's more of a lightweight gel moisturizer than a rich, heavy, nourishing moisturizer. I think it helped to alleviate some dry skin that's chapped. But just not on it's own. I use it in combination of other hydrating skin care products to keep my skin hydrated throughout the day. Overall, I think it's a good gel moisturizer that didn't let me down. I also didn't get breakouts from it. Surprisingly, because at some point I thought it did. Interesting! It looks like I have another moisturizing product in my routine! It's working for me! 👍🏻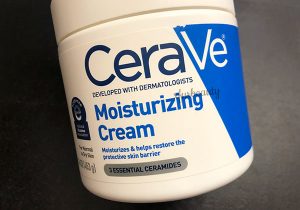 I officially finished my first jar of CeraVe after about 3 months. I thought it would take me much longer to finish the whole jar. But nope. I opened the jar one day and noticed that I was done with it. I hit the bottom of the jar! Yay! I've been waiting for this fine moment. It's officially here! lol. Now here are my thoughts on CeraVe Moisturizing Cream after finishing the cream…
If you missed out on my posts on CeraVe Moisturizing Cream, follow the links below. 🙂
So I picked up CeraVe Moisturizing Cream…
My thoughts on CeraVe Moisturizing Cream after 1 Month!
Like before, I didn't use the cream on my facial skin. The texture, consistency, finish of product isn't for my facial skin. I would end up with a ton of clogged pores. So! I used it only on my body instead. The product is creamy but doesn't feel as lightweight as I thought it was. It's a little thicker in texture. Soft and smooth. When applied to the skin, it feels soothing and calming, especially when it's cold. It absorbs into the skin nicely. Vanishes into the skin but leaves a thin layer of residue behind. That's where the slight heaviness comes in. This is what bothered me the most about the cream. The thin layer of residue that it leaves behind irritated my skin. I ended up with a rash on some parts of my body like my arms and shoulders. I can't use the cream on those parts of my body every day. It just makes my skin itchy and red. The product seems to work better for my legs, feet, and hands. That's where I use the cream most often. No problems there! But still, the thin layer of film it leaves behind is annoying.
So CeraVe Moisturizing Cream is called a 'Moisturizing' cream, but it's not that moisturizing, in my opinion. I can layer a bunch of this cream on my skin and still need more moisture. I didn't rely on this cream to keep my skin moisturized. It's not that great of a moisturizer. I really don't know why this cream is so popular. Perhaps it's because it contains ingredients such as ceramides and hyaluronic acid. And it's fragrance-free. 🤔 But we need to consider the overall formulation of the product. And honestly, I didn't see major changes in my skin using this cream. I just used it to finish up the jar (in which I did). BUT! I have a few more jars of this stuff to finish up. Don't ask me why I picked up a few more. Ugh! I'm just stuck with them now. Lol. I recently opened up a new jar quick so I can get started (to finish it up). So apparently, it takes me about 3 months to finish up a whole jar. But will I purchase any more CeraVe Moisturizing Creams after I'm truly done? Probably not. I'm really not that impressed with this product. It's pretty average. Nothing to call home about. There are better moisturizers out there. Don't get me wrong. I don't hate it. I just don't love it.
The only CeraVe product I actually kinda like and use is CeraVe Eye Repair Cream (click!), but it's not the best eye cream out there. Enjoy my review on it by clicking the link!
I hope my update on CeraVe Moisturizing Cream was helpful. Have a wonderful day. 🙂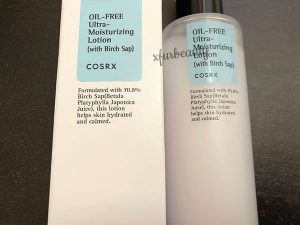 I have a new moisturizer! Kind of, lol. Here's a moisturizer that I've used before. It's Cosrx Oil-Free Ultra-Moisturizing Lotion (with Birch Sap). I'm always on the search for a good moisturizer for oily, acne-prone skin. Moisturizing my skin has transformed my skin and made using acne treatments so much easier. My skin isn't as dry, flaky, and looking wrinkly anymore. It helps to ease the negative symptoms considerably. I really like the way my skin looks now. 🙂 So this moisturizer is formulated with 70.8% Birch Sap (Betula Platyphylla Japonica Juice). It's supposedly a weightless subtle lotion that keeps the skin hydrated and calm. It contains natural ingredients, which are full of vitamins and antioxidants. Good for irritated skin. I was excited for this moisturizer, since I don't recall it breaking me out. I was just using so many products during that time that I had to drop it. I've been using it for a week. Here are my thoughts on it! I hope this is helpful! Enjoy!
My experience
This moisturizer comes in a 100 mL pump bottle. The product is a gel-lotion. It has a sweet lemon scent to it. Very citrusy. It reminds me of a carbonated drink. It smells pretty good. I like it. When applied to the skin, the texture of the lotion is lightweight, soft, and moisturizing. It feels more moisturizing compared to a gel moisturizer (since this one has a lotion feel to it). It glides on the skin smoothly and blends into the skin well. I really like the way it sinks into the skin. It doesn't leave any sticky residue behind. My skin just drinks up the product. It leaves my skin feeling moisturized without feeling heavy on the skin. Not a lot of moisturizers are like that. This one is different. I haven't broken out from it either (yet). I hope I don't! So far, no clogged pores. The product just smooths over my skin and does what it's supposed to do. And that is, leave my skin moisturized without feeling greasy or sticky.
The main ingredient in this moisturizer is Betula Platyphylla Japonica Juice. It's the first ingredient on the list. It also contains other beneficial ingredients, such as sodium hyaluronate, allantion, panthenol, lemon peel, and tea tree oil. Hmm, I did notice a slight tingling sensation when using this product. Lemon peel and tea tree oil explains it all. I love tea tree oil. Even though it's at the end of the ingredient list, it's one of the top natural ingredients that helps my acne. So I've been using this moisturizer in the morning and at night without any issues. It has helped decrease skin dryness (along with my other moisturizers, of course!!). But, I noticed a huge change in my skin once I started using it. Just a an observation. 🙂 It's been a great addition to my moisturizing routine. Definitely a game changer. Good for oily skin? Yep! Good for acne-prone skin that's dry and flaky? Yes!! It's working on my skin type.
Pros & Cons
✅ Pros
Provides lightweight moisture but leaves the skin feeling moisturized
Gentle on the skin
Absorbs well
Doesn't leave the skin feeling oily
No breakouts
Smells good (citrus)
❌ Cons
Stings a little bit (at the beginning)
Annoying plastic bottle with pump
Conclusion
After using this moisturizer for a week, I'm falling in love with it! I look forward to using it, since it moisturizes my skin without breaking me out. I'm currently just trying to find all of the moisturizers that I can that doesn't break me out. This one's been great so far. My skin is lightly moisturized throughout the day, the product smells good, absorbs into the skin nicely without feeling greasy, and I haven't had any problems with it yet. Oh, except for the annoying packaging! It's in a plastic pump bottle just like Cosrx Advanced Snail 96 Mucin Power Essence and Cosrx Hyaluronic Acid Hydra Power Essence. 👎🏻 Otherwise, the moisturizer works…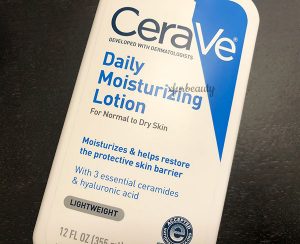 I picked up a bottle of CeraVe Daily Moisturizing Lotion when I was trying to find a good moisturizer for the cold, winter months. This seemed like a good choice. Everyone seems to like CeraVe, right? lol. So the purpose of this lotion is to moisturize and restore skin's natural protective barrier. It's lightweight, non-greasy, and provides 24-hour hydration. Contains ceramides and hyaluronic acid. It's non-comedogenic, oil-free, and fragrance-free. I'm on my second bottle of this lotion. Here's my experience with this moisturizer!
My experience
This lotion feels lightweight on the skin. It absorbs into the skin easily and doesn't leave a greasy feeling behind. It moisturizes, but it's not super moisturizing. If you're searching for a lotion that is extremely moisturizing, this isn't it. It's a pretty basic lotion. I love that it contains ceramides and hyaluronic acid, but I didn't see much of a difference in the texture or condition of my skin using this lotion. I was dealing with very dry skin. I had to use another moisturizer to fix that dry, itchy skin I was experiencing. CeraVe Daily Moisturizing Lotion didn't help much. I find CeraVe very average at best. It didn't live up to the glowing reviews. Yeah, it contains ceramides, hyaluronic acid, and is fragrance-free, but I wasn't impressed. My skin didn't feel moisturized using it. I needed something more moisturizing. The moisture in this lotion didn't last on my skin either.
So I didn't use this lotion on my face. It contains caprylic/capric triglyceride, cetearyl alcohol, cetyl alcohol, cetearth-20. Looks pretty pore-clogging to me. I've used CeraVe products on my face before in the past. It claims to be non-comedogenic, but from my experience, it clogged my pores. I can't use CeraVe products on my face. If you missed out on my review on their sunscreen, check it out! 👉🏻 CeraVe AM Facial Moisturizing Lotion with Sunscreen That sunscreen didn't work out for me either. For the full review, click on the link! 🙂
Overall, this lotion isn't too bad as a daily moisturizer. At least it doesn't leave a weird film behind and doesn't feel oily on the skin. It sits pretty comfortably on the skin. Also, it didn't irritate my skin. It's gentle and doesn't make my skin feel itchy. If you're able to use it on your face, you're pretty lucky because I wish I could. It's not too expensive considering the ingredients and quality of the product. But, I think it's more of a body lotion for me. But will I continue to use it after finishing the second bottle? Probably not. It's not moisturizing enough for my body.
Pros & Cons
✅ Pros
Feels lightweight on the skin
Gentle on the skin
Good for daily use
Contains ceramides and hyaluronic acid
Fragrance-free
Doesn't irritate the skin
Doesn't make the skin itchy
Not irritating
❌ Cons
Conclusion
Even though I like the ingredients in this lotion, I don't think I'm going to purchase it again. It just felt like any other moisturizing lotion to me. I might have to experiment with other body lotions first to see what I like. This one was OK. But, it's not standing out to me, especially when it costs more compared to other body lotions. Also, the skin on my body isn't too picky. Well, I'll keep this lotion as an option if nothing else works.