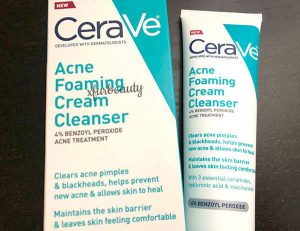 Here's my review on CeraVe Acne Foaming Cream Cleanser! I went through a few new facial cleansers this summer to find something that works better on my skin. I haven't used a face wash with benzoyl peroxide in so long, but I thought…maybe I should try it again? I've always wanted to quit benzoyl peroxide as an all-over acne treatment even though it has helped my acne. It leaves my skin looking dry and dull. I can't imagine using benzoyl peroxide for the rest of my life just to treat my acne. There must be another way. With a face wash with benzoyl peroxide, that means I don't have to get rid of benzoyl peroxide completely. It would still be in my routine. Just another way to incorporate it into my routine (as a face wash). That's when I found CeraVe Acne Foaming Cream Cleanser. I'm not a huge fan of CeraVe face products (darn those breakouts), but I thought I would give this one a chance. It's a face wash, so it's not going to sit on my skin for too long. Who knows. It might be a good facial cleanser. 🙂
Product claims
4% benzoyl peroxide
Helps clear acne and blackheads
Helps to prevent new pimples and allows skin to heal
Ceramides to maintain skin's natural barrier
Hyaluronic acid to retain moisture
Niacinamide to calm skin
Non-comedogenic
My experience
This is my first time using a face wash with benzoyl peroxide in years. The one I used before CeraVe was Differin Daily Deep Cleanser. From what I remember, it didn't work for me. That's why I'm not using it anymore, lol. I was pretty much turned off from BP face washes since. So CeraVe Acne Foaming Cream Cleanser contains ceramides, hyaluronic acid, and niacinamide. Awesome! 😀 I was really excited for this product because of that. A combination of good-for-skin ingredients with an acne fighting ingredient like benzoyl peroxide. Sounds perfect! 👌🏻 I also noticed that it contains glycolic acid. I usually do not use products with glycolic acid in the morning due to it making my skin more sensitive, but it's in this product. I'll have to see how this face wash goes for daily use. Since facial cleansers are not left on the skin but rinsed off, this may not be a problem.
The texture of the face wash is a gel-cream, but it feels more creamy. It doesn't feel like a face wash to me. It's feels more like a leave-on acne treatment in terms of consistency. The product is gloopy and slimy. It feels like I'm rubbing a leave-on benzoyl peroxide acne treatment product that is runnier, thinner on my face. The instructions advises to use the face wash in the morning and at night. Apply a dime-size to damp skin and gently massage. Rinse. A dime-size was not enough for my whole face. I had to use at least a quarter to get my skin somewhat clean. Even with that much product, my skin didn't feel clean after rinsing. I tried washing my face once more with the cleanser with the same results. Once again, my face didn't feel clean. Also, this facial cleanser doesn't soap up. It's called acne foaming cream cleanser. hah.
I started off using this face wash by itself, but I realized that my skin would still feel dirty afterwards. Like there was a thin film on my skin. I followed up with another facial cleanser to remove any residue that the CeraVe Acne Foaming Cream Cleanser has left behind. That worked so much better, but I questioned the effectiveness of this face wash. After 2 weeks of using CeraVe Acne Foaming Cream Cleanser, I came to the conclusion that this face was is not for my skin type. I was done with it. It didn't leave my skin feeling clean. I'm not asking for a facial cleanser that strips my skin and leaves it feeling dry but at least remove the excess oil from my face. Also, most of all, it didn't do anything for my acne. There were no improvements. My acne was still thriving. On a positive note, it didn't dry out my skin, but I stopped using it because nothing good came out of it.
Pros & Cons
✅ Pros
Non-drying
Leaves the skin feeling moisturized
Contains 4% benzoyl peroxide to fight against acne
Contains ceramides, niacinamide, and hyaluronic acid
Gentle on the skin
❌ Cons
Doesn't leave the skin feeling clean (if you have oily skin)
Doesn't help acne. It didn't clear up acne or get rid of blackheads.
Conclusion
The CeraVe Acne Foaming Cream Cleanser did not work for me. It's just a basic, hydrating face wash that claims to treat acne. I mean, it does contain benzoyl peroxide, which should (is) be effective at treating acne. Benzoyl peroxide is one of the best (in my opinion) acne ingredients used to treat acne, so it might be the overall formulation of the product that didn't sit right with my skin. There were no positive changes in my skin. It didn't help to clear acne or get rid of blackheads (as it claims). This product has ingredients, such as ceramides, hyaluronic acid, and niacinamide…that I really love. The idea of this product is really nice, but I won't purchase again because I didn't see any improvements in my acne, and it didn't clean my skin well. I think this facial cleanser would work better for someone with dry, normal, sensitive skin that wants to add benzoyl peroxide into their routine. For me, this purchase was a huge disappointment. Another CeraVe product down. 👎🏻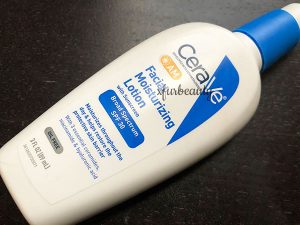 This summer I spent time trying out new sunscreens. CeraVe was one of them. I've used this sunscreen before, but it's been quite some time. I thought I'd give it another chance despite the fact that it didn't work the first time. I remember it not absorbing into the skin and especially pilling. The pilling is something that I can never forget. It was so difficult to reapply due to the pilling. The product kept rolling off of my face. Um, so why even bother?? lol. I have hope (!!), and the ingredients are really attractive. It contains ceramides, hyaluronic acid, and niacinamide. Ceramides help to lock in moisture to prevent the skin from drying out. Hyaluronic acid helps to retain moisture in the skin. Niacinamide helps to fade marks, minimize pores, regulate sebum production, treat acne, and much more! Also, my HG sunscreen Neutrogena Visibly Even Daily Moisturizer with SPF 30 only comes in a 1.7 fl. oz. bottle. CeraVe comes in a 3 fl. oz. bottle for the same (almost the same) price as Neutrogena. *sigh* It'll be nice to save money on sunscreen, since I use it so frequently throughout the day. But, enough talk. Let's get into the nitty gritty.
Product claims
For all skin types
Restores skin barrier with hyaluronic acid, ceramides, and niacinamide
Doesn't leave chalky residue
Non-comedogenic (won't clog pores, won't cause acne)
---
I love the fact that it contains skin care goodies, such as hyaluronic acid, ceramides, and niacinamide to repair the skin barrier. Also, it claims to NOT clog pores. We'll see about that! 🤔 CeraVe face products have not been kind to my skin in the past. Let's see if this experience is going to be different this time around.
My experience
The product comes in a pump bottle. It's very easy to dispense the product out. It is a lotion and sunscreen in one with broad spectrum SPF 30. The lotion is a thick white cream. It has a silicone feel to it. It feels soft, silky, and a little sticky. It needs to be applied to the skin properly for it to blend into the skin. I tried rubbing it into my skin and all it did was waste my time and pill. I tried patting the product into my skin, which worked better. The product pilled less. Pilling is definitely an issue with this lotion (as it was before). It's much easier to use it on the body vs the face. My body absorbs it better, and it takes less time and work to blend the product into the skin. On my face, the lotion would swish around and not settle.
After application, it leaves a slight sticky feeling, residue behind. It's not the best feeling in world, but it is very moisturizing. I noticed a drastic change in my skin's hydration level within 2 days. My skin felt super moisturized. It hasn't felt this type of moisture in ages. The lotion improved the texture of my skin by making it softer, feel more supple, and smoother. My skin looked brighter and glowy all thanks to the niacinamide in this product. It's the second ingredient on the list, by the way. The overall condition of my skin improved so much! It appeared dewy during the day underneath my makeup. I liked the changes it has done to my skin. My skin looked so good! 👍🏻
This lotion contains a mixture of chemical and physical filters. They are homosalate (10%), meradimate (5%), octinoxate (5%), octocrylene (2%), and zinc oxide (6.3%). I did notice a bit of a white cast after application. It's not too noticeable, but it's there. And I'm pretty pale. I wasn't bothered by it too much, since it helped to even out my complexion. I could go makeup-free with this sunscreen. So my first impression of the CeraVe AM Moisturizing Lotion with Sunscreen wasn't too bad, except for the pilling. Only if it didn't pill! Otherwise, I loved how it left my skin moisturized, more soft and supple, and brighter. I was in awe of my skin that I couldn't stop staring at it.
Sadly, after 1 week of using this product, my skin appeared more oily and greasy. Reapplying the lotion became a huge problem because it would build up on my skin and just sit there. Also, the pilling started to annoy me. It would constantly pill and not blend into my skin properly. It took so much time out of my day to get it to set. Most of the time, it didn't blend well at all. Just pilling and more pilling. It took so much time to apply this sunscreen that it wasn't worth it. It shouldn't take this much work if the formula was truly good.
Since this sunscreen contains silicones in it, it made my skin appear smoother. My makeup went on much easier and nicer. It made my skin look flawless. Works just like a makeup primer. It smooths out imperfections. Unfortunately, the silicones irritated my skin. It was too much for my skin to handle. I noticed pimples popping up out of nowhere. Whiteheads and a huge gigantic cyst right between my brows. I was in denial for a bit because I loved the way the product made my skin look and feel. I came to terms that this sunscreen is not compatible with my skin regardless of how much it is raved about. I stopped using it immediately for two days to see what would happen. My skin became less oily. My breakouts stopped.
Pros & Cons
✅ Pros
Contains amazing ingredients like ceramides, hyaluronic acid, and niacinamide
Leaves the skin feeling moisturized throughout the day
Softens the skin texture
Brightens the skin
Makes the skin look dewy, baby soft
Contains SPF 30 (including zinc oxide that doesn't dry out the skin)
Comes in a 3 fl. oz. bottle (bigger than my HG sunscreen 😭)
Affordable for daily use
❌ Cons
Pills
Leaves the skin more oily (if you have oily skin)
Breakouts
Difficult to blend into the skin
Doesn't absorb properly
Conclusion
I wish this sunscreen would work on my skin. It left my skin feeling soft, supple, dewy, and brighter quickly upon use (within 2 days!!). I saw results! I looked at my skin up-close in a mirror and noticed that the texture of my skin looked more healthy and refined. Before it was dull and lifeless. It contains amazing ingredients, such as ceramides, hyaluronic acid, and niacinamide. I can't get enough of them! I love products that contain these ingredients. Too bad this sunscreen made my skin oily and gave me acne in the end. It's not for my skin type, and it claims to work for all skin types. No siree it didn't work for me. heh. People seem to say so many positives things about this product and CeraVe products in general, but all of the face products that I have tried from this brand broke me out. For people with acne, be wary. Do a patch test. For everyone else, it may work for you. Try it at your own risk. We all have different skin types after all.