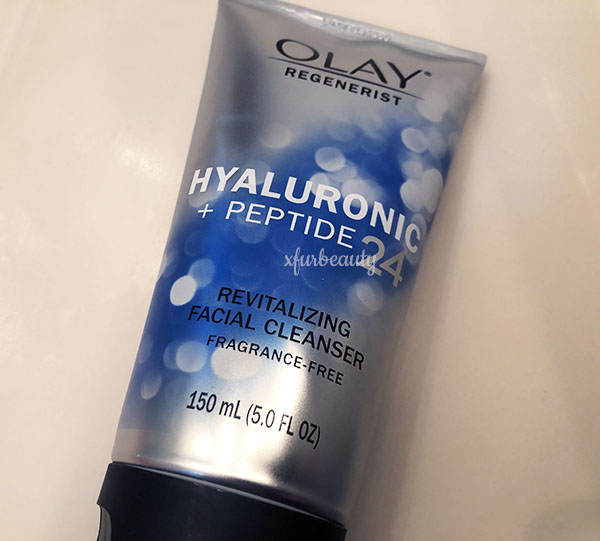 It's time for a review on Olay Regenerist Hyaluronic + Peptide 24 Revitalizing Facial Cleanser! I'm on my second tube of the face wash. I started using this face wash because I needed a facial cleanser that was gentle and more moisturizing. This seemed like a good choice. So the purpose of this face wash is to deep clean, remove dirt, oil, and impurities to reveal healthy-looking skin. It contains hyaluronic acid, niacinamide, and peptides. It's fragrance-free. Contains no synthetic dyes, parabens, mineral oil, or phthalates. I'm on my second tube of this face wash. Here are my thoughts on it!
My Experience with Olay Regenerist Hyaluronic + Peptide 24 Revitalizing Facial Cleanser!
This facial cleanser is a gel cleanser. It comes in a 5 fl. oz. (150 mL) bottle. It was $7.49. I'm not too big on hyaluronic acid (it's everywhere!!), but I thought I would just give this facial cleanser a try. I was searching for a face wash that was more hydrating, moisturizing than what I was using. My skin was a mess. I needed a face wash that was basic, gentle, and didn't leave my skin feeling taut and burning. Fortunately, I was lucky enough to stumble upon Olay Hyaluronic Face Wash. It feels very gentle on the skin. It's soft and soothing. It doesn't foam up that much, but it cleanses without stripping the skin. I loved using it at night in the shower. Every time I use it in the shower it leaves my skin feeling silky smooth, moisturized, and hydrated. The results were really nice. I like using it in the morning too, but it's not as good without the steam and moisture from the shower.
So this face wash worked out. I mean, I'm on my second tube. The face wash is simple, gentle, didn't burn my skin, didn't leave my skin feeling dry, cleansed my skin without leaving any residue behind. No issues at all. My skin was fine with it. But, it seems like I go through this face wash very fast. My first tube lasted a month. The second one, I'm nearing the end of the bottle. It's reaching 1 month. I use it twice a day (morning and night). So, I'm not using it any differently compared to any of my previous facial cleansers. I think Olay Hyaluronic Face Wash is a nice facial cleanser but spending $7.49 a month for face wash is pretty absurd. I've used many other facial cleansers that lasted so much longer. It should last at least 4 months. Some face washes I've used lasted even longer (6 months). Some even longer than 6 months. A month? Nah, I'm going to find myself another facial cleanser that's more affordable and lasts longer. Something was off about this face wash, lol. I think this was it. It only lasted a month. I couldn't even push it to 2 months. Feels like a waste of money.
Those are my thoughts on this face wash. Good formula, wished it would last much longer. Moving on to something else…
Categories:
Tags:

Acne, Acne Skin, Anti-Aging, Beauty, Experience, Face Wash, Facial Cleanser, Hyaluronic Acid, Lifestyle, Olay, Olay Regenerist, Olay Regenerist Hyaluronic + Peptide 24 Revitalizing Facial Cleanser, Review, Skin Care, Skincare, Wrinkles