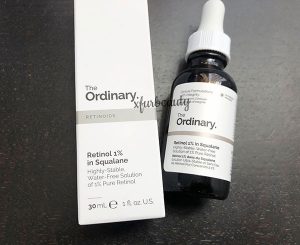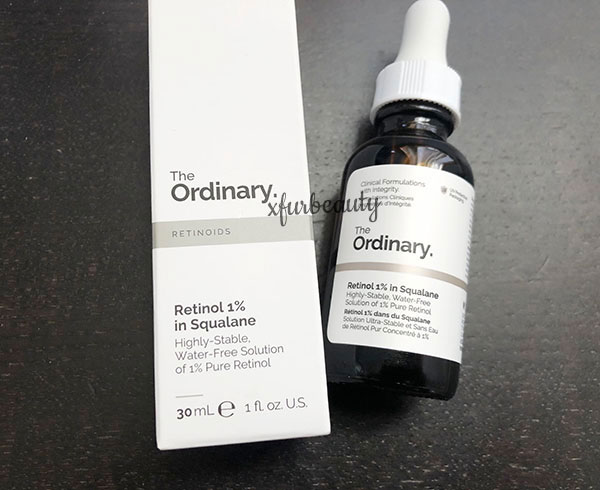 I've been trying to find a product with retinol that's affordable and works. The Ordinary has a couple of serums to choose from that contains retinol that are very inexpensive. I thought I would give it a try. You know, see if it works or not. For more reviews on The Ordinary skin care products go here. So the purpose of this serum is to help with skin texture and aging. To find out if it works, keep on reading! I've gone though a couple of bottles of this retinol serum already, and here are my thoughts on it!
My experience
This serum is a yellow color. I opened a new bottle (just started a new bottle!), and yes, it's yellow. If you think your bottle of retinol is off, it's not. That's what mine looks like too. I was really excited to use this serum when I first picked it up, since it should be more gentle compared to retinoid. I tried it. Yes, it's more gentle on the skin. The serum feels oily due to the other ingredients in the serum. It contains squalane, caprylic/capric triglyceride, and jojoba seed oil. I used it for a few days on my face and ended up with clogged pores. I was hoping that it would work due to how affordable it is. That would've been wonderful! But knowing my skin, breakouts was expected considering it contains oily ingredients, and my skin can't handle oily skin care products. I discontinued the serum immediately after noticing the breakouts, but this serum left my skin feeling softer and looking smoother upon application after a few days of using it. I liked the way it felt on my skin. I just didn't like the breakouts that it caused. And no, my skin wasn't purging. It was clogged by this serum. This serum isn't compatible with my skin type. So, I'm not using it anymore on my face. It just didn't work as I had hoped for. If you have clog-prone skin, this serum may cause issues. Just do a patch test first to see if your skin reacts negatively to it or not. Good luck!
Since I'm not using this retinol serum on my face any longer. I still keep it around, since it's pretty affordable, and I do like the benefits of this serum. I like using it on other parts of my body like my neck and hands. It seems to work better in those areas of my body. My skin definitely feels a lot softer and smoother because of this serum. I enjoy using it too. The texture of the serum is very soft and moisturizing. It feels nice on the skin. The serum also contains tomato fruit extract and rosemary leaf extract to help fight against free radicals, has anti-inflammatory properties, and helps with anti-aging. Looks like a no-go for the face but great on other parts of the body.
Pros & Cons
✅ Pros
Moisturizing
Leaves the skin feeling softer and smoother
Contains 1% retinol
Contains other antioxidants (tomato fruit extract, rosemary leaf extract)
Affordable
Gentle on the skin
Cruelty-free
Vegan
❌ Cons
Feels oily
Clogs pores if you have clog-prone skin
Conclusion
I really liked this retinol serum for other parts of my skin. It just didn't work on my face. Since it felt too oily and greasy on my face and clogged my pores. I can see myself using this serum again. It's also very affordable for a retinol serum, and I love the benefits of retinol. It leaves my skin feeling super soft and smoother than before. It's not a bad serum at all. Once again, just not on my face, since I have acne-prone skin, and the other ingredients aren't good for my face. I might try a higher percentage, since my skin was able to handle the 1% very well. So, everyone, a review on the higher percentage when I get my hands on it! I still have a lot of the 1% left! I'm trying to use it up first, haha. Stay tuned for my next review on another retinol product from The Ordinary!
Categories:
Tags:

Anti-Aging, Anti-Wrinkle, Antioxidant, Beauty, Cruelty Free, Retinol, Review, Skin Care, Skin Care Products, Squalane, The Ordinary, The Ordinary Retinol 1% in Squalane, Vegan, Wrinkles