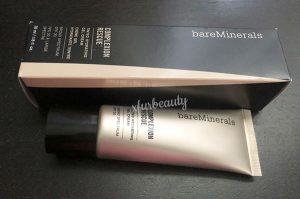 I've had this tinted moisturizer for a while. It's the Bare Minerals Complexion Rescue Tinted Hydrating Gel Cream SPF 30. I was looking for a new bb cream to try when I first picked it up. I know, it's not a bb cream. It's a tinted moisturizer. I feel like bb creams and tinted moisturizers can overlap sometimes. They are pretty similar from my experience. It really depends on the product itself. First, here's more about Bare Minerals Complexion Rescue Tinted Hydrating Gel Cream SPF 30!
This product contains skincare benefits infused with naturally radiant color in one easy step. It's lightweight, multi-tasking, skin-quenching, smooths on effortlessly with just the right amount of coverage. Sheer-to-medium coverage. It reveals dewy, healthy-looking glow to the skin instantly. Marine botanicals help hydrate and replenish thirsty skin. Antioxidants help to defend skin's appearance against environmental stressors.
Contains non-chemical broad spectrum SPF 30. Clinically tested. Dermatologist tested. Hypoallergenic. No oils, silicones, parabens, fragrance.
By looking at the benefits of this product, it seems like something I would like. I think that's why I purchased it in the first place. It had good reviews on it too. Now after trying the product out, here are my thoughts!
My Experience With Bare Minerals Complexion Rescue Tinted Hydrating Gel Cream Spf 30 for the First Time!
This is a gel-cream tinted moisturizer. It comes in a 1.18 fl. oz. (35 mL) tube. The product feels soft, gel-like, and creamy. I have the shade Opal 01 (for very fair cool skin with a pink hue). That's what it says on their website. It's the lightest shade of the twenty shades that are available, so they do have quite a good selection of shades to choose from for all skin tones. Awesome! From my experience, tinted moisturizers don't provide the skin much color, so I just chose the lightest shade, and it seems to be working just fine. The shade blends and adjusts to my natural skin tone after a few minutes. Shade-wise, it's good to go, and I'm on the pale side of the spectrum. Sometimes I can use foundation with cool undertones. This tinted moisturizer glides on the skin nicely and blends into the skin well. It isn't streaky and doesn't leave the skin looking made up. It definitely falls under the more natural-looking side.
One thing that I noticed while wearing this tinted moisturizer is that it tends to grab onto dry skin, so make sure to moisturize beforehand. Yeah, there goes the skin-quenching and replenishing thirsty skin claims. I didn't think it was that moisturizing on my skin. A good moisturizer underneath this tinted moisturizer is a must! Since it wasn't too moisturizing, it seemed to work great on my oily skin. It helped to absorbed excess sebum. Along with that, yep, accentuates dry skin at the same time. It didn't make my skin feel or look greasy. It feels very lightweight for daily use. As I mentioned before, it looks very natural on the skin. A little too natural for me. lol. I prefer to have a little bit more coverage when wearing any kind of face makeup/foundation. Medium coverage? More like light-medium but leaning towards light. It looks sheer once it settles in. It didn't help cover any acne scars or dark under eye circles. But maybe I just have it worse. haha.
This is what the product looks like…
I tried using this tinted moisturizer alone, but I didn't like the results. It just didn't cover all of the imperfections that I didn't want to see (haha!). I thought it was a little too drying even with a moisturizer too. But when I did use the tinted moisturizer alone before applying other makeup products on top, it gave me a nice subtle dewy glow to my skin. It's weird how a product can make the skin feel dry but make the skin look all smooth, glossy, and glowy all at the same time. This is one of those products.
So I stopped using this tinted moisturizer at one point because I didn't like the way it looked on my skin. This was when I had really bad acne. It accentuated every single little flaw on my face and felt really gross on the skin. I don't recommend it if you have bad skin. It'll just make you feel bad about the condition of your skin. Just wait until your skin clears up to try it out if you want. Me, I think it's an ok tinted moisturizer so far. I didn't notice any breakouts after using it, which is odd when it contains ingredients that my skin usually don't like or causes me skin issues.
As for SPF, it contains SPF 30 (6.2% Titanium Dioxide). It is a mineral sunscreen. No wonder why it dried my skin out and accentuated flaky skin. Mineral sunscreens tend to do that to me. If that happens to you too, be aware of that. After trying it again, I wasn't too impressed, but I don't dislike the product. I just don't think it's the right product for my skin. I need more coverage, and I'm not liking how it accentuates dry skin. Maybe I'll try it again in the summer when it's warmer and when my face is ten times more oily.
I hoped this review helped! Have a nice day! 🙂
Click here for more reviews on bb creams and tinted moisturizers!
Categories:
Tags:

Acne, Acne Skin, Anti-Aging, Bare Minerals, Bare Minerals Complexion Rescue Tinted Hydrating Gel Cream SPF 30, BB Cream, Beauty, Experience, Makeup, Mineral, Review, SPF, Sunscreen, Tinted Moisturizer, Wrinkles