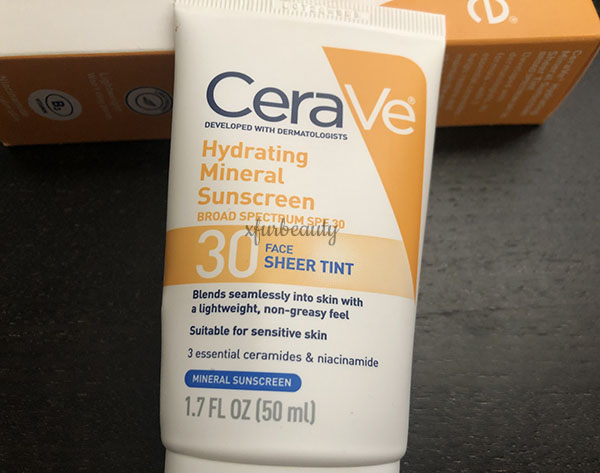 I stopped using CeraVe Hydrating Mineral Face Sheer Tint months ago due to breakouts and whatnot. I can't believe I'm here talking about CeraVe again. 😑 So once I finished Neutrogena Visibly Even Daily Moisturizer SPF 30. I mainly used it as a moisturizer or as a sunscreen for indoors. Too bad this product has been discontinued after years of being a dedicated user. I only used it because it didn't cause major breakouts. But, I'm not going to miss it too much. It didn't really help to protect my skin from intense UV rays. *ahem* I developed freckles while using it. BUT! Here I am with CeraVe Hydrating Mineral Face Sheer Tint! I despised this sunscreen for a while. But why am I thinking about using it again after being traumatized by it? That's right. I have too many bottles of this sunscreen. I went overboard and purchased them thinking that it was working for my skin! And it'll be a waste to let them all expire. So let's use them up.
I've used CeraVe for 4 days already. Here are my thoughts on the sunscreen!
1. The shade/color of the tinted sunscreen.
The shade/color of the sunscreen is darker than my natural complexion. In my opinion, this sunscreen will be more suitable for individuals with a medium complexion. I'm on the fair side and noticed my complexion became duller after application. My face looked really orange too. When I reapplied the sunscreen, it made my skin look even more dull and orange. I can't believe I lasted this long using this sunscreen, lol. It's so embarrassing thinking about it now, haha. The tint just didn't work for me. I wish CeraVe had a wider shade range. Also, even when I blend in the sunscreen, it doesn't provide much coverage but deposited some color in my skin. Hope that makes sense!
2. Burns a little bit.
The first application was odd. My skin burned a little bit. I'm not sure if it's because I'm using an acne cream, or it's the sunscreen burning my skin. The burning sensation disappeared after the first day. I noticed some redness in my skin too after removing the sunscreen as well.
3. Greasy on the skin.
The product claims to be lightweight and provides a non-greasy feel. That's a lie. It's not lightweight. It's not non-greasy. The sunscreen is not lightweight unless you are under-applying it. On my skin, it felt pretty greasy, shiny, and felt heavy on the skin. This sunscreen isn't good for reapplying throughout the day. I can't imagine reapplying it due to the greasiness of it. Gross.
4. Not sweat-proof.
I didn't use this sunscreen for outdoor activities. Honestly, I wouldn't. It's not meant for intense outdoor activities. I wouldn't rely on it to protect my skin. Just a heads up that it's not sweat-proof. If you're a heavy sweater, it's best to choose a sunscreen that's labeled sweat-proof or water-proof.
5. Brightens the skin.
I noticed a brighter complexion after 2 days of using it. My skin tone was more even, and it helped to fade some acne scars just a little bit. I really liked this aspect of the sunscreen. It contains niacinamide to brighten the skin.
6. Breakouts?
So after 4 days of using the sunscreen. I developed a cyst and a tiny little pimple on my face. I'm still trying to get rid of the swollen cyst on my face that developed from using the CeraVe Hydrating Mineral Face Sheer Tint. After my experience using the sunscreen again, it broke me out. I can't believe I used this sunscreen for months! It was breaking me out the whole time! Ugh! But now I know that it did cause breakouts. I'm currently trying to use the rest of it on my body to get rid of it.
As with all of the other times, CeraVe Hydrating Mineral Face Sheer Tint does not work on my skin. Just like all of the other CeraVe skincare products I have used…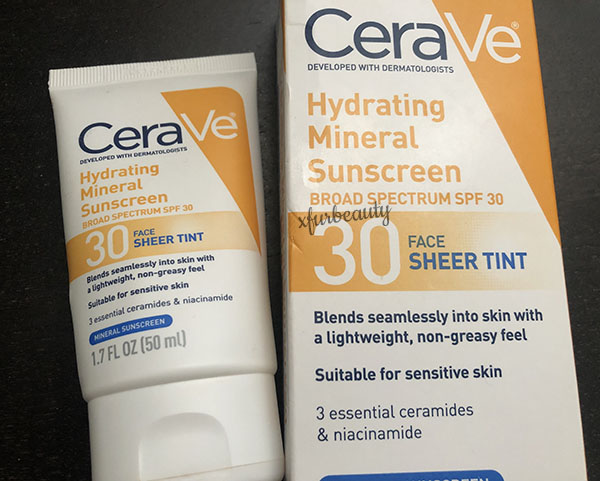 Here are my thoughts and experience on CeraVe Hydrating Mineral Sunscreen SPF 30 Face Sheer Tint! Did it work this time? Read on to find out!
My Updated Thoughts on CeraVe Hydrating Mineral Sunscreen SPF 30 Face Sheer Tint!
Why I chose this product?
I had a tube of this product that I needed to finish. It was just sitting there, and I didn't want to waste it. So I thought I would give it another try again to see if it'll work for me or not this time. Also, I was really fed up with my main mineral sunscreen leaving a white cast on my skin (even if it's subtle, there's still a noticeable white cast). It gets annoying when people start to stare, lol. I just couldn't do it anymore. I needed a tinted mineral sunscreen that blends into the skin and hides the white cast. I've been guilty of walking around with a slight white cast over the summer. 😂 At least my skin was protected. But, it's time for a change. And that is, no white cast, haha.
My first time experience with CeraVe Hydrating Mineral Sunscreen SPF 30 Sheer Tint was not good. It didn't go well, and it just didn't work for me. I didn't like it at all. I stopped using it immediately when I noticed that it made my skin appear more greasy (felt moisturizing on the skin though!), left my skin looking orange, and provided no coverage. I was used to a little bit of coverage from makeup during that time. Hmmm! Let's get into what happened to my skin while using this product again! If you missed out on my previous thoughts on this product, go here! 👈🏻
It's a moisturizing mineral sunscreen.
Most mineral sunscreens I've tried are drying. This one is not. It feels very moisturizing on the skin! I love that it contains 3 ceramides. My skin seems to adore ceramides in skin care products. I noticed a huge difference in how hydrated my skin is after use. It also doesn't just moisturize, but it helps to repair and protect my skin from dryness. I enjoyed reapplying this sunscreen each time because it helps to replenish moisture in my skin throughout the day!
Product Shade & Coverage.
I thought the shade of the product was a little too dark on my skin at first, but it seems to blend and vanish into the skin. It's a little orangey, but it's not too noticeable. I started off using this sunscreen as a makeup product and just blending it in to hide the white cast from my main sunscreen. But, that eventually led me to using it as a sunscreen + makeup. The product doesn't provide any coverage at all. I could still see my freckles (not a bad thing), under eye circles (if there's any), and a few acne marks (which are fading). I don't think the shade of this product is too bad because I received compliments on my skin while using it. It makes me look like I'm not wearing any makeup (well, it's not truly makeup, it's just tinted) at all while giving my skin a natural glow. It doesn't look cakey or heavy on the skin. Like, damn! My skin looks pretty good wearing it! My skin is currently clear, and it worked out just fine!
Breakouts? Clogged pores?
I didn't get any breakouts from this product this time. I wonder what happened the first time. 🤔
Brighter Skin.
I didn't expect my skin to even out while using this tinted mineral sunscreen, but it did. I noticed a more even complexion with some acne marks fading. This product contains niacinamide. I'm surprised that it worked that well on my skin. Who needs a brightening serum when a sunscreen product does it as well. My skin just keeps getting brighter and brighter. I started noticing the brightening effect after the third day.
Final Thoughts
I'm pretty shocked that this CeraVe product worked on my skin. I have yet found a CeraVe product that delivered results. This one did. Even though it doesn't provide much coverage, it's still a good product to use. It's a tinted mineral sunscreen that blends easily and smoothly into the skin. I don't have any issues with the application process with this product. I love that it's SPF 30 too. Wish it was SPF 50! That would be awesome! I didn't get any breakouts or clogged pores from this product. Another amazing thing that happened! I hope I don't jinx it and start breaking out! Well, as for now, no breakouts! Also, it helped to brighten my skin. It must be the niacinamide. I'm not a huge fan of niacinamide serums or products, but this one that contains niacinamide worked on my skin while moisturizing my skin. My skin looked brighter. So far, I'm loving this product. I'm running low and need to get another tube soon! It might even become a staple in my routine.
Clear Skin & Trying Out CeraVe Hydrating Mineral Face Sheer Tint!
Check out another tinted mineral sunscreen I tried recently ~ Australian Gold Botanical SPF 50 Tinted Face Sunscreen Lotion (Fair-Light)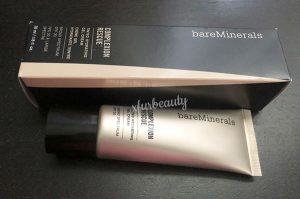 I've had this tinted moisturizer for a while. It's the Bare Minerals Complexion Rescue Tinted Hydrating Gel Cream SPF 30. I was looking for a new bb cream to try when I first picked it up. I know, it's not a bb cream. It's a tinted moisturizer. I feel like bb creams and tinted moisturizers can overlap sometimes. They are pretty similar from my experience. It really depends on the product itself. First, here's more about Bare Minerals Complexion Rescue Tinted Hydrating Gel Cream SPF 30!
This product contains skincare benefits infused with naturally radiant color in one easy step. It's lightweight, multi-tasking, skin-quenching, smooths on effortlessly with just the right amount of coverage. Sheer-to-medium coverage. It reveals dewy, healthy-looking glow to the skin instantly. Marine botanicals help hydrate and replenish thirsty skin. Antioxidants help to defend skin's appearance against environmental stressors.
Contains non-chemical broad spectrum SPF 30. Clinically tested. Dermatologist tested. Hypoallergenic. No oils, silicones, parabens, fragrance.
By looking at the benefits of this product, it seems like something I would like. I think that's why I purchased it in the first place. It had good reviews on it too. Now after trying the product out, here are my thoughts!
My Experience With Bare Minerals Complexion Rescue Tinted Hydrating Gel Cream Spf 30 for the First Time!
This is a gel-cream tinted moisturizer. It comes in a 1.18 fl. oz. (35 mL) tube. The product feels soft, gel-like, and creamy. I have the shade Opal 01 (for very fair cool skin with a pink hue). That's what it says on their website. It's the lightest shade of the twenty shades that are available, so they do have quite a good selection of shades to choose from for all skin tones. Awesome! From my experience, tinted moisturizers don't provide the skin much color, so I just chose the lightest shade, and it seems to be working just fine. The shade blends and adjusts to my natural skin tone after a few minutes. Shade-wise, it's good to go, and I'm on the pale side of the spectrum. Sometimes I can use foundation with cool undertones. This tinted moisturizer glides on the skin nicely and blends into the skin well. It isn't streaky and doesn't leave the skin looking made up. It definitely falls under the more natural-looking side.
One thing that I noticed while wearing this tinted moisturizer is that it tends to grab onto dry skin, so make sure to moisturize beforehand. Yeah, there goes the skin-quenching and replenishing thirsty skin claims. I didn't think it was that moisturizing on my skin. A good moisturizer underneath this tinted moisturizer is a must! Since it wasn't too moisturizing, it seemed to work great on my oily skin. It helped to absorbed excess sebum. Along with that, yep, accentuates dry skin at the same time. It didn't make my skin feel or look greasy. It feels very lightweight for daily use. As I mentioned before, it looks very natural on the skin. A little too natural for me. lol. I prefer to have a little bit more coverage when wearing any kind of face makeup/foundation. Medium coverage? More like light-medium but leaning towards light. It looks sheer once it settles in. It didn't help cover any acne scars or dark under eye circles. But maybe I just have it worse. haha.
This is what the product looks like…
I tried using this tinted moisturizer alone, but I didn't like the results. It just didn't cover all of the imperfections that I didn't want to see (haha!). I thought it was a little too drying even with a moisturizer too. But when I did use the tinted moisturizer alone before applying other makeup products on top, it gave me a nice subtle dewy glow to my skin. It's weird how a product can make the skin feel dry but make the skin look all smooth, glossy, and glowy all at the same time. This is one of those products.
So I stopped using this tinted moisturizer at one point because I didn't like the way it looked on my skin. This was when I had really bad acne. It accentuated every single little flaw on my face and felt really gross on the skin. I don't recommend it if you have bad skin. It'll just make you feel bad about the condition of your skin. Just wait until your skin clears up to try it out if you want. Me, I think it's an ok tinted moisturizer so far. I didn't notice any breakouts after using it, which is odd when it contains ingredients that my skin usually don't like or causes me skin issues.
As for SPF, it contains SPF 30 (6.2% Titanium Dioxide). It is a mineral sunscreen. No wonder why it dried my skin out and accentuated flaky skin. Mineral sunscreens tend to do that to me. If that happens to you too, be aware of that. After trying it again, I wasn't too impressed, but I don't dislike the product. I just don't think it's the right product for my skin. I need more coverage, and I'm not liking how it accentuates dry skin. Maybe I'll try it again in the summer when it's warmer and when my face is ten times more oily.
I hoped this review helped! Have a nice day! 🙂
Click here for more reviews on bb creams and tinted moisturizers!