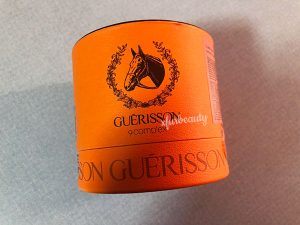 So I used horse cream on my face last night. This cream right here: GUERISSON 9 Complex Cream!! I thought I would give it try and use it on my facial skin instead. When I first used the cream, I thought it was too rich, too thick, too heavy, and way too buttery for my oily, acne-prone skin. But I've dealing with dry, flaky skin lately. Even my Eucerin Q10 Anti-Wrinkle Face Cream wasn't helping with the dryness and flakiness. It made it very difficult to wear foundation. My skin looked worse. Every single little dryness was accentuated. I didn't like that at all. So after a night of using this horse cream on my face, this is what happened…
In my last post on this horse cream, I mentioned that I've been using it as an eye cream and a neck cream only. And it's been working amazingly for those areas. It leaves my eye area and neck feel oh-so-moisturized throughout the day. The cream has been working very well for me. Even though I like Eucerin Q10 Anti-Wrinkle Face Cream, the horse cream takes it up a notch when it comes to moisture. It really, truly does replenishes the skin with a surge of moisture. My skin feels SO moisturized after adding it into my routine. So that's one of the reasons why I decided to use it on my face. And of course, I have it, so why not just try it out!
When I was applying the cream to my face, I noticed that it has this silicone-feel to it, which was expected because the cream contains dimethicone, cyclopentasiloxane (twice!), and beeswax. It's also not an oil-free cream. Obviously. It has horse fat/horse oil in it. Besides horse oil, it contains Bixa Orellana Seed Oil, Jojoba Seed Oil, and Soybean Oil. With these ingredients, I was afraid that it might clog my pores. But, good news, it's been a fortunate experience after a night of using this cream. I woke up today with skin that's more hydrated, smoother, and softer in appearance. The difference was pretty big. My moisture barrier feels and looks so healthy! It simply works so much better compared to Eucerin! Why???????!! 😥 I believe it's the HORSE FAT! This stuff is amazing!
But did it clog my pores??? Dun dun dun…
Not that I know of yet. I didn't notice any breakouts this morning. Just hydrated, smooth, soft skin that looks really healthy and moisturized. My makeup (foundation) went on better and looked better on my skin. My skin IS glowing! This is just insane how my skin looks so good just by using this cream on my face. None of my other moisturizers could do this. It also softened some fine lines and wrinkles too. WOW, I'm stunned. It's too good to be true. I'll make a new update soon on what's going on. I just hope it doesn't break me out! I just found something that improves the quality of my skin and actually moisturizes and gets rid of dry, flaky skin!
Stay tuned for my next update! 😃👌🏻
My previous post on this horse cream is right here, don't forget to check it out!!
Categories:
Tags:

Acne, Acne Prone Skin, Acne Skin, Anti-Aging, Beauty, Ceramide, Dry Skin, Experience, Eye Cream, Face Cream, Face Moisturizer, Facial Cream, GUERISSON, GUERISSON 9 Complex Cream, Horse Fat, Horse Oil, Hydrating, Lifestyle, Moisturizer, Niacinamide, Night Cream, Night Moisturizer, Review, Sensitive Skin, Skin Care