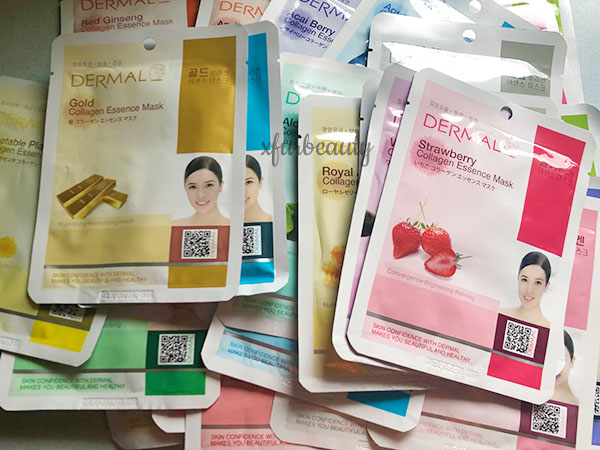 It's been a few years using Dermal Collagen Essence Sheet Masks. I bought a few packs. 😬 Dermal sheet masks are made of pure essence. It contains collagen and hyaluronic acid to keep the skin soft, moist, and bright. It is formulated with highly concentrated active ingredients and effectively delivers essential nutrients to the skin. It comes in a variety of flavors from strawberry, charcoal, arbutin, bird's nest, olive, snail, and so much more. I still have a bunch of these sheet masks left. I've used (most) each and every mask already. I'll explain why I haven't finished them soon. But here are my thoughts on the Dermal Collagen Essence Sheet Mask!
My Experience with Dermal Collagen Essence Sheet Masks:
Texture & Application
The texture and consistency of this sheet mask is a lightweight essence. It is fully soaked in the sheet mask with some extra essence at the bottom of the pouch. I didn't have any issues taking the sheet mask out of the package. I mention this because some sheet masks stick together and don't come out properly. Some I've used even ripped. They were too thin. This one was easy to unfold and use. It sticks to the face too. When applied to the face, it feels soothing and comforting on the skin. It adds moisture to the skin without feeling heavy. I left the mask on for 20 minutes (sometimes 15). The instructions on the mask states to leave the mask on for 15-20 minutes. I haven't noticed a difference between 15 or 20 minutes. I guess it depends how much time I have when using this mask. The results were pretty much the same either way.
It's moisturizing.
The sheet mask provides moisture to the skin. Just lightly rub the essence into the skin and let it absorb. The excess essence in the pouch can be used on the face, neck, body after mask removal. If you're searching for a product with long-lasting moisture, this isn't it. This product provides light moisture.
One size does not fit all.
This mask was not a good fit for my face. It was quite large. The mask would fold oddly and not lay flat on my skin. It has eye flaps too, but I would just fold them underneath the mask. I tried unfolding them and placing them over my eyes, but that didn't work out, lol.
Breakouts?
I've tried most of these sheet masks, except for a few. I tried the pearl sheet mask, and I noticed breakouts from it afterwards. I guess my skin doesn't like pearl powder. Some other sheet masks I didn't use were the seaweed (contains algae extract) and red sea cucumber. I didn't feel comfortable using any of these on my facial skin. All of the other sheet makes worked for me. I didn't get any breakouts from them.
Final Thoughts
I tried liking this mask due to the price and quantity. Dermal Collagen Essence Sheet Masks are really affordable. I can see why someone would like this mask. Who wants to pay 5 dollars for an individual sheet mask? Not I. I didn't have a problem applying this sheet mask to my face besides the size of the mask and how it folds on the face. It still sits on the face quite well even with a few quirks here and there. But, I'm willing to put up with it for the price. It didn't bother me that much. A pack of these sheet masks provide a variety of star ingredients that you can choose from. I love that I can choose from one type of mask to the next, but from my experience using them, they're all the same when it comes to results. It doesn't matter if I'm choosing the strawberry mask, ginkgo, platinum, red gingseng, gold, aloe, or wine. They all provide the same benefit. And that is, moisture. I haven't noticed a difference in any of these sheet masks even when they claim to be brightening or refining. They were just moisturizing. Maybe some were more moisturizing than others. But they all do the same thing in the end. And that is, moisturize the skin. So I lost interest in this product because it didn't improve my skin over time. I felt like I was just wasting time and money on a product that didn't provide any valuable benefits. If I wanted to moisturize my skin the same way this mask did, I would just purchase a bottle of essence. It would be less expensive too. Also, I'm not really into sheet masks anymore. It's something I would do once in a blue moon. It's really not a part of my weekly routine. I gave up on a lot of skin care products and sheet masks were one of the first ones to go. I won't purchase this sheet mask in particular again after I finish them.
Here are some examples of the sheet mask. 😊
Strawberry & Charcoal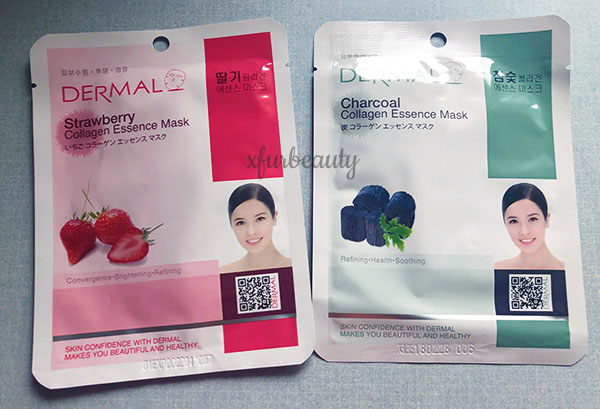 Arbutin & Bird's Nest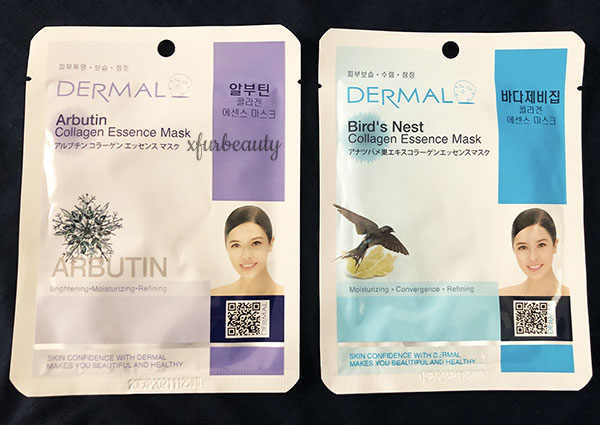 Olive & Snail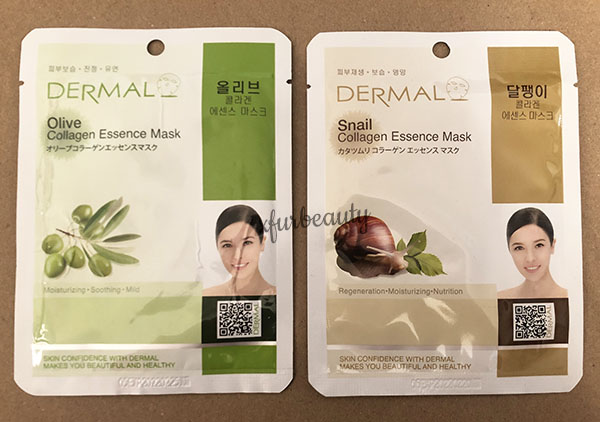 Categories:
Tags:

Acne, Acne Skin, Anti-Aging, Arbutin, Beauty, Charcoal, Collagen Essence Sheet Mask, Collagen Mask, Dermal Collagen Essence Sheet Mask, Dermal Sheet Mask, Experience, Lifestyle, Olive, Review, Sheet Masks, Skin Care, Skincare, Snail, Strawberry, Wrinkles
Here's my review on Yes to Tomatoes Clear Skin Detoxifying Charcoal Facial Wipes! I did a review on Yes to Carrots Nutrition Boosting Kale Facial Wipes first. Check out my review on the Carrots Facial Wipes if you haven't yet. ? The Charcoal Facial Wipes contain fragrance, but it's not as strong compared to the Carrots Facial Wipes. As you can see from one of the photos, the Charcoal Facial Wipes are pitch black in color. That's pretty cool. That's the reason why I thought the Carrots Facial Wipes would be orange in color, lol. So, I did mention in my Carrots Facial Wipes review that I ended up using them more often. It's because the Charcoal Facial Wipes weren't effective at all. The formula is terrible. It lacks moisture. It doesn't remove dirt, debris, and sebum from the skin. It's horrible at removing makeup. Really, I tried to make it work. Each time I used a single wipe (which should be more than enough), I always had to follow-up with another makeup remover. Very annoying. My experience with the Charcoal Facial Wipes was not good. I thought they were a waste of money. Between the Charcoal Facial Wipes and Carrots, I would choose the latter. Still, I'm not too impressed with either one of them though. Don't waste your money.
Opening Yes to Tomatoes Clear Skin Detoxifying Charcoal Facial Wipes!
Have you used Yes to Tomatoes Clear Skin Detoxifying Charcoal Facial Wipes? How did it go? Share your experience!
I have new facial wipes! I stumbled upon Yes to Tomatoes Clear Skin Detoxifying Charcoal Facial Wipes when I was looking for an on-the-go face cleanser/makeup remover. I actually bought two kinds from the same brand, but I'll start off with this one. I'll share the other one some other time. At the moment, I'm pretty much in love with charcoal-based beauty products. These looked cool in its sleek black, charcoal-ish packaging. They are leaping bunny certified and vegan. ? Learn more about these facial wipes right now! ?
Yes to Tomatoes Clear Skin Detoxifying Charcoal Facial Wipes:
Charcoal is a natural detoxifier & impurity remover to deep clean skin.
Tomatoes are a natural source of antioxidants.
Little black wipes that rid skin of nasty impurities.
Detoxifying formula is captured in a very sleek black wipe.
Formulated with charcoal to help remove dirt and impurities
95% Natural
No Parabens
No SLS
No Silicones
Leaping Bunny Certified
Vegan
Directions:
Lift lid and remove wipe.
Gently swipe across face to cleanse and detoxify skin.
No need to rinse! Your skin is clean and detoxed!
Ingredients:
I honestly can't wait to start using Yes to Tomatoes Clear Skin Detoxifying Charcoal Facial Wipes! I'm currently washing and conditioning my hair with Yes To Detoxifying & Deep Cleansing Charcoal Shampoo and Yes To Detoxifying & Ultra-Moisturizing Charcoal Conditioner. A review on those hair care products coming up soon! ? If you look at the ingredients, the wipes contain aloe leaf juice, tomato fruit extract, charcoal powder, witch hazel, watermelon fruit extract, and roobios. Of course, there are other ingredients in it too. Charcoal is the seventh ingredient on the list. These facial wipes claim to cleanse and detoxify the skin. Also, you don't need to rinse it off after use either. Since I have my face wash on hand, I won't be using the charcoal wipes as a facial cleanser alone. That sounds scary to me, especially when I have oily skin that breaks out easily. We will see. If I were ever stuck in a situation where I didn't have my face wash, I may give them a try. As I mentioned earlier, they are leaping bunny certified and vegan. I really LOVE how these are vegan. It seems like finding vegan skin care products is becoming much easier as the days go by! I hope more companies take note and move towards that direction! Now, let's give these a go! ?
Have you used Yes to Tomatoes Clear Skin Detoxifying Charcoal Facial Wipes before? Did they work for you? Share your thoughts on these facial wipes! I would love to know! ?