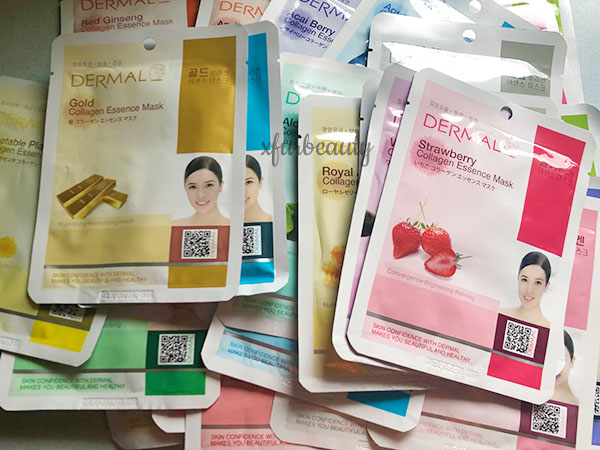 It's been a few years using Dermal Collagen Essence Sheet Masks. I bought a few packs. 😬 Dermal sheet masks are made of pure essence. It contains collagen and hyaluronic acid to keep the skin soft, moist, and bright. It is formulated with highly concentrated active ingredients and effectively delivers essential nutrients to the skin. It comes in a variety of flavors from strawberry, charcoal, arbutin, bird's nest, olive, snail, and so much more. I still have a bunch of these sheet masks left. I've used (most) each and every mask already. I'll explain why I haven't finished them soon. But here are my thoughts on the Dermal Collagen Essence Sheet Mask!
My Experience with Dermal Collagen Essence Sheet Masks:
Texture & Application
The texture and consistency of this sheet mask is a lightweight essence. It is fully soaked in the sheet mask with some extra essence at the bottom of the pouch. I didn't have any issues taking the sheet mask out of the package. I mention this because some sheet masks stick together and don't come out properly. Some I've used even ripped. They were too thin. This one was easy to unfold and use. It sticks to the face too. When applied to the face, it feels soothing and comforting on the skin. It adds moisture to the skin without feeling heavy. I left the mask on for 20 minutes (sometimes 15). The instructions on the mask states to leave the mask on for 15-20 minutes. I haven't noticed a difference between 15 or 20 minutes. I guess it depends how much time I have when using this mask. The results were pretty much the same either way.
It's moisturizing.
The sheet mask provides moisture to the skin. Just lightly rub the essence into the skin and let it absorb. The excess essence in the pouch can be used on the face, neck, body after mask removal. If you're searching for a product with long-lasting moisture, this isn't it. This product provides light moisture.
One size does not fit all.
This mask was not a good fit for my face. It was quite large. The mask would fold oddly and not lay flat on my skin. It has eye flaps too, but I would just fold them underneath the mask. I tried unfolding them and placing them over my eyes, but that didn't work out, lol.
Breakouts?
I've tried most of these sheet masks, except for a few. I tried the pearl sheet mask, and I noticed breakouts from it afterwards. I guess my skin doesn't like pearl powder. Some other sheet masks I didn't use were the seaweed (contains algae extract) and red sea cucumber. I didn't feel comfortable using any of these on my facial skin. All of the other sheet makes worked for me. I didn't get any breakouts from them.
Final Thoughts
I tried liking this mask due to the price and quantity. Dermal Collagen Essence Sheet Masks are really affordable. I can see why someone would like this mask. Who wants to pay 5 dollars for an individual sheet mask? Not I. I didn't have a problem applying this sheet mask to my face besides the size of the mask and how it folds on the face. It still sits on the face quite well even with a few quirks here and there. But, I'm willing to put up with it for the price. It didn't bother me that much. A pack of these sheet masks provide a variety of star ingredients that you can choose from. I love that I can choose from one type of mask to the next, but from my experience using them, they're all the same when it comes to results. It doesn't matter if I'm choosing the strawberry mask, ginkgo, platinum, red gingseng, gold, aloe, or wine. They all provide the same benefit. And that is, moisture. I haven't noticed a difference in any of these sheet masks even when they claim to be brightening or refining. They were just moisturizing. Maybe some were more moisturizing than others. But they all do the same thing in the end. And that is, moisturize the skin. So I lost interest in this product because it didn't improve my skin over time. I felt like I was just wasting time and money on a product that didn't provide any valuable benefits. If I wanted to moisturize my skin the same way this mask did, I would just purchase a bottle of essence. It would be less expensive too. Also, I'm not really into sheet masks anymore. It's something I would do once in a blue moon. It's really not a part of my weekly routine. I gave up on a lot of skin care products and sheet masks were one of the first ones to go. I won't purchase this sheet mask in particular again after I finish them.
Here are some examples of the sheet mask. 😊
Strawberry & Charcoal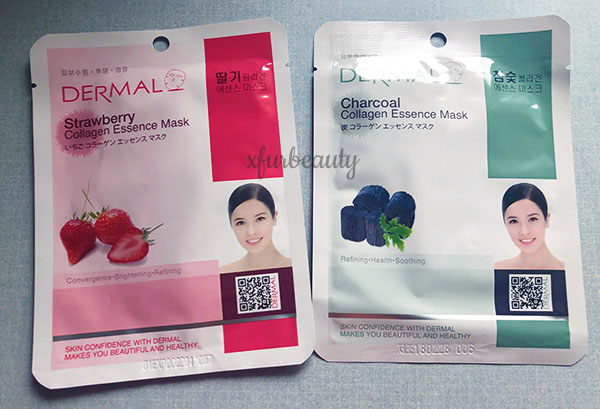 Arbutin & Bird's Nest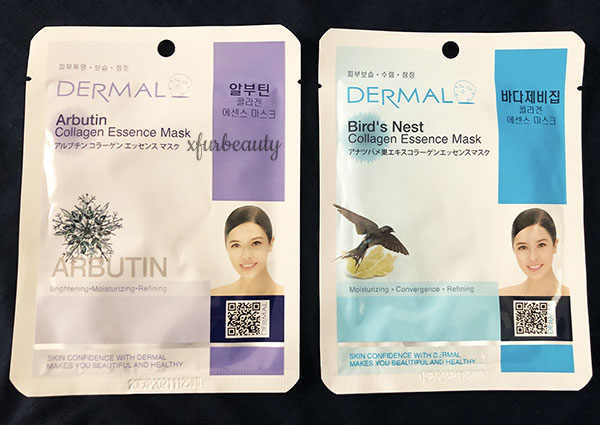 Olive & Snail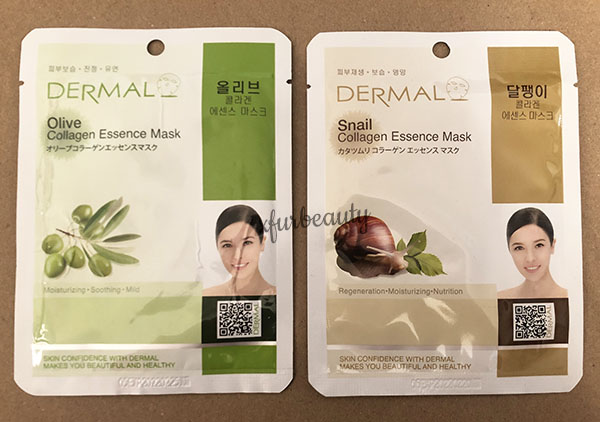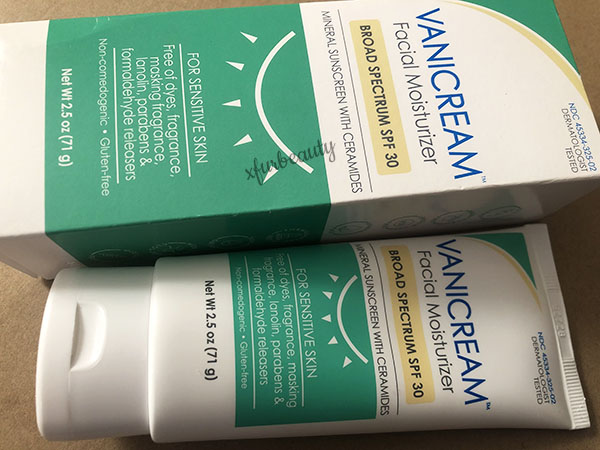 My 5 months experience! 🙂
Some thoughts that crossed my mind ~
Should I stop using moisturizer? Is Vanicream Daily Moisturizer for Sensitive Skin clogging my pores? Should I take a break from benzoyl peroxide?? Hmmm! So many questions!
So! I didn't stop using a moisturizer this week. But, I'm going to try to stop using a moisturizer (Vanicream) next week. Why? I feel like it's slowing down my progress. Possibly clogging my pores. I noticed some sections of my face that keeps on getting re-clogged even after using tret, benzoyl peroxide, and bha. Vanicream feels a little bit sticky and heavy on the skin too. I love the ingredients in the moisturizer and how it helps to heal and protect my skin, but it could be setting me back when it comes to acne. I never used a moisturizer before in the past. It's not because I don't like them. It's because all of them (the ones I have tried, tons!!) ended up breaking me out. I think Vanicream may be one of them. As for benzoyl peroxide, I don't want to use something as drying as benzoyl peroxide in my routine right now while my skin is without a moisturizer. I'll have to wait until my skin adjusts to this new routine first before adding it back in. That's if I need to. I'm still using tret and bha. Both of these products are drying enough for my skin. I'm also going to use both of them without a moisturizer. Let's see what happens!
I tried some old or previous products too, haha! Oops.
I tried The Ordinary Resveratrol 3% Ferulic Acid 3%, The Ordinary Ascorbic Acid 8% + Alpha Arbutin 2%, and The Ordinary Caffeine Solution 5% + EGCG again. The Resveratrol & Ferulic Acid serum and Ascrobic Acid & Arbutin serum was a mistake, lol. I haven't used any The Ordinary serums on my face for a while. I was in for a surprise. Well, kinda. I should've known. Both of these serums felt extremely greasy on the face. It didn't sink in my skin at all and left my skin feeling and looking sticky, heavy, and greasy. I woke up the next morning with red, irritated skin and clogged pores. It messed up my skin so quick. Lesson learned once again. I thought I would try it out again and this happens. Now I know once again that these serums simply do not work on my face. Another product I tried again from The Ordinary is the Caffeine Solution & EGCG. This one worked better. I kind of missed it, so I started using it again, lol. I'm only using it at night since it has a drying, tightening effect on the skin around the eyes. Also, it takes time for the serum to absorb into the skin. So far, nothing bad has happened.
My thoughts on some of my sunscreens…
Vanicream Mineral Facial Moisturizer Broad Spectrum SPF 30:
I'm almost done with this sunscreen. It's a thicker and heavier sunscreen, and it does has the tendency to sit on top of my skin. Ahhh, I love the ceramides in this product. It helps to moisturize, heal, and protect my skin. I haven't noticed any breakouts from using it daily either or from reapplying. I can reapply this sunscreen without the product pilling. It works great as a moisturizer and contains ingredients that I like. I use it when I'm indoors or when I need my skin to heal from exfoliants or actives. I think it's much more moisturizing compared to Vanicream Daily Moisturizer for Sensitive Skin too. The Vanicream Mineral SPF 30 is making me have second thoughts about Vanicream Daily Moisturizer for Sensitive Skin. Hmmmm! So I'm still on the fence about this product. It just feels a bit too rich for my skin type. But it could work. I'll finish the rest of the product and think about it.
Canmake Mermaid Skin Gel UV SPF 50+ PA++++ (Clear):
I tried to use this sunscreen up on my face. I really tried. It's just too drying on the skin, and I couldn't stand the dryness any longer. It ruined the moisture levels in my skin. My skin looked cracked, felt super tight, and painful. I tried using it with a heavier product underneath too, and it still didn't work. I guess I could just use it on my body. I won't repurchase again. I know I've said this many times, but I hate this product. 👎🏻
CeraVe Hydrating Mineral Face Sheer Tint:
A product I grew to love this week is the CeraVe Hydrating Mineral Face Sheer Tint! It's a tinted mineral sunscreen (SPF 30) that contains niacinamide. I was really shocked and am still shocked that it brightened my skin. I noticed a clearer and brighter complexion after rinsing it off for the day. I'm really, really liking this product. I'm using it as my face makeup product (foundation) too. It doesn't provide any coverage, but it's best for my skin to not have anything thick and heavy on it. Also, too many products just causes more acne issues. My skin just looks better after rinsing it off at the end of the day. I'm really enjoying applying this product to my face too. It blends into the skin without leaving a white cast behind. Perfect for sunscreen reapplication.
5 months in and now on to a new week!!
My whole acne journey is right here! Enjoy! 🙂
My Acne Journey: 3 Weeks Results!
My Acne Journey: 4 Weeks Results!
My Acne Journey: 6 Weeks Results…
My Acne Journey: 7 Weeks Results
My Acne Journey: 2 Months + 1 Week Results!
My Acne Journey: 2 Months + 2 Weeks!
My Acne Journey: 2 Months + 3 Weeks Results!
My Acne Journey: 3 Months + 1 Week Results
My Acne Journey: 3 Months + 2 Weeks Results
My Acne Journey: 3 Months + 3 Week Results
My Acne Journey: 4 Months + 1 Week Results.
My Acne Journey: 4.5 Months + Clear Skin!!
My Acne Journey: 4 Months + 3 Weeks! What I'm Doing to Maintain My Clear Skin. 🙂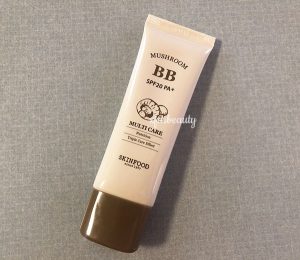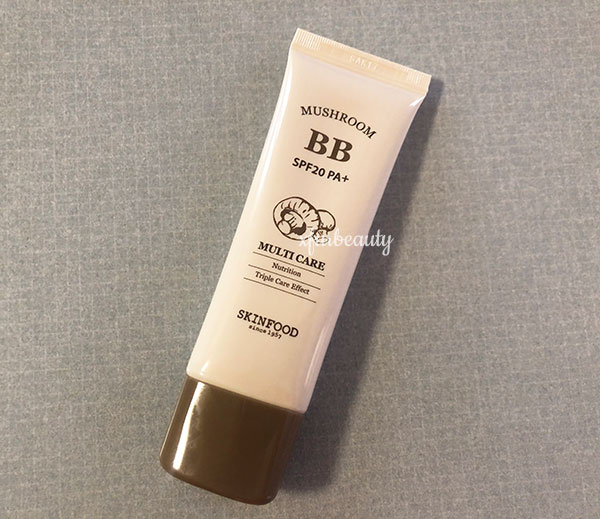 I've been makeup-free for a while now after discontinuing Purito Cica Clearing BB Cream, and I rarely (never, lol) use MAC Blot Pressed Powder. Don't forget to check out my reviews on these products! As for my skin, it's been doing so much better without these makeup products. I'm not going to stick to any makeup product. It has to be one that I really like and truly works on my skin. So I've been on the search for another makeup foundation. In my case, a bb cream, since I have a preference for bb creams. During my search, I stumbled upon Skinfood Mushroom Multi Care BB Cream SPF 20 PA+. I've used this bb cream before, and I have fond memories of it. I'm not sure if it's still the same. If it still works the same. But, I have good feelings about it. I didn't think it would still exist today. Some of the other bb creams I've used years ago have been discontinued. Shockingly, Skinfood Mushroom Multi Care BB Cream is still available. This bb cream contains mushroom and chamomile extracts to hydrate the skin. It's also a wrinkle-care product with firming and whitening properties. Sounds good. Here's my experience with this bb cream years later after trying it again! I hope this review is helpful!
My experience
This bb cream is soft and creamy. It doesn't feel like heavy silicones like my previous bb creams. When applied to the skin, it feels more like a thicker lotion yet feels lightweight on the skin at the same time. It's very easy to blend into the skin. I didn't have any issues with the application of this bb cream. If you have dry skin, it accentuates fine lines and wrinkles. Settles into those dry patches but also creases. This bb cream isn't good at smoothing out fine lines and wrinkles if that's what you're looking for. I was pretty much turned off by the texture and the way it made my skin looked. My skin's more on the dry side (oily at times) right now, and it just made my skin look worse. I didn't like the results at all. I don't remember this bb cream being this way, but I guess that's just how it is now. lol. So this bb cream is more drying rather than moisturizing. As for coverage, it provides very light coverage. I thought the coverage was very poor. It didn't matter how many layers of this bb cream I applied to my skin. It was never enough. Coverage isn't buildable either.
I have the shade in #02 Natural Skin. The shade of this bb cream is pretty dark on my complexion. It looks like a medium, tan shade. It has neutral-pink undertones. It made my skin appear more dull. Even though it contains whitening ingredients (arbutin, mushroom), I haven't noticed any brightening effects from it. The sun protection is nice, but it is pretty low compared to other bb creams that are available. It's also lower compared to the sunscreen I use on a daily basis. I guess a little sun protection is better than nothing. So I had to stop using this bb cream. The reason why is because I started to notice clogged pores on my chin. I didn't think it was the bb cream at first, so I kept using it. But I realized it was the cause of my new breakouts. I stopped using it, and my breakouts went away. Honestly, I don't remember breaking out from this bb cream when I tried it the first time. I finished the whole tube of it too. This time, this product seems very different. It's not the same anymore. Also, I can't stand the fragrance in this product. It's too irritating and strong.
Here's a swatch of #02 Natural Skin. It looks lighter and brighter in the photo. In person, it's actually much darker.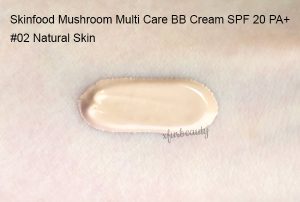 And the bb cream comes sealed.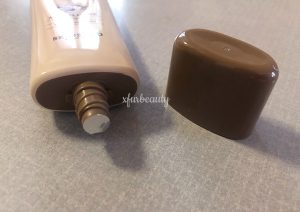 Pros & Cons
✅ Pros
Contains arbutin, aloe, chamomile, mushroom (50mg)
Contains SPF
❌ Cons
Low SPF (SPF 20 PA+)
Accentuates fine lines and wrinkles
Gave me chin breakouts
Shade was too dark on my skin (could work for others)
Drying
Annoying fragrance
Poor coverage
Conclusion
Here's another bb cream that I wanted to work but failed on me. I think I'm done searching right now until something good pops up. I don't want to keep spending on bb creams that don't work. I really thought this would work again (hoping that it would!), but I guess not. I'm very disappointed in the outcome. I didn't like this bb cream, so I can't recommend it. It's not good.
Go here for more reviews on Skinfood beauty products