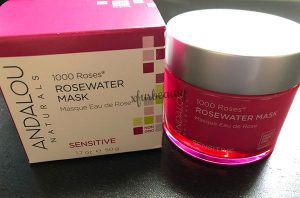 Here's a face mask that I've had for some time. It's from Andalou Naturals. I was pretty much on a roll with this brand. Thought I'd try out the face mask too. haha. So this is a revitalizing mask. It contains alpine rose stem cells. Delivers hydration and dermal vitality to soothe and nourish sensitive skin. It also contains pomegranate to uplift the tone. Hyaluronic acid and aloe vera to help revive the skin's moisture barrier for a flawless complexion. If you have read my reviews on Andalou Naturals, the benefits of this product may sounds sooo familiar. In fact, it does. The face mask is a part of the rosewater collection. If you missed out on my reviews on Andalou Naturals rosewater collection & other Andalou Naturals skin care products, fret no more, go here:
Review: Andalou Naturals Luminous Eye Serum
Review: Andalou Naturals 1000 Roses Eye Revive Contour Gel
Andalou Naturals 1000 Roses Pearl Exfoliator
My experience
This face mask is very soft and pale pink. It has a creamy, soufflé texture and consistency to it. When applied to the skin, it feels so soft and smooth. It feels like it melts into the skin. The instructions says to leave the face mask on for 10-20 minutes. I left it on for the whole 20 minutes. I need to get that hydration into my skin. Whenever I use a moisturizing face mask, I make sure I get as much moisture out of it and into my skin, lol. So this face mask was very attractive to me because I do indeed love rosewater-based skin care products. Ahem, look at all of the rosewater-based skin care products I tried out from Andalou Naturals! Don't forget to check them out! Now let's take a look at the ingredients in this face mask!
It first starts off with aloe barbadensis leaf juice, purified water, rose flower distillate. Next, it goes on to a bunch of ingredients, such as rosehip fruit oil, pomegranate seed oil, plant stem cells (alpine rose, malus domestica, solar vitis), bioactive berry complexion, cranberry fruit juice, panthenol, and so on. The ingredients look very similar to the other rosewater-based skin care products from Andalou Naturals. I'm not shocked. It's in the same line of products.
But how did this face mask go? Did it work??
Unfortunately, it didn't do much for my skin. It feels nice and lovely when applied to the skin and while it's on the skin, except for the fact that sometimes it burned my skin. My skin isn't even the sensitive type. Isn't this face mask made for sensitive skin? if you have sensitive skin (or any other skin type), do a patch test first. But once the face mask is rinsed off, I didn't see any changes in my skin. My skin didn't look or feel more hydrated or moisturized. It felt like a waste of time using this product. Absolutely no difference. Maybe I'm just better off using a clay mask instead. I always see some effect on my skin when I use those. It helps to remove excess sebum. Or maybe I'm just better off using a good moisturizer or serum that actually hydrates my skin. This mask is just not for my skin type. It didn't do anything.
This is what the face mask looks like. It looks very pretty. Love the pale pink color. The softness and creaminess of the product is so nice. I loved the texture and consistency of the mask. I just wished it moisturized my skin like it's supposed to. *sigh*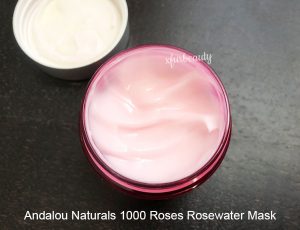 Pros & Cons
✅ Pros
Nice texture. Feels soft and creamy.
Cruelty-free
Vegan
❌ Cons
Doesn't leave the skin feeling moisturized.
Sometimes burns the face.
Doesn't rinse off clean.
Conclusion
One more Andalou Naturals skin care product that didn't work. Not only that, it burned my face sometimes when I was using it. It didn't leave my skin feeling moisturized either. The only good points about this face mask is the light, airy, creamy texture that the mask has. As for results, none. This isn't a face mask I would ever purchase again. I can't recommend it to anyone. Let alone someone with sensitive skin. I mean, it burns.
Categories:
Tags:

Andalou Naturals, Andalou Naturals 1000 Roses Rosewater Mask, Anti-Aging, Anti-Aging Skin Care Products, Anti-Wrinkle, Beauty, Cruelty-Free, Face Mask, Lifestyle, Moisturizing, Moisturizing Face Mask, Moisturizing Mask, Review, Rosewater, Rosewater Mask, Skin Care, Skin Care Products, Skincare, Vegan, Wrinkles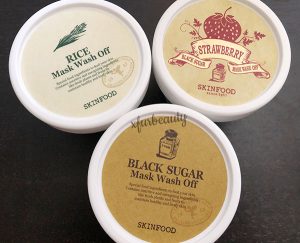 Here's my review on Skinfood face masks! I have the Rice Mask, Strawberry Mask, and the Black Sugar Mask. I purchased these face masks because I wanted a physical exfoliant in my routine. I have those pesky, annoying dead skin clinging to my face sometimes that I need to get rid off. So I haven't found a facial scrub that I like yet. These seem to fall in line with what I've been searching for. Each individual mask has its own benefits and purposes. Check them out right here:
Rice Mask
Strawberry Mask
Black Sugar Mask
The benefits look amazing. Skinfood face masks have a ton of good reviews on them. Also, they're not too expensive either. They're all under $10 each (depending where it is purchased). I've used Skinfood products in the past before too. From what I remember, they're not too bad. I used to be an avid user of their bb creams. This brand brings back some good ol memories. But I think the bb cream I used often has been discontinued. So here are my thoughts on Skinfood face masks! I hope this is helpful and enjoy! Don't forget to leave a comment. 😊
Skinfood Rice Mask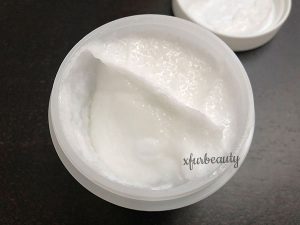 ⭐ Key Ingredients: Rice Bran Water, Vitamin E
The rice mask contains white particles that are a little gritty. The base of the product is lightweight and creamy, which makes the product feel less harsh on the skin. I love the creaminess of this product. It feels soft and fluffy in texture. When applied to the skin, it feels like I'm applying tapioca pudding onto my face. The product feels cooling and soothing. It calms the skin down. Even though it has some grit, it doesn't exfoliate the skin well. I tried adding a little bit more pressure (not too much) to remove dead skin cells hanging from my face. It still didn't work. It's not a good exfoliating product. The rice mask is too gentle for that purpose.
After massaging the product into the skin, I left it on for 15 minutes. Instructions advises to leave it on for 10-15 minutes. After rinsing the product off, it left my skin feeling moisturized but that's about it. My skin felt softer due to the moisturizing properties. I didn't notice brighter-looking skin after using it. There was no change in my complexion or acne marks. For my oily skin, I'll have to pass on this product. It's too rich for my liking. This rice mask would work better on someone with dry or normal skin. This product does contain fragrance, which didn't bother me too much. If you're sensitive to fragrance, this may not work for you. It has a sweet and soapy smell. I can't pinpoint exactly what it smells like, but it's not my fragrance of choice.
Skinfood Black Sugar Strawberry Mask
⭐ Key Ingredients: Organic Black Sugar, Strawberry Seeds, Strawberry Seed Oil
The first thing I noticed when I opened the strawberry mask was the smell. It smells really good. Smells like strawberries! The face mask looks like strawberry jam. 🍓 The mask is made up of small particles that are gritty (black sugar) and strawberry seeds to remove dead skin cells. This face mask, in fact, does a very good job at exfoliating the skin. It helps to remove dead skin and flakes from the skin. My skin is left feeling softer, smoother, and cleaner afterwards.
With this product, I leave it on for 5-10 minutes. Instructions advises leaving the product on for 10-15 minutes. Since the face mask has a waxy consistency to it, I didn't enjoy leaving it on my skin for too long. It just feels too waxy and feels like it's going to clog my pores. Also, it makes the skin look super shiny and oily before rinsing it off, lol. I have oily skin, so I didn't want to aggravate my skin. 5 minutes is more than enough. Sometimes 10 if I'm feeling a little bit risky, haha!
Fortunately, leaving it on my skin hasn't caused clogged pores or irritated my skin yet, but I make sure to remove every trace of the product off of my skin to prevent breakouts. As for results, this face mask didn't moisturize my skin. It didn't leave my skin looking brighter either, but it makes a very good facial scrub. I think it's too abrasive though to be a part of my skin care routine. I prefer something less harsh and more gentle on the skin.
Skinfood Black Sugar Mask
⭐ Key Ingredients: Black Sugar, Macadamia Seed Oil, Shea Butter
Last but not least, we have the Black Sugar Mask! It's the most popular out of the bunch! I've always wanted to try this face mask. I thought I would give it a go since there's so many good reviews on it. I wanted to see what the fuss is about! It's about time! Here are my thoughts on it. 🙂 My first thought when opening the product is that it's not the most aesthetically pleasing face mask compared to the rice mask and strawberry mask. This one kind of looks like 💩. Maybe chocolate? lol.
The face mask isn't runny. It's a soft, thick paste, which made it less messy to use. When I applied this product to my skin, I dampened my skin thoroughly, so it can glide on my facial skin much better and more freely. The mask has large crystals (black sugar) compared to the other face masks from Skinfood (rice and strawberry). They are a tad too big and rough on the skin. I can feel the granules rolling on my face even when I add water to it. Water does help to soften them up a bit, but it still feels abrasive. I made sure not to apply too much pressure and not to scrub my face too harshly.
After massaging the product into my skin, I left it on for 15 minutes (as the instructions advises to do). Once I rinsed the product off, my skin felt soft and smooth. My complexion looked brighter and glowy. It looked more even. The results were very nice. I really liked it. But still, I think this face mask is too abrasive for the delicate facial skin.
Conclusion
I really wanted to like Skinfood face mask products. They're very affordable, and they come in cute packaging. For me, they didn't live up to the positive reviews. They also didn't deliver results. The rice mask was supposed to brighten the skin, but there was no brightening effect in my skin. The strawberry mask felt too waxy, greasy on the skin and was too harsh on my skin as a face scrub. The black sugar mask was even more harsh and abrasive on the facial skin even though it was the only one that brightened my skin while leaving my skin feeling softer and smoother. But harsh facial scrubs will only do more damage than good in the long run.
I still have these products, but I don't use them on my face anymore. I use them as a body scrub instead of a face scrub. Seems to work better for that. Overall, I wouldn't purchase any of them again. I gave the rice mask plenty of tries and still ended up with the same results. Yes, I had hope, lol. Would I recommend Skinfood face masks? No, I wouldn't recommend the rice mask, strawberry mask, or the black sugar mask. Skinfood does have other varieties, but I'm not interested after this experience. Maybe some time in the near future I'll give them a go.
Categories:
Tags:

Black Sugar Mask, Black Sugar Strawberry Mask, Brightening, Exfoliate, Face Mask, Face Scrub, Rice Mask, Skin Care, Skinfood, Skinfood Black Sugar Mask Wash Off, Skinfood Black Sugar Strawberry Mask Wash Off, Skinfood Rice Mask Wash Off, Strawberry Mask
I thought I would take a break talking about makeup. Currently, I have two masks. This one (shown in photo) and Derma E Purifying 2-in-1 Charcoal Mask Charcoal & Marine Algae. I wanted to introduce this new mask first before I review the other one. ?
This facial mask caught my eye. I mean, marshmallow sounds fluffy and heavenly. This skin care product is vegan and cruelty-free. ? I had to try it out!
About Bliss Mighty MarshMallow Bright & Radiant Whipped Mask
Airy, whipped mask with brightening boost of marshmallow root extract
Delivers a surge of hydration to instantly reveal luminosity
Vitamin C, olive leaf extract, and lemon oil help visibly smooth out uneven skin tone and discoloration
After one use, skin is fresher, brighter, better
Vegan
Cruelty-Free
Hypoallergenic
Dermatologist tested
Directions:
Smooth a thick layer onto clean dry skin
Avoid the eye area
Leave on for 10-15 minutes
Rinse thouroughly
Use 2-3 times per week
Ingredients:
Water (Aqua) (Eau), Glycerin, Butylene Glycol, Caprylic/Capric Triglyceride, Hydroxyethyl Urea, PEG/PPG-17/6 Copolymer, Olea Europaea (Olive) Fruit Oil, Cetearyl Alcohol, Cetyl Ethylhexanoate, Ascorbic Acid, Tocopheryl Acetate, Ascorbyl Glucoside, Sodium Ascorbyl Phosphate, Olea Europaea (Olive) Leaf Extract, Phyllanthus Emblica Fruit Extract, Opuntia Coccinellifera Fruit Extract, Althaea Officinalis Root Extract, Hydrolyzed Acacia Macrostachya Seed Extract, Citrus Aurantium Dulcis (Orange) Peel Oil, Citrus Aurantium Bergamia (Bergamot) Fruit Oil, Citrus Aurantifolia (Lime) Oil, Citrus Limon (Lemon) Peel Oil, Eucalyptus Globulus Leaf Oil, Pinus Sylvestris Leaf Oil, Zinc PCA, Ammonium Acryloyldimethyltaurate/Beheneth-25 Methacrylate Crosspolymer, Polysorbate 20, Polysorbate 60, Stearic Acid, Glyceryl Stearate, Sorbitan Stearate, Sorbitan Isostearate, PEG-100 Stearate, Polyacrylate-13, Dimethicone, Caprylyl Glycol, Sodium Acrylates Crosspolymer-2, Polyisobutene, Maltodextrin, Disodium EDTA, Phenoxyethanol, Ethylhexylglycerin, Chlorphenesin, Tetrasodium Pyrophosphate, Limonene, Titanium Dioxide (CI 77891), Red 33 (CI 17200)
What do you think about Bliss skin care products? This is my first from this brand! I hope it'll be awesome like how it sounds! Wish me luck! ✌
Love, Jen